2012 BU Valentine Invitational
LOOK BACK: Must See Video from Millrose/Flotrack Husky Weekend!
LOOK BACK: Must See Video from Millrose/Flotrack Husky Weekend!
Feb 11, 2012
by Ryan Craven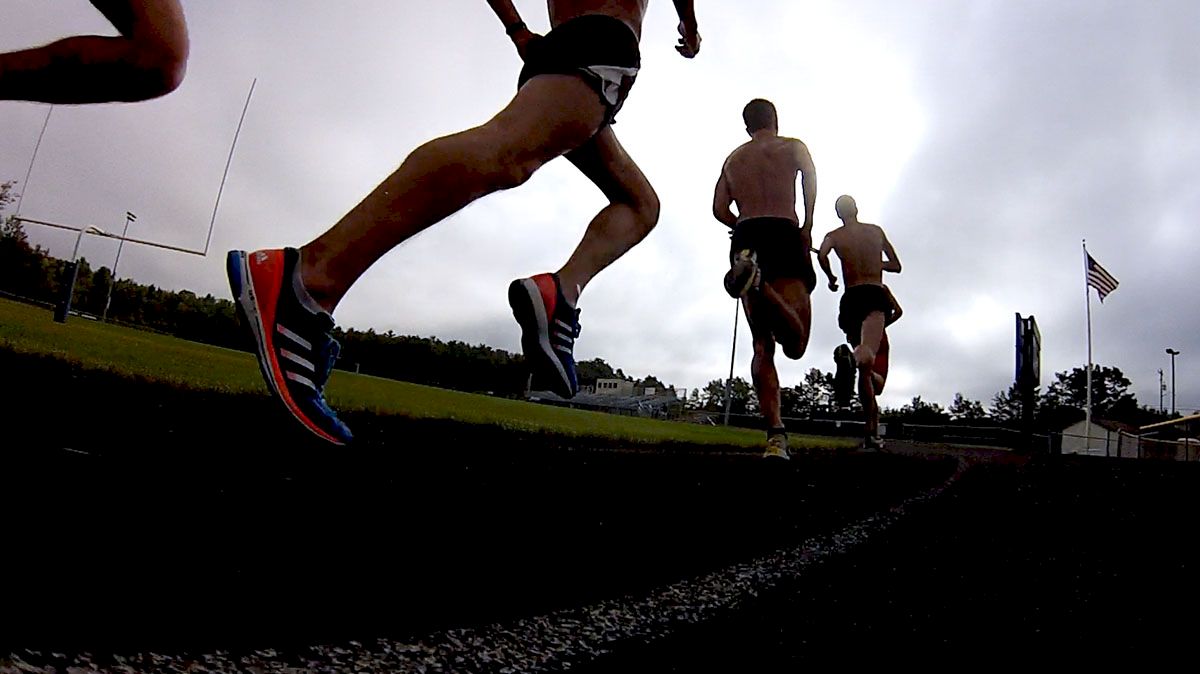 What? You mean you still haven't checked out all the amazing results from around the country this Saturday? Or heard the breathtaking post race descriptions from our country's finest athletes? Are you sure you're on the right website? (
Full results from the weekend
)
SATURDAY
Millrose Games
(
Millrose Results
)
Morgan Uceny
steps back down to her first love, the 800, and pulls of a win against a stacked field. Check out the race
here
.
Jenny Simpson
won the
mile wire to wire
as she battles
Shannon Rowbury
and bounces back from a very tough season opener last weekend. Hear what she has to say
here
.
German Fernandez's
collegiate record is no more! BYU's
Miles Batty
put his name in the record books
running a 3:54.54
to finish just behind possibly the smoothest runner out there,
Matt Centrowitz
. Check out
BYU's reaction
to the record breaking performance.
Finally, if you haven't seen the
BEST INDOOR 5K EVER RUN ON AMERICAN SOIL
you need to watch
this video
before you dare call yourself a track fan again.
Bernard Lagat
,
Lawi Lalang
and high schooler
Edward Cheserek
have entered their names into the record books in a memorable performace. Oh yeah, and
Chris Derrick
ran an Olympic A Standard indoors (13:19)!
Also check out
Sanya Richards
just missing the American Record
in the 400
by less than .3 and
LaShawn Merritt
signs prize for the prediction contest after his
500 meter victory
.
Flotrack Husky Invitational
(
Flotrack Husky Results
)
Hey guys, ever seen 2 girls break your mile PR from junior year of high school? Get your
ego deflated
here
as
Sally Kipyego
finishes off a great early season double (15:15/4:28) and
Katie Flood
inches closer to behind one of the best indoor collegiates of all time! And behind them 5 more women ran under 4:34, including an Oregon school record by Anne Kesseling.
You should also check out the
women's 3k
which a sub 9 performance by
Kim Conley
and surprise efforts from Cal's
Chelsea Reilly
. OTC's Lisa Uhl finished third.
Think things can't get any sicker? How about 12 guys
going sub 8
in the 3k?
Ryan Hill
ran one of the fastest NCAA time ever (7:43) with
Diego Estrada
just steps off (7:44).
Check out the
men's Mile
which saw PSU's new star Robby Creese break the four minute barrier with Princeton's
Peter Callahan
. Also see
Evan Jager's
indoor debut and shoot, even the
slow heat broke 4:00
minutes!
Also watch
Lopez Lomong
take the 800 in 1:47 as he prepares to make his second Olympic Team. On the women's side Geena Gall wins leading
eight ladies under 2:06
.
BU Valentine Invitational
(
BU Valentine Results
)
Remember when sub 4 used to be a big deal? Check out Rich Peters
shatter the barrier
as he tows 4 runners underneath the mythical mark.
Not enough of a distance hog for the mile? Well take a look at one of the year's best collegiate 800s so far. See five guys
break 1:48 here
behind winner Michael Rutt.
SPIRE D1 Indoor T&F Invitational
(
SPIRE Results
)
Will it ever end? Five more
sub 8:00 3ks here
.
10 guys
under 1:50
, not too shabby.
On the women's side,
9 ladies broke 4:50
behind eventual winner Hannah Brooks of FSU.
Amanda Winslow
, also of FSU, punches her ticket to Boise with a 3k auto mark of
9:09 in this race
.
After winning Kick of the Week last week, Greensboro's Paul Chelimo show some range
winning the mile
.
Iowa State Classic
(
Iowa State Results
)
Nearly four women set NCAA auto marks in the 5k, including Saina, Nelson, Tuliamuk and Stack. Three of those women are from Iowa State! Watch the four ladies battle
here
.
8 sub 4:50 miles on the women's side of the Iowa State Classic.
Check out the race m'here.
Take a look at a sick 1:47.74 800m
race by Edward Kemboi
. Also check out Christian Smith break 1:50 for third place.
USA XC Championships
(
USA XC Results
|
Photo Links
)
Check out interviews with the winners of the USA Championships, Sara Hall who squeaked out a close win against Molly Huddle and Bobby Mack who is an NC State alum.
USATF Classic at Arkansas
(
USATF Classic Results
)
Galen Rupp
breaks Bernard Lagat's American 2-mile record (
see Lagat's reaction
) running 8:09 (splits of 4:07-4:02) with a sinus infection. Flotrack went to Albuquerque to meet with Galen and talk about his record setting performance.

Other Results:
2012 Tyson Invitational
2012 Don Kirby Elite Invitational (New Mexico)
---
FRIDAY
Gotta get down on Friday
In case you live under a rock or just have a social life and were not glued to Flotrack.org last night, here's what you might have missed.
IU's DMR
ran an automatic qualifying time of 9:29.12 at home last night. The Hoosier's posted both the fastest time of the season for any collegiate team as well as a world leading mark in the event. Check out the race
here
.
Flotrack Husky Classic
The OTC put on a great show as
Sally Kipyego won the fast heat
in 15:15.41 over Cal's Deborah Maier while
Chris Thompson and Kevin Chelimo finished 1-2 over Hassan Mead of Minnesota
who set a collegiate leading time with his efforts.
Hear what Hassan had to say about mixing it up with the big boys
here
.
BU Valentine Invite
Over at the BU Valentine Invitational, Georgetown's
Emily Infeld
ran a gutsy last lap to overtake
Abbey D'Agostino
of Darthmouth in the women's 3k.
Meanwhile in the women's mile, Nova alum
Nicole Schappert
of the NYAC had a breakout race as she ran 4:33.16 for a seven second victory and a big PR.
New Mexico - Don Kirby Elite Invitational
In the men's 60m dash at the Don Kirby Elite Invitational in New Mexico, Florida's Jeff Demps narrowly edged Ryan Milus of ASU as they ran 6.56 and 6.58 respectively to both grab an auto qualifier.
Check out the showdown here
.
Texas Tech alum Gil Roberts put on a show in the 200 and 400 as he ran a blistering 20.58 and a world leading 45.39.
Check out the 400 here
.
Millrose Games
And finally, we got to speak with many of the athletes running in the Millrose Games tonight. Check out how they're feeling going into the races.
Lagat
talks about his training and the amazing ability of new training partner Lawi Lalang.
Centrowitz
discusses last weekend's 3k PR and his expectations for his favorite east coast games.
Miles Batty
speaks about the expectations on his shoulders as returning NCAA champ and what he hopes to accomplish.
Chris Derrick
talks Stanford, training, injury, and representing his school at the Millrose Games.
Mid-D stud
Shannon Rowbury
talks about her decision to race the mile and what she hopes to take away from New York.
Man of the hour
Cam Levins
speaks about his recent breakthroughs, his mileage leading up to the games and the experience of being a part of the country's premiere indoor event.
Jenny Simpson
talks about last week's race in Boston and how it has helped prepare her for this weekend's endeavors.
Looking to show off your T&F knowledge? Be sure to enter our
Prediction Contest featuring LaShawn Merrit
in his attempt to break the 500m World Record.