Diamond League: 2012 Herculis Monaco
Evan Jager sets steeple chase American Record, 8:06.81!
Evan Jager sets steeple chase American Record, 8:06.81!
Jul 20, 2012
by Ryan From Flotrack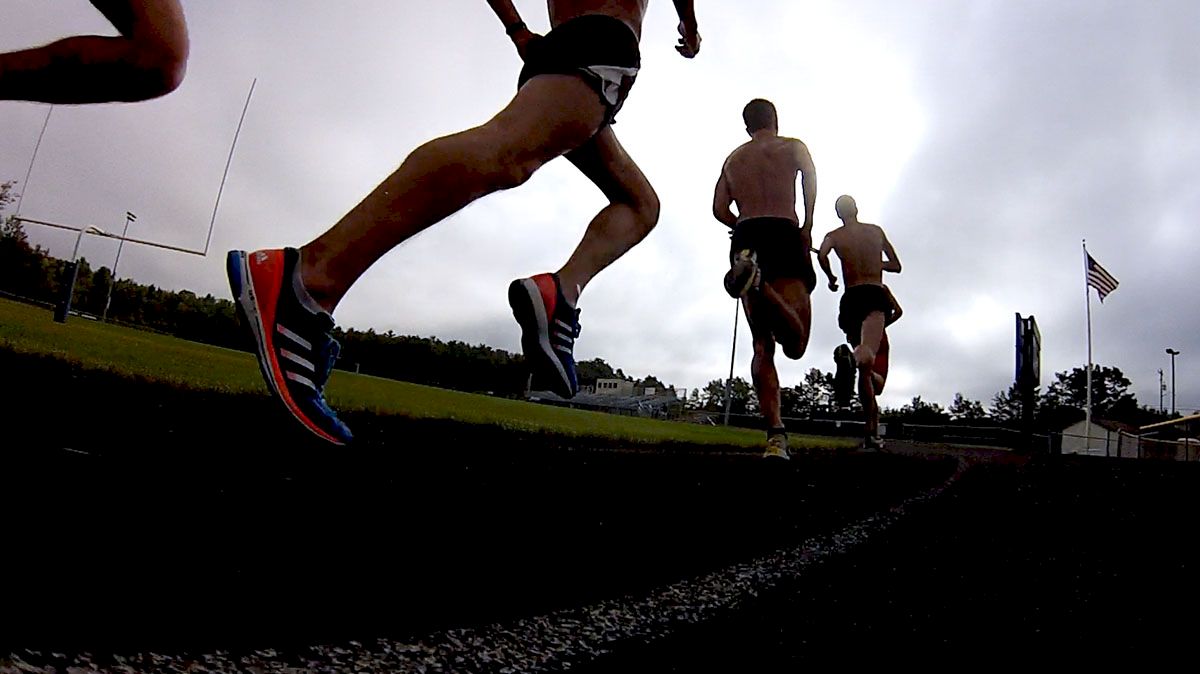 Evan Jager Bombs dropping in Monaco!
Jager runs personal best by 11 seconds to set American Record.

Watch Jager Race Video
|
Moncaco Results
July 20, Monaco
- In the final meet before the 2012 London Olympic Games Evan Jager answered any questions of how he'd fair against the best steeplers in the world. In only the fifth steeple race of his life, Jager not only improved his Olympic Trials winning time of 8:17 by eleven seconds but he also took 2.01 seconds off of Dan Lincoln's American Record running 8:06.81 (Lincoln had run 8:08.82 on July 14, 2006). The time currently ranks Jager 8th in the world.
When Jager made his debut at the
Mt SAC Relays
in April, fans let their imaginations run wild with the possibilities of how fast Jager could run in the event. Having run 3:38 for 1500, 7:41 for 3k and 13:22 over 5000 meters it seemed as though the newly turned steepler had the potential to go after at the American Record in the next year or two. Even in a
post race interview
after his first race Jager mentioned thoughts of the record and conversations he had with Lincoln. However, the steeplechase smacked Jager hard when he hit the final water barrier in his second steeple at Oxy
causing him to go down
and fade to third. Jager was
visibly shaken up
after what he called a mental lapse in the race and decided his next steeple wouldn't be until the Olympic Trials.
During the Trials, Jager looked refocused and confident through the opening round. In the finals it was as though he was a seasoned vet
pulling away from America's best
steeplers with ease, including Dan Huling who had been the fastest American steepler since the American record was set in 2006 (Huling ran 8:13.29 in 2010).
Jager went on to win
the Trials by over two seconds running 8:17.41. Donn Cabral and Kyle Alcorn joined Evan in the top three to earn spots on the US Olympic team. All of a sudden American record thoughts were back in the minds of many.
Many will not be surprised by the fact Jager set the American record but rather how quickly he accomplished it. Before Lincoln, only two Americans had ever broken 8:10 with Henry Marsh running 8:09.17 in 1985 and Mark Croghan running 8:09.76 in 1993. Outside of those three, no American steepler had run under 8:13. Evan Jager in one season, with only five races, has turned a corner in US steepling. The future looks bright and we expect more to follow in his footsteps.
What does this mean for London?
Although on the World list, the 23 year-old Jager ranks 8th and it must be noted that six of the athletes ahead of him are Kenyan. With only three Kenyans heading to London, not including #1 World ranked Paul Koech (ran 7:54 but only finish 7th at the Kenyan Trials) and Richard Mateelong (ran 7:56 in the race with Koech), Jager now looks to rank fourth in the world competing at the Olympics and only five seconds off of the leading time in London (and .65 out for the top three). All of a sudden Jager looks like one the best US chances for a distance medal in London and has the opportunity to break up Kenyan steeple domination at the Olympics, a daunting task. Since 1984 there have been 21 Olympic steeplechase medals awarded, Kenya has taken home 15 of them while sweeping the medals in both 2004 and 1992.
The last American to medal in the steeplechase was Brian Diemer (coached by Ron Warhurst) in the 1984 Olympic Games in Los Angeles. Right behind him in fourth place was American Henry Marsh. The two ran 8:14.06 and 8:14.25 respectively, while the winner Julius Korir 8:11.80. Korir ran for Kenya.
Top 6 Leading Marks in 2012 heading to London:
1. Abel Mutai, Kenya 8:01.67 (8:01.67 PR)
2. Conseslus Kipruto, Kenya 8:03.49 (8:03.49 PR)
3. Roba Gari, Ethiopia 8:06.16 (8:06.16 PR)
4. Evan Jager, USA 8:06.81 (8:06.81 PR)
5. Brahim Taleb, Morocco 8:10.20 (8:07.02 PR in 2007)
6. Ezekiel Kemboi, Kenya 8:10.55 (7:55.76 PR in 2011, Reigning 2x World Champ)

Monaco Men's Steeple Chase Results:

RANK
ATHLETE
NATION
RESULT
DIAMOND POINTS
DIAMOND RANKING

1

KEN

8:03.49

PB

4

2

2

KEN

8:03.90

14

1

3

USA

8:06.81

AR

1

6

4

KEN

8:09.23

SB

5

KEN

8:10.62

1

6

6

MAR

8:14.11

7

KEN

8:16.26

2

4

8

FIN

8:27.96

SB

9

MDA

8:29.69

10

AUS

8:32.86

11

CAN

8:36.69

12

FRA

8:39.90

KEN

DNF

KEN

DNF
1000m
Koech, John (KEN)
2:44.04
2000m
Yego, Hillary Kipsang (KEN)
5:24.17