Top 5 Recap: Day 3 at 2012 London Olympic Games
August 5, 2012 | London, UK

Day 3 Full Results | Photos

1. From Champion to Legend: Usain Bolt gets 100m Olympic Record! 9.63!!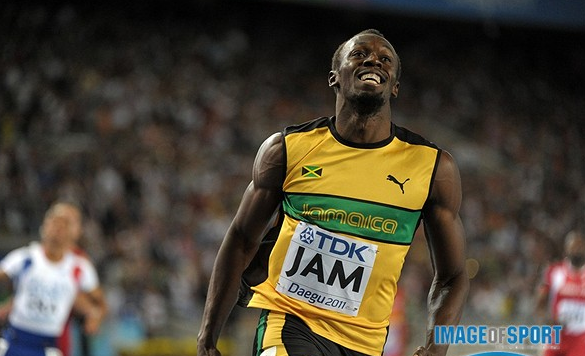 Jamaican sprinting sensation Usain Bolt silenced all of the doubters tonight as he earned his second Olympic Gold medal in the 100m final! Not only did Bolt stomp on everyone, but he also grabbed the Olympic record by running 9.63, solidfying his legendary status. Bolt was followed but couldn't be touched by Silver medalist Yohan Blake and Bronze medalist Justin Gatlin, both running personal bests.

Men's 100m results/recap


2. Sanya Richards-Ross Finally Earns Olympic Gold!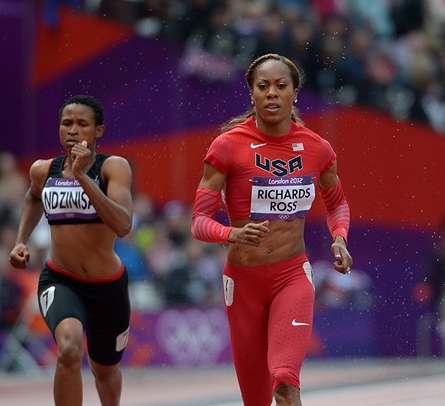 Sanya Richards-Ross got some redemption today as she earned her first Olympic Gold medal in the 400m final. After finishing with a bronze medal in Beijing, Richards-Ross came back and edged out 2008 Olympic Champion Christine Ohurougu for the gold in 49.55! Another American earned a spot on the podium as Deedee Trotter battled it out to the line for bronze.

Women's 400 results/recap


3. Rough Day for Americans in Men's 400m Semi's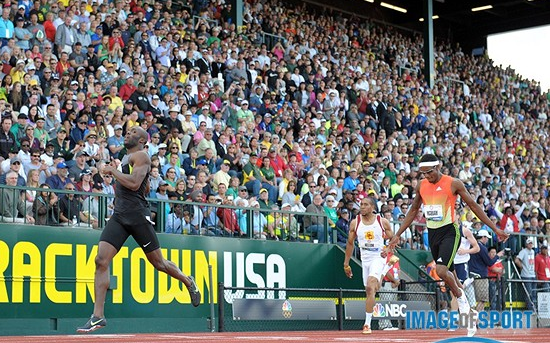 The men's 400m semi-final was a rough day for the Americans as Tony McQuay and Bryshon Nellum failed to advance to the final tomorrow night. McQuay finished 4th in heat 2 with a time of 45.31 while Nellum finished 3rd in heat 3 with a time of 45.02. This was both athletes' first Olympic Games.

Men's 400m Results/Recap


4. Two Americans in Men's 1500m Final!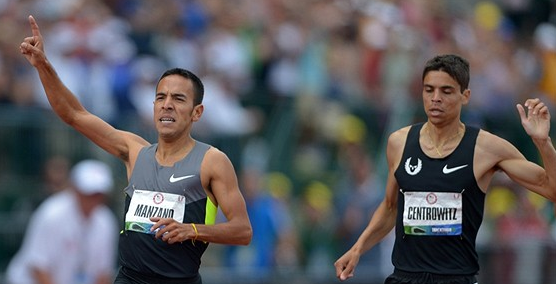 The men's 1500m semi-final was a great performance for American middle-distance stars Leo Manzano and Matt Centrowitz who both advanced to the final on Tuesday. It was the first five out of two heats plus the next two fastest times to qualify. Manzano secured his spot in heat 1 during the final battle on the homestretch where he leaned at the line for fourth place. Centro advanced on place as well with a fifth place finish in heat 2 and a season's best of 3:34.90.

Men's 1500 results/recap


5. Olympic Record Broken in Women's Marathon!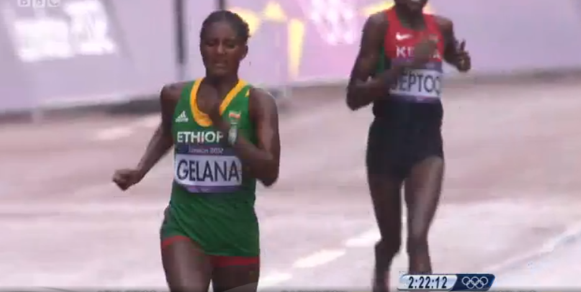 It was a big day for the women's marathon as Ethiopian Tiki Gelana ran an Olympic record time of 2:23.07 to win the race. Not a bad performance for her first Olympic Games. Americans Shalane Flanagan and Kara Goucher both finished close together in 10th and 11th place, both only a few seconds off of their personal bests.

Women's Marathon recap/results