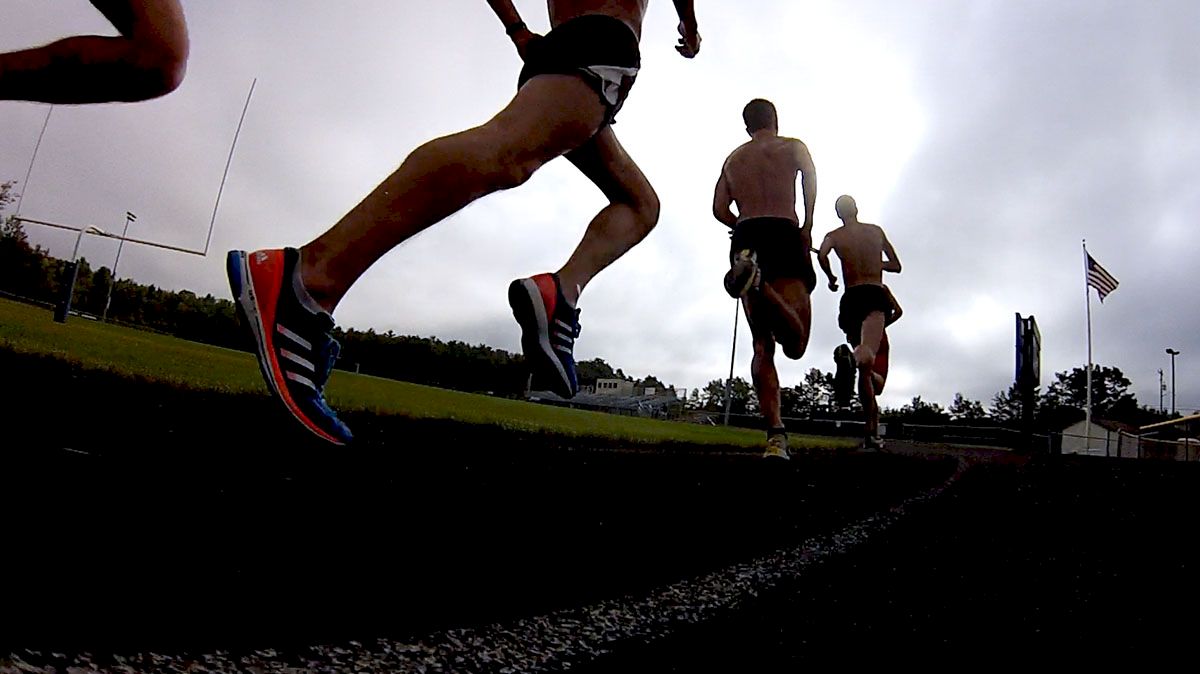 Women's Marathon Quick Hits
2013 John Hancock Boston Marathon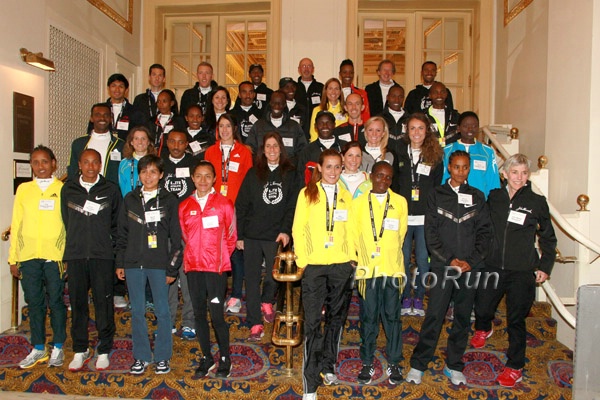 Marathon Schedule:
Women Start: 9:30am EST

RESULTS | Men's Updates

Marathon Records:
World Record - 2:15:25 - Paula Radcliffe (GBR) 13 April 2003
Boston Record - 2:20:43 - Margaret Okayo (KEN) 18 April 2011
American Record - 2:19:36 - Deena Kastor 26 April 2006

American Records set the Boston Marathon

Women (1972 – Present)
| Time | Name, Home | Date |
| --- | --- | --- |
| 2:22:43 | Joan Benoit, Watertown, Massachusetts | 18 APR 1983 |
| 2:27:51 | Patti Catalano, Boston, Massachusetts | 20 APR 1981 |
| 2:35:15 | Joan Benoit, Cape Elizabeth, Maine | 16 APR 1979 |

Women's Top 10 All-Time Performances
| | | | | | |
| --- | --- | --- | --- | --- | --- |
| Rank | Time | Name | Country | Place | Year |
| 1 | 2:20:43 | Margaret Okayo | Kenya | 1 | 2002 |
| 2 | 2:21:12 | Catherine Ndereba | Kenya | 2 | 2002 |
| 3 | 2:21:45 | Uta Pippig | Germany | 1 | 1994 |
| 4 | 2:22:36 | Caroline Kilel | Kenya | 1 | 2011 |
| 5 | 2:22:38 | Desiree Davila | USA | 2 | 2011 |
| 6 | 2:22:42 | Sharon Cherop | Kenya | 3 | 2011 |
| 7 | 2:22:43 | Joan Benoit-Samuelson | USA | 1 | 1983 |
| 8 | 2:23:21 | Fatuma Roba | Ethiopia | 1 | 1998 |
| 9 | 2:23:25 | Fatuma Roba | Ethiopia | 1 | 1999 |
| 10 | 2:23:33 | Valentina Yegorova | Russia | 2 | 1994 |
Women's Course Record Checkpoints
| | | | | |
| --- | --- | --- | --- | --- |
| Location | Okayo's CR Splits | Place | Record | Holder |
| 5 kilometers | 17:03 | In Lead Pack | 15:49* | Benoit-Samuelson ('83) |
| 5 miles | 27:13 | In Lead Pack | 25:35 | Benoit-Samuelson ('83) |
| 10 kilometers | 33:43 | In Lead Pack | 32:00* | Benoit-Samuelson ('83) |
| 15 kilometers | 50:24 | In Lead Pack | 48:08* | Benoit-Samuelson ('83) |
| 10 miles | 53:59 | In Lead Pack | 51:38 | Benoit-Samuelson ('83) |
| 20 kilometers | 1:07:06 | In Lead Pack | 1:04:49* | Benoit-Samuelson ('83) |
| 13.1 kilometers | 1:10:43 | In Lead Pack | 1:08:22 | Benoit-Samuelson ('83) |
| 15 miles | 1:20:45 | 2nd | 1:18:56 | Benoit-Samuelson ('83) |
| 25 kilometers | 1:23:32 | 2nd | 1:21:34* | Benoit-Samuelson ('83) |
| 30 kilometers | 1:40:16 | 1st | 1:38:05* | Benoit-Samuelson ('83) |
| 20 miles | 1:47:30 | 1st | 1:46:44 | Benoit-Samuelson ('83) |
| 35 kilometers | 1:57:10 | 1st | 1:56:08 | Benoit-Samuelson ('83) |
| 40 kilometers | 2:13:39 | 1st | 2:14:18 | Uta Pippig ('94) |
| 25 miles | 2:14:22 | 1st | 2:15:10 | Uta Pippig ('94) |
| Finish | 2:20:43 | 1st | 2:21:45 | Uta Pippig ('94) |
| * An estimate | | | | |


The Favorites: (personal best)
1. Rita Jeptoo Sitienei, Kenya (PB: 2:22:04; Chicago 2012) - Ran 66:26 earlier this year at the RAK Half. Took 6th in Boston last year.

2. Meseret Hailu Debele, Ethiopia (PB: 2:21:09; Amsterdam, 2012) - 66:56 at the RAK Half

3. Shalane Flanagan - (PB: 2:25:38; U.S. Trials, 2012) - If the hometown hero is going to notch arguably the biggest win of her career (she discounts the bronze medal from '08), then it's going to be today.

4. Tirfi Tsegaye Beyenen (PB: 2:21:19; Berlin, 2012) - Ran 2:23:23 in January (Dubai). She's also taken first and second at Paris and Berlin, respectively.

5. Mamitu Daska (PB: 2:21:59; Frankfurt, 2011) - She enters Boston with an odd race schedule, but her 69:53 win at the rainy Houston Half means that she's ready to roll.

The Americans: (personal best)
1. Kara Goucher
2. Stephanie Rothstein-Bruce
3. Serena Burla
4. Alissa McKaig

Past Boston Marathon Results: http://flo.mx/Zse4PX

The 2013 Boston Marathon is off! Can an American end the U.S. drought?!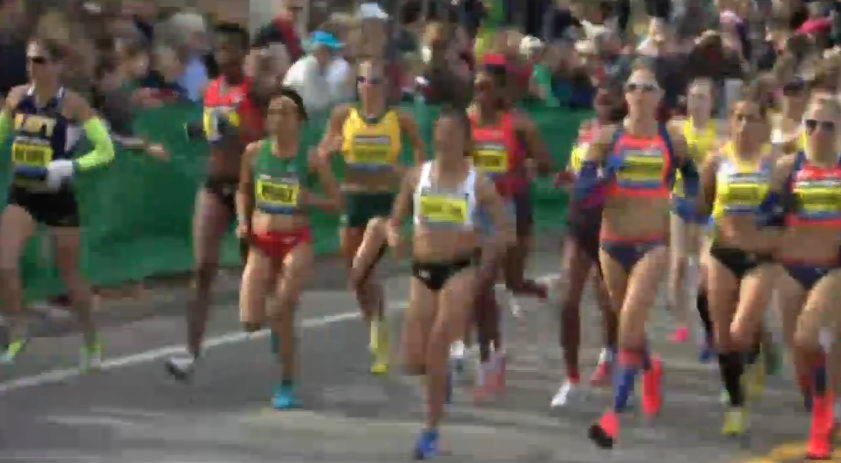 ---
Mile 1
Split - 6:04
Pace - 2:38:56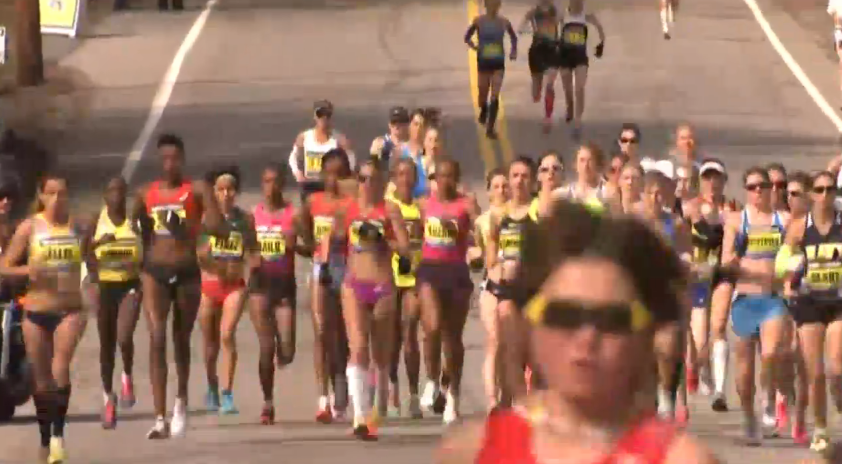 Well, it's going to be a slow one. Two Japanese women have gapped the field by a sizeable amount after the gigantic group came through in 6:04... is this playing in Flanagan's hands?


---
Mile 2
Split - 11:54
Pace - 2:35:53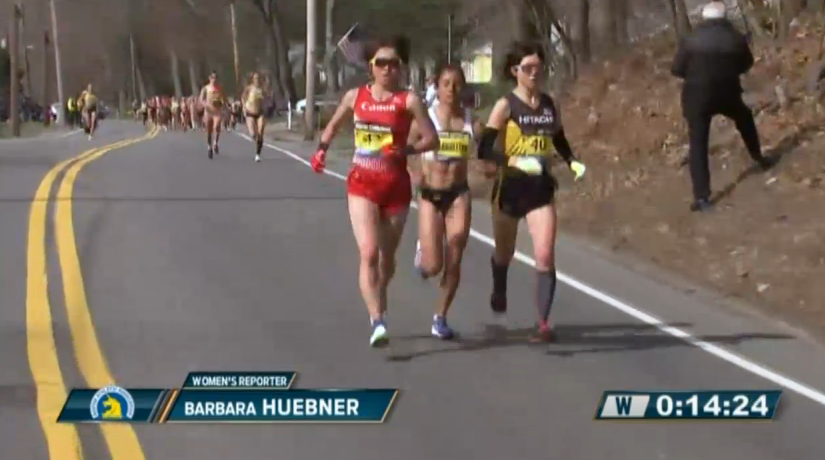 The picture says it all. This is going to be one of the most insane second half of a marathon, ever. WHAT IS EVERYONE THINKING?


---
Mile 3
Split - 17:47
Pace - 2:35:18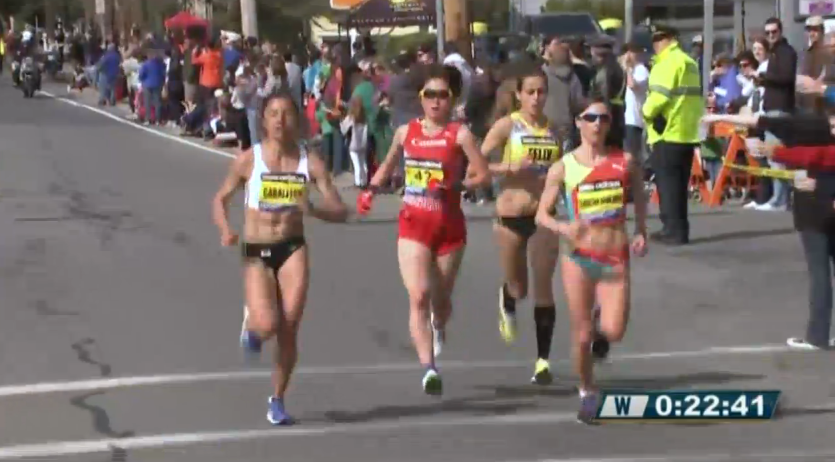 More of the same just past mile three. The four women up front passed 5k in 18:23, which isn't anything special. The HUGE chase pack is reportedly 150m back. It's going to be an interesting next few miles as someone will eventually make a move, right? Right?


---
Mile 4
Split - 23:21
Pace - 2:32:56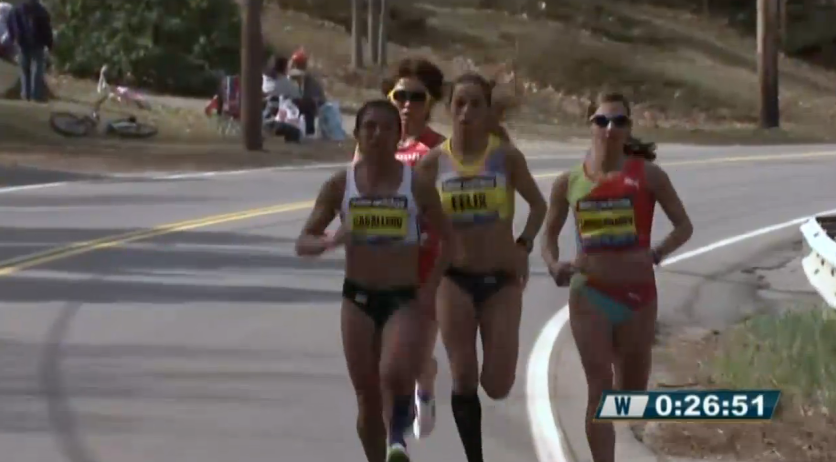 The chase pack is reportedly 35-seconds back (edit: Now it's 100m). We'll try and get splits for Shalane, Kara, and the American crew.


---
Mile 5
Split - 28:59
Pace - 2:31:52

It's still 100m back to the chase pack. At least now, we can see them in the background. Earlier this week, Goucher talked about how she was impatient in '09 when she made her move at 20 miles. I wonder she and Flanagan are thinking now at mile 5.


---
Mile 6
Split - 35:52
Pace - 2:36:43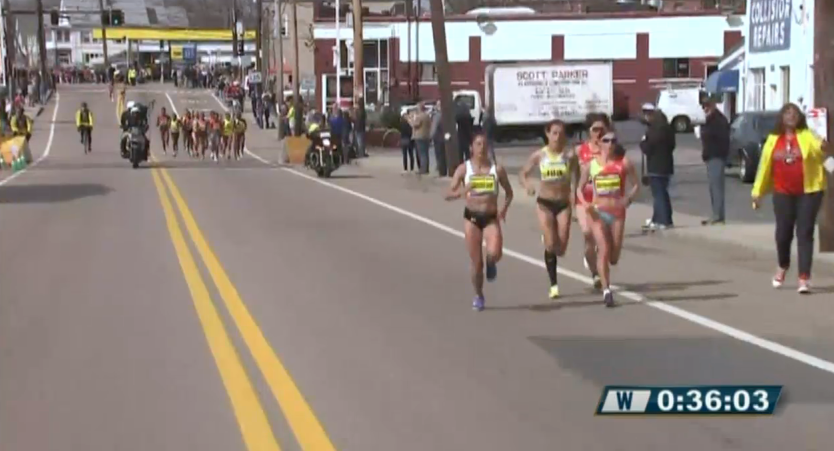 Now the gap is 50m. It'll be interesting to see what happens when the chase pack finally catches up to this quartet.


---
Mile 7
Split - 40:18
Pace - 2:30:56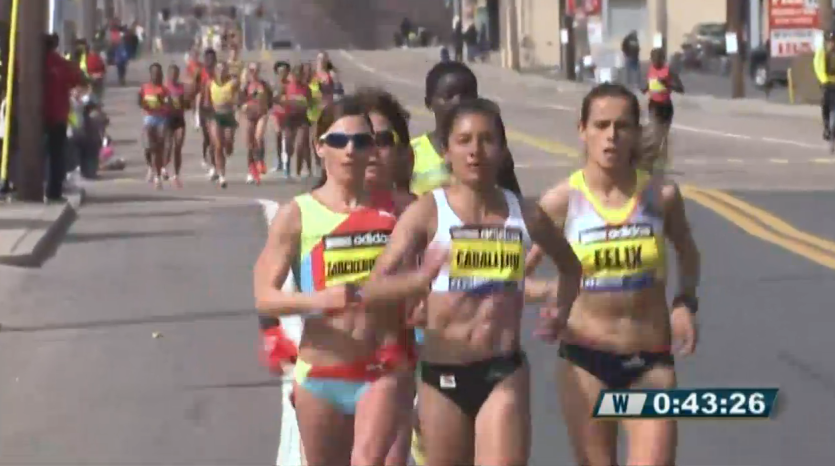 Unofficial 10k split for Flanagan, Goucher, and Burla: 36:05. They're only 13 seconds back from the lead pack which consists of Yolanda Caballero (COL), Ana Dulce Felix (POR), Sabrina Mockenhaupt (GER), and Yuka Yano (JPN).


---
Mile 8
Split - 45:54
Pace - 2:30:19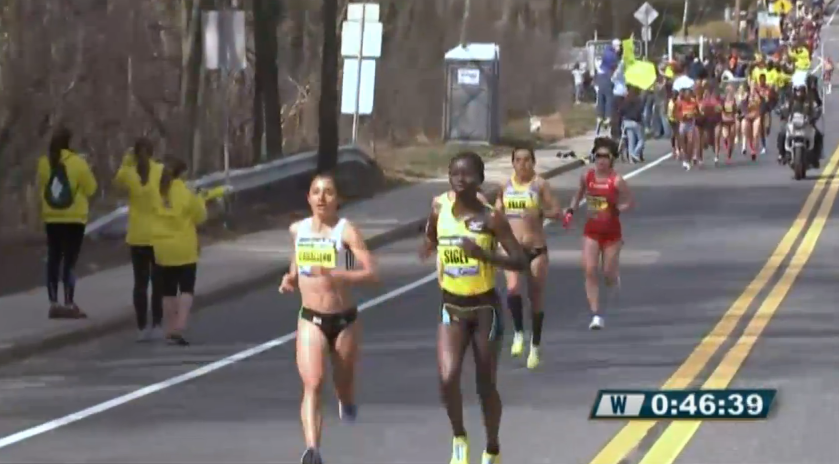 The predators and the prey. You can feel the chase pack slowly reeling in these four ladies. Oddly enough, the men's race is playing out very similarly with Hartmann, Cabada, and Watson up front and a huge chase pack 50m back.


---
Mile 9
Split - 51:20
Pace - 2:29:26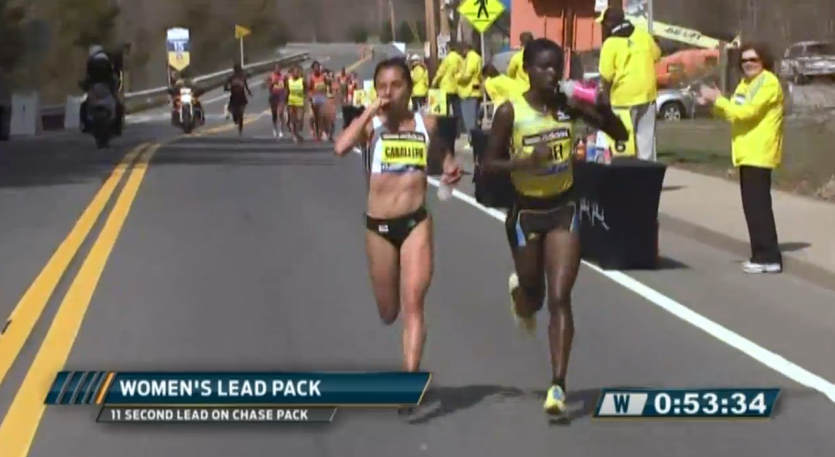 Here they come. The talk is about how Flanagan bedazzled her water bottle to make sure she could see it. Wonder if the sunglasses cancel out that advantage. Anyway, all of the Americans look calm.


---
Mile 10
Split - 56:52
Pace - 2:29:02

The gap is only 20m now with Shalane and Kara in the back. KARA IS TAKING OFF THE ARM WARMERS. IT'S ON.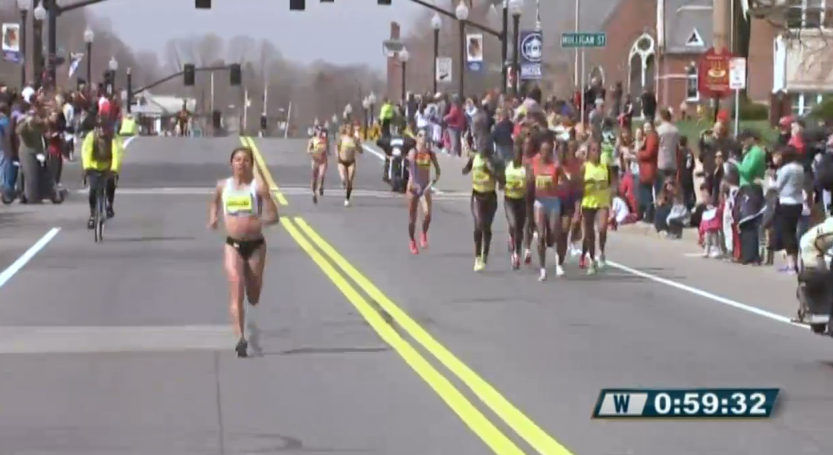 ---
Mile 11
Split - 1:02:26
Pace - 2:28:42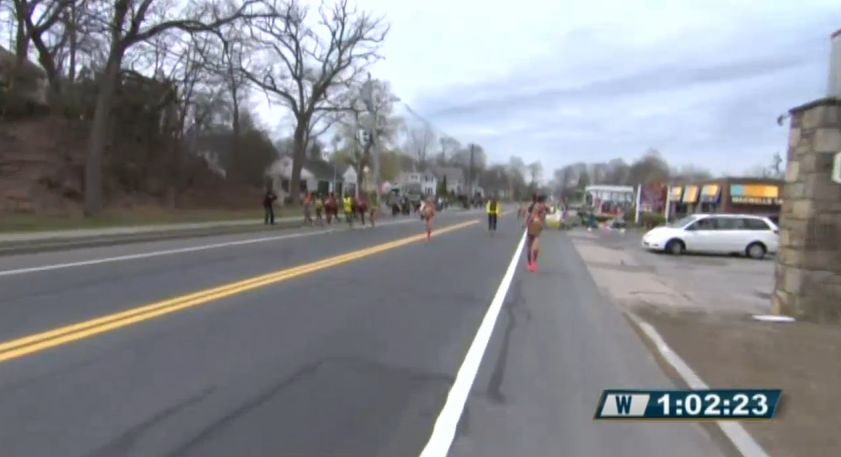 It's hard to make out, but Flanagan is running in the middle of the road while Goucher is on the far left side (the rest of the group is opposite on the right). Very Zatopek-esque, if you will.


---
Mile 12
Split - 1:07:32
Pace - 2:27:26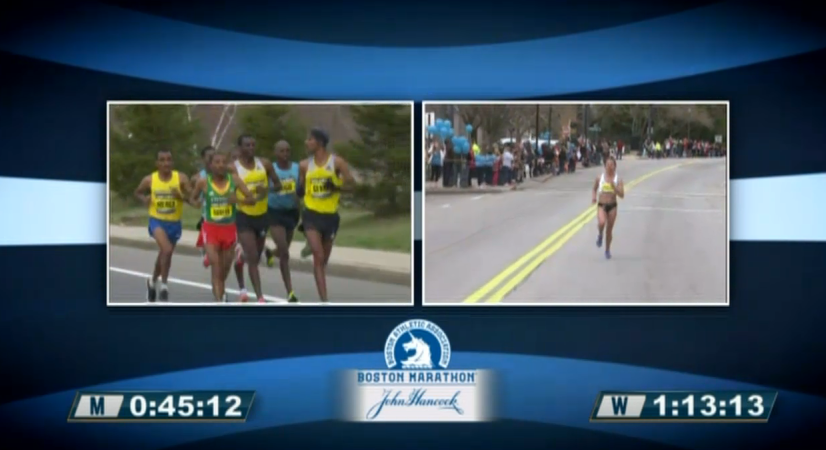 All of a sudden, Yolanda Caballero has broken away from EVERYONE. If you haven't read her story, I'd suggest doing so now (it's incredible). Marc Davis reports that her gap is approximately 200m. You can't even see the chase pack.

You have to wonder what everyone else is thinking. As my roommate always said, "Fear the wrath of the patient (wo)man."


---
Mile 13
Split - 1:13:24
Pace - 2:27:55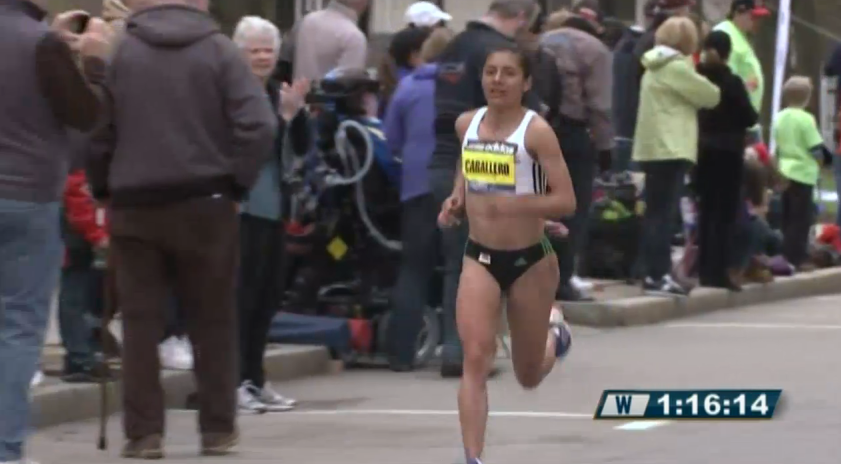 It's a lonely road to Boylston Street for Caballero. The chase pack is back in the picture and they're slowly making up ground. Still though, a brave run from Caballero.


---
Mile 14
Split - 1:19:00
Pace - 2:27:50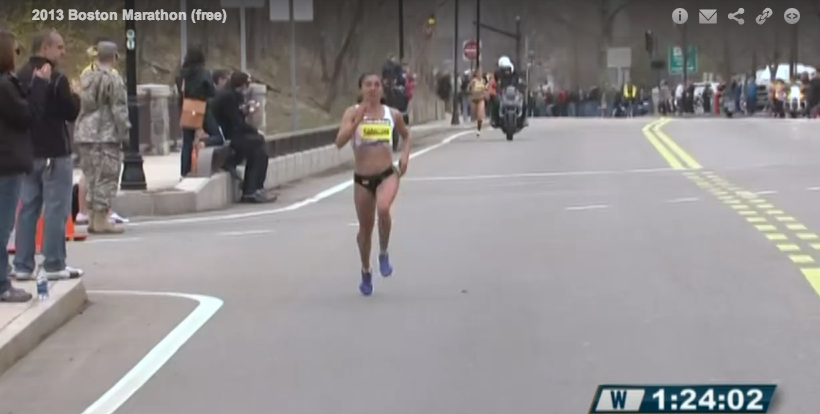 There's been a break from the chase back, but the lead car cannot identify her (edit: It's Ana Dulce Felix, who was up front earlier). No sign from anyone else.


---
Mile 15
Split - 1:24:43
Pace - 2:27:58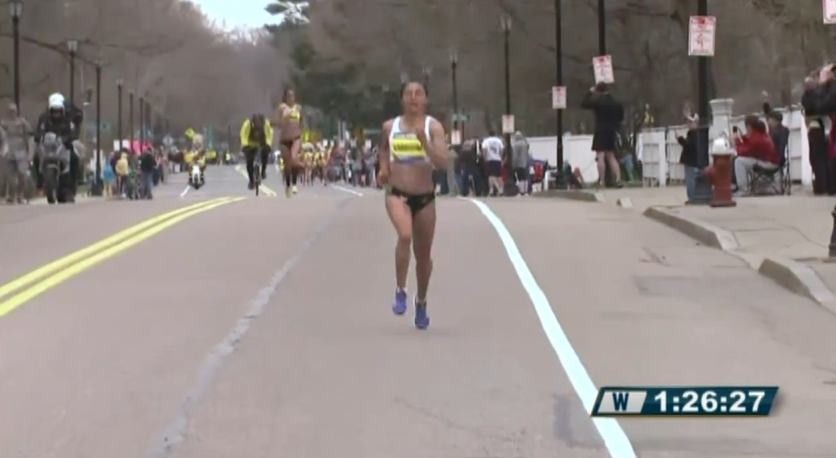 Dulce Felix is gaining and everyone else is still out of frame. The energy in the room is starting to shift from excitment for the Americans to anxiousness. Updates for the chase pack are scarce, so we'll just have to wait and see.


---
Mile 16
Split - 1:30:15
Pace - 2:27:47




Dulce Felix has taken up the torch and is your new leader. Right at the water stop, Dulce Felix took a look back and decided to drop the hammer. Caballero does not look good; the chase pack is still out of view.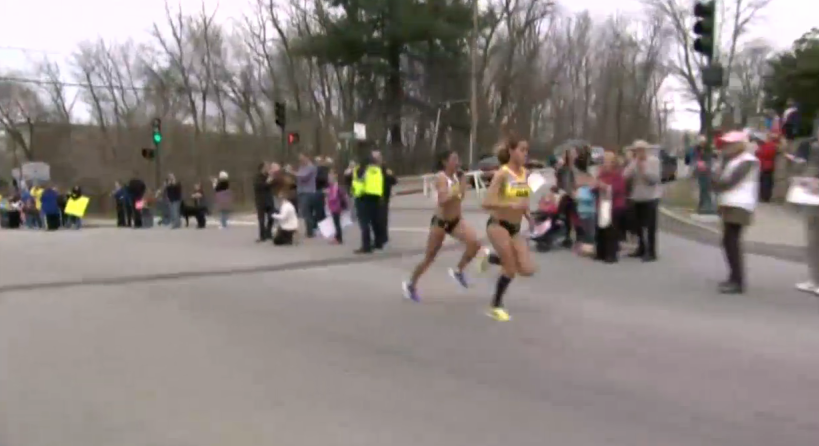 ---
Mile 17
Split - 1:35:46
Pace - 2:27:35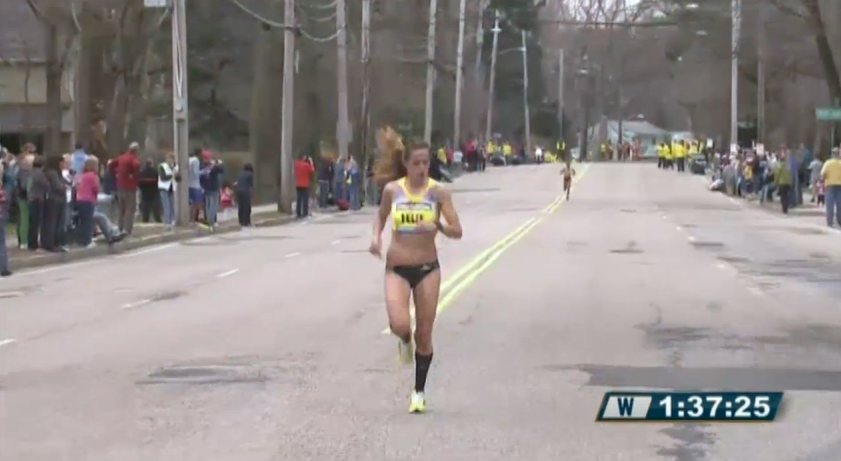 Dulce Felix has a 23 second lead over Caballero... can't image the split on the chase pack. You can see them (barely) in the screenshot above. "What is this, a marathon for ants?! THEY'RE TINY." - Zoolander, paraphrased.


---
Mile 18
Split - 1:41:23
Pace - 2:27:34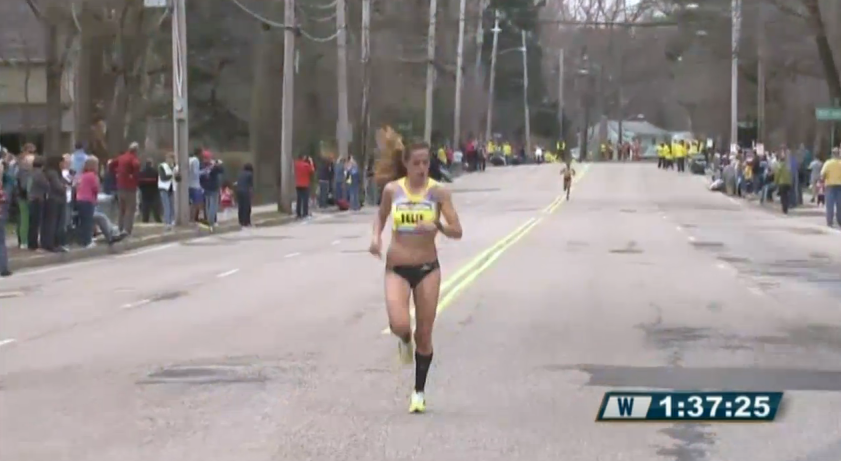 52-seconds back to the chase pack with only 8 miles to go. When will the rest of the field move? Dulce Felix has run 2:25 for the marathon, which is the same as Flanagan's PR. At some point, someone will do something rash or in the very least, decide that they'll have to move now or they'll never see Dulce Felix.

Edit: With Heartbreak Hill coming up, one has to wonder if Dulce Felix is just going to run away with it.



---
Mile 19
Split - 1:46:52
Pace - 2:27:21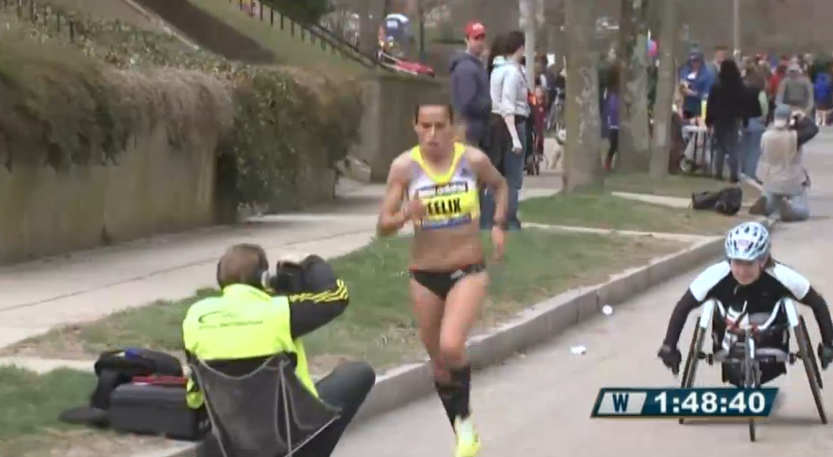 Finally. The chase pack is 1:15 back from Dulce Felix. These last few miles are going to be quick. Expect something epic with the wind and Heartbreak Hill coming up.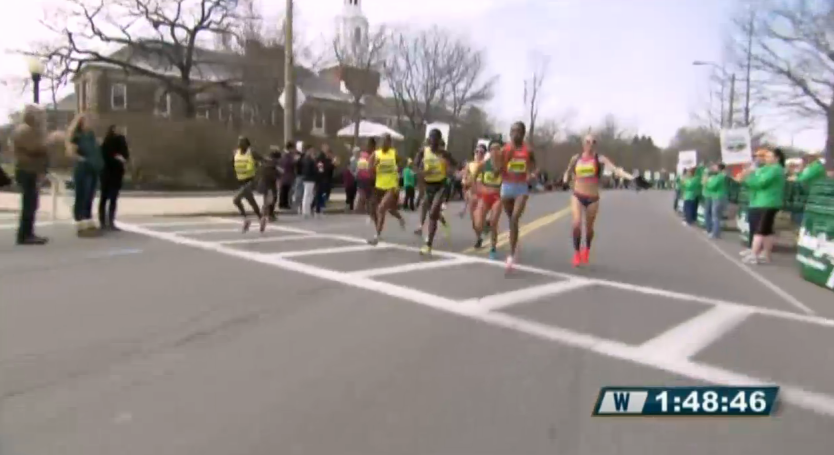 Shalane asking a high five.
---
Mile 20
Split - 1:52:33
Pace - 2:27:26

Dulce Felix keeps looking back and even did a double take. No one is in sight. She just has to hold it together at this point.

Edit: Now she keeps checking her watch to see if what's happening is actually happening... it is, Dulce Felix. It is.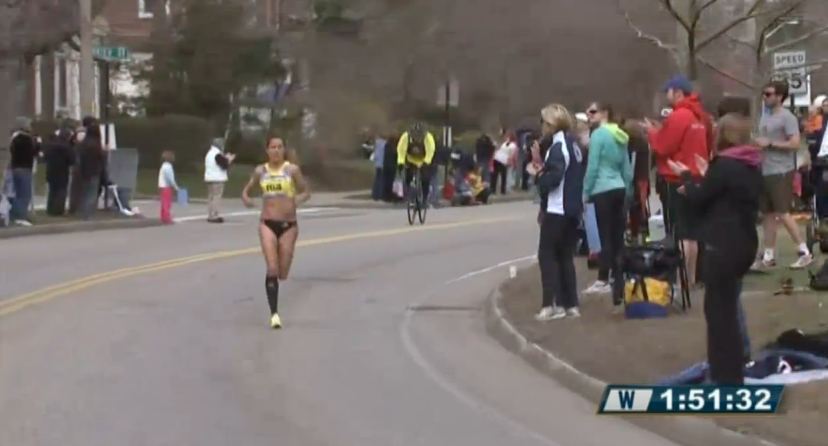 ---
Mile 21
Split - 1:58:31
Pace - 2:27:51

Our friend Dan Suher (Saucony) texted us that Flanagan missed her bottle at mile 19. It may sound trivial, but with the pace picking up at the most difficult portion of the race, the lack of fluids may really hurt Flanagan.

Back to Dulce Felix - she's now lookin' strong as she makes her way up Heartbreak Hill.


---
Mile 22

Split - 2:04:05
Pace - 2:27:46
Notes from the chase pack: They're 70 seconds back and Sharon Cherop is leading the charge to try and catch Dulce Felix.
Dulce Felix is INCREDIBLY anxious for someone in the lead. The chase pack just gained another 10 seconds, but there's only a few miles left. Are they going to run out of real estate? If you're not at Boylston Street right now, I'd suggest making your way to the finish because this is going to be
fast
.
---
Mile 23
Split - 2:09:50
Pace - 2:27:53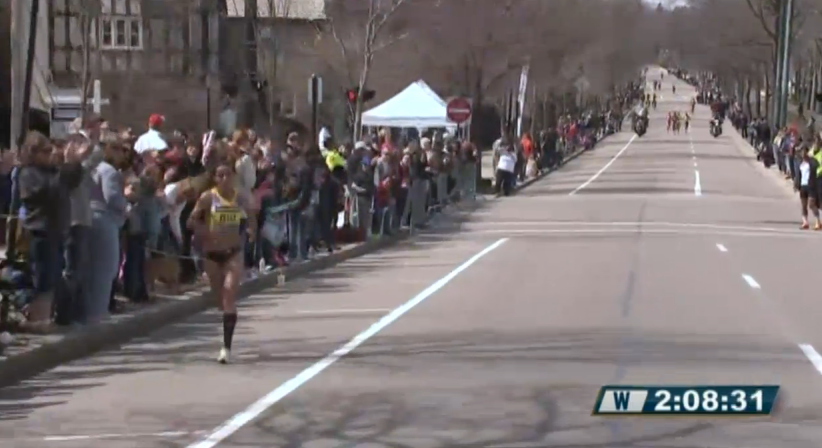 THERE THEY ARE, THERE THEY ARE. The splits have Dulce Felix starting to slow and the chase pack of five, which includes Shalane Flanagan, making up a lot of ground. It's going to be a long push to the finish. Stay tuned.

Edit: Flanagan is starting to fade as this small group makes a push to catch Dulce Felix.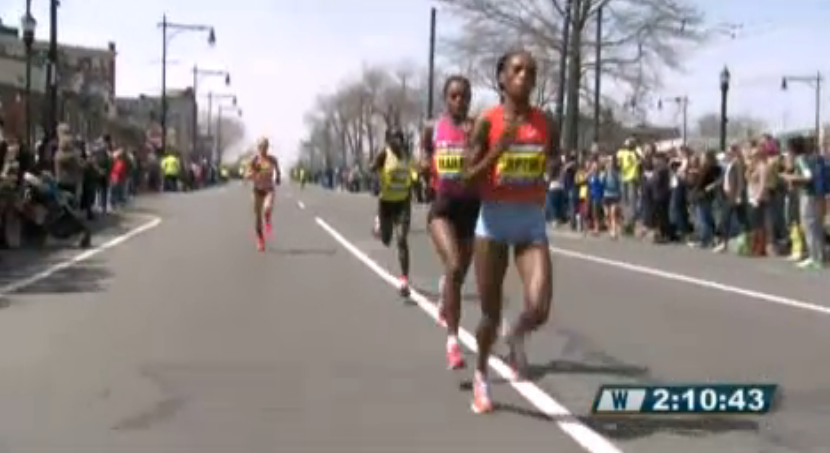 ---
Mile 24
Split - 2:15:08
Pace - 2:27:31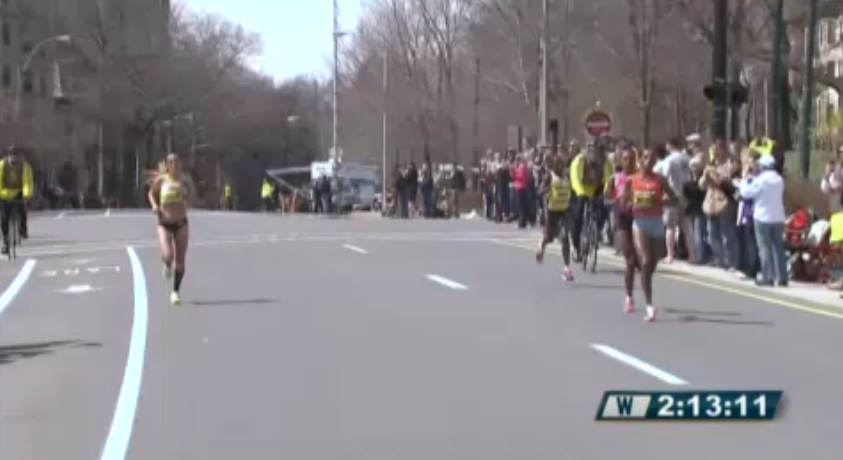 It took 24 miles for this to become a race. It's Jeptoo (our pick to win) leading Hailu and Cherop. Flanagan is running tangents and she's roughly 10m off the front (edit: 6 seconds... ).


---
Mile 25
Split - 2:20:21
Pace - 2:27:05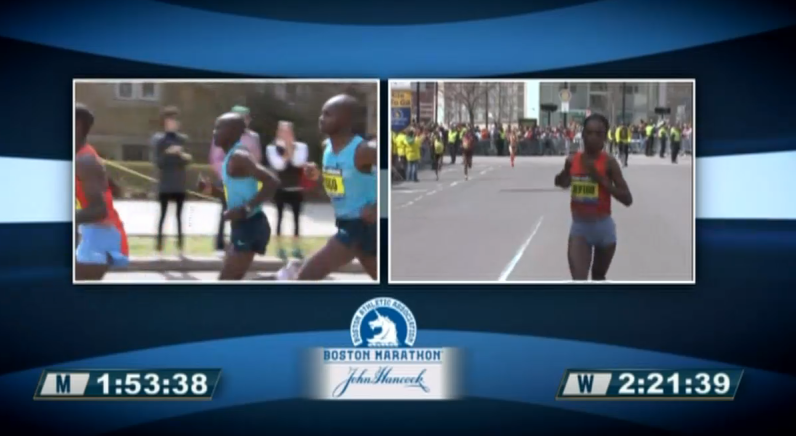 Jeptoo THROWS DOWN and breaks Hailu; Cherop has fallen off and Flanagan is just barely hanging on. The gap is insurmountable, but Flanagan could move up into a podium spot.


---
Mile 26.2 (Finish)
Split -
Pace -

Jeptoo wins, Flanagan takes fourth, and Goucher in sixth. That was nerve-racking. Hats off to Jeptoo, who showed no fear as she lead the chase back from 2:00 back all the way to the finish.