Neither a fall at the Olympic Trials nor a debilitating fall on cement could keep Natosha Rogers from falling out from the sport. The NCAA 10,000-meter champion and 2012 Olympic Trials 10,000-meter runner-up is back from a short hiatus and running again.
Where, and for whom, you ask?
It's not in College Station, Texas, where she rose from blue chip recruit to national champion at Texas A&M, or in her hometown of Littleton, Colorado, where the 5,351 foot elevation could do wonders for her training.
Rogers will make the move to Boston, Massachusetts to work under the tutelage of coach Mark Coogan. And, if you haven't connected the dots just yet, she'll trade the white and maroon Aggie jersey for the black, red, and sometimes pink New Balance kit.
"I knew in the back of my mind, I wasn't done with running," Rogers told Flotrack. "It's the biggest love of my life."
A standout in high school, Rogers finally came into her own over two consecutive seasons at Texas A&M in 2012, her junior year. In her first six races of the indoor season, Rogers set school records at the mile (4:50.06 and 4:45.84), 3,000-meters (9:12.83) 5,000-meters (15:58.40 and 15:52.40), and anchored the the team's distance medley relay (11:29.89).
Roger's seemingly unstoppable run continued outdoors, where she added four more school records outdoors in the 1,500-meters (4:18.75 and 4:17.06), mile (4:41.00) and 5,000-meters (15:45.80).
However, Roger's would find her niche in the 10,000-meters.
In her debut at the distance, Rogers would capture the Big 12 10,000-meter title in 34:18.66. The winning time, which qualified her for the 2012 NCAA Outdoor Championships, would lead to an inspired and stunning series of events.
At NCAAs, Rogers would stun the pre-race favorites and take home the 10,000-meter title in 32:41.63. The winning time, which was a personal best by some margin, earned her a berth to the 2012 Olympic Trials.
In the fourth 10,000-meter race of her career, Rogers would go with the early leaders before slipping back into the pack. Just before the 1,600-meter mark, Rogers would take a spill on the track, but immediately bounce back up to rejoin the race.
As the field dwindled down to four, Rogers hung tough with Amy Hastings, Lisa Uhl, and the defending Olympic Trials champion, Shalane Flanagan. With 250-meters to go, Flanagan would pass Hastings for the lead. But then, 50-meters later, right before the turn for home, Rogers would go for the win.
Even though Hastings would rally to take the national title and Rogers would not make the Olympic Team due to qualifying rules (she didn't have the standard and couldn't chase afterwards), Natosha Rogers had finally arrived.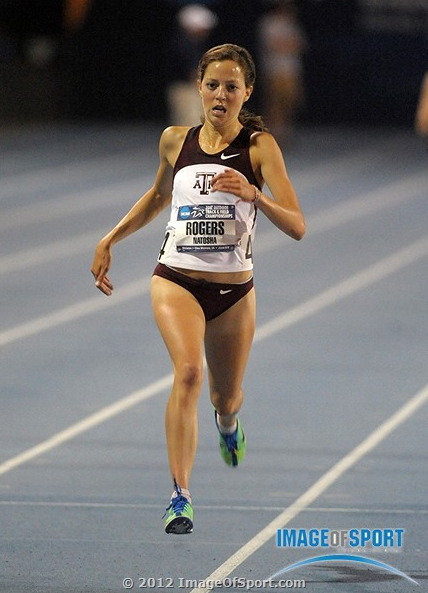 But just as she had begun her rise to stardom, it was soon snatched away by an unfortunate series of illnesses and injuries.
First, not too long after the Olympic Trials, Rogers contracted mononucleosis. Then, she had a "freak accident" where she fell on cement and damaged her knee.
"
I was running and smacked down really hard on my knee," she said.

"We tried everything, really, for I don't even know how many months. The scar tissue just kind of immobilized the knee and I just needed time to get that broken down."
Knowing that she couldn't help her team coupled with a slow recovery process, Rogers decided to regroup, mentally and physically, and leave the sport.
"I knew that the best thing for me was just to step away for a little bit and get some sanity back and get my knee time to heal so that I could have a future with running," she said.
It wasn't until this summer, while in Argentina, that Rogers started to run again. When she returned stateside, healthy and confident, she "gave Ray Flynn a call back." From there, it didn't take long to find a sponsor, group, and coach.
Coogan, who has been transitioning out from his role as the Head Women's Cross Country Coach at Dartmouth College to Team New Balance, was thrilled to start working with Rogers.
"I got to know her really well for the last couple of months and I'm super excited to get her up here and get training with her," said Coogan.
Coogan also noted that while Rogers is talented, he's eager to bring her into a training environment that has brought Ben True, Sam Chelanga, and Abbey D'Agostino incredible success.
"I think a runner just being in a good, positive environment with having someone really believe in you, gets you in the right frame of mind," Coogan said.
"I think that's all that Natosha needs right now because physically, she has the gifts to be a great runner, but what she needs right now is to be in an environment that allows her to be successful and believe in herself."
Rogers will serve as a volunteer coach for Dartmouth College and "stay there until probably after USATF Outdoor Nationals" before heading southeast to Boston.
"New Balance is so nice and accepting of me," Rogers added. "It just shows that it's a really big family and I feel really confident with what I can do with them."