Create a free account to unlock this article!
Get Started
Already a subscriber? Log In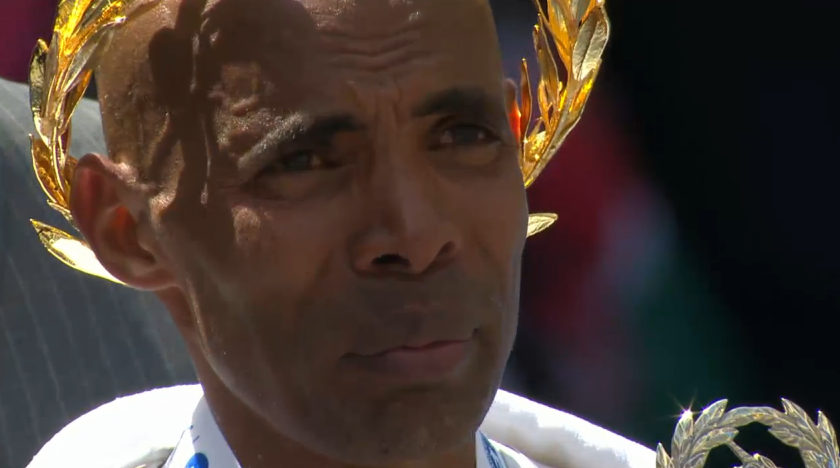 By Chris Chavez and Mitch Kastoff

Meb Keflezighi won the 2014 Boston Marathon in 2:08:36 to become the first American to win the men's race since Greg Meyer in 1983.

The victory adds to a resume where he boasts victories in the New York City Marathon in 2009 and the U.S. Olympic Trials in 2012.

"I'm blessed to be an American," Keflezighi said following his historic win. "This is a special day, Patriots Day...This is beyond words."

The Race, via Universal Sports

Keflezighi split the following:

5 Kilometers: 15:09

10-Kilometers: 15:20 (30:29)

15-Kilometers: 15:18 (
45:47)
20-Kilometers: 15:18 (1:01:05)

Half-Marathon: 1:04:21

25-Kilometers: 1:16:00 (11:39 from 13.1M)

30-Kilometers: 15:10 (1:31:10)

35-Kilometers: 15:27 (1:46:37)

40-Kilometers: 15:12 (2:01:49)

Finish: 2:08:37


Keflezighi's race was made right before the 15K mark, where he and Josphat Boit pulled away from the massive, 22 man lead pack. Once they passed the 15K interval, Boit and Keflezighi had a 10-second lead on the field.

5-kilometers later, Keflezighi and Boit put more space between them and the field, as the gap had grown to 32-seconds. At the Half Marathon mark, the difference was still roughly 30-seconds, but it would be in the next few kilometers that Keflezighi would make a statement. His intentions were already clear, but by the 25K mark, his lead had grown to 51-seconds and Boit had started to fall off the pace.

Keflezighi pushed on through Boston's Newton Hills, and oddly enough, the 39-year-old continued to put more ground between him and the chase pack.

The opening act to the theatrics started at 35K, where Wilson Chebet's charge to catch Keflezighi had finally begun. At that interval, the gap had narrowed to 51-seconds with Chebet still closing.

Anguish now showing on his face, Keflezighi knew that Chebet was coming hard. Taking multiple looks behind his shoulder, but remaining calm, Keflezighi tried to maintain his lead as both the finish line and Chebet were approaching.

"Looking back is not a bad thing," Keflezighi said at the post-race press conference. "It can save you a win."

By 40K, only 8-seconds seperated Keflezighi and Chebet. But just when it looked as if the momentum has shifted, Keflezighi maintained. While it looked as if Chebet catching Keflezighi was inevitable, when the cameras panned back to the Kenyan, Chebet looked broken.

Keflezighi would turn onto Boylston Street with the win within his grasp. After one final look back, Keflezighi knew that in only a matter of a few moments, he would become the first American male to win the Boston Marathon since 1983.

Arm pumps to the sky were followed by arms outstretched as Keflezighi broke the tape in a new personal best of 2:08:36. His previous best, 2:09:08, was from the 2012 Olympic Trials in Houston, TX.
Chebet would hold on for second in 2:08:48. Frankline Chepkwony (KEN) finished third in 2:08:48 and Vitaliy Shafar (UKR) took fourth in 2:08:50. Markos Geneti (ETH) would round out the top five in 2:09:50.

Keflezighi was joined by two more Americans in the top ten. Nicholas Arciniaga finished 7th in 2:11:47 and Jeffrey Eggleston placed 8th in 2:11:57. It was a tough day for Ryan Hall, who finished back in 20th in 2:17:50.

After one of the most incredible American marathon victories of all-time, Keflezighi was emotional. With tears on the award stand and smiles at the press conference, Keflezighi knew that his victory had significant meaning.

"It was my dream to win Boston and to make it just like the Red Sox did and do the same thing for the people."