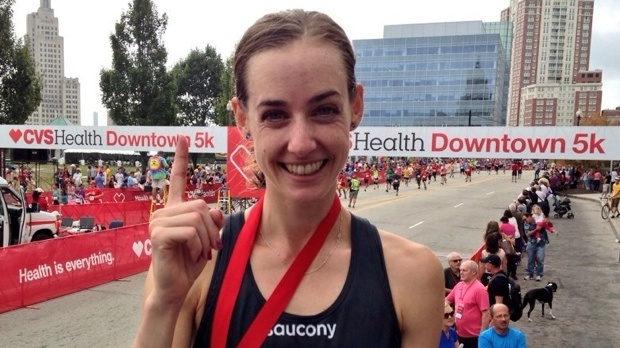 By Chris Lotsbom, @ChrisLotsbom
(c) 2014 Race Results Weekly, all rights reserved
PROVIDENCE, R.I. (21-Sep) -- Racing in her hometown, Providence's own Molly Huddle used experience --and a finely timed kick-- to claim her fourth USA 5-K National Championship here at the CVS Health Downtown 5-K. Sprinting up and over the course's steepest hill with fewer than 400 meters remaining, Huddle stopped the clock in a personal best of 15:10.0.
"It's really special. It's a 5-K U.S. Road Championship and it's my hometown. Definitely more than any prize money in the world, it was just a little bit of pride," Huddle told Race Results Weekly, speaking atop the awards podium. "It was very important to me."
With Kenya's Alice Kamunya leading through the mile in roughly 4:40, Huddle found herself alongside Jordan Hasay some five seconds behind. The pair would reel in Kamunya shortly thereafter, staying together and keeping the pace comfortable for another mile.
"The first mile was really quick," said Huddle. "I think we were just conserving for the hill [approaching] the third mile."
Having won this race in 2010, 2012, and 2013, experience was on Huddle's side. Familiar with the final kilometer --complete with a steep incline leading to the finish-- Huddle anticipated a sit and kick second half of the race. Wisely conserving energy, she relaxed and waited until a half mile remained.
"It felt like coiled energy the last 800m, waiting to go. It was good though, and the wind was pushing us," she said, recalling the moment before turning to another gear.
Making the final turn onto Francis Street, Huddle gained the lead for good, conquering the hill without a problem. Moments later she'd cross the line in 15:10.0, a mere 4.3 seconds behind Asmae Leghzaoui's event record.
"I didn't even have that in my mind," Huddle admitted. "It was a PR for me on the road, and I just wanted to win. That's just a double bonus I guess."
Huddle's time is the fastest ever to win a U.S. National 5-K title, eclipsing Lynn Jennings's 15:24 performance at the Freihofer's Run for Women in 1995.
In second was Hasay (15:25.0) followed by last year's runner-up, Emily Infeld (15:32.5). Hasay gave Huddle credit for the overwhelming move down the stretch.
"I had hoped to be a little closer to Molly, her move," Hasay said before pausing, her eyes widening in amazement. "She just kind of dropped me pretty bad. That's OK; she's the best."
Rounding out the top five was Kamunya (15:41.1, but not running in the USA Championships) and Providence College's own Emily Sisson, 15:44.0. Sisson has NCAA eligibility remaining on the track, but not for cross country.
Seventh in 15:53.4 was Mary Cain, who called road racing "a whole different beast."
"[The result], it's a little disappointing," Cain told Race Results Weekly, noting that she hadn't raced 3.1 miles in over a year. "I think I'd like to stick to the track as much as I can next year."
DIEGO ESTRADA EARNS FIRST NATIONAL TITLE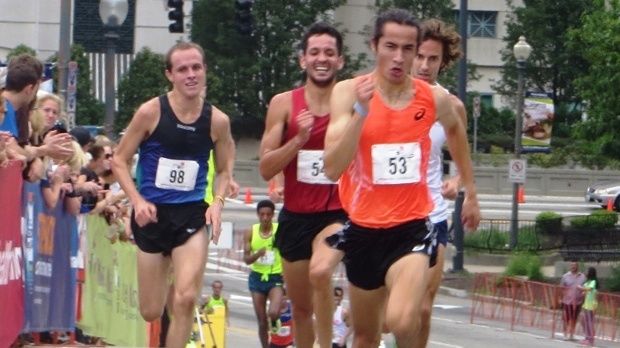 Diego Estrada entered today's race with one thing in mind: follow coach Joe Vigil's strategy. Before the race, Vigil gave the Northern Arizona University alum simple yet strict instructions.
"He said whatever I did, stay five to ten meters off the lead pack the whole race," Estrada detailed to Race Results Weekly moments after breaking the finish tape. "I owe this to Coach Vigil."
The strategy worked to perfection, as Estrada saved enough energy for an award-winning kick up and over the Francis Street hill, escaping a lead pack of seven in the final 400 meters.
Through the mile in 4:32 and two miles in 9:06, a good twenty or so men were still in contention. Taking turns at the front were Girma Mecheso, the USA 20-K champion, his former Oklahoma State teammate German Fernandez (now racing for the Bowerman Track Club), and University of Oregon alum Trevor Dunbar. Also in the mix was Jimmy Spisak.
Estrada refused to touch the lead, completely content letting others push around the sharp turns leading into downtown Providence. As soon as he hit the three mile mark, though, Estrada unleashed an unrelenting surge that surprised everyone.
"When I made the move I don't think a lot of the guys realized I was there," Estrada said. "I think I took them by surprise."
With Fernandez and Maverick Darling chasing from behind, Estrada maintained his surge all the way through the line, crossing in 13:56.4.
"I felt like my old self. I knew that coming down to the kick I may not win it, but it was going to be close," Estrada said. "To win one [national title], it just relaxes me. These guys are great athletes, and I'm one of them. That's really what it makes me feel like."
Estrada said the win was even more meaningful considering he switched national allegiances to the United States earlier this year; he had represented Mexico at the 2012 Olympics, though has lived in the U.S. for many years and attended college at Northern Arizona University.
Fernandez and Darling placed second and third in 13:57.0 and 13:57.5, with Brian Shrader (13:58.3) and Spisak (13:59.9) fourth and fifth. Dunbar was the first man over 14-minutes, sixth in 14:00.7.
Fading in the final stretch was two-time IAAF World Championships medalist Matthew Centrowitz, who told Race Results Weekly that he misjudged the course and in turn lost the pop in his legs.
"I felt really good the first two miles," Centrowitz said. "With about a half-mile to go, I thought it was already time to go up the hill, so I miscounted a quarter-mile there. I prepared for the last hill a little too early and that, kind of, I was a little zapped by the time the hill came."