2012 Olympic gold medalist for 800m Maria Savinova. Photo: AP
If you follow the world of track and field, you've certainly seen what's going on with the IAAF, this list of suspected athletes with "suspicious" blood samples, and what this means for our sport.
Oh you haven't been following? Let us try to piece this together as simple as possible. As I type this, more information is being released, and only time will tell how great the consequences of this colossal mess will be.
Just last week, a German documentary was released and the world of athletics exploded with the news of allegations around Russian athletes and their positive doping tests that were covered up repeatedly.
Liliya Shobukhova
, Chicago Marathon champion from 2009- 2011, as well as 800m Olympic Gold Medalist
Maria Savinova
were two names casually thrown into the mix.
What does this mean? It means that Russia could be accepting bribes to cover up positive tests. And, overall, that their country is supporting doping.
Then, just as the world was recovering from this massive blow to our sport's credibility, British newspaper
The Telegraph
released a story stating that there is a list out there containing the names of 225 athletes from 39 countries who provided "suspicious" blood samples. No surprise, but Russia accounted for the most names with 58.
Three London Olympic champions
,
gold medalists
from other Olympic and World championships,
world record holders
, and
big name marathon winners
were also on this list.
The kick is that these documents accuse the IAAF turning a blind eye and not acting on these findings. The IAAF, the governing body for our sport, in a way enabled three cheating individuals to capture victories in London 2012. Take time to digest this information.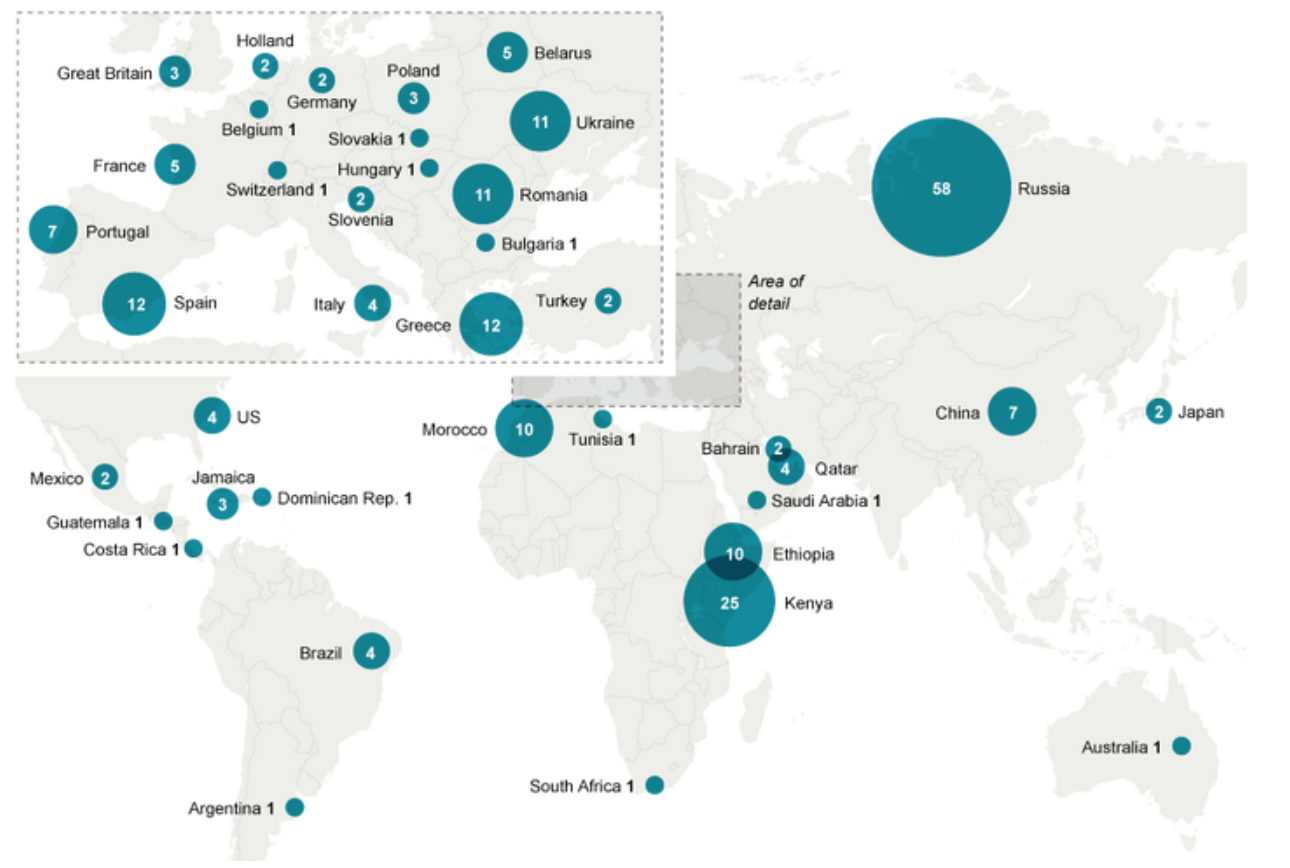 Graphic of the number of athletes from their respective countries on "the list." Courtesy of The Telegraph
As if this couldn't get worse, it did.
Papa Massata Diack
, son of IAAF president
Lamine Diack
, stepped down from his position as an IAAF marketing consultant. In the midst of these doping allegations, it was revealed that Diack may have requested over $4 million from Doha, Qatar, in the process of their bid for the 2017 World Championships, according to leaked emails. Doha secured a bid for the 2019 Championships (beating out Eugene, Ore.) and are turning their focus to the 2019 success, instead of what may have happened before their 2017 bid. Hmm. Doesn't seem normal.
IAAF's treasurer and president of the Russian athletics federation
Valentin Balakhnichev
has also stepped down from his position in the IAAF.
And just today,
Dr. Gabriel Dollé
, the IAAF's most senior anti-doping official, stepped down. Dollé's role of overseeing all doping-related aspects of the sport also included working extensively with the World Anti-Doping Agency.
For the time being, we've got three leading IAAF members running away from their positions and 225 athletes on a list that, when-and-if revealed and proven true, could tarnish their legitimacy as world-class athletes. With an upcoming World Championships in 2015, it's time something blew up in our sport so those who cheat can be eliminated once and for all.
Stay tuned for more news on this ongoing investigation.