Rita Jeptoo's "B" Sample Tests Positive for EPO
Rita Jeptoo's "B" Sample Tests Positive for EPO
Dec 19, 2014
by Taylor Dutch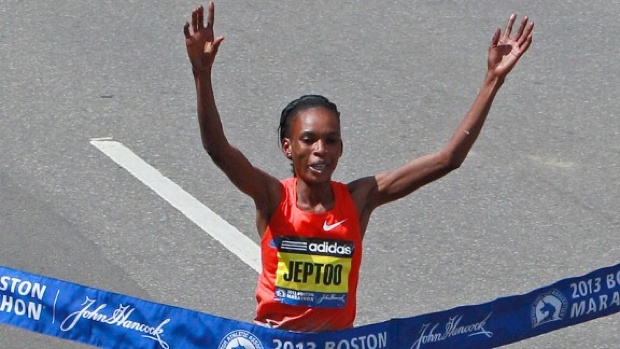 On Friday, Athletics Kenya announced that marathoner Rita Jeptoo's "B" sample test confirmed her use of the performance-enhancing drug EPO.
The two-time Boston and Chicago Marathon champion clinched the women's point leadership of the 2013/2014 World Marathon Majors series and its $500,000 purse. The series' award ceremony was scheduled for Nov. 3, but on Oct. 31, it was revealed that Jeptoo produced a positive "A" urine sample for the blood-boosting substance EPO in an out-of-competition drug test in Kenya on Sept. 25. The ceremony was called off and Jeptoo did not make the trip to the ceremony in New York.
Jeptoo still has the right to appeal to the Court of Arbitration for Sport, but if she is disqualified, the $500,000 purse would be awarded to runner-up Edna Kiplagat. Jeptoo would face a two-year ban from the sport.
Jeptoo's estranged husband
Noah Busienei stated
that he believes his wife started doping in 2011 after giving birth to their child in her attempt to make a competitive comeback. An April 2013 letter from a lawyer for her husband states that Busienei knew of Jeptoo's use of an "unrecommended or banned drug hormone which increases the red blood counts." The letter said that unless Jeptoo made a financial statement with Busienei, "he is willing to take the necessary step by revealing/disclosing/unleashing the doping dossier" to Athletics Kenya and the World Anti-Doping Agency.
The 33-year-old marathoner jumped on the scene in 2006 after winning the Boston marathon, but didn't have strong results for the next two years until returning from maternity break in 2011. In 2013 she won Boston, and ran 2:19:57 in Chicago that fall. She ran a course record in Boston last April (2:18:57) and returned to Chicago for a victory in 2:24:35.
If she is disqualified, Jeptoo could be compelled to return her winnings from the 2014 Chicago Marathon, at the very least.
According to
foxsports.com
, Athletics Kenya President Isaiah Kiplagat said the federation has banned or suspended 32 athletes for doping in the past five years.
"If you compare that to athletes banned by other federations like Russia and China, we are nowhere," he said.
Kiplagat said that a Kenyan government task force is formulating laws to punish anyone found guilty of supplying Kenyan athletes with performance-enhancing drugs.