No Colon, But Cal's Collin Jarvis Is Still Rollin'
No Colon, But Cal's Collin Jarvis Is Still Rollin'
No Colon, But Cal's Collin Jarvis Is Still Rollin'
Mar 4, 2015
by Taylor Dutch The officials called the runners to the starting line for section three of the men's mile at the MPSF Indoor Championships. One by one, they lined up according to hip number, each wearing their respective school's singlet.
One runner carried something extra, unnoticeable to spectators.

Underneath his Cal singlet, Collin Jarvis wore an ileostomy bag, meant to hold bodily waste, attached to his small intestine.

He has no colon.

He hadn't raced in two years.

"Before anything like this happened, I would be upset with times that don't even seem fathomable to me right now," Jarvis said. "I would walk away from getting second at Pac-12s in the steeple just angry and livid.
"I want to go back and just slap the old Collin in the face and tell him how lucky he is to be out there."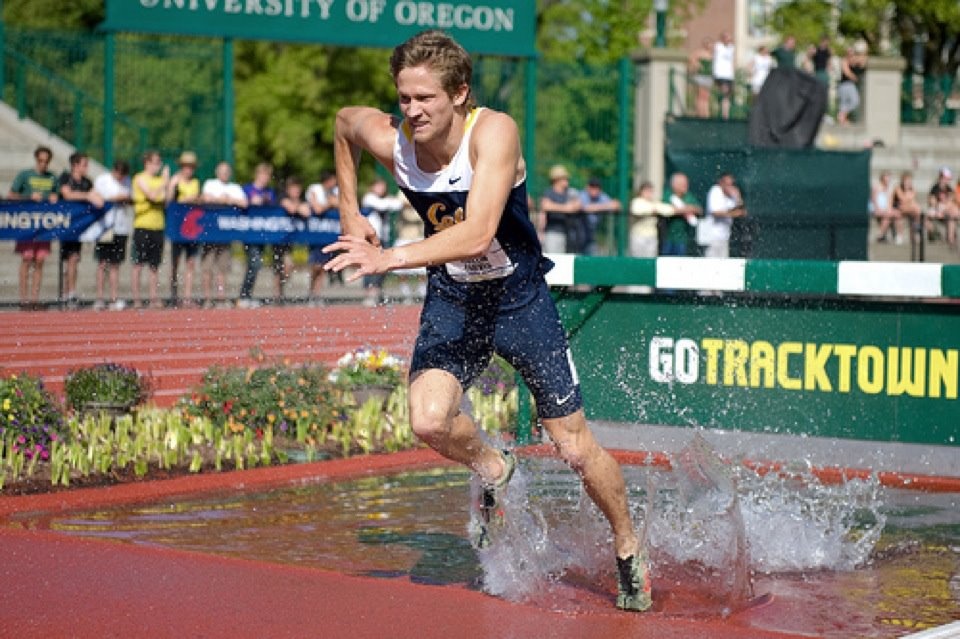 There was a time when racing seemed like a distant memory, and one that may never be realized again for the 2012 Pac-12 steeplechase champion.

In the fall of 2013, Jarvis was diagnosed with Ulcerative Colitis, a disease of the large intestine or colon where the organ becomes inflamed and develops ulcers. It was a diagnosis that changed Jarvis' life forever.
Just the year before, he enjoyed the most successful running year of his life, clocking personal bests in every event from the 1500m up to the 5-K, winning the Pac-12 steeplechase title, and earning second-team All-Pac-12 and All-West Region honors in cross country.
In February of 2013, he noticed that despite running well during the indoor season his body felt abnormal. After seeing blood in his stool, he saw doctors to determine the cause. They told him that he had hemorrhoids. He kept running through the season, but after a few months the symptoms worsened and more issues arose. He was using the bathroom much more frequently and feeling extreme fatigue. Nevertheless, Jarvis continued to train harder, thinking that was the only way he could improve upon his 2012 success.
But his 2013 outdoor season ended in disappointment when he failed to qualify for the NCAA Outdoor Championships. He attempted to move on by training hard through the summer for the upcoming cross-country season, but his symptoms persisted. In a last-ditch effort to find a root cause, Jarvis turned to the internet to research his situation. After more consultation with doctors, he underwent a sigmoidoscopy, which revealed he didn't have hemorrhoids, but instead suffered from Ulcerative Colitis.
Relieved to finally have a definitive answer, Jarvis was put on anti-inflammatory drugs and given a specific diet plan, but soon thereafter began suffering intense abdominal pain. Between September to November, all of the disease's symptoms surfaced, and the pain became intense to the point where he could no longer run.
Over that three-month span, Jarvis' body was shutting down. The once-muscular, 160-pound steeplechaser withered down to a waif 130-pound man who labored to complete mundane tasks he once took for granted, like walking to class and sleeping painlessly through the night.

"I was a different person, I looked like a little saggy grey skeleton, just not a pretty sight," Jarvis said.
"I had doubts that I would ever be able to come back and start running again," Jarvis said. "I mean, I was laying in a hospital bed with J.P. [Slater], my old teammate, calling me and giving me updates on how everyone was doing at MPSF. That was hard."
In March of 2014, Jarvis was forced to request a medical leave of absence from UC Berkeley in order undergo a series of emergency surgeries to have his colon, which became partially perforated, removed. After his initial surgery, Jarvis experienced complications due to an infection and was in and out of the hospital for six months.

In the fall of 2014, he was able to slowly resume running again, with an ileostomy bag attached to his side. Instead of using the bathroom normally, Jarvis' body produces waste that empties into the ileostomy bag. Doctors informed him that while he would be able to jog again, he would never compete at the level he once did.

He didn't accept that prognosis.
"I started doing my own online research," Jarvis said. "I mean, it is never really a great idea to self-diagnose, but I didn't find anything about anybody who had tried to compete at that level again afterwards. At first, that sounded like bad news to me. I just assumed that no one had been able to. But then I started to think about it like, well, maybe no one has ever tried."
Determined to give competitive running one last shot, the San Diego-native spent time with his family at home, surfed the old spots he knew and loved, and enjoyed running again at a slow pace. He was even able to travel to New Zealand and backpack through the country for the month of December. In January, he re-enrolled at Cal to finish his final semester, and after sitting out of competition for two years, was granted eligibility for the indoor and outdoor track seasons.
Jarvis is now running 75-80 miles a week with one hard day and two rest days to break up a typical week of training. Coaches and trainers monitor him daily to ensure his body responds positively. On February 28 at the Dempsey Indoor, Jarvis completed his first race in two years in a Cal uniform, finishing the mile in 4:16. He didn't win his heat and his time was 14 seconds off his personal best, but he viewed the race as a triumph.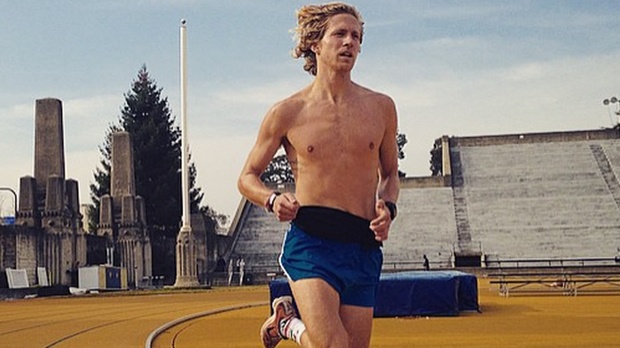 "I know what I ran wasn't anything spectacular," Jarvis said. "I didn't break four minutes in the mile. I didn't qualify for Nationals or anything, but it was a victory for me to just step on the starting line again and be able to run a race and feel good about it."
"As long as I'm out here competing and representing Cal for one last year, I can end on a high note, and I'll look back with no regrets."
While the expectations have changed and the training plan is much more conservative, Jarvis is taking everything one day at a time, carrying with him life-changing perspective.
"It's a whole new opportunity ahead of me," Jarvis said. "I'm not planning on letting it go to waste."