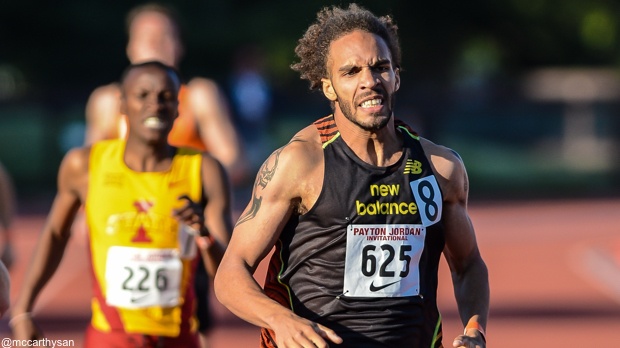 In the fastest section of the men's 800m at the
2015 Payton Jordan Invitational
, it wasn't NCAA leader
Shaquille Walker
of BYU who came away with the win.
Penn State All American
Brannon Kidder
or Brooks Beast member
Mark Wieczorek
didn't cross the line first, either. Even Iowa State's
Edward Kemboi
, the reigning NCAA indoor champion, faded to fifth place.
So who claimed the number one spot at Payton Jordan? It was
Boris Berian
of the Big Bear Track Club who shocked the crowd and the running world by winning in 1:45.30, ranking him first in the U.S. and securing him with an IAAF "A" standard.
But who is Boris Berian?
In 2012, Berian won two NCAA Division II 800m titles while at Adams State University. A Colorado Springs native, Berian's 2012 best was 1:48.93 at the 2012 Payton Jordan Invite. School, however, wasn't Berian's first desire and he parted ways with the institution with the premise that training and competing would be his main priority. He got a job at McDonalds to support himself and his travel to meets.
Still, only a handful of races occurred through 2013 and 2014 for Berian with little improvement. This past October, everything changed.
Berian received a Facebook message from
Daniel Guerrero
, a member of the Big Bear Track Club. "He told me about the group, and told me I was welcome to join, and I was like 'Yeah!'" Berian said.
Berian asked Guerrero what he needed to do to join the group and he responded with "Work hard, have a positive attitude."
"That just came at the best timing," Berian said.
Big Bear Lake, Calif. was made famous in the running world as the hometown of
Ryan Hall
, but now recently because of 800m World Bronze Medalist
Brenda Martinez
residing there and forming the training group with her husband, Carlos Handler.
"She's the leader of positivity in the group," Berian said. "I'm doing the same thing she's doing. I'm working hard."
Berian arrived in Big Bear just at the end of the group's base training phase consisting of long runs, long tempos, and an overall emphasis on strength work.
"Carlos slowly got me into that just so I wouldn't get hurt or anything," Berian said. Now that it's track season, the speed work is more frequent, but the main emphasis is always strength.
Berian's indoor season was hightlighted by a fifth-place finish at the USATF Indoor Championships, running 1:16.57 in the 600m finals. The 800m, however, is where he is starting to turn heads.
He finished runner-up to Walker at the Sun Angel Track Classic in Tempe, Ariz., last month in 1:46.16.
At
Payton Jordan
, Berian tucked right behind the pacer, his teammate Guerrero, who led the field through 400m at 50.44 seconds. At 600m it looked as if Kemboi was challenging Berian, but he held him off and crossed the finish line under the IAAF "A" standard of 1:46.00, a feat he calls a "big relief."
"I didn't see any reason that I couldn't [hit the "A" standard]," he said. "We always have a certain pace we have to hit for workouts, and from indoors to outdoors, the pace is getting a lot easier. Recovery is feeling better, so that big jump, I was surprised but at the same time I was kind of expecting it."
Berian doesn't know where he'll race next, but is keeping a positive attitude.