With the Oregon men taking care of business at NCAA West prelims, and the Florida Gators stumbling a bit in the East, the reigning champ Ducks appear poised to repeat in 2015.
Oregon was able to qualify 10 entries to Eugene in the distance events alone, which we pretty much expected, but it was Florida's inability to match that strength with sprint/field athletes of their own that may end up ruining their shot of hoisting the NCAA Championship trophy at Hayward Field. And it's not just that the hometown team qualified 10 men in the 1500, steeple, 5K, and 10K, but that all of them should contend for top 8 finishes to score points.
On the contrary, the visiting Gators must now combat Oregon without a couple potential point scorers in Eugene. Jumper Keandre Bates contributed eight points in the long/triple jump for Florida at NCAA indoor, but he failed to qualify for either this past weekend. In addition, 2013 NCAA 400m 3rd place finisher Arman Hall was bounced from the East prelim 400 on Saturday.
While that's just two guys, Florida can't afford to sacrifice any points when you consider Oregon's depth in the 1500/5K/10K. Edward Cheserek and Eric Jenkins are expected to go 1-2 in both the 5 and 10, while Will Geoghegan should tack on a few extra in the 5K as well. That's 40 points right there, and we haven't even got to the 1500, which features NCAA mile All-Americans Daniel Winn and Johnny Gregorek, as well as fast-rising frosh Blake Haney.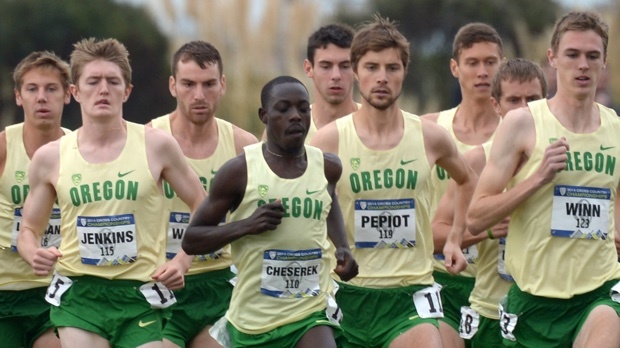 The Oregon distance group has 10 entries in 1500-10K at the 2015 NCAA Championships

How can Florida overcome this depth? It all starts with jumper Marquis Dendy, who simply must repeat in both the triple and long jump for Florida to have a shot. Dendy is the top performer in both this season, plus he's coming off a sweep indoors in Fayetteville. Knowing that Cheserek is likely to collect 20 by himself for Oregon, it's crucial that Dendy do the same for Florida.

Marquis Dendy really needs to sweep the triple/long jump for Florida to have a shot

In addition, Florida has to perform well in the 4x1 and 4x4. The Gators are the top seed in the 4x4, and 7th ranked in the 4x1 in 2015, two events which the Ducks are not expected to score. Oregon was able to gap Florida by such a wide margin at indoors in part because Florida DNF'd the 4x4, and of course, the 4x1 is not an event indoors. This is where Florida must make up for the points they are giving up to Oregon's distance powerhouse.
The Ducks aren't a one-trick pony like they were indoors, though. 13 entries outside the distance events give Oregon 23 men total at NCAAs, the most of any team. Greg Skipper (hammer), Dakotah Keys (decathlon), and Sam Crouser (javelin) aren't big names, but they are all potential high point scorers for the Ducks in events that Florida has no entries. At the 2014 NCAA Championships, the trio of Keys, Crouser, and Skipper contributed 21 points to the team, and should do the same in two weeks. Advantage Oregon.
The big difference makers for Florida will be their other potential high point scorers- Dedric Dukes in the 200, Najee Glass in the 400, Eric Futch in the 400 hurdles, as well as indoor shot put champion Stipe Zunic. Dukes and Glass specifically, who are ranked #1 and #3 in their respective events, need to grab big points individually and in the relays.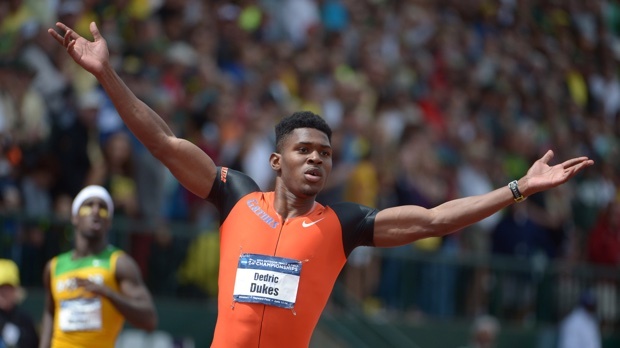 Dedric Dukes would give Florida a huge boost in the team race if he could repeat in the 200

For Florida to overtake Oregon at Hayward Field and steal an NCAA title next week, the Gators have to combat the Ducks distance dominance with a sick nasty sprint performance, and a sweep from Marquis Dendy. The numbers don't lie, and Florida surely has their work cut out for them with 10 less entries at nationals than powerful Oregon.