Family and Killer Instincts Guide Omar McLeod Into Pro Career
Family and Killer Instincts Guide Omar McLeod Into Pro Career
Jul 15, 2015
by Taylor Dutch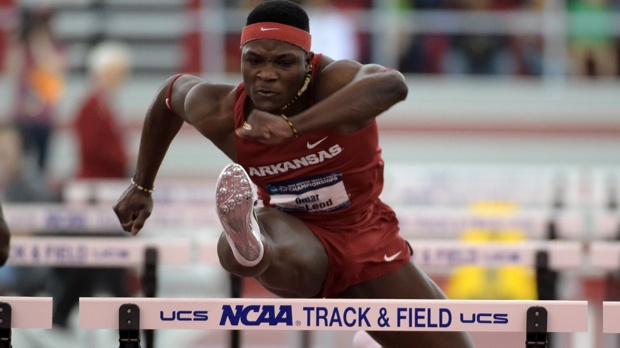 Four-time NCAA Champion and rookie professional hurdler Omar McLeod never remembers running over the 10 hurdles that stand between him and the finish line.
"He always says, 'The hurdles are coming up so fast I'm just reacting, I'm not thinking, I'm not planning, I'm just running," Arkansas' Coach Doug Case said of his athlete.
"I love that part, the first time he said that I thought, this is perfect, this is what I can mentor, you know, the guy who's just going to do what he's told and use those instincts to race," Case said. "And he does a great job of it."
Those instincts have guided McLeod to two dominant years at the University of Arkansas, beginning with an NCAA Indoor title in the 60m hurdles his freshman year and followed with an undefeated sophomore season that included NCAA titles in the 60m hurdles, 4x100m relay and the 110m hurdles. The performances have catapulted a professional career for McLeod who signed a contract with Nike after winning the 110m hurdles at the Jamaican National Championships in a then-world lead of 12.97.
It was a race that was long overdue for the Jamaican native who made the World Championship team with his family cheering on the sidelines. It was the first time they had watched McLeod race since the Jamaican High School Championships in 2013.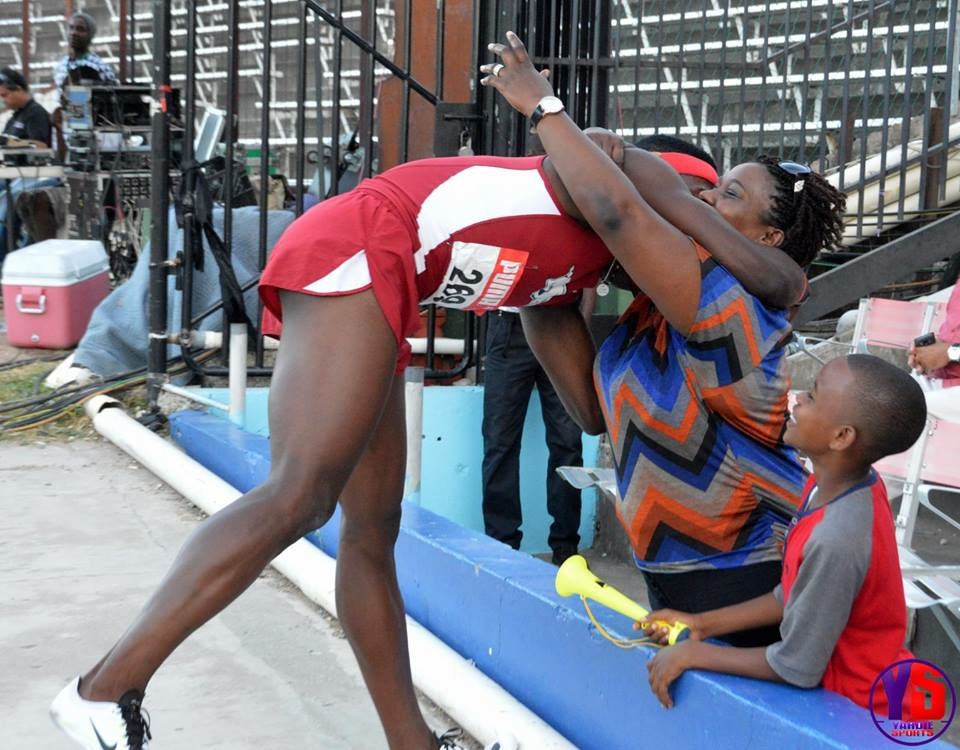 "I was teary-eyed because I haven't seen them in so long and for them to come out and support me and to do that in front of them, it was a spectacular feeling. Words can't express the feeling I had," McLeod recalled.
The Perfect Position
The last time McLeod raced inside the National Stadium in Kingston was at the Jamaican High School Championships when he was approached to run professionally as a 400m hurdler.
"I was presented an offer to go pro in high school because I ran 49 in the [400m] hurdles and I was the first high school Jamaican to go 49 in the hurdles," McLeod recalled.
While in high school, McLeod broke the national junior record in both the 110m hurdles and 400m hurdles. He was also a World Youth bronze medalist and CAC Games record-holder.
"At that time I didn't think I was physically ready, maybe fundamentally, but I didn't think I was physically ready for the pro scene," he said.
It was McLeod's recently deceased aunt who convinced him to attend college and wait on a professional career.
"She insisted that I go to college, and I just felt like going to college at least maybe two years and see where I'm at and where it takes me and probably then I'll be ready," McLeod said. "Everything is paying off and I thank God for that."
McLeod listened to his aunt's instruction and followed his running career to the University of Arkansas where he gained more valuable experience as a key contributor in multiple events on the Razorback squad.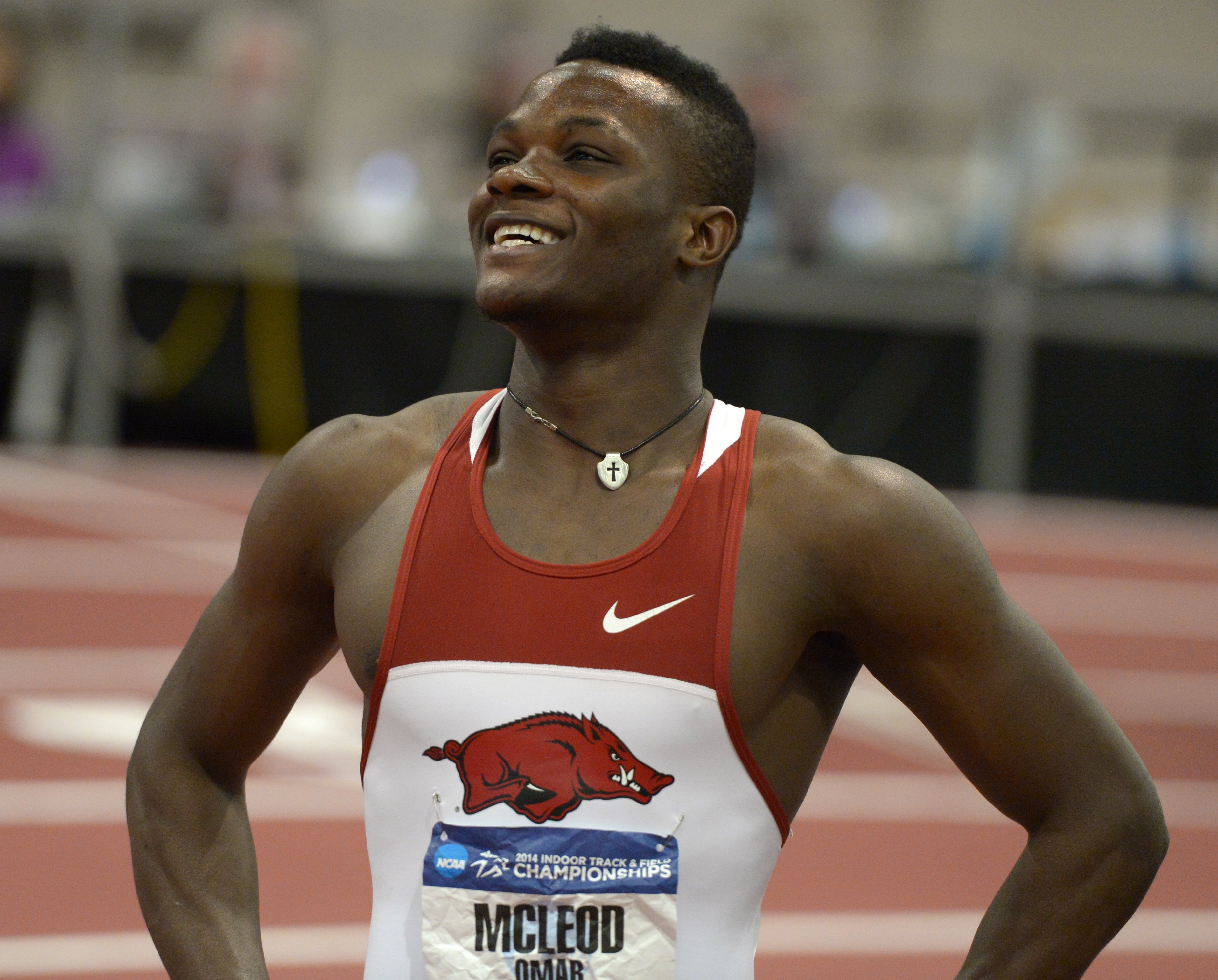 His 60m hurdle performance at the NCAA Indoor Championships this past March broke the NCAA record with a time of 7.45. The momentum continued in the outdoor season with an SEC Conference title in the 110m hurdles. He also consistently acted as a key contributor on both the 4x100m and 4x400m relay squads.
"He's such a great athlete, he can do a lot of stuff and we needed him to do a lot of stuff, and he did it," Case said on the versatility of McLeod.
Before running the 110m hurdle final at the NCAA Outdoor Championships, McLeod helped the Razorbacks earn an NCAA title in the 4x100m relay in a program and stadium record-mark of 38.47. He swept the NCAA Outdoor title in his signature event in a then-all conditions world-leading time of 13.01, and followed it as a member of the 4x400m relay who placed sixth overall at Hayward Field.
Although McLeod's aunt was unable to watch her nephew compete during the 2015 season, she left behind her six-year-old daughter Bianca who he maintains is his driving motivation as a professional athlete.
"She's my life, and she looks up to me like a big brother so I have to be there for her," McLeod said.
"Taking care of them [family] has always been my goal. Now I'm in the position to do that and nothing would make me happier," McLeod said. "To be in a position where you can help your family, nothing is more rewarding."
When the Decision is Right
McLeod may not remember running over hurdles, but those same confident, effortless instincts have enabled the new pro to leave an impact on and off the track at Arkansas.
"He's more than just a great track athlete, he's a leader, he's a team player, he's a great diplomat for our school for our conference, for our track team, I mean he's the all around full package," Case said of McLeod who will continue to attend school and train in Fayetteville under his tutelage.
"We hate to see him leave, but when the decision is right, it's right," Case said.
With the World Championships just weeks away, McLeod is ready to utilize those instincts with a pro athlete mentality.
"The way I work out, and the way I carry myself in practice and the way I think about stuff, like a pro athlete would," McLeod said.
"It's my time now and I'm seizing the moment."