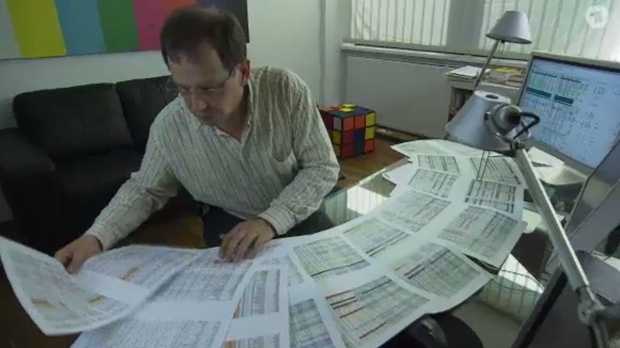 German journalist Hajo Seppelt, who first revealed a Russian doping scandal last year, is now taking a much wider look into cheating among the world's best distance runners


A
newly-released documentary
suggests that corruption among track's most powerful governing bodies has fostered doping on a scale that is unprecedented in the sport's history.
Analyzing more than 12,000 blood tests taken by 5,000 athletes from the years of 2001 to 2012, two of the world's most experienced doping experts believe that the problem is even more widespread than previously thought.
Taking analysis from the German broadcasting organization ARD's doping editorial team, which obtained a secret database of blood tests from the IAAF, Australian scientists Michael Ashenden and Robin Parisotto have determined that as many as 800 athletes in distance events ranging from 800 meters to the marathon have blood values which violate the World Anti-Doping Agency's (WADA) definition of the biological passport, used to identify abnormalities in an athlete's levels based on past testing.
The most alarming figure of the pair's analysis, which is featured as a part of ARD's documentary "Doping- Top Secret: The Shadowy World of Athletics", is that in the period of 2001-2012 every third medal won in the distance events at an Olympic Games or World Championships was won by an athlete with suspicious blood values.
"From the values in the database, there's no question in my mind that athletics World Championships and Olympic distance events have been contaminated by blood doping," Ashenden says in the film.

He continues:
"I feel deeply sorry for the genuine athletes who were cheated out of medals because it would have been nearly impossible to compete against some of the blood levels I evaluated. Some results were grotesque."
An even bigger problem than this is that the majority of athletes appearing in the leaked database have never been punished. The issue is particularly alarming among medal winners, as only four athletes out of 150 with suspicious biological passports have been stripped of their medals.
The two doping experts believe that track and field's governing body, IAAF, has done a poor job with handling these results, furthering the problem.
Ashenden, who along with Parisotto invented the EPO detection method, does not mince words in his criticism of IAAF.
"For the IAAF to have harvested millions of dollars from the broadcasting of athletics competitions around the world year after year, yet only devote a relative pittance of those funds towards anti-doping when they must have seen the terrible truth of what lay beneath the surface, is in my opinion, a shameful betrayal of their primary duty to police their sport and protect their clean athletes," he said.
The documentary notes that the IAAF has had an average annual income of $58 million over the last four years, while spending an average $2.5 million per year in the fight against doping.
Ashenden and Parisotto, who have both fought to rid cycling of doping throughout their careers, believe that track and field's doping practices lag an estimated 10-15 years behind where cycling's current testing procedures exist.
Ashenden is well known for his role in Lance Armstrong's doping scandal, as he helped bring down the convicted cyclist.
A portion of the documentary focuses on the doping scandal within the Russian Athletics Federation, which was revealed in December of 2014 when ARD released the documentary "Top-Secret Doping: How Russia Makes Its Winners".
In it, former Russian Anti-Doping Agency employee Vitaliy Stepanov and his wife Yuliya, herself a convicted doper, implicate 2012 Olympic 800 champion Mariya Savinova and 3-time Chicago Marathon champion Liliya Shobukhova, as well as many others, for testing positive, which Stepanov alleges that RUSADA covered up. The documentary features audio recording of several athletes and their coaches discussing doping practices.
Now, German investigative journalist Hajo Seppelt has added to the original documentary with evidence that extends much further than just Russia.
In the film, Seppelt travels to Eldoret, Kenya to talk to locals about the death of former Kenyan marathoner Geoffrey Tarno, whose sudden death was believed to be caused by EPO use.
While in Kenya, Seppelt goes undercover as an athlete manager and uses a hidden camera in a doctor's office to show the ease in which a person could obtain EPO in the country. The journalist brings a unnamed European athlete who has agreed to help him to the doctor's office, and the hidden camera shows the athlete being administered EPO intravenously by the doctor himself. There is also footage of Kenyan athletes being injected with a needle, which is believed to contain EPO. Their faces are blurred in the film.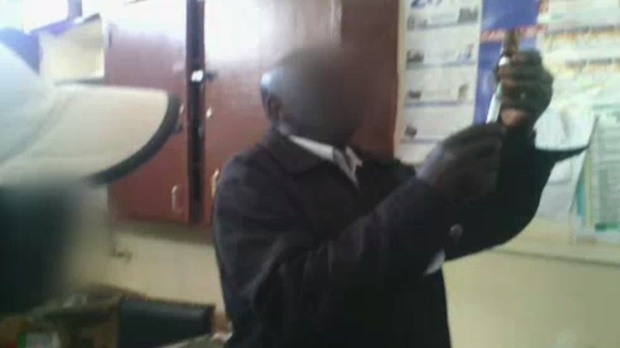 The documentary uses hidden cameras in Kenya to show how easy it is for athletes and coaches to obtain EPO within the country

Additionally, convicted doper and former Boston Marathon champion Rita Jeptoo, who received a two year doping ban last year, appears in the documentary and claims that she has not seen blood testing done in Kenya since 2006. While investigating corruption within Athletics Kenya, the journalist talks with Kenyan coaches who say that the federation accepts bribes from athletes who test positive so that they can continue to compete.
There is a lot of information to digest within this documentary, and if the evidence shown by the filmmaker is true, the integrity of track and field could potentially be damaged beyond repair. We will certainly have more on this story in the coming days.