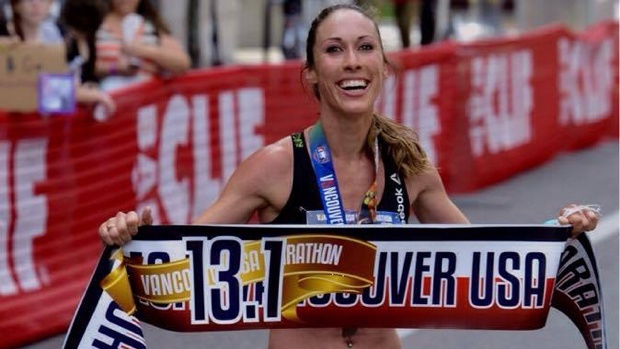 Sarah Crouch is all smiles after winning the Vancouver USA Half Marathon on June 21 in 1:16:11, Photo by Greg Wahl-Stephens for the Columbian

CHICAGO —
Sarah Crouch
had a magical Chicago Marathon experience in 2014.
Armed with a 2:44 personal best, Crouch sliced 12 minutes off of her time and finished sixth in 2:32:44. Now, the 26-year-old considers the experience her "call up" from the minor leagues to the major leagues of marathon running.
The ZAP Fitness athlete is back for more in 2015, hoping to break the 2:30 barrier that would put her in the top ranks of American marathoners. But this race is more than just a time goal for Crouch. She'll be running all 26.2 miles on Sunday morning for her late teammate,
Cameron Bean
.
"I have his initials on my racing flats and I will take him with me every step of the way," Crouch said. "Sunday is 100% for Cameron."
Bean passed away 18 days ago after being struck by a car while run on an evening run in Chattanooga, Tennessee. He was a member of the ZAP Fitness team from 2010-2015 and lived in Blowing Rock, North Carolina, where the Rebook sponsored team is stationed.
"When your world is 9 people big and there's a piece of it missing it's just, it's hard," Crouch said.
Crouch doesn't reside in Blowing Rock anymore but last visited in July. Without knowing it, her trip would be the last time she spoke to Bean. "He had all of these plans and ideas. I told him, 'I don't know when I'm going to see you again but take care.'"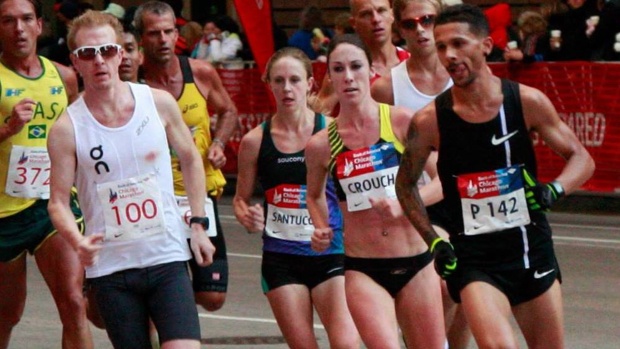 Sarah Crouch during the 2014 Chicago Marathon, photo courtesy of Crouch's Facebook

With a new perspective on life and running, Crouch will return to the city that put her name on the map in 2014. Her 2:32 from last October made her the No. 9 ranked U.S. woman in the marathon in 2014. Only five women broke 2:30, including Olympic Trials favorites
Shalane Flanagan
(2:21) and
Desiree Linden
(2:23). Breaking 2:30 would certainly make Crouch a contender, which makes the return to Chicago not so surprising. "I'm still so hungry to go under 2:30 and that's why I'm back here. I really think I can do it this year."
Instead of piling on the miles this year, Crouch opted for less mileage and more intensity and speed. She wants to dip under 2:30 here but also be ready to race hard at the Olympic Trials in February. Her race plan is to keep splits more steady and even this time around. Last year her pacer dropped from 5:45 pace to 5:30 pace at mile 15, a move that Crouch said "Felt great!" in the moment but came to haunt her in the last four miles.
"Last year was awesome and I think I'm someone who tends to run better on a course the second time around," Crouch said. "I know the spots that were trouble spots and I'm hoping to not repeat the same mistakes."
She believes going out in 2:30 pace and bringing that down gradually in the second half of the race will work in her favor. It's something she's not used to, but a strategy she thinks will lead her to her time goal. "To tell you the truth, if I run 2:29:59.99 I will be ecstatic and if I run 2:30.01 I will be devastated!" Crouch, said laughing.
No matter the outcome, Crouch will be competing in Chicago with a new outlook on life. At the elite athlete press conference on Friday morning, Crouch told the media that she owes this race to ZAP Fitness, Reebok, and to Cameron Bean.
"It puts it in perspective. I am lucky every single day that I run."