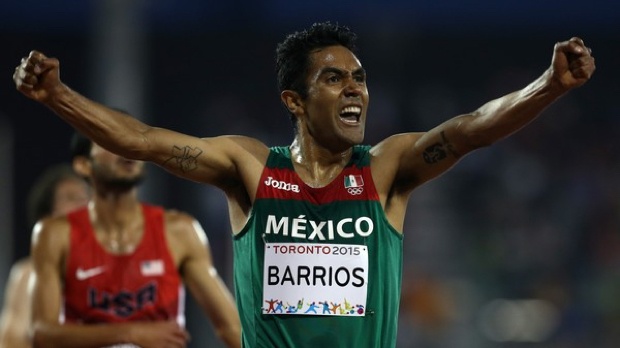 Two-time Olympic finalist Juan Luis Barrios is on a mission to represent his country at his third Olympic Games. He finished seventh in the 5K at the 2008 Olympics, and he finished eighth in the same event at the London Games in 2012. Now the 32-year-old is aiming to represent Mexico in an entirely different event, the marathon.
On Sunday morning, Barrios will toe the line to run his fourth marathon, and his first in two years at the TCS New York City Marathon, the same event where he ran his personal best of 2:14 four years ago. The streets of New York are special to Barrios not only because of his performances, but for the legendary Mexican marathoners that came before him. Rodolfo Gomez, German Silva and several other notable marathoners have paved the way for the Latin American running community, and continue to inspire Barrios as he heads into the NYC Marathon and his third Olympic run.
Prior to leaving his hometown of Mexico City, FloTrack caught up with Barrios on race plans, the Olympic year, his 70-year-old Polish coach, and the significance behind running the NYC Marathon.
Are you excited to run New York again?
Yes this is my second time running the New York City Marathon. Of course I'm nervous because it's so different. I'm a track runner so 5K, 10K, sometimes half marathon but now I am 32 years [old] and I think it's time to go long distance and New York City Marathon is, may be for me, the most special race. It's millions of people on national TV and for the runners it's very very important to make something good in New York so of course I am nervous and excited.
Why is New York in particular so special for you?
New York City is a big city with a nice history and of course because of the Latin population so coming to New York is important to make friends, to know history and to run in one of the most beautiful races in all the world. And of course it's a faster course and the conditions are very special because the first half marathon has all the hills and then when you come in the last 5K it's Central Park so the course is really interesting, but the Mexicans we have many stories here. Rodolfo Gomez, German Silva those guys made history here and maybe this is my time.*
I ran my PB here, 2:14 in 2011 so that was four years ago, and I think I can do something better here. I think I can may be in the top 10. In the marathon it's really tough to know what the race will be like. The first 13 can be perfect and then the next 12 can be slow so my idea is to make my PB but overall I want to run an intelligent race.
*Gomez finished second at the NYC Marathon in 1982 and Silva won back-to-back victories in New York in 1994 and 1995.
You mentioned earlier that you're a track runner. Your range goes from 7:37 in the 3K to 27:28 in the 10K. Your marathon PR of 2:14 is definitely respectable. How do you explain this range that you have?
I have many many years on the track. I love the 5K, I love the 10K, but I don't have too many marathons now. This will be my fourth, but I think it's because Mexico doesn't have too many runners so when I competed in the last marathon, and my time was not very good, I came back to the track and was able to make the World and Olympic team. So maybe if Mexico had more runners, I could make the team in only the marathon but I'm alone here in Mexico. So if I come back to the track for 5K and 10K and make the standard, I can go to the Olympic Games. So I think maybe it's not because of my condition, it's because Mexico doesn't have more runners.
Why do you think that's the case?
First, it's education. We don't have good education on the track so small groups don't have preparation, training camps, they don't go to other countries like USA, Europe, they stay in Mexico and only train for small, local races and only make small money. This is the condition and the coaches in Mexico don't have the preparation to think about the Olympic Games. We have the money to make teams, but we don't have the education and this has been the problem for the last 20 years. Maybe if we can make small teams with universities and schools, we could make it better, but not in Mexico now.
Do you have training partners or do you train alone?
I have three training partners, but it's the same problem. They don't have passports, visas, they can't go to other countries and go for the times. They just stay here in Mexico, run a small competition every weekend and make small money, 200-300 dollars for first place, but this is not a good way to the Olympic Games. So I go to the United States now in New York, so I can get a time, not for the money. If I have the time for the Olympic Games, it's my target.
So you're marathon PR is 2:14. It's been two years since you ran a marathon. Is Rio what inspired you to attempt another marathon two years later?
Yes the idea is to make the time target and extend the competition. I have the standard in the 5K, if I can run well in New York City, with maybe 2:11-2:12, I have good condition to make decisions in the preparation and then control it. If I go to the 10K on the track, I can take my ticket on the marathon. But I'm not doing this for the competition money, it's for the Olympic Games history. I made it in 2008, in 2012 in London and maybe I can make it again in Rio. So this is history, it's not like I can run one more year just doing the 10K, this is history so for me it's really important.
If I can make the team in the marathon right now, and I am 32-years-old, and if I can continue to go in 2020, maybe I could become the first Mexican guy who's gone to four Olympic Games ever. But it's not just to go, it's about the competition, so for me it's really important because for the last eight years, I am the reference for the Latin community. It's not only for Mexico, it's for the whole Latin community so that's important because all the Latin community is waiting for another big runner. If I can do something for this and inspire a new generation, it's a good job, it's a complete job. Because I am a runner on the track and on the road, but I am also a guy for the kids. That's really important because maybe in a few years, my daughter, my son or other kids could be training and that's really important.
Let's talk about your coach. He's a 70-year-old Polish guy right? How'd you meet?
Haha that's an interesting story. Here at the Olympic Games in Mexico in the 1960s, he arrived for this competition and stayed in Mexico for almost 42 years. He's trained all the Mexican runners, Rodolfo Gomez, German Silva, Dionicio Ceron, and other amazing runners from Mexico. So he's older, but he's like a young guy. He has too much energy with training…he's like a book with life, a lot of stories, but most importantly, there's a lot of respect. He's had Olympic Champions, Olympic medals. For me, he's like my second father, my grandpa. I don't know what would happen if he says good bye from this job because it's so hard to find one guy in the world like that. He's here with me in New York, and if you can imagine, 20 years ago he came with the first Mexican guy to New York and now he's here with me so it's really special.
That's so great you have such a good relationship with him.
This Sunday, what is your race strategy? What are your time goals?
Start slowly and don't go too fast in the first 5K. I want to continue to push each 5K, I don't care if there's a million other people running ahead of me, I have my watch, I have my time so I will wait every kilometer with a time because it's better to start slowly and finish fast and in a positive way and run an honest race. If the African guys are running the world record pace, I don't care, I will go for my time, my target.
What's the time you're focusing on?
Under 2:12. If I can go faster, then it's a dream, but 2:12 for sure.


Watch Barrios' pre-race interview at the TCS NYC Marathon press conference: