Alysia Montano Could Receive Four Medals With Potential Doping Bans
Alysia Montano Could Receive Four Medals With Potential Doping Bans
Nov 9, 2015
by Lincoln Shryack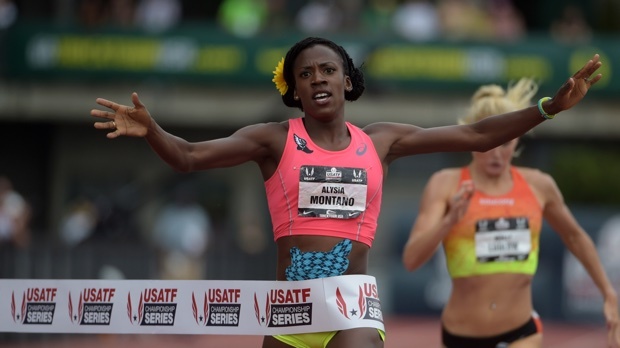 Alysia Montano awoke on Monday overcome with emotions upon hearing the news of
WADA's findings of widespread, "state-sponsored" doping in Russia
, as potential bans brought on by the investigation could put the seven-time U.S. 800m champion in line to retroactively receive multiple international medals, among them a bronze from the 2012 London Olympic Games.
In a video
posted to the 29-year-old's Periscope page, a teary-eyed Montano addressed the effect that today's news will have on her career, which could ultimately bring three brand-new medals, and possibly upgrade another, for the American. First, though, Montano spoke about the emotional strain that cheaters have caused her.
"I obviously feel very emotional about it because, you know, it's something that a lot of us had known was going on in the sport for a really long time, but without any proof… you're just basically pointing fingers," Montano says in the video.

"It's not just the medal… it's about you putting out an honest effort, honest time and energy, and emotion. Being cheated out of it, you can't ever get back those moments, you can't ever replace those feelings that I would have been able to experience at the time."
We won't know how much hardware will actually be awarded to her until WADA makes a formal announcement on which performances should be annulled, and even then it's up to the IOC and IAAF to reallocate, but WADA's recommendation that Mariya Savinova receive a lifetime ban for doping offenses is promising for Montano. The Russian won gold at the 2010 World Indoor Championships, 2011 World Outdoor Championships, the 2012 Olympic Games, and silver at the 2013 World Outdoor Championships, with Montano finishing 3rd, 4th, 5th, and 4th in those competitions, respectively.

Medals I could be upgraded to: 2010 Silver 2011 Bronze 2012 Olympic Bronze 2013 Bronze

— Alysia Montaño (@AlysiaMontano) November 9, 2015
Montano's fellow American, Brenda Martinez, finished a place ahead of Montano and won the bronze medal at the 2013 World Championships, and she would be in line to be upgraded to the silver if in fact Savinova's performance in Moscow is wiped from the record books.
Montano finished 5th in the London final, but with the gold medalist Savinova and bronze medalist Ekaterina Poistogova, both of Russia, being recommended for lifetime bans, and with WADA's commission today saying that the Russian Federation, as well as the IAAF, "sabotaged" the London Games, it seems very likely that at least everything after 2012 will be stripped.
"Here's to just hoping that justice is served," Montano said. "I'm just hoping that the right people get the right rewards."