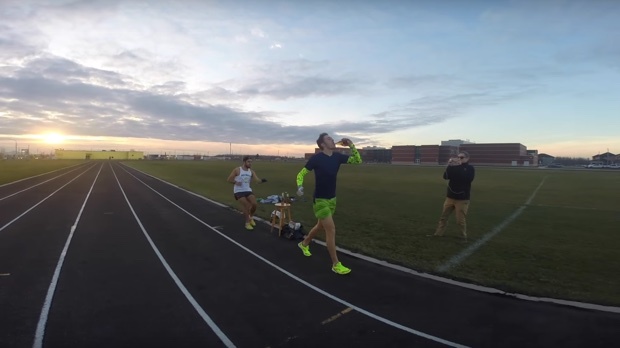 Lewis Kent setting the 4:51.9 beer mile World record on November 17th


Have you watched the last two beer mile world record videos?
Not exactly HD quality.
The stars of these films— first,
Corey Gallagher
and next,
Lewis Kent
— are of course not to blame for any of this. They're just a product of the times. The two Canadians, co-favorites for Tuesday's FloTrack Beer Mile World Championships, are each seen at the start of what we know to be a world-record breaking beer mile cracking their beer, chugging said beer, and then disappearing into the oval abyss. While each man is busy zipping around the track with bloated stomach in tow, we the viewers are left to enjoy their athletic feats from a distance, and in Gallagher's case, a blurry one at that. Kent's WR vid is a bit better in the haziness department, but way worse in the zooming one— as soon as he's more than 50m away from the camera, you cannot spot him.
These two guys are the best in the world in this niche-but-increasingly-acknowledged sport, and each man will represent an athletic brand when they step to the line on Tuesday— Brooks for Kent and Under Armour for Gallagher— yet the videos that show off their world-class prowess look like any other cruddy beer mile attempt found in the Youtube archives, with the production in no way doing justice to the unbelievable steel-gutted run that is going on mostly outside of our vision.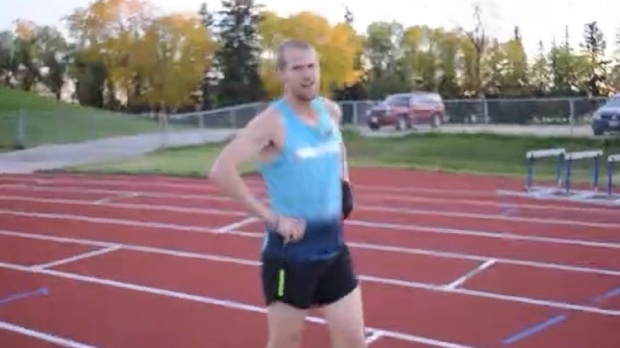 Who is that? Is that the beer mile World record holder? I can't tell...
Gallagher and Kent may be elite crusaders driving the legitimacy of the sport forward, but you wouldn't know it by watching their heroic triumphs. The clips don't give us the strain and agony of a red-lining beer miler testing the limits of human ability, but in a way, that doesn't really matter. The point isn't that the viewing experience is shoddy, it's that I clicked on the video. And I watched the whole thing, because I just knew something great was happening. I couldn't exactly see it all, but again, beside the point. Somewhere in there, a guy was running an unthinkable 4:50 pace with a pint of Budweiser in his stomach. The amateur recording left me wanting so much more, and a similar curiosity for many other people is why this thing is still growing.
I don't know where this beer mile as sport is going entirely, but I sure as hell am not skipping any chapters in the story along the way. For now, watching low quality videos of world records is just a small price to pay.
And now momentarily, back to the videos…
…And by the way the music. The music! Gallagher's vid lacks it, but Kent's upload keeps us company with some Paramore from 0:00 to 3:00, at which point the audio awkwardly transitions to House music, which we find out some 30 seconds later is an Ed Sheeran remix. So, despite this video being proof of the world's fastest beer mile ever run, tunes have to be added to distract us from the poor cinematography! And bad tunes at that!
The beer chug in each is by far the best part— obviously because that's where the camera is located— but with the bottles emptying at the rate of five seconds/beer, the gratification is brief. The 12oz is just gone. This isn't your run-of-the-mill, burp-it-out, try not to vomit beer-chugging exchange zone. No, these guys both pick 'em up and put 'em down in four separate mesmerizing swoops, but shortly after that, they've exited our cameraman's range. 67-70 seconds later and the whole process starts anew. If only the production value could match their unparalleled chug n' run ability.
This is where we're at with the beer mile. For a sport that is still building momentum, the prelude to the championship race— the regular season, if you will— is a series of very unprofessionally made videos that reveal an ever-increasing professional pursuit, as growing interest in this phenomenon has led to faster times and more and more exposure for the stars of the show. With only two official international competitions, build-up races are done as time trials, with retweets and shares of records showing the world a very human sport, one that is completely accessible so long as you are 21+ and own some form of a camera. One doesn't need official timers, pacers, or even an on-hand audience to catch fire on the internet, they only need a friend to press play.
Whether you're vomiting through a 10 minute pain-fest or chasing records like the two Canadians, the beer mile has found a viewer base that is willing to forgive a shabby production if it means a glimpse into an evolving sport that is so different from anything else we've ever seen before. In a culture where Vine stars can turn six-second clips into careers, a mile run with beer before each lap fits in nicely. And with heroes that don't have a talent-level we usually associate with elite athletes, their videos make the casual viewer think, "hey! I can do that!"
So, while I can't recommend these videos for their high entertainment value, there's an undeniable urge to hit the link when a new world record pops up because there's no telling what's on the other side of that click. Perhaps the beer left after a chug will be borderline too much, or maybe the miler will say something stupid after breaking a new record? Who knows, but you don't find this stuff anywhere else.
And let's get this straight— sub-4:55 in a beer mile is a spectacle to behold, a miraculous feat deserving of all this attention. The medium for sharing the spectacle just isn't up to snuff. The beer mile has shown the potential to have a massive reach in spite of this, which suggests that we've only hit the tip of the iceberg here.
While we've waited for these two men to face off in the most highly anticipated head-to-head showdown in this sport's history on Tuesday, our appetites have been whetted with two stunning, albeit tough to watch, performances that are each a reminder of where the beer mile has been and where it's going. The modern beer mile has its roots in the home video, as it has been and continues to be the only evidence of a legitimate world record attempt outside of the World Championships and the Beer Mile World Classic. But with sponsorships serving as proof of an increasing audience, the beer mile may soon develop into much more than just a solitary pursuit that primarily exists through the lens of a $100 camera.
Interest is clearly growing— Kent is set to appear on the Ellen Show on Tuesday— and the next logical step is the formation of a racing series where we can see the elites face each other more than just once or twice a year. While we wait for that to rescue us from the Youtube world record, this week's World Championships in Austin will serve to crown the best beer miler in the world, while also attracting a bigger audience that will help push this event ever closer to the "real sport" realm. Oh, and obviously the race footage will be on point as well. We'll be zooming.
The crap videos from beer milers the world over won't end even after Gallagher and Kent duke it out, in fact they'll probably increase, but the realness of these clips has yielded the desire to see this wild race on a grand stage, where we can truly appreciate what we've witnessed through a foggy lens throughout the year.