FloTrack Beer Mile World Championships
Lewis Kent Shatters World Record at Beer Mile World Championships
Lewis Kent Shatters World Record at Beer Mile World Championships
Dec 1, 2015
by Taylor Dutch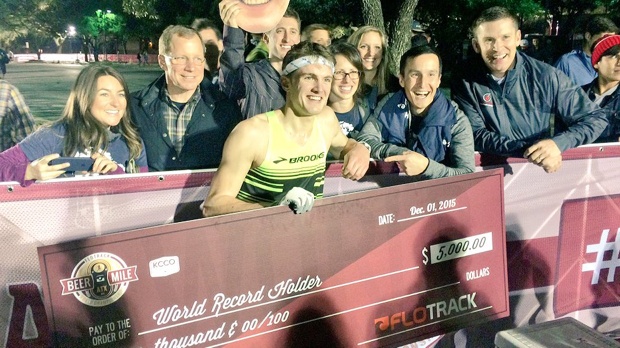 AUSTIN — In an all-out battle between defending Champion Corey Gallagher and world record-holder Lewis Kent, the beer mile crown was taken by Kent at the 2015 FloTrack Beer Mile World Championships. Kent ran 4:47 to take down the defending champion, improving his own world record by four seconds.
"It's crazy! I don't think it's all set in yet, it was amazing coming into the home straight," Kent told FloTrack after the race. "I knew Corey was coming in hot, but I'm glad I was able to hold him off."

"To say that I'm the world record-holder and the World Champion now, it's a great feeling," Kent said.
The 22-year-old student from Western Ontario led fellow Canadian Gallagher to a runner-up finish in a new personal best of 4:49 Tuesday night at the Austin American-Statesman. Both times broke the previous world record set by Kent.
Although the time was a significant personal best, defending champion Gallagher was unhappy with his performance.
"I wasn't on the game plan, or focused right from the start," a disappointed Gallagher said. "Right from the gun, I wasn't there."


Kent's victory was his second-consecutive championship this year after claiming the win at the Beer Mile World Classic in San Francisco last August.
Kent improved his own world record in a jaw-dropping performance that included an average of 7.35 seconds per beer chug. The young Canadian was aggressive from the start as he and Gallagher emerged as the early leaders from the gun.
Gallagher got Kent on the initial beer chug with a 4.90 split, while Kent passed him on the first 400m. Kent ran a 1:02 400m split while beer mile newcomer Michael Johnson followed in 1:02.02 and Gallagher trailed with a 1:04.46. Gallagher utilized his beer-chugging skills once again on the second beer, splitting 7.75 to catch up to Kent.
On the second 400m, Kent began to put more distance on Gallagher as he came through the 800m mark in 2:22.30. Kent maintained a two-second lead on the third beer, but in a last minute effort, Gallagher attempted to close on Kent with a 1:01 final 400m. It wasn't enough to catch Kent however as the college runner closed in a final world record time of 4:47.17, four seconds faster than his previous world record of 4:51.
Gallagher also earned a new personal best with a time of 4:48.62. The time is a six-second improvement from his previous mark of 4:54 from October. He was followed by Johnson in third (5:06.60) and Jim Finlayson (5:08.92) for fourth.
Prior to shattering the world record, Kent, Gallagher, and Josh Harris battled to own the record by submitting their own home videos to BeerMile.com over the past several months. James Nielsen's world record of 4:57.0 from 2014 stood intact until Australian Josh Harris ran 4:56.2 in August. Kent then submitted a video of him running 4:55.8 just days later, and Gallagher lowered the then-world record even further to 4:54.4 in October. Kent responded with a video of him running 4:51.9 on Nov. 17, shattering the previous mark and crowing him the new beer mile world record-holder.
Prior to winning the Beer Mile World Championships, Kent was awarded a sponsorship contract with Brooks Running and represents the company in his beer mile endeavors, including a recent appearance on the Ellen Show.
As a member of the Western Ontario track team, Kent trains for the middle-distance events and maintains that he is currently in 4:12 mile shape. But the college athlete notes that the possibilities are endless when it comes to putting both running and beer chugging together.
"If I'm in 4:12 mile shape now, imagine when I'm in 4:02-4:03 mile shape," Kent said.