A Night With Meb Keflezighi at The Running Event
A Night With Meb Keflezighi at The Running Event
2014 Boston Marathon winner Meb Keflezighi spoke with FloTrack's Joe Battaglia where the two discussed Meb's career highlights, tips for training, his 2014 Boston win, and looking ahead to future running goals.
Dec 9, 2015
by Taylor Dutch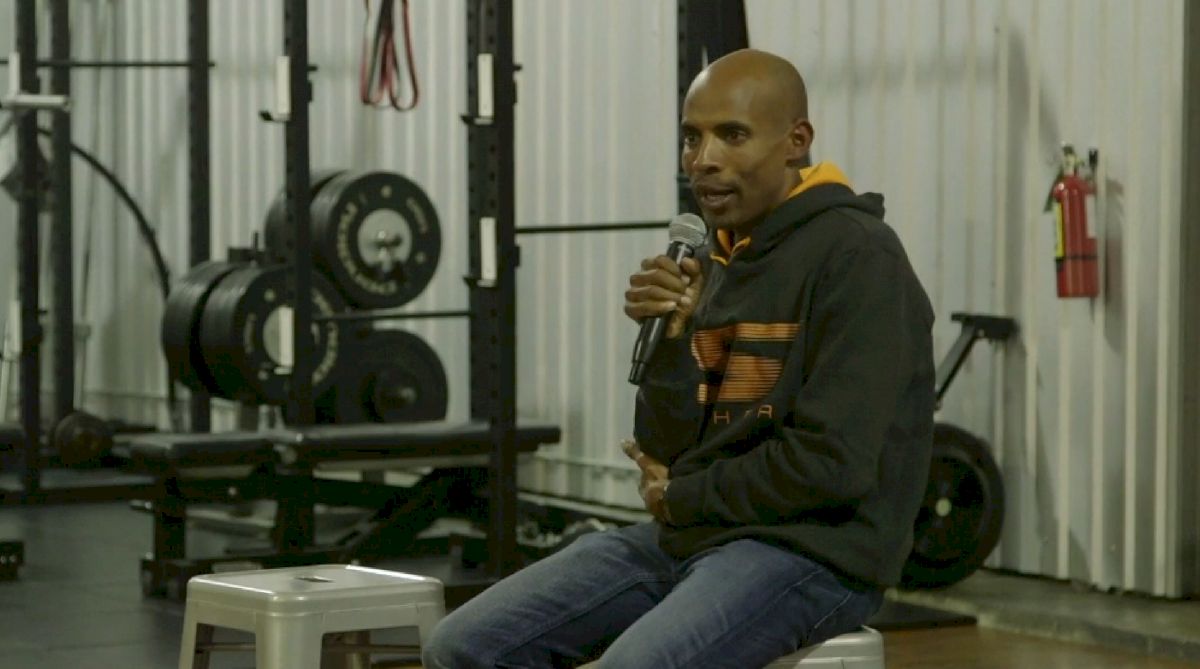 Last week during the annual Running Event, 2014 Boston Marathon winner Meb Keflezighi spoke with FloTrack's Joe Battaglia where the two discussed Meb's career highlights, tips for training, his 2014 Boston win, and looking ahead to future running goals. Watch Meb address the audience at Rogue Running in Austin, Texas.



Joe — Meb, it's kind of topical right now and we just saw a little bit about your background coming from Eritrea, when the world is debating things around Syrian refugees, I'm wondering if you can talk a little bit about your background as a former refugee and how that has shaped your life and has it made you think differently or approach anything differently in your life?

Meb — Thanks Joe, first, I'd like to thank Skechers for inviting me to have this opportunity with you guys and thanks for your hospitality. And Joe and his team at FloTrack, I mean, this is the second time I'm watching it [Meb FloTrack series]. First time when they sent it before it went viral and you guys have done a phenomenal job on all the episodes.

You know, life is difficult, life is challenging, as most of you guys are runners, you know that. Opportunities are provided and dependent on how you take it, you make the most of it. I'm a refugee, I'm proud to be born in Eritrea, but, we were looking for opportunities because of war and the United States -- we tried to go to Sweden, we stayed in a refugee camp for a week and they sent us back to Italy. We tried to go to Canada, didn't work out, and with the United States who allowed us to come, my family and I. when we came here, we didn't have anything but we had the support of each other as you saw the video, we cared for each other and there were a lot of people who opened the doors and their hearts to welcome us to be the best human beings that we could be. Help us assimilate to the culture that is the melting pot. The United States is the land of immigrants. We do our best genuinely to be the best that we can, to help the society, it's the best land to live, it's the best opportunity there is and my parents gave up their opportunities to provide for their kids.

Yeah, there's a lot of controversy, but why should 2-year-olds or 6-year-olds or 7-year-olds get punished for somebody that did ruthless, heartless [things], and diminishing to the human society? I still believe there's a lot of good people in this world, including the United States, who embraced us to be the best that we can be and we should look at that glass as half full instead of half empty.

Joe — As we also saw, your career has kind of progressed through track and cross country onto the roads internationally because of socio-economics, particularly when you looked to East Africa, that's not happening anymore. People are jumping right into the marathon. Do you see that happening with U.S. runners in the future or do you still see that progression holding true?

Meb — May God bless Ryan Shay, he was probably the first one getting out of college to say, I want to be a marathon runner. Usually most people want to do the 5K, 10K like I did and eventually went to the marathon. But yeah, there will be some people who are talented in the half marathon and 10K stepping up to the marathon at an early age. I'm writing for my book, "Run to Overcome," that the marathon used to be the all-men's sports. I'm glad I'm still part of that now to prove that theory, but because it was saying, you go to the 1 mile like I did myself, 3K, two miles, 5K and 10K and then work your way up when you lose the speed, but now as you referred as 19-year-old won the World Championship from Eritrea. There's a 19-year-old from Kenya doing 2:03s or 2:04s. So the marathon is very lucrative business-wise and also recondition wise.

I've never done a steeplechase because my coach says if you can make the 5K and 10K, that's less likely you're going to get injured when you do the events, versus the steeplechase. So now you see people, they're not fearful of the marathon. I mean, 1984 was the first time Joan Benoit [Samuelson] did the Olympics. Look at now, it's the most participated sport by women in the sport. So look at how that has done, but now they would be able to do I think at a younger age to be able to jump to the marathon because the training is better, they can't compete in the 5K, 10K, so they just jump to the marathon and they can be pretty dominant.

Joe — Now you guys aren't going to see this because we're not screening episode two, but if you go to FloTrack, episode two kind of covers some of Meb's first Olympic journey. The 2004 Olympics in Athens was obviously magical for U.S. distance running with you and Deena both taking home medals. What do you think the biggest take away from that is when you look at distance running as a whole?

Meb — I think you might see my name, and with my accent people ask, where are you from? When I tell them, well, who do you compete for? I compete for the United States. I went through the normal, like Deena, you know, high school, college, and professionally and I think 2004 was a breaking ground for all of us because it was almost second boost because Deena went the same process, got a bronze medal, I went with the same process and got a silver. And it says, if we can do it, going through the high school, collegiate, NCAA, and all this and that, if they can do it, we can do it. So there was a belief, I believe, it's like, well, they're human like us, we're going to the same process. If they can do it, we can do it. So in 2004 it was magical because Deena Kastor and myself were training in a small town, Mammoth Lakes, which is about four miles wide and four miles long and it wasn't Kenya, it wasn't Italy, it wasn't Sweden or Ethiopia, who got two medals. We were the United States, Deena and I, that got within the same. But we believed in each other, we worked extremely hard and we inspire each other. It's kind of like whenever we did races, 10K on the track or 15K Jacksonville or something, it depends how she does, I do really well and if I do really well she does really well. So we can almost forecast it and see that if she has a good one, I know I'm going to have a good one because we do the same program and trained together and helped each other to be the best that we can.

I think we see that the next generation of people says, well there's the mile in high school or 2-mile and then the NCAA, the time starts dropping and I think it's very competitive and that was Hawi, my brother and manager, was discussing. I had this vision that I wanted to lead the U.S. distance running by writing letters to the shoe companies to give you this opportunity to be. I'm just so thankful and with all my sponsors, including Skechers, who gave me the second life of my career, to be able to say, you know, I had this vision and I was able to live to it and kind of live to what I said I would do and the results speak for themselves.

Joe — As groundbreaking as your Olympic medal was in Athens, can you speak to what you believe the lasting significance is of your 2009 New York City Marathon win?

Meb — So, as most of you may know, may not know, I made three Olympic teams, Sydney 2000 -- 15, 16 years ago, that's crazy -- I was so happy to be an Olympian and then before I left the stadium, I said, I want to do something significant for the United States. I want to be able to win an Olympic medal for them. Honestly and truthfully, I didn't think it was going to be the marathon because I was still 10K or you know 10K runner at the time, so I thought that's what it was going to be. But 2004 winning the silver, you could only think, OK, most people don't know but that was my fourth marathon ever. And I was pretty young, inexperienced, especially with the New York first and last, just, in 2002, two years ago, you think, and you know, I think I got, I'm getting the hang of this but Beijing, Beijing you're thinking, I'm going to get the gold, at least another medal. But you don't always get what you want and the U.S. is fair and square. You get top three, advance to the Olympics. You don't get top three, you don't go. And unfortunately I had a big mishaps, may he rest in heaven, Ryan Shay passed away that day, I was next to him on the starting line. That kind of puts life in perspective and I had finished eighth. Once I heard the news I collapsed on the ground and I couldn't get back up. When somebody passed away, the last thing you think is about your health or the Olympic Games.

Then 10 weeks later is when I realized I had a pelvis stress fracture. So ran that race through the pelvis fracture and when I finished eighth. I wanted to go to the Olympics, consequences from my shoe sponsor at that time. Wanted to be able to make another 10K, so I rushed it in and kind of got injured. And then 2009, I wanted -- you have to set goal. As Merhawi said, I'm a goal setter. I wanted to be able to say, I want to make that attainable and once I achieve it, I can reset it. So 2009 New York City Marathon for me, that was my personal Olympics. I didn't go to Beijing, I didn't get a chance, so I wanted to beat whether it was cross-country, whether it was shorter races on the road, or the New York City Marathon, I wanted to beat as many Olympians as I can. I guess I am a competitive guy.

So, in that race, you know, I ran really well in San Jose, 1:01 for the half marathon, so I was really ready and the four-time Boston Champion was there, the silver medalist from the Olympics was there. When I was watching the Olympic Games in 2008, I told my wife, I'm like, 'I can't win gold that day but I know silver and bronze was possible.' So when the silver medalist was signed up for New York, I said, that's my man. I've got to be able to beat him and that's what I did. The significance of winning at that is like, I said that's my Olympics, but also, it was my dream to win the New York City Marathon when I did my first one in 2002 where I said first and last, but I guess I came back a few times and gave it a shot and to win that, it was not only a big success for me, but for the U.S. also. An American winning the big stage in 27 years the New York City Marathon. It was amazing because I was wearing the USA jersey and take a lot of pride in it and pointing to the USA, you know you get really emotional. It was a thrill of a lifetime.

Joe — Just to give you a little bit of perspective on that day, typically in the press room for some of these major marathons, it's kind of a hectic scene and everyone's kind of got noses in computers and banging away getting their work done. But as Meb was making that run up Central Park to the finish and celebrating his impending victory, when he crossed the finish line, there were loud cheers and applause. Then and Boston were probably the only times I've ever seen that in 10 years.

Meb — You know the media is not supposed to cheer for you, you know that right? It's supposed to be neutral. But when I won New York and came in, it was a standing ovation just because they see me getting second place, third place, trying hard and hard and hard and you treat everybody with respect and when you earn something, they just want to be your best friend, just to be able to say, share your story and they made me who I am. Even though I run and won, but also the publication in the media. I have much respect for them.

Joe — As you alluded to a little while ago, 2010, the year after you win New York, you're dropped by your shoe sponsor. In elite track, that could be a death sentence for a career. How did you guys navigate that time and can you talk about the approach that you and Hawi came up with?

Meb — I'm going to ask you a question, maybe, to see if those kids were paying attention. Do you remember what I ran my first mile? 5:20, right? So when Nike dropped me in January of 2011, I went without a shoe contract for eight months and as family's expanding and you know, you kind of question yourself, should I just retire or should I just not deal with it anymore. But I really believed that 5:20 mile. I said you know what, I would still do it for free, I would still love to exercise. And some crazy thoughts go through your head, I'm not going to lie, they do, and when you run by yourself. But basically Skechers came on board in January and they sent me a pair of shoes, Pro Speed, you won't see it on the shelves now. We made a lot of modifications to it, but you know and then they waited until August to sign me. But every single shoe company had a chance. For one reason or another, whether I was too old or I was too Nike marketed or whatever, they didn't want to renew it. But thankful to Skechers, they gave me a second life, they gave me the opportunity, and I tell them at the point when the president of performance division, I tell him, I could run a personal best in the marathon and half marathon. I definitely can't do that in the 5K, 10K, but I'm looking more for a partnership instead of a sponsorship. Let's work together and see what happens. In fact, that one picture when I was down is I ran New York City Marathon. When I won New York City Marathon I ran 2:09:15 and then 2011 I ran 2:09:13. Most people don't know but I was pointing at the block, I was like, I did it!

So you take a lot of pride to live your goals or your dreams and I finished sixth, but at the same time you know, sometimes you compete against the clock to get the best out of you for that day and I feel very proud. Going forward with Hawi basically we opened up eyewear with Maui Jim now and Epson watch and CEP socks and NYAC, Generation UCAN, Powerbar, ElliptiGO, Crave Jerky. More we look at it as ambassadorship, but also partnership instead of saying, you know, we want to be able to, I try it, if it works I will endorse it. I don't just endorse it. And people even now, when I go to ElliptiGO they see me ride my ElliptiGO and sometimes they don't know who I am and they say, what is that thing? How does that work? I'm like, yeah, it works, and it's ElliptiGO and if you want to buy one, just tell them Meb sent you. They're like, you're Meb? I'm like, yeah, that's me!

But I wouldn't be where I am if it wasn't for Skechers giving me the opportunities and to finish fourth at the Olympic Games, to help them design the shoes that I wear and give them feedback and things like that. So you take a lot of pride in that partnership.

Joe — Let's talk history for a second. Frank Shorter sort of credited with sparking a competitive running boom in the U.S. after winning marathon gold at the '72 Olympics. Do you think that your victory in the Boston Marathon will be a similar benchmark?



Meb — I think so. But a lot of people credit the runner boom to Frank Shorter, I have the most respect for Frank Shorter and I talk to him and we respect each other. But for me, Boston 2014 was special. I mean I had a chance to go to somewhere else, I had more money to go somewhere else, but really my heart was in Boston, for two reasons. For the people, for my career. It was the only thing that was missing in my resume. I had New York win, I had a medal, I said I always wanted to win Boston. And I just think you know, can it be done when I'm almost 39-years-old, two weeks shy of my 39th birthday? Nobody would have known that my birthday if nobody had told me about it. You just got the mental block. Most people don't know that 2013 New York City Marathon was going to be my last marathon. We put limitations on ourselves what we are capable of doing. But come to Boston, I just wanted to inspire people, as you saw in the video I had the victims' names on my bib. Something that I wanted to do for the people, I wanted to be able to change something. 2013, I was sitting on the grandstand watching people finish for four plus hours. I love people when they exercise what the sport does and some of you who ran there I probably saw you cross the finish line, but the horrific thing happened and somebody from ESPN asked me, are you going to come? I said, I have to come back. I have to support, to be here, but I hope to be healthy enough to win. That's when I set my goal to be able to try to win Boston in 2013 after the bombing.

It's rare that all stars align together and it happened in the most, when we needed it more as a community, as runners, as Boston community as well. So it was a victory, just the most meaningful victory and that's what I kind of like saying, you know what, this is, I found out my talent, that 5:20 mile, has capped out and I feel that God gave me this opportunity in this Earth to be a runner and that's an affirmation of that because it was definitely beyond my control. I did what I can but at the same time there were so many other elements to make that dream come true.

Joe — A little while ago you talked a little bit about your involvement in shoe design with Skechers performance. Can you shed some light on what that process is like?

Meb — So I worked very closely with Kurt Stockbridge and he was with another company for many years. Another guy, David Raysse, also from another company. So what we did is we had to go run, per say. It was like really, really soft. I said I could run 4, 5 miles with these but I'm not going to run a half marathon or a marathon and some other people won't be able to run, so we need to make it more stiffer, we need to make the landing more firm to be able to get that bounce. So I just basically critiqued it in a way and said, let's give it a shot and they're very generous enough to make the modifications and make as many shoes that we needed to and it's just constant dialogue. How would I feel running with them on my intervals, on my tempos, and then also the other shoes, the Strada, we also giving feedback of what I could do. And there's also average runners that are there to give feedback, they test trial. So we just try to put, you know, something, how high should this be? Or, how long the laces can be? And those things, all things, details, details, details, but those are the ones that make it efficient and great shoes.

Joe — You have a real interesting problem with your feet from the infamous New York City Marathon blister. And that's still sort of bothering you today, if you're not careful with it. Can you talk a little bit about how that affects shoe design and some of that feedback that you were able to give and get results from?

Meb — Most definitely. Unfortunately, I'm still dealing with it. In fact, some of it's coming off right now and you know it's been four years basically. So with that though, it's just the left foot and with Kurt Stockbridge we would talk about the different form or the different whether used for golf or whether they're for. So he has different things to try out and says, OK, try this on this shoe, try maybe one of the shoe, on one leg, and then another shoe on the other, see if I can feel the different material. They've been working with UCLA doctors there to maybe be able to find more research on it. So they're going all out to make sure we solve this, and we have solved this, just when somebody, it was something really scarred happens for a very long, long time, sensitive area that I you know after the cancellation of 2012 New York City Marathon, I said, the good thing about that is probably my feet will get better, but even with that, which I didn't do a full marathon, I'm still dealing with it, it's just my weakness for as long as I remember, as a Nike athlete when I was on the track I always had issues with, I've got too soft of skin on my foot. So it's always been a problem and we tried addressing it when we can there but there were more of insoles instead of just trying to fix the problem that I have. So Kurt and I have been working at it and I think we finally two years ago solved that issue. It's just something when you just keep doing the same thing damage to it. I don't have to put like Dr. Scholls donuts or Second Skin anymore that I used to do, but, unfortunately, I've got to keep an eye on it.

Joe — Can you tell us a little bit about the shoes you're training and racing in today?

Meb — I have two pair of shoes that I train in. When I tempos and intervals, I wear the Go Meb Speed 3, which is very light, very compact, and it used to be just made for me but I'm revealing my secret, you can use it. I also used the, it's called the Meb Strada, which is a trainer for my warm ups, easy recovery runs, long runs, and lately we've been, it's not out yet, it's in an advertisement probably, but the Forza, it's called the Forza, so I've been using these for also training anywhere from my warm ups, easy runs, and long runs.

Joe — Do you have anything special planned for the Olympic trials in February?

Meb — It's the day before Valentine's, so it's going to be a good Valentine's or not so good a Valentine's, I guess. I'm excited, I've kind of been training both for New York City Marathon and the Olympic trials, kind of like that vision and after New York I took a little break and now I feel like, OK, I'm in the zone to train for the trials, just solely train for the trials. But you know, February 13 is going to come around the corner and almost two months ago. I'm getting to the routine of getting my regimen and be fit. I mean, I just got to get my A, B plus game and be consistent, be healthy, and the rest will take care of itself and I've been there where to win the trials or make the team I just got to make those decisions when they need to and hopefully I have the great honor to represent our country in Rio and also my daughter, who was 2 years old in London, is 6 next month so hopefully she'll remember what her dad does at the trials and hopefully at the Olympic Games. So that's the motivation there, but, we'll stick around. Skechers Performance is the title sponsor for the LA Marathon, which I'm very proud to be part of and we're going to be there for the weekend festivities and hopefully you will see me smiling and I'll hopefully see you guys, some of you there.

Joe — What are you, 23 marathons in now? Is that the number?

Meb — It will be 23.

Joe — The Trials will be 23? With that kind of experience, what tips do you have for the everyday marathoner and some of our friends here with us tonight?

Meb — Well, for the first time marathoners, you're going to probably said, like I said, never again. But, most likely you'll come back. It's just all about patience and all about accountability, to be able to be here with you guys and some of you guys are from the same running club or, I don't want to give a shout out to like five or six people who came all the way from El Paso to see me. Raise your hand, where are you guys? Thank you so much. That's pretty special, it means a lot to me. You know it's just consistency, patience, and guess what, have fun doing it because you have this body that is able to do it and there's been a lot of people who are not able to do it for many reasons. So we motivate each other and I'll see you guys, some of you, you guys, the average person running in the morning and I'm like, you know, I get motivated because I'm like, I know I'm doing it for my living, but it's part of my life. I hope to do it now as I get, you know stop doing the marathons, I'd still like to exercise, it's a way of life and hopefully I will run in the morning before I drop off my kids and things like that. Or you guys doing it before you go to work. It's just, the sport is beautiful. If you for the first timers, how many first timers who have never a marathon?

Seven of you guys? See you next year. You're going to be, it's fun. It's really fun, it's the training, the process, and the accomplishment that you feel afterward, after you cross that finish line it's amazing and I said my first one, my first and last, but you know after going back to Eritrea, how you saw the video getting water out of the well and no electricity, finding bark from a tree or wood to boil the water and to cook your food. I said you know what, the temporary discomfort is what I call it, the temporary pain that we go in the marathon, that's nothing compared to what people living day in, day out. And that's when I said, oh, you know what, that pain that I felt in 2002 is not too bad. I'm ready to do another one because nobody forced me, but I chose to do it. So I hope when you're feeling challenges and obstacles there, think of the friends or family that you have that are struggling with something. You want to say, you want to, you want to dig deeper, you want to be able to get to that finish line because once you get to that finish line, it's an amazing experience.

Joe — Rough estimate, how many miles do you think you've logged between training and racing since you were in San Diego High?

Meb — I know the answer. Guess though, how many people want to guess? Raise your hands? Don't be shy. I'll give you a clue, I run about 3,500 to 5,000 a year. OK, I have run over 100,000. I'm so efficient, it's good and bad because when I run miles, when I look on my watch, I say, you know I ran 10 miles and I burned like 500 calories. I'm like, damn. I got to do it again! So you know, I guess I can have a banana or something.

Joe — How has your approach to training and recovery and nutrition changed as you've gotten older?

Meb — When I was at UCLA, true story -- in Eritrea, I was so hungry that sometimes my brain tell me, dig deep until the dirt gets moisture and eat the dirt. That's how a soldier survived, that's what I did at one point in my life. So we didn't have enough food on the plate or on the table. You go to UCLA, you got fed in the dorms, right? All you could eat. I'm like, take it all in while you can! And I would just eat like, you know like French toast, pancakes, cereal and yogurt for breakfast, one meal. And then I would come back from the campus and eat lunch and then I would make my own pizza and pasta and chicken for dinner. And then one day, I think I was a junior at UCLA, and the exercise physiology professor said, to the class he said, you've got to do all your walking and time it or however long you walk and see what you do and how much intakes are and how much rest you're getting and this and all that. And I think I was like, almost 6,000 calories. And he says, you can't do that. You're lucky you run, you're lucky you have good genetics because you would be obese. And I trimmed everything down. He said, it's not like you can't have any of those stuffs, just have one meal. Like if you want to have French toast? That's fine, don't have French toast, pancakes, cereal, and whatever. Start alternating. And then I used to come back from classes to the dorms to eat lunch. I just started doing like turkey sandwich and a banana to go and then that was it. And then dinner I'd choose one or the other, lasagna or pizza or one of the other ones. That made a big change in my life.

But as I've gotten older, you can get away with some things when you're younger but not as you get older. The metabolism slows down. I think for me it was 35 and I started using digestive aids and basically nutritionally I have a lot more snacks instead of big meals and also I…. when I'm done with my running, after my intense runs to be able to help me recover faster so I could do it consistently. But I also use ElliptiGO for my cross training even though, but it can be supplemental kind of thing. So I don't do the evening runs as much as I used to do, like double run, 10 run in the morning. Maybe four or five in the afternoon. But I go to the ElliptiGO ride now. It's fine tuning. I use Coach Bob Larson as a mentor but I do a lot of day to day my decision myself. I've been doing that for years because I've got to know what's going on through my body and you know, we give you advice, try it, and if it works for you, stick to it. And if it doesn't, try something else and be able to just -- it's huge. Because nutrition is what you put in your body and what you feel. Now I can, I'll all eat whole wheat or whole grain, brown rice, or whole wheat pasta. I can't do the other stuff anymore whereas before it was no problem. So I run 100, 120 miles a week, I do weigh myself every single day when I'm not traveling and see if I can have another shake or just have a banana or two. I'm not saying starve yourself, but you have to -- because you're in it for the long haul. You want to be able to see what weights work best for you and if you do that -- and it got me in trouble before. I was too lean, too long when I had my pelvis stress fracture. I really badly wanted to win my first marathon at the trials in 2007, but you could also go under because you don't have the energy and do harm to your body. So it's a fine line.

Joe — You have an especially tough challenge with nutrition. As I learned firsthand, his wife can cook. When we actually visited with Meb to film this, Yordanos cooked a traditional Eritrean meal that I tell you, it is to die for.

Meb — We need to bring you to Austin, you guys looking for some restaurants?

Joe — Yes! When you look back on your career, particularly on the roads, what do you think it is about your makeup that has enabled you to be so successful against competition that you'd probably be the first to admit might be more physically talented than you are?

Meb — I don't think I'm the most talented person but I'm going to work hard just because my upbringing. My parents gave us all this opportunity not only for me but for my brothers and sisters. When they told us, when we first arrived here, they said you have this ample opportunity that we didn't have as the parents, I know my cousins don't have, and my uncles don't have. So they tell us, don't' waste it. So I literally just took their advice and I'm like, I want to do the best that I can. And I worked extremely hard, I tried to learn from many people from my mistakes but also from other people's mistakes. And I tried to surround myself with just knowledgeable people who could help me be the well-rounded person that I am. I might run the races, but there's so many people behind the scenes that help me achieve my goals. Some from pacers, or like Yordanos. If it wasn't for Yordanos telling me, hey, when are you going to come home, help me out with the kids? I wouldn't be able to have that piece of freedom to be able to spend time with you guys or many others. And Hawi, my manager, Coach Larson, or Rich Levy or Sara Chavez from Mammoth Lakes in San Diego to help me pace. There's so many things, but I don't think I'm the most talented, but I've got a big, big support system and I just try to allocate what needs to be done and get it done. But you know, work ethic. Work ethic I believe you know practice makes perfect, but preparation is the key to success.

I just try to do as much as I can to stay healthy and do the work. If you do the work and then you're going to have an average race or above average race for all of us. But if you don't do the work and you miss out here and there, then you're not going to get the results.

Joe — What sort of mental tips do you have for runners as they're prepping for a big goal race, whether they're front of the pack runners or back of the pack runners?

Meb — I'll kind of give you the condensed version of it, but my training book, gives a lot of insight on that. But visualization is huge. So whether I'm running 18 miles, you're running the 18 miles of a marathon, it's the same thing. You have to visualize when you're doing your long run, even though you're doing 12 miles, think that's the 18th mile as until you step it up. Or when you're doing intervals, try to work on your form. Just say, you know what, visualize, when you're doing the last repeat of your mile or your training that you're doing, visualize that's the finish line of the Boston Marathon or the LA Marathon or New York City Marathon, whatever race you're getting ready for. So when you come to it, you already have done it. And then it's the same thing, mile 3, what do you want to do a mile, the first 3 miles, or 4 miles, or 5 miles, they're all the same thing, you just got to start visualizing how you want to feel, what adjustment you need to do, and remind yourself why you need to do at mile 16, at mile 15, whether it's to shake your hand or put your chin up so you can be taller and stay up tall, your form won't break. But if you say, I'm just doing this, going through the process and then you know you're going to do the same thing in the race. So visualization, consistent training, and you know at the end of the day you've got to have fun. I mean, winning is great, finishing is great, I mean we all try to maximize each of our potentials.

Joe — You're obviously a huge proponent of physical fitness. What would you say to inspire school-aged children and their parents to live healthier lifestyles?

Meb — You know, we are what we consume. If you have bad habits of food there, you eat them, the kids are going to eat them. I didn't try to starve my kids, but I tell Yordanos, have fun when I'm away, have treats, cookies, or whatever that you need to do once in a while, but if I see it, I'm going to eat it. And kids are the same way. If you have fruits, they're going to eat the fruits. If you have chips, they're going to eat chips. If you have something else, that's what they're going to eat. So start with you by leading by example of nutrition, but also just you know go around the park, do family things, it will go at early stages. I take my girls, they want to run, then like I want them to ask me, dad, can you take us around the block? Every kid wants to run most of the time. I mean I'll go out with them but maybe at 3 years, 4 years, I'll tell them let's go run. By now it's on their terms and take them around the park, when I go run around the park I just do criterium and then I try to take them along to exercise. We're so busy with iPhones or smart phones or things like that or at home, it's a good habit to get them outside.

We've got 20,000, 12,000 so many activities that are going to start with the young kids and that's what I hope to do more in the future also with the MEB Foundation, which stands for Maintaining Excellent Balance Through Health Education Fitness For Young Kids.

Joe — Which leads me to my next question, you've said you've got 26 marathons in your tank, so four more, what comes next and what will your involvement in running be, do you think?

Meb — Hopefully 26 marathons at the age of 42 for the kilometers be the conclusion of my marathon competitive business. I'd still love to be involved with the sport, it's done so much things for me and I want to be able to help inspire others to get the best they can. I've been doing a lot of speaking engagements as far as graduation ceremonies and businesses. And I also want to do a lot with the foundation, just to be able to give back to the young kids because it's a healthy way to live. If you can just start them to be 1 mile at a time, they might not feel like it but running, it used to be used as a punishment. Oh you're late or you didn't do the right thing, go run. We want to change that, we want that to be a positive thing for the kids at their early age and hopefully that's going to help them be a better student, that's going to help them be a better worker or productivity, but also it's going to help them be a positive to contribute to society and it starts at a young age.

Joe — Let's do a couple quick, rapid fire questions, all right? Favorite race distance?

Meb — Whatever I'm fit for. It could be a mile! But you know, I used to be a miler, I love the mile, and the 10K if it's going really well is a fun race. The 5K I thought it was the perfect distance for me. That 10 mile would probably be the ideal, ideal for me but the 26 miles, as you know, when you're fit, when everything's clicking, it's a beautiful thing.

Joe — Favorite post-race meal?

Meb — Steak. I'm in Texas.

Joe — Favorite long-run song in your playlist?

Meb — Two of them I've got to say. It's got to be "New York, New York" with Alicia Keys and then also I love Eminem. One shot, one opportunity. I mean as you saw I run with music, I love music, it gives me power and when he says, I have a lot of similarities to him, we can explain that another day -

Joe — No explain it now!

Meb — Because he's done so much, he's not the best, and I think he's phenomenal, I think he's done an amazing job, I love watching the "8 Mile," his movie, I'm a big fan, obviously you can tell. And I've been under the radar for so long time as well. Probably the only time I was favored to win, my 22 marathon, maybe Boston last year was the only time when they said, oh maybe he can win it. But the rest of the other times I was under the radar, you know? But you think about, you did all the commitment, all the sacrifice, all the training, you can't do it next week. You signed up for that marathon, that time, and that's what you've got to visualize and say, one shot, one opportunity. You have that 26.2 journey, what do you make of it? What do you want to do of it? You want to make it memorable, you want to be able to just say, you know what? You tell a lot of coworkers that you're running so they're going to ask you about it, so make it count.

Joe — What's your favorite running movie?

Meb — That's a tough one. See, I'm not a movie guy, but running movie, I like "Without Limits." I'm blanking out, the one at the beach. "Chariot of Fire," that's it, "Chariots of Fire" I think is pretty inspirational.

Joe — Where's your favorite running trail or favorite running route?

Meb — Lady Bird I think is local here. I love running that, I tell somebody I'm like, I could live here if I could do this all the time. I can't be somewhere else and commuting, but, I do five days a week I do trail running. I'm only on the pavement twice a week. You might be surprised but if you want to pound on the carpet or do you want to pound on the tile? That's the difference that you have to make and that's, I love running on trails, I love running on the dirt.

Joe — What's the best piece of running advice you've ever been given?

Meb — I received the best advice from Paul Tergat in 1998 in Brussels. He said, I could give you the workout. He was the second faster or world record holder, and he says, it's not about, you might make it, you might survive for a week or two, but eventually you'll break. So what he gave me is make a small progression. If you make a small progression, you get there to whatever your goal or destination is. But if you try to rush it, as a Coach John Wooden -- I'm not talking about football, I'm talking about basketball here, UCLA -- he said, be quick, but don't hurry. So progress, small progress to be able to be the best you can and making them count. You know, you can tell when you should be introducing intervals, you should tell when you're ready for a race. You should tell because you are all individually different. We are all different in terms of physiology. But if you do it consistently working on training, you're going to feel it, you're going to feel the difference and then they say start introducing small things to be the best that you can and for me, I give you an example, I have to run about -- bear in mind I've been running for 25 years and I do this for a progression -- I don't start doing tempos, which is race space until I'm comfortable doing 6:15 pace. Whether the race is coming or not coming, I know my body is not ready. So you have to listen to your body. OI say you know what, I feel good going for 7 miles. I want to do 3 miles hard. Don't just jump like, oh, I've got to get this ready, I've got to do 7 miles hard because you're going to get setbacks. If you get setbacks, you're going to miss out on that race and then the other opportunities. Let their body be the best guide.

Joe — Biggest remaining running goal?

Meb — You know, Joe, that's not fair. Because I have accomplished all the goals that I want to accomplish. There are races that I'd like to run, I don't know whether it's Cherry Blossom or Bloomsdale and things like that, but for me, honestly, I accomplished all the goals that I want to accomplish. Olympic medal, I didn't care what color it was going to be, win New York, and win Boston. As an athlete that's a rare opportunity to say, you know what, I've done accomplished. Do I want to go on another Olympic team? Absolutely. Do I want to win another medal? Absolutely. Do I want to win another New York? I would love to. But it's difficult. That's the reason why it took us 28 years to get a medal for the males, that's why it took us 27 years to win New York City Marathon and 31 years for Boston. So it's not easy, it's very demanding, and I'm realistic, and I would love to have another title with that. But for me as an athlete, I am completely satisfied with my career and it would be selfish to say I wish I could do that one more, because I was in that stage in Beijing was one of those that I say, you know what, I think I could win. You've got to appreciate what you have. You've got to appreciate what you're capable of doing. Yeah, You want to do more things, that's fine, but I would love to do more involvement with the communities, I would love to pace people for their half marathon or less, get involved with the sport at a higher level, and impact people to be the best they can be. It's not a race goal but I want to have those ambitions to be able to help achieve other people's goals because my goal has been realized and I feel honored to be able to be in this position.