Garrett Heath stole most of the headlines from last weekend's Great Edinburgh XCountry event in Scotland (obviously,
for very good reason
), but Team USA also got an inspiring performance from first year pro Scott Fauble, who finished third last Saturday at Holyrood Park. A member of Hoka One One's Northern Arizona Elite, Fauble is part of a promising new training group coached by Ben Rosario which also includes former Texas All-Americans Ryan Dohner and Craig Lutz, as well as veterans Ben Bruce and Matt Llano.
A few days after his brave run in Scotland, where Fauble actually took the lead over Heath and Mo Farah with 800 meters to go in the 8k race, we caught up with the former Portland Pilot to discuss his big day and his thought process behind storming to the front against the King of Edinburgh (Heath) and the greatest distance runner of this generation (Farah, duh).

What was going through your head when you took the lead with a half mile to go?
I was kind of thinking, 'this probably won't work,' but I felt like it was my only card to play. I'm obviously not going to out-kick Mo or Garrett, probably. I think Mo has 17 seconds on me in the 1500 and Garrett has 12 or so, so I felt like my only shot was to try to get a little bit of a lead. The last section is really bad footing and you have two stream crossings and a couple 180 degree turns, so I was like, 'maybe if I can get a couple steps, I can just hold them off.'
There wasn't a whole lot of thought, that was just what I felt like I should do.

Did you ever imagine a scenario pre-race where you'd be in that situation?
Yeah, obviously I didn't fly all the way across the Atlantic to a race where I was intending to lose. I went in there with the goal of winning. Every time I do strides or on runs when I'm getting bored I do imagine winning races. Lately it's been that one (Edinburgh), but I've imagined beating good runners hundreds of thousands of times. It wasn't like that was the first time the idea of beating Mo or Garrett or any good runner had crossed my mind.
How tough were the conditions? Watching from my computer it looked pretty brutal
.
Yeah, it wasn't good by any means. It was cold warming up, but as soon as we got into the race, I didn't feel any cold or anything like that. As far as the course, it was really muddy. The tangents— the inside of the whole course— it was just so sloppy. It was actually faster to run really poor tangents kind of on the outside just so you weren't wading through as much mud. There was a little bit less swamp to go through.
Did that help you? Do you like running on that type of course?
Absolutely. I think it really plays to my strengths. In cross country in college I was much better than on the track. I'm just good at embracing the adverse conditions and going with it if it's not ideal. I think it worked, it helped me a little bit.

In your blog, you wrote that taking the lead over two world class runners like Mo and Garrett is "really scary." Can you talk about that?
No one would've faulted me for not going to the lead obviously. Not even myself, like after the race if I would've finished 3rd or even 4th or 5th (and not taken the lead), I would've been disappointed but I wouldn't of said, 'oh man, I needed to go to the lead, I blew it by not going to the lead.' It would've just been like just, 'ok, I was third.' So there's really not a downside to not going to the lead.
Going to the lead, I really set myself up to finish way back. Had I just sat in the group, I was feeling good, I felt like I certainly was going to get third or better. But if I went to the lead and all those guys were able to cover it, I would've almost certainly gotten fifth or maybe worse. So it's kind of scary to put yourself in a position to blow up and do poorly. If I would've not measured it correctly, that would have happened. I was feeling pretty comfortable, it hurt obviously because it's the end of a race, but it wasn't unbearable. It wasn't that bad. But when you go to the lead, you can't really half-ass that move. When you make a hard move, it's going to hurt. That's a scary thing— to know that you're about to make a move, it's probably not going to work, it might really backfire, and it's really going to hurt.
Your Dad was excited about you just making the trip over there, he must've been pretty pumped with your finish
.
Yeah, absolutely. Both my parents were very excited for me to qualify, and to run so well. My Dad, it was kind of funny how into it he was. He was really into researching the town and researching the past history of the race and he found a bunch of pictures online after the race and was really psyched. That was really cool.
What about Coach Rosario?
Ben was really psyched about the race, he was psyched about the fact that I wanted to make that move and I did make that move, and that I was thinking about winning that race even though it was a long shot. I think that was a big positive for him and it was a big positive for me too.
Your NCAA career ended unceremoniously when you had to pull off the track in Eugene, but despite that it looks like your transition to the pros has been seamless. What's been the key for you getting fit post-injury?
It was pretty rough to break my foot at Regionals and not be able to go at Nationals. I obviously tried, but it didn't work out very well. Honestly it's just been trusting Ben, kind of just really putting all my eggs in that basket. Training with the belief that this is what I should be doing.
It's been six and a half months since I broke my foot, so that's plenty of time to get back in shape. Physically it wasn't that difficult because the training was there. I adjusted to altitude well and I was able to get good weeks in. Mentally, to go from running 15 miles/week for a little while, then 30, and then all of sudden I'm running workouts and I'm working out with guys who have more base than me, it's kind of just a testament to how well Ben has done with other runners in the group, and it's something that I could look to. He's gotten other people in great shape and as long as I just go all-in with Ben and take care of all the little things, it will work out.
How different is your training from college to now?
In some ways it's very different. You can just do more as a professional. You don't have as many time commitments, you don't have any other stressors. This is what you do. In that regard, it's very different. I have all of my energy dedicated to running, I don't have to write papers or anything like that.
In other ways, it's very similar. Both Rob Conner and Ben Rosario, neither of them are trying to re-write the book. It's all stuff that you'd probably see at any program. We're not doing weird, crazy things that are going to revolutionize the training world, we're just trying to get a little bit fitter every time we work out. We're not trying to knock any single workout out of the park, the focus is on the accumulation of good work.
What are the big races you're focusing on for 2016? Goals?
I'm taking a break right now. It's kind of a shame, I would've liked to keep racing, maybe even have an indoor season just because I'm very fit right now. But you have to take a break at some point. The way the schedule lined up, this made the most sense. I won't be racing for a little while, but I'm going to run, hopefully barring any setbacks, I will be running the first Stanford 10k and then probably the US Half Championships in late April. Then I'm just really gearing up for the Trials.
I'm going to talk to Ben and my agent Josh Cox, and we're going to try to get me into the Bolder Boulder. So I'd like to run well at the Bolder Boulder, well at the Trials, and then kind of figure it out from there, figure out whether we need to take a break to focus on the Fall or whether we can extend the season and hopefully run a big road race in August and maybe a mile or two in between there. The schedule is not super well-defined, but we've got a template. We're going to work from there.
You guys (NAZ Elite) debuted some pretty wild uniforms at Club Cross, what do you think of the look?
I like them a lot. There was a lot of discussion, a lot of group emails about what the best looks were, and we were very fortunate to have Hoka let us do our own thing here. It would've been well within their rights, and nobody really would've faulted them for saying, 'no we have an elite athlete kit, and we'd like you guys to stick to them.' But they respected our wishes to sort of brand ourselves differently from other Hoka athletes, but still within the Hoka brand.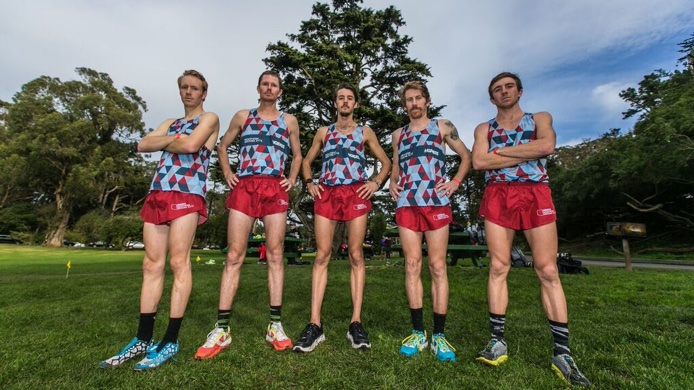 Photo: Larry Rosa
They gave us a lot of creative license. We as a group talked and just figured out what we wanted, and I think the uniforms came out great. We have two options to choose from, it was a hard choice just to pick which kit to wear, but I think the triangles were a big hit.
You ran an Olympic Trials Marathon qualifier (with a 63:59 1/2 last January), but you're not choosing to run the Trials. Is that (the marathon) where you see your career going eventually?
Yeah, absolutely. I think the reason I'm not running the Trials is because I feel like I have more really good track seasons in me. Obviously, the marathon and getting back on the track aren't mutually exclusive, but we just thought it would be a lot to build up to the marathon now and try to hit the track.
Yeah, unfortunately I'm not going to be doing that one. I do think that at some point the marathon will kind of be my strong suit. I'm pretty durable, other than that one injury last June, I haven't really had any injuries. I'm pretty strong on hills and in cross country and that kind of thing, so I think the marathon is really where I'll have the most success. But until I decide to move up there, I'm entirely focused on the roads and the track and executing each season really well.
What was your favorite memory from your time at Portland?
I think it's definitely got to be when we were third as a team at Nationals (in 2014). We had a lot of good team experiences, with winning conference and that kind of thing. Yeah, getting third at Nationals was awesome. It felt like at Portland we kind of had a monkey on our back with never really finishing higher than seventh despite the fact that we felt like we had teams that were better than seventh. It just never really came together.
Even though
we only finished five guys
, we can't really say that Nationals race all came together, but we were able to grit our teeth and get the job done as well as we could. That was really cool to do that with a lot of my really good friends and in my fifth year. To do that with Coach Conner, because he's obviously a staple there and he's been a big part in a lot of peoples' college careers, that was a really cool experience.

What's your deal with Mexican food? You seem to have a special spot in your heart for burritos.
I mean, have you had Mexican food? I don't know what to tell you. Some people love antique cars, everyone has a hobby. My hobby just happens to be sampling every single piece of Mexican food I can get my hands on. You know how everyone who has a hobby, they don't really think it needs an explanation because it's just their thing? I don't really know how to give you an explanation for why Mexican food is the best thing on earth, it just is.
Just consumed #mexicanfood because who knows if they have #burritos in Edinbrough. #GEXC2016 pic.twitter.com/Ic2GLCzQAS

— Scott Fauble (@scottfaubs) January 6, 2016
If you don't agree, you're wrong. Nah, I'm just kidding.
Are you an authentic Mexican food or a Chipotle type person?
Oh, I definitely will prefer authentic Mexican food. Ideally, as somebody who doesn't speak Spanish very well, it should be difficult for me to communicate my order. Sometimes it should involve pointing or maybe they have pictures on the walls of each item. That's kind of my go-to genre. But, you know, Chipotle is obviously better than the next best alternative.