Former NFL Star Jahvid Best Has One More Play On The Track
Former NFL Star Jahvid Best Has One More Play On The Track
Jahvid Best's NFL career may be over, but the former Detroit Lions running back still has one more play to make, and that play is on the track. At 27-years-
Feb 4, 2016
by Taylor Dutch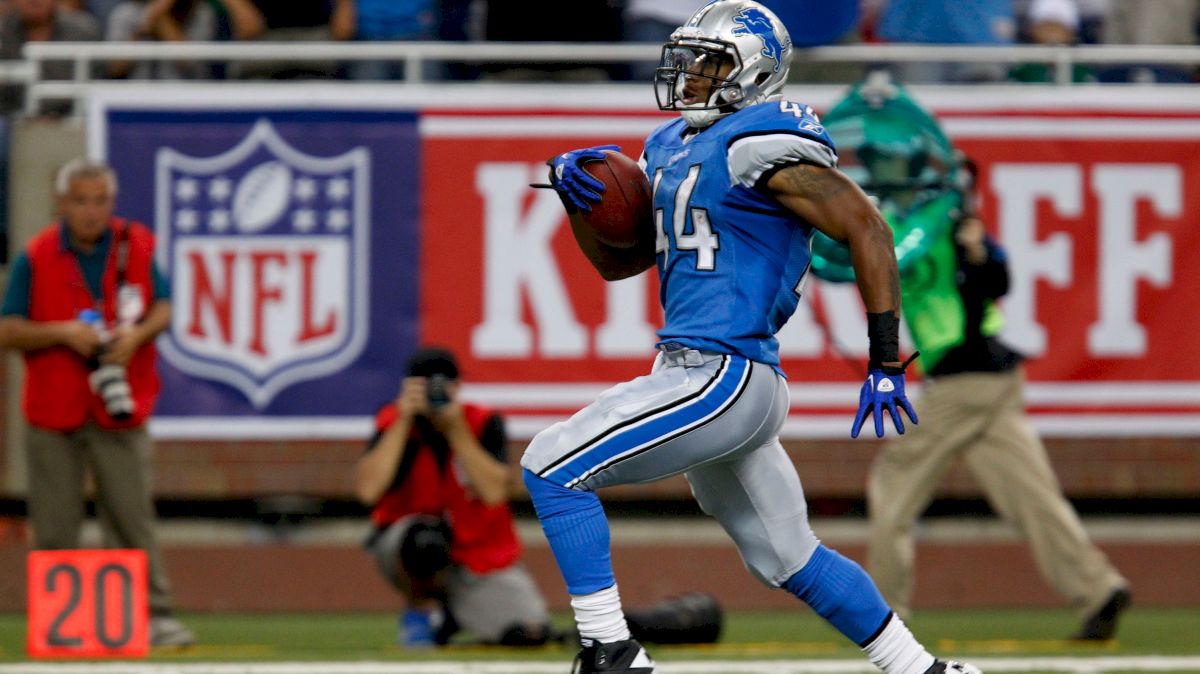 Jahvid Best's NFL career may be over, but the former Detroit Lions running back still has one more play to make, and that play is on the track.
At 27-years-old, Best has been through an ordeal of athletic highs and ultimate lows. After suffering from six documented concussions and filing a lawsuit against the NFL, Best walked away from football all together. Two and a half years after being released from the Detroit Lions, Best finds himself in a high moment at Altis — training to run the 100 meters at the U.S. Olympic Trials.
"My NFL career is done, but I just always felt like me as an athlete wasn't done," Best told FloTrack at the
Altis training center in Phoenix
.
Best's athletic ability, notably his speed, translates to the football field as well as the track. As a senior in high school, Best won the 100m at the California State Meet and finished second in the 200m final to an athlete who later became an Olympic silver medalist.
But it would be eight years until Best unexpectedly found himself on the track again.
The Richmond, Calif. native played college football at Cal Berkeley where he collected All American honors. In his final season for the Golden Bears, Best had 16 touchdowns and 867 rushing yards. But his college career came to an end during the Nov. 7, 2009 game against Oregon State where Best leapt into the air, flipped over a defender and landed on the back of his head in the end zone.
Multiple versions of the play were uploaded to YouTube, some with over a million views. Warning: this video is not for the faint of heart.
He was taken to the emergency room immediately following the play that gave him a concussion, but his first ever concussion happened a week prior at the Arizona State game. In just a week's time, Best suffered from two concussions, eventually forcing him to sit out the remainder of the 2009 season.
Best entered the draft in 2010 and was selected as a first-round pick by the Detroit Lions. He was only able to play in 22 games before suffering at least two concussions in his second season with the Lions. He played his final game in the NFL on Oct. 16, 2011, but was kept on the payroll through 2012 and finally released in July 2013.
He
filed a lawsuit against the NFL and helmet maker Riddell
in January 2014. Best's lawyer Bret Schnitzer argued that the NFL knew about the risks of head injuries by players but didn't do enough to protect them. The case was dismissed that summer.
Despite the ordeal, Best still loves the game of football. He
began coaching as a student assistant running backs coach
in Feb. 2014 at his alma mater. At the young age of 25, Best retired from football and worked on the sidelines as a coach, away from the dangers of the game.
A competitor at heart, Best still had a burning desire to compete. A conversation with his father convinced him to pursue the sport that he hadn't participated in since high school — track and field.
"Using what football actually taught me, which is we've always had a one play at a time-type mentality....I kind of adopted that mentality to my life," Best said.
"Football ended but I can't just sit here and mope about it because that's not going to do anything, I just found something else to do and track was the thing."
Best experienced early success on the track while running for Salesian High School. As a senior, he won the 100m at the California State Meet in 10.31 (+2.4) against Charles Saseun and Randall Carroll.
He also finished second to eventual USC NCAA Champion and Olympian Bryshon Nellum in an exciting one-on-one battle in the 200m final. Nellum finished in 20.43, a California state record and Best finished close behind in 20.65.
After attempting to train alone in his hometown, Best found the Altis training center through friend and former Cal long jumper Malaina Payton, who encouraged him to visit Phoenix a year ago. Best loved the coaches and athletes right away and moved from the Bay Area to pursue track full-time in Jan. 2015.
Being away from the track for several years proved to be an interesting transition for Best, who laughs when remembering the first time he stepped into a block start at Altis.
"Running is running so I mean even when I played football, I was running so running isn't too foreign to me but as far as the technique goes, that was really foreign," Best said with a laugh.
"I hadn't gotten in blocks since high school so everything was kind of foreign and then the techniques that they're teaching me here at Altis are different from what I did in high school so there's been a learning curve for me to learn all these things, but that's another thing I enjoy too!" he said.
Eight years after racing in the California State Meet, Best toed the line four times in 2015, which included a new personal best of 10.33 in May.
"We're like a college team [Altis], there's 70 plus athletes here so for me transitioning from football, having a big team and being around a lot of coaches was a big part of football so when I had that same feeling here it was great for me, and I love it," Best said.
Altis has proven to be a positive and productive place for Best to relearn the sport as it hosts athletes of varying events, notably World 100m bronze medalist Andre De Grasse. Best maintains that he thrives in the highly competitive environment.
"For me to learn a new sport, I need to be around people who've mastered the sport," he said.
The men's 100m field is more competitive than ever in the 2016 Olympic year, but Best is keeping his focus on enjoying the competition again.
"I've only been back doing this for a year so for me to make the Olympics would probably be a miracle, but I'm just working as hard as I can and we'll see," Best said. "If I sneak my way in there it'll be a great story."