2016 Big 12 Indoor Championships
Top 10 Moments From Conference Weekend
Top 10 Moments From Conference Weekend
10. Akela Jones wins 3 events at Big 12— HJ (NCAA #1), LJ (ties NCAA #1), 60H (NCAA #4)The Kansas State senior proved once again why she is the best female
Feb 28, 2016
by Lincoln Shryack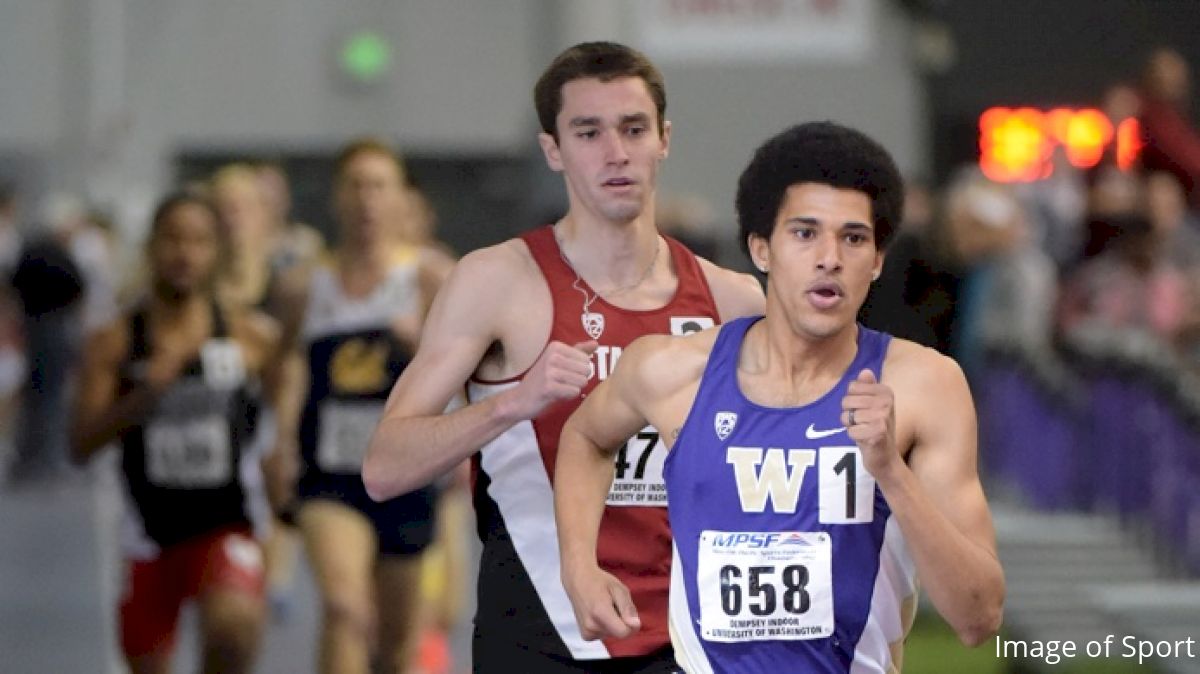 10. Akela Jones wins 3 events at Big 12— HJ (NCAA #1), LJ (ties NCAA #1), 60H (NCAA #4)
The Kansas State senior proved once again why she is the best female athlete in NCAA track and field, setting three PRs at the Big 12 Championship to win the high jump (1.93m), long jump (6.75m), and 60 hurdles (8.00), and why not, she also helped the Wildcats finish third in the 4x400. Jones leads the NCAA in three events— high jump, long jump, and pentathlon— and is fourth in the country in the 60H. This weekend was validation of something we already knew—Jones is likely to drop 30 points by herself next month at NCAAs.


9. Epic kick in men's SEC 400
Mizzou freshman Kahmari Montgomery came out of nowhere to steal the SEC men's 400 in 45.78, unleashing a kick so nasty that it deserves its own spot in the NCAA Hall of Fame. Careful, this wicked close is NSFW.
8. Molly Seidel 15:19 5k
Notre Dame's two-time NCAA champion didn't have a super quick 5k to her credit entering ACCs, but that all changed with her dominating 15:19.64 victory in Boston, making her the #4 performer in collegiate history and whetting our collective appetites for the NCAA XC encore between Seidel and Allie O in the 3k-5k. As Bart Scott would say,
"Can't wait!"
Molly Seidel is quite good. #4 in NCAA history with her 15:19.64 5k tonight at #ACCITF https://t.co/TJgBnVT2M5

— FloTrack (@FloTrack) February 27, 2016
7. Ronnie Baker 6.51 60m
The defending NCAA champ looked sooooo smooth and sooooooo in control running the sixth fastest time in collegiate history, which makes him the favorite to retain his title as the fastest man in the NCAA next month in Birmingham.


6. Three freshmen break conference 800 records
We already knew how special Texas A&M's Donavan Brazier was, and he backed up his stunning 1:45.93 from January with a 1:46.08 SEC meet record on Saturday, but how about Brazier's fellow frosh studs Isaiah Harris of Penn State and Wake Forest's Robert Heppenstall? Like Brazier, both men won conference titles over the weekend— Harris in the Big 10, Heppenstall at ACCs— with Harris chopping 1.07 seconds off his PR (1:47.31 to 1:46.24) and Heppenstall lowering his best by a crazy 2.16 seconds (1:49.51 to 1:47.35).
Harris and Heppenstall joined Brazier by breaking their respective conference championship records, with the Penn State frosh establishing the overall Big 10 record.
Four freshmen men— the trio above plus Arkansas' Carlton Orange— qualified for NCAAs, with Brazier the favorite in one of the deepest events in the country.
WHO IS THIS KID! 1:46.24 for the FRESHMAN for the Win!!!! Watch out NCAA Isaiah Harris is coming for ya #B1GTF pic.twitter.com/sXrI7fhras

— FloTrack (@FloTrack) February 27, 2016
5. Texas Sprint Doubles: Bilderback 20.79- 45.27/Okolo 22.79-51.06
I figured Texas' NCAA record holder Courtney Okolo would be dominant at Big 12s, which she certainly was, lowering her World lead— and setting the Big 12 meet record— in the 400, and then casually throwing in another Big 12 Championship record in the 200 with her 22.79 PR. She's an absolute monster, but we knew that even before her double this weekend in Ames.
Okolo's 51.06 400m:
Bilderback, however, I certainly did not expect to break Jeremy Wariner's (yes, that Jeremy Wariner) Big 12 meet record in the 400 as he did with his 45.27 coming out party, a massive PR and 1.26 second improvement on his season's best. He then came back and did his best Okolo impression by winning the 200 as well, just sliding past TCU's Sam Watts as both men ran 20.79. Bilderback went from NCAA pretender to now the favorite to win it all in Birmingham in the 400, which I suppose makes sense when you break a record held by an Olympic gold medalist.
Bilderback's 45.27 400m:
Both Longhorn teammates stand atop the NCAA 400 heading into Nationals.
4. Oklahoma State steals Big 12 title with epic 3k and 4x400 finish
With just two events remaining, the Cowboys of Oklahoma State trailed mighty Texas by 22.5 points, needing virtually an act of God to topple the Longhorns at Big 12s. It's not clear whether divine intervention actually occurred in Ames, but regardless, the Cowboys pulled off a miracle, going 1-3-4-5-6 in the 3k to tally 28 points (Texas got 0) and then completing the deal in the 4x4 with a fifth place finish as Texas came up just short with their runner-up showing in the final event. That left them an excruciating 1.5 points behind the team from Stillwater, and gave us the most thrilling team battle of the entire weekend.
The Pokes amassed a whopping 28 points in the men's 3k:


3. Ryan Crouser 21.73m NCAA record
The Longhorn senior was throwing bombs all day, and his 21.73m sixth round heave tied him with two-time World champion Ryan Whiting for the top mark in collegiate indoor history.
2. Felicia Brown 22.45 in SEC 200m, #3 NCAA history
The Tennessee senior flat out crushed defending NCAA champion Kyra Jefferson of Florida in the SEC final, blasting a 22.45 stunner that stands at #3 in NCAA indoor history. Brown's PR entering the weekend? 22.81.
Here's @hotfeetfe running the FASTEST indoor 200m in the WORLD - 22.45 to win #SECITF16 GOLD! pic.twitter.com/vtojvJlF3q

— UT Track & Field/XC (@Vol_Track) February 28, 2016
1. Izaic Yorks, Sean McGorty Blast 3:53s
I'm pretty sure no one on Planet Earth had Izaic Yorks and/or Sean McGorty running the two fastest indoor miles in American collegiate history on Saturday, but that's exactly what went down at the Dempsey as Yorks and McGorty waged an epic duel on their way to matching 3:53s. Just watch it already: