2016 NCAA D1 Indoor Championships
After Scratching Mile, Will Ches Go After Rupp Triple?
After Scratching Mile, Will Ches Go After Rupp Triple?
The biggest shocker coming out of yesterday's NCAA entries release was undoubtedly Edward Cheserek ditching the mile. With the megastar holding the belt as
Mar 2, 2016
by Lincoln Shryack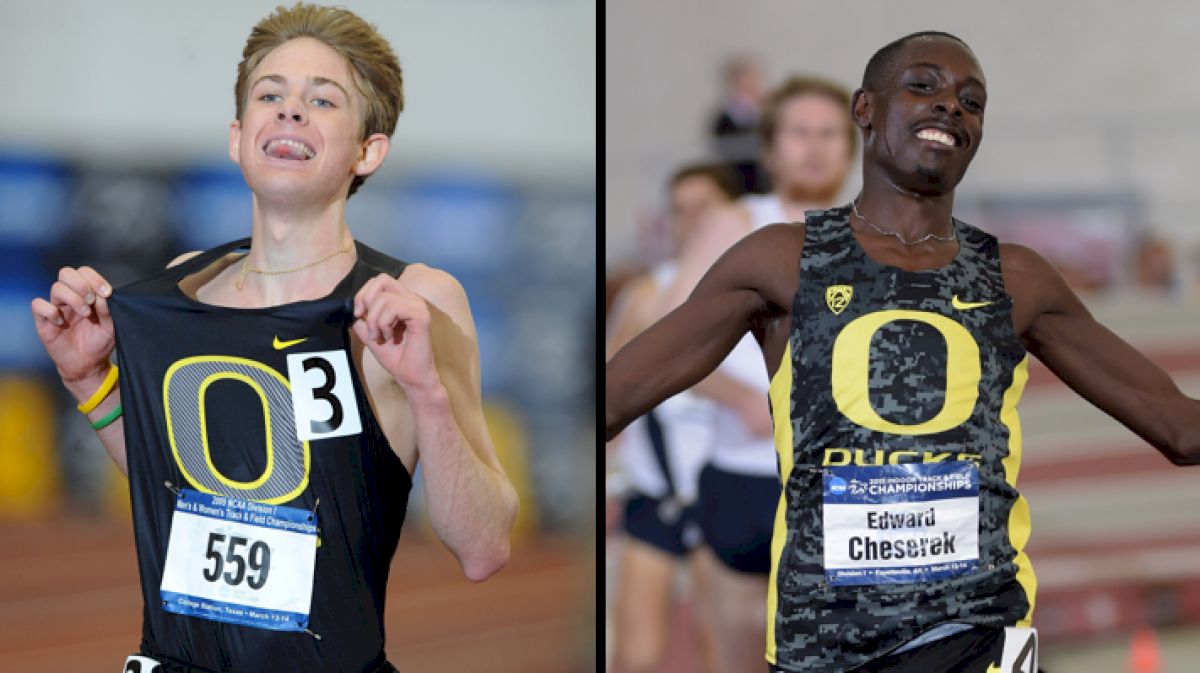 The biggest shocker coming out of
yesterday's NCAA entries release
was undoubtedly Edward Cheserek ditching the mile. With the megastar holding the belt as the reigning champion in the event, and noting his selection of races up to this point in combination with Oregon's desire to maximize their point total, it seemed certain that Cheserek would be attempting the unprecedented mile-3k-5k triple in Birmingham.
But when the entries dropped yesterday afternoon, we found out that Ches had pulled a quick one on all of us by scrapping the mile to focus on the 5k-3k double, just as other top milers exited stage left to focus on the DMR/3k (Yorks/McGorty), or just the 3k (Knight), moves surely motivated in part with Cheserek in mind. With the appearance that he was not going to run the DMR, and that the 3k would find Cheserek fatigued and therefore his most vulnerable from four prior races (mile prelim, 5k, mile final, 3k) it's easy to understand why two 3:53 guys (Yorks/McGorty) and another with a 3:56 from January (Knight) would spurn the mile.
But now that he has joined them in abandoning the event, those who stuck around have received the greatest gift an NCAA distance runner can hope for these days— a championship race without Mr. All-But-Unbeatable. Due to the Cheserek ripple effect, the mile is completely wide open. So too, as it seems, is the DMR, which Ches anchored to victory a year ago.
So he's just in the 5k-3k. Glad we settled that. **Wipes hands**…BUT WAIT…. No way. Would Oregon put Cheserek on the DMR anchor just 30 minutes after finishing the 5k? It sounds crazy, and to be sure, it is, but why would the Ducks leave 10 points on the table as they chase their third consecutive team title? After all, he ran three events a year ago when Oregon had more depth at their disposal, so it would seem odd to only utilize him twice this go around.
It makes sense for the Ducks to grab insurance to give themselves a cushion from their likely toughest competition, Florida, who own the top seed in the 4x400, have the #3 ranked 800 guy (Andres Arroyo), #4 ranked Arman Hall in the 200, Najee Glass (third at NCAA '15) plus Hall again (#6 ranked) in the 400, and finally Keandre Bates in the long jump, who was third in the event last year. Yes, Florida was only fourth at SECs last weekend, but scoring is much different at conference than it is at NCAAs, as less scoring opportunities at Nationals compared to SECs makes the Gators an entirely different animal.
This is all a very long way to say that Oregon has little margin for error—as it stands now— should Florida perform up to their capabilities.
Without Cheserek tripling, guys like Blake Haney and Devon Allen will have more pressure to score big points in just their first ever appearances at NCAA Indoors. If Oregon gets victories out of Haney (mile), Allen (60H), and Cheserek (3k/5k)— the four events in which they own top seeds— then a third straight title would almost certainly be theirs. But that's a gigantic "if." If Haney and Allen don't come up with big points in their races, the Ducks would leave themselves very vulnerable to the Gators.
That's why I think King Ches pulling out of the mile is actually a sign that he's going to anchor Oregon's DMR, thus setting himself up to pull off the Galen Rupp special, a factor that makes this all the more compelling. Back in 2009, Rupp won the 5k and then came back an hour later to anchor the Ducks' DMR before sealing the deal a day later in the 3k. No one has done it before or since.
Yes, Cheserek would have a comically short amount of time to cool down/warm up for his relay leg after the 5k— he would finish the 5k around 8:20 and get the stick at about 8:50ish in the DMR— but I can't imagine that Oregon head coach Robert Johnson would risk a title by not squeezing every point possible out of his team.
I should mention that Oregon's current DMR roster— which would have either Haney or Sam Prakel anchoring— could potentially win without him despite them only having the #11 seed time, especially since NCAA DMRs often come down to just the anchor leg. But there's no doubt that even coming off a 5k, Cheserek—who closes better than anyone— would give them the best chance to win.
As it stands now, the Ducks have not fully stocked their roster for NCAAs. Don't be surprised if that changes in the 11th hour in Birmingham, with King Cheserek replicating Rupp's trifecta, while simultaneously pulling off a bait-and-switch that has fooled all of us. If that happens, a trophy will surely be on its way back to Eugene.
"If they ask me to do everything I'll do whatever they ask me to do for the team, to support the team to win another title"—
Edward Cheserek in December
.
Edward Cheserek talks about a potential triple back in December at the Bowerman Awards:


​

​
​​