2016 USATF Indoor Championships
Vashti Cunningham Is Fierce
Vashti Cunningham Is Fierce
By Johanna Gretschel of MileSplit (@jojo_shea)Vashti Cunningham is fierce.The oldest daughter of NFL legend Randall Cunningham is a favorite to make the Oly
Mar 7, 2016
by Taylor Dutch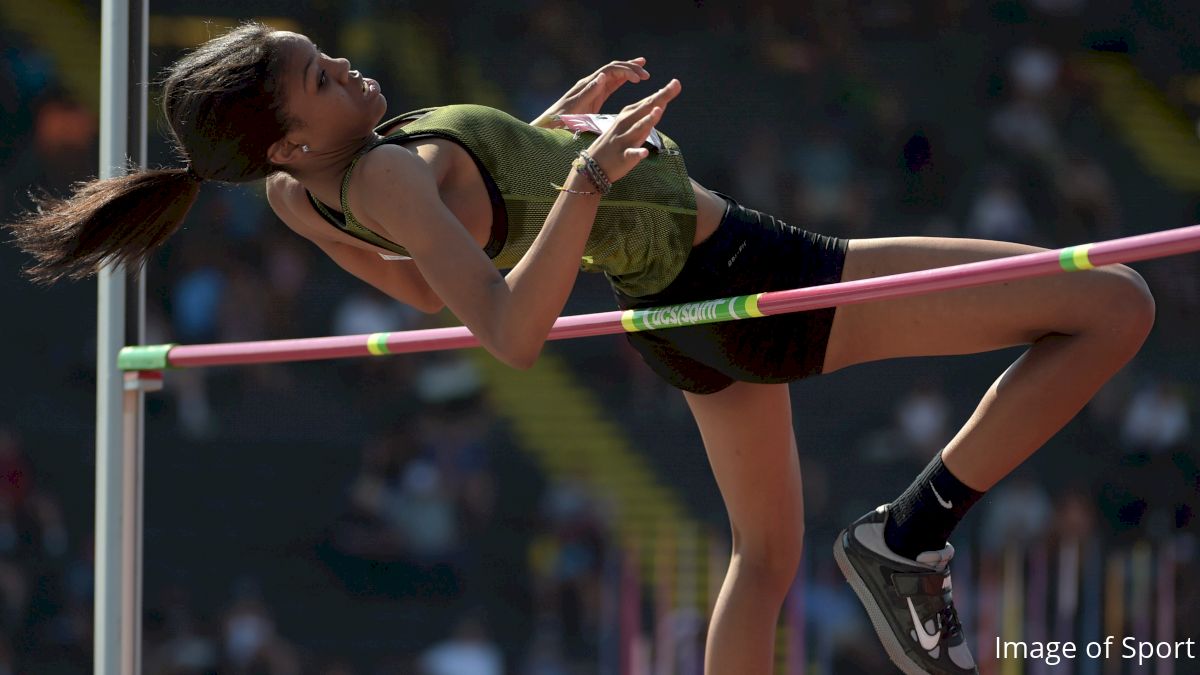 By Johanna Gretschel of
MileSplit
(
@jojo_shea
)
Vashti Cunningham
is fierce.
The oldest daughter of NFL legend Randall Cunningham is a favorite to make the Olympic team at just 18 years old.
Her road to Rio starts with USA Indoors next week, and continues -- she hopes -- with World Indoors two weeks later.
After that, she could turn pro -- or, just as easily, sign with USC, where her brother,
Randall Cunningham, Jr.
, is the No. 2-ranked high jumper in the NCAA this year as a sophomore.
When you're one of the best high jumpers in the world, you have options.
In case it didn't sink in the first time, the senior at Bishop Gorman High School in Las Vegas is the No. 2-ranked outdoor high jumper in the world right now.
In the world.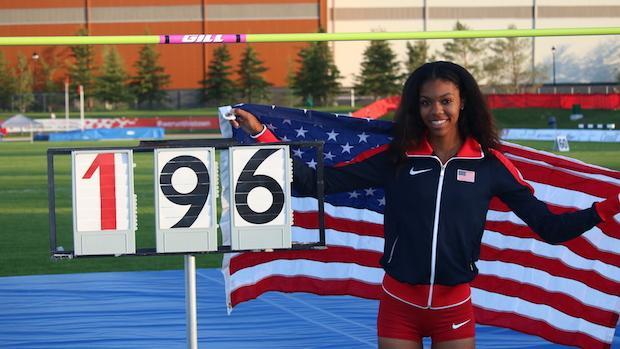 Granted, it's the first week of March, so the entire world has not recorded an outdoor clearance yet. But indoors, her national high school record of 1.95m/6-4.75 tied for No. 4 in the world with a number of studs, including two-time World Champion Blanka Vlašić.
When she set the
outdoor national high school record
last summer, her mark of 6-5.25 ranked No. 9 in the world and No. 1 in the United States.
But Vashti [pronounced VASH-tie] isn't much for media attention, or talking track.
"I don't like to put myself on a higher pedestal," she said. "It's not weird. "I just give it the cold shoulder because I don't like to put myself out there."
But that can only last for so long.
Cunningham is an "it girl" in the making, the best athlete in her event and one with stage presence. She is an elite athlete with pedigree, a proclivity for fashion and art, and strong in her faith.
In an Olympic year, when the spotlight on the sport burns brightest, track and field finds itself plagued by scandal and starving for fresh faces that it can believe in.
Cunningham may be, just maybe, what the sport needs.
'I didn't really care what anyone said'

Randall calls his eldest daughter a "sneakerhead."
"She will not admit to that," he said. "I was like, 'Where do you get shoes that light up like that?' She says, 'the internet.'"
Spend a few minutes scrolling through @vashtizzle's feed on I
nstagram
or
Twitter
and she appears to be more like a typical high school student than a potential future Olympic medalist.
She posts photos mean mugging with her friends in trendy clothes, and retweets her favorite rappers (Tyler the Creator, Chance the Rapper... though when I ask what she's listening to right now, she demurs "nothing in particular").
Ask about her hardest workout of the year and she doesn't bite -- "They're all hard."
But ask what she likes to wear... suddenly, she gets talkative.
"I like shoes a lot," Vashti says. "I like to wear platform shoes and boots like Doc Martens, like two inches, maybe three. I have [a pair that are] really high, like four inches."
At six-foot-one, Vashti clearly doesn't mind standing out.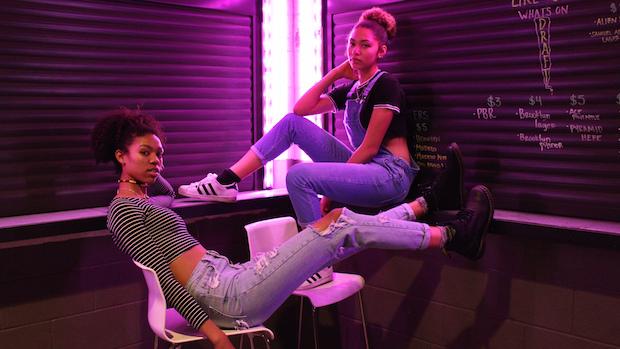 "It feels really great because you are always seen a lot," she says of being tall. "I was never really self-conscious. I didn't really care what anyone said."
Vashti, not surprisingly, likes being in front of the camera. She is also quite the shutterbug herself. She's used a Canon "for about two years, maybe a year and a half," and shoots her friends on the streets of downtown Las Vegas.
"I like to shoot people, different outfits, different styles," she says.
Vashti isn't sure how to describe her own style. She wears a uniform every day to school -- but on the weekends, she likes to search for new finds.
"I just like to throw random stuff together," she says. "And it actually turns out looking pretty good. I like to thrift shop and change whatever I get, change the cuts or color. I got these jeans and I cut these huge holes in them. None of my jeans fit me, they're all cuffed at the bottom."
With her lithe frame, Vashti easily fits the mold of future high fashion model. Track and field stars already strut the catwalk during New York's Fashion Week.
Oiselle-sponsored athletes participated in an official NYFW Nolcha independent designers show in 2013 and 2014
.
Both she and her father talk about possibilities of modeling once she signs a professional contract. They've also talked about designing high jump shoes.
"It's just an idea," she said. "I like black, maybe an all black shoe."
The Ultimate Weapon's Offspring

Don't let Vashti's wistful teenage chitchat fool you. When it comes to track and field, the Cunninghams are all business seven days a week.
Randall is Vashti's coach. To fully appreciate that, you need to understand exactly who Randall Cunningham is.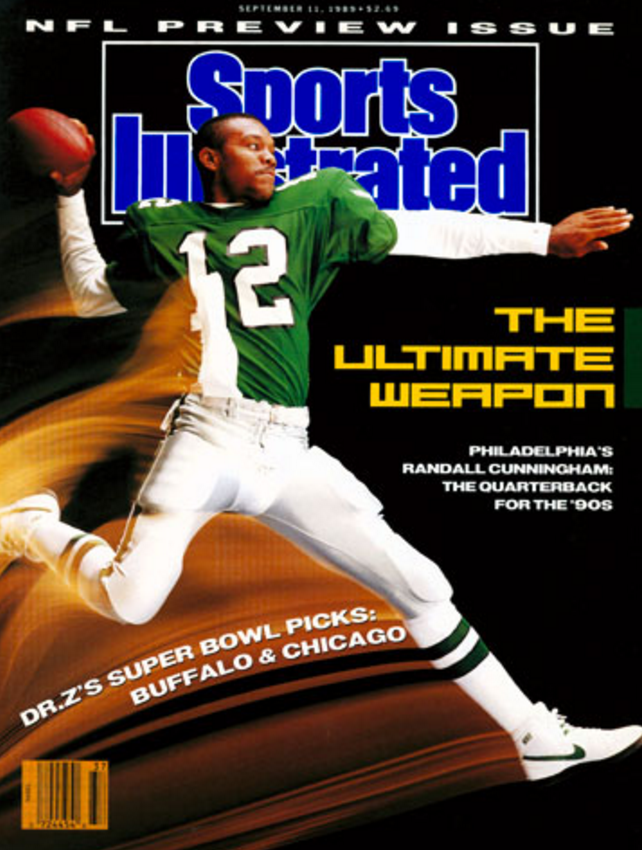 Widely touted as one of the best quarterbacks in the history of football. He set 18 school records as a quarterback and punter at UNLV, before being drafted in the second round by the Philadelphia Eagles in 1985. He played in Philadelphia through the 1995 season before retiring in 1996, then un-retiring and joining the Minnesota Vikings from 1997 to 1999. He then played for the Dallas Cowboys in 2000 and the Baltimore Ravens in 2001.
He was named NFL MVP three times (1988, 1990, 1998) and retired as the league's then all-time leader in rushing yards and carries for the quarterback position (4,928 yards on 775 carries and 35 touchdowns). He averaged 30.6 rushing yards per game during his career.
Randall was, in a word, revolutionary.
Who could forget that 1989 game against the New York Giants when he won a game with his foot - literally - by
kicking a 91-yard-punt,
the third-longest in the history of the NFL. Or the following year, when he eluded Bruce Smith in his own end zone and threw a
95-yard touchdown pass
into the wind at Buffalo.
Before there was Michael Vick, Steve McNair, Kordell "Slash" Stewart, Colin Kaepernick, or Cam Newton there was Randall Cunningham.
But even a man known as "The Ultimate Weapon" was not always invulnerable.
"I was lost for a moment," he says.
In his retirement year, Randall became a born-again Christian under the tutelage of Minister Troy Johnson.
"If I didn't have faith, I'd go on the field and feel frayed," Randall says. "I had a limo and they'd drop me off and on the way to church I'd literally cry. 'I need you, I desperately need you to help me lead this team, lead this city.' And when I got out of the car, I would be ready to represent in the NFL with morals and integrity."
When Randall returned to the NFL, he held bible studies in his home. Those intimate gatherings became what is now known as the Remnant Ministries Christian Church, where Randall is the Senior Pastor.
Faith is Everything

Randall is as natural as coach of the Nevada Gazelles Track Club as he was as a player and is as a preacher. Listening to him outline his training philosophy and vision, you could just imagine him standing on the pulpit.
"We have volleyball kids, kids from other sports who come [because], 'What Coach Cunningham does is very specialized, very specific.' I'm gonna give you exercises that challenge you physically, mentally, and emotionally."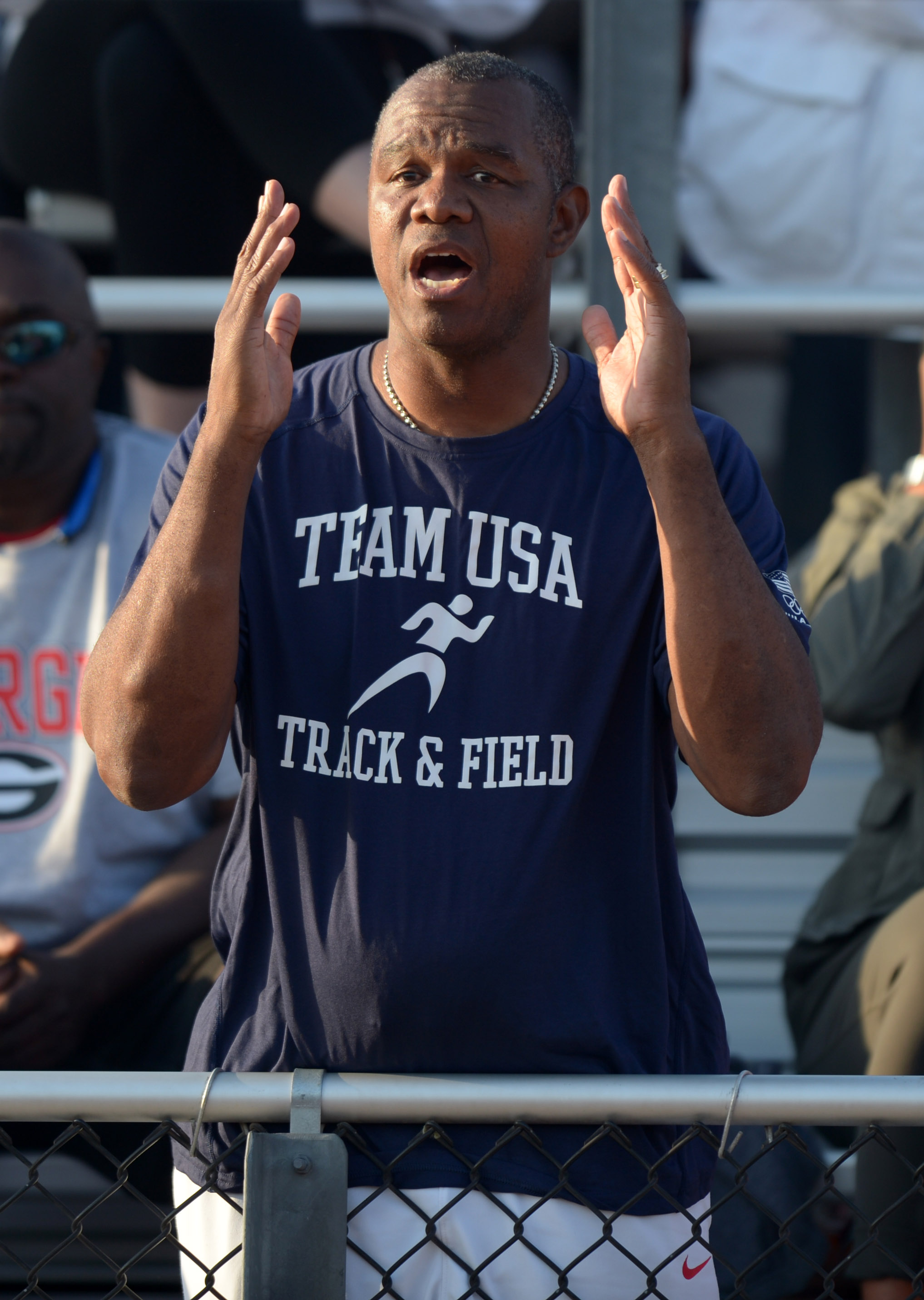 Randall works with about 44 young athletes in different track and field disciplines with the Nevada Gazelles TC, though the Saturday workout is open to athletes of any sport.
He's not leading a team on the gridiron anymore, but Sundays are still the most important day on the Cunninghams' schedule. As Senior Pastor, Randall gives sermons to the widely attended 8:45 a.m. and 10:45 a.m. masses. As they tell it, the Cunninghams' faith is the driving force behind their success.
"God gave [Vashti] great genes," Randall says. "She doesn't have a problem with working… her faith is everything and enables her to do everything. It shows her how to remain strong."
"[Faith plays] a huge role [in my athletics] because I am a Christian and I rely on God for a lot of things," Vashti says. "Everything, actually."
No Height

One time Vashti had to draw upon her faith was at the 2015 Nevada Outdoor Track & Field State Championships.
The then-junior entered the meet as the national high school record holder and with a PR nearly a full foot higher than the second seed.
But the Cunninghams never lower the bar for anything.
Instead of entering the competition conservatively at 5-4, virtually guaranteeing her a state title, Vashti came in at 5-10, a height more suited to her vast abilities. After kicking the bar off with her foot on her first two attempts -- she was way over the bar each time -- doubt crept in, then frustration and a little panic.
"The emotion she went through was, 'How did I just do that?'" Randall said. "And now everyone's looking and she just got frustrated. She got a little teary-eyed. She's got her head down."
Vashti no-heighted at her state meet. Victoria Wuest of Legacy High took home the state title with a clearance of 5-3.
Randall called Vashti over. First, he addressed his protégé as a father.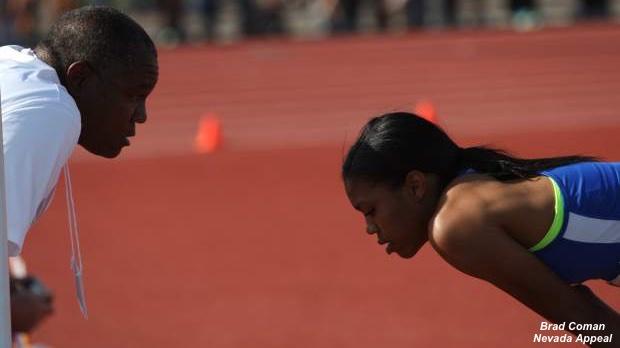 "Everybody has that bad experience," he said. "Well, I'm hoping we got it over with now and not at the Olympics.
"Now, can Coach talk to you? Okay. You gotta go do long jump."
Vashti did, and defended her state title in that event with a personal best of 19-2.5. Randall congratulated his daughter and she waved him off.
"Alright, Dad," she said. "You go home. I gotta celebrate my NH."
"Your what?"
"My NH. My no-height!"
Reflecting on the state meet now, nearly a year later, Vashti seems baffled by -- though not overly interested in -- the performance.
"That was the first time I ever no heighted," she says. "I was just off, kinda. I don't really know. I don't think back to it a lot. I kind of just kept practicing, lifting and went and jumped and everything was back to normal."
Indeed, the rest of her season included: one USA junior national championship; one Pan-American juniors title; one national high school record; one American junior record; one world youth record; and zero no-heights.
What it didn't include was a trip to the IAAF World Championships, even though Vashti was the best high jumper in America and the only one to achieve the 'A' standard of 1.94m. She chose, instead, to compete at the junior level, while the senior level national champion Chaunte Lowe bowed out in the first round of the World Championships in Beijing.
"I thought it was a huge mistake not to send her to the World Championships last summer," Dwight Stones, the three-time high jump world record holder, two-time Olympic medalist and 19-time U.S. champion, said.
"Even if she didn't make the final, to miss out on competing and being in the same apron against all of those athletes who she will no doubt re-encounter in Rio… The final of an Olympic Games or a World Championships is crazy, crazy stressful."
Stones would know.
He made his first Olympic final as a hotshot 18-year-old, where he won a bronze medal. But he says he choked in his first three international competitions.
"I had no external excuse not to perform well except for the fact that my mind was blown," he says. "Now, she's probably a more mature young lady than I was [at 18], and being the daughter of Randall Cunningham, she's been exposed to things that most people her age have not… but there's nothing like being down in the apron against the people who you're about to compete against at the highest level."
Setting the Bar High

Stones does tab Vashti to make the top three -- heck, probably even win -- at USA Indoors and the Olympic Trials.
"Our medal hopes are really riding on someone like Vashti because there is not a lot of depth in this country," he says.
While Stones' expectations for Vashti are measured given her lack of senior level experience, he does admit she is a special talent.
"I don't necessarily expect her to make the [Olympic] final," Stones says. "If she does, great. I don't expect her to compete up to what she has jumped before. If she does, even better. But she'll have that experience under her belt and a World Championships next year and possibly be a contender for [Olympic] gold four years later."
But before Rio, there is Portland.
"Her focus is on the right now," Randall says.
The high jump final at USA Indoors is this Saturday, March 12 at 4:25 p.m. PT. Vashti's top competition will include Lowe, who holds the indoor (2.02m/6-7.5) and outdoor (2.05m/6-8.75) American records and who bumped Cunningham from her outdoor world leader after just one weekend.
But Vashti already
took down the nine-time U.S. champion
en route to her indoor national record in February.
That was the first indoor competition of her career. Portland will be the second.
"The [indoor] surface feels bouncier and makes me feel like I'm running faster," she says. "I'm not really nervous. Jumping 6-4 gave me confidence."


The Next Step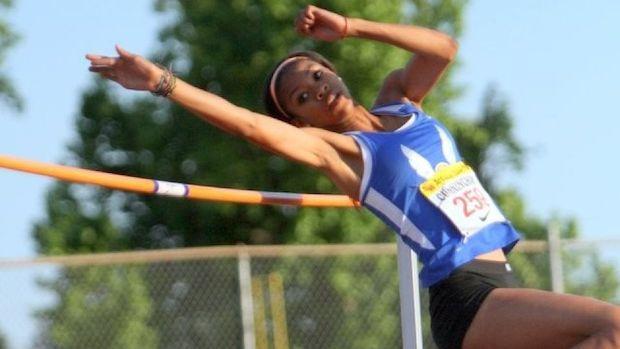 When Vashti broke the national high school record last summer, Randall bought her a white Mercedes S-550 -- a used model, he makes sure to clarify.
If she wins the USA Indoors, Vashti might buy something for herself. Her performance in Portland will likely determine whether or not she goes pro this year.
"She really wants to focus on whatever God is showing her," Randall says. "If she asks me, I would say, 'If I were in the predicament you are in…,' but it's from the perspective of a male jumper.
"I would not say, 'If I were you.'"
When asked whether she'll go pro, or what shoe companies she's considering, Vashti clams up again.
"I don't know what I will do yet," she says.
When you're the best high jumper in the world, you have options.
Vashti could easily wait to turn pro.
But how long can pro track and field wait for a transformative talent like her?