2016 IAAF World Indoor Championships
Giving Back Pushes Brenda Martinez Forward
Giving Back Pushes Brenda Martinez Forward
PORTLAND, Ore. — U.S. Indoor 1500m Champion Brenda Martinez has dreams beyond winning medals on the world stage. She wants to give back to the sport that ga
Mar 17, 2016
by Taylor Dutch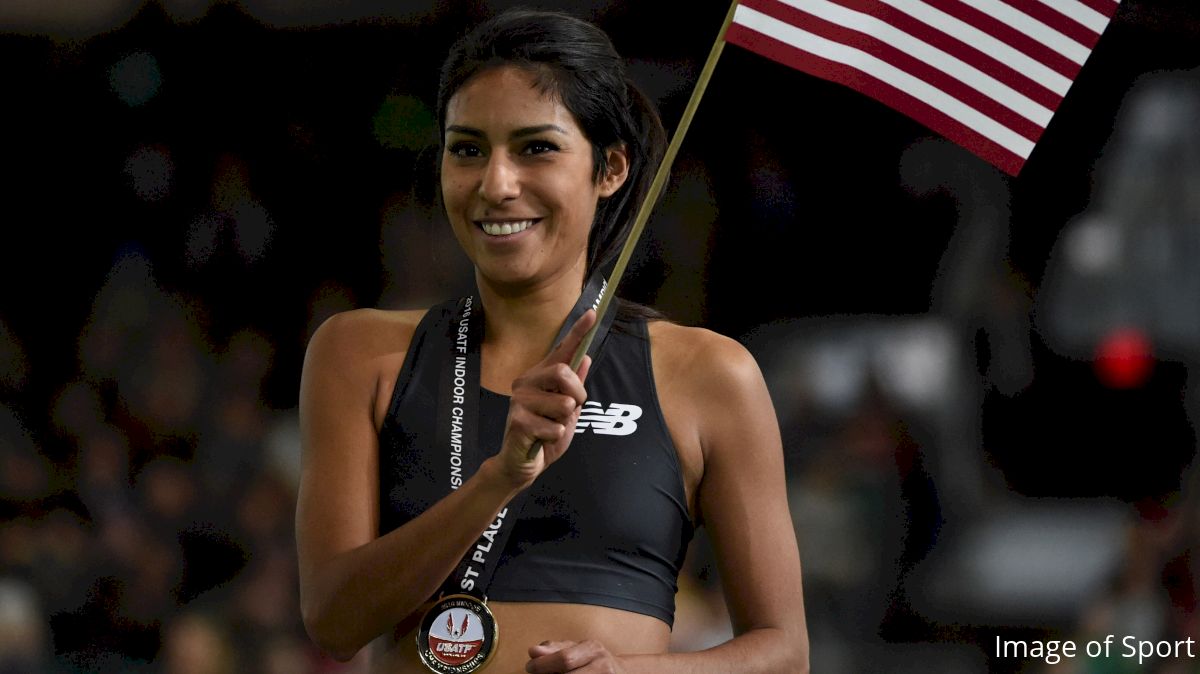 PORTLAND, Ore. — U.S. Indoor 1500m Champion Brenda Martinez has dreams beyond winning medals on the world stage. She wants to give back to the sport that gave her life-changing opportunity, starting with the athletes of the
Big Bear Track Club
.
Martinez and teammate Boris Berian both won their respective events at the USATF Indoor Championships last Saturday, which earned them spots to compete at World Indoors. Berian had gone from
working at McDonalds to becoming a national champion
in less than two years. It was the first time two members of Big Bear Track Club had won national titles at the same meet — proof that the nonprofit training group aimed at helping athletes develop is working.
For Martinez, helping others has always been the only option, and it's a desire that stems from strong family roots dating back to her grandmother.
"It's always been in my family's nature, just to help someone. My grandma, she took in my mom when she was pregnant, didn't even know her, just helped her," Martinez told FloTrack Tuesday in Portland. "She [mom] was pregnant with my brother at the time, and then her grandson, which is my dad, fell in love with my mom and they started a family there, but my grandma was always someone who would open her heart to others - feed everyone before she ate, you know, and that's kind of what my mom learned and my dad have passed on to me: you have to help people along the way, you can't be selfish or anything like that, you have to share the wealth and pass on your wisdom to others and share it."
Martinez shared her wealth and wisdom when she founded the Southern California-based group in 2014 with her husband Carlos Handler, who coaches the eight athletes that have moved to the resort town 6,752 ft. above sea level. Martinez is coached from afar by the legendary Joe Vigil, who guided the middle distance standout to an 800m bronze medal at the 2013 World Championships. Vigil in his 60+ years of coaching experience at Adams State and at the professional level, was also part of the inspiration behind starting Big Bear TC.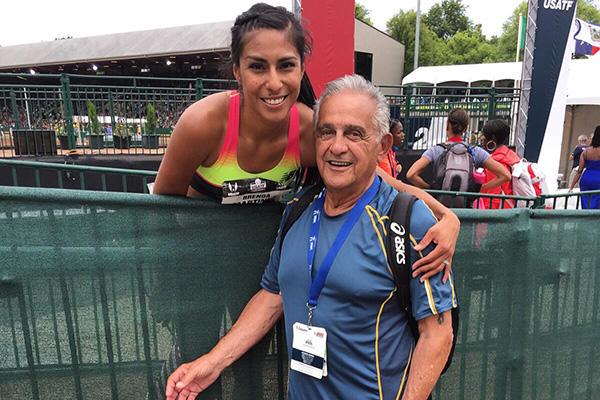 It was the success of Mammoth Track Club, which Vigil started in 2001 with Bob Larsen, that caught their attention. In Mammoth, 12 Olympians were produced, including Deena Kastor and Meb Keflezighi who trained their way to respective medals in the 2004 Olympic Marathon.
"We just love the fact that he did something like that, he took all of his top athletes to a remote spot where they would benefit off the altitude and just focus on training," Martinez said.
"I always heard stories of Coach Vigil, but even my husband, when he was in high school he met Coach Vigil and he heard him speak, and I think he just kind of planted that seed in my husband, that this is the greatest coach in the world, he knows how to develop Americans and he knows how to produce at the global level," she said.
Passing On The Invitation

Martinez and Handler decided to start small, building up to just a few athletes with the hope of developing them and eventually earning medals down the line. Berian, a former Adams State D2 NCAA Champion, was one of the first to arrive. He had dropped out of school and was attempting to train on his own when Big Bear TC came knocking.
"Boris came around and he was working at McDonalds and he would ride his bike to McDonalds, come back, and then somehow go find a track to train at, and he was doing that for I think eight months," Martinez said.
Martinez and Handler had heard of Berian's talent, which went back to high school when he ran a blazing fast 46-second 400m. The thought of the NCAA Champion attempting to train on his own with no group seemed like a waste of talent, which prompted Martinez and Handler to invite Berian to move out in Oct. 2014.
The invitation to train is something that Martinez, specifically, holds dear, as she experienced her fair share of hardships finding a group right out of college. While running for UC Riverside, Martinez finished runner-up at the NCAA Outdoor Championships her junior year, but suffered from injury her senior year. She moved to Colorado in an attempt to meet with coaches and find a training group, but got rejected each time. No one believed she was fast enough to contend.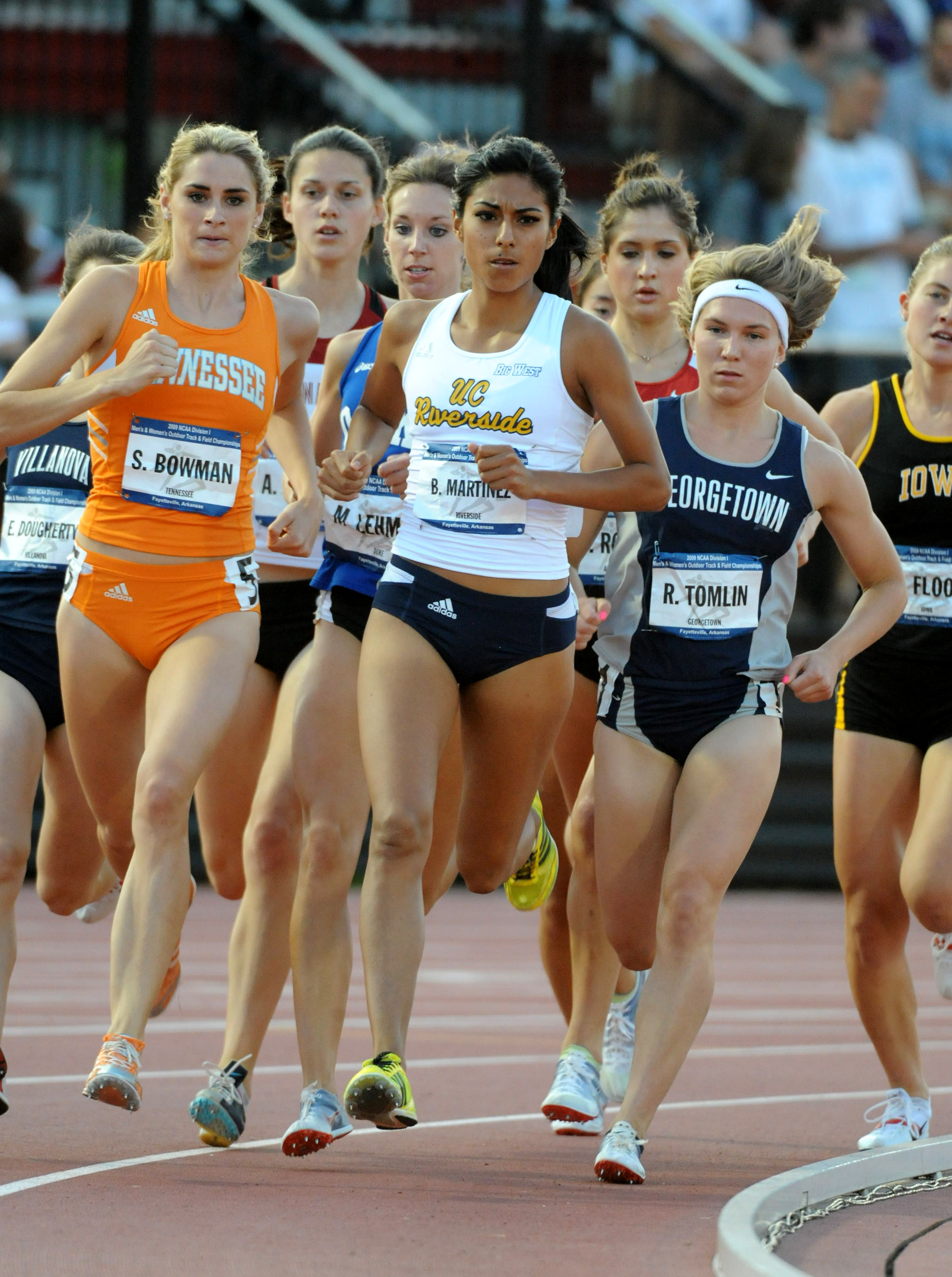 Discouraged and depleted, Martinez moved back to California. After meeting Vigil from her stint in Colorado, she consulted with him to inquire about possible coaches in the California area. In a welcomed surprise, Vigil stepped in and agreed to coach Martinez from afar.
"We asked Coach Vigil, where can we go? What coach can help us? And that's when he was like, 'I'm just going to coach you, people shouldn't turn you away like that. That's the reason why people quit the sport and that's what's wrong with middle distance running. No one wants to help each other," Martinez said.
The Next Generation

Prior to starting Big Bear TC, Martinez found another way to give back to the local running community — by hosting an annual summer camp for high school runners. 2016 will be the fourth year of the summer camp, which includes 10-12 girls that are given the opportunity to learn from Martinez and camp counselors (last year was NCAA Champion Laura Roesler and Brooks Beast Megan Malasarte) about training through Q&As, clinics, and daily runs. The clinics cover a wide range of topics such as healthy living, confidence, and positive thinking.
Each runner also receives two full outfits and three pairs of shoes from New Balance, Martinez's sponsor. Martinez and Handler cover the expenses of the camp on their own in order to have the campers come up to Big Bear for the experience, even picking them up personally.
"New Balance wants to help, but I said, 'no it's ok, I can still do it." she said. "It's just a few races here and there where I can make up the cost. It's something that I want to do because it's something that's important to me."
In order to attend, the girls must apply with a letter explaining why they want to go to camp, and Martinez reads through them to pick the lucky few who get selected. Some of the letters have brought Martinez to tears.
One of the girls opened up to Brenda at camp and told her about her mom who had attempted to commit suicide three times in the last year, but that the camp was the only thing keeping her going through it all.
"I started balling and I said you know what, I'm going to do this every year. There's so many girls that need help," she said. "If I can just give them that little bit of guidance and get them to believe in themselves, even just put them in a good mood, then I feel like I'm doing my job."
Taking it to the Track

Martinez and Berian will toe the line this weekend in the 1500m and 800m, respectively, at the World Indoor Championships, each hoping to battle for a spot on the podium while representing Team USA and Big Bear TC.
No matter what happens, the effort to bring the running community together by giving back won't go unnoticed.