From Surgery to Giving Birth to Near Death, Kim Smith is Back
From Surgery to Giving Birth to Near Death, Kim Smith is Back
After running her first track race since 2013 at the Stanford Invitational last week, Kim Smith shared her remarkable journey through a series of setbacks t
Apr 7, 2016
by Taylor Dutch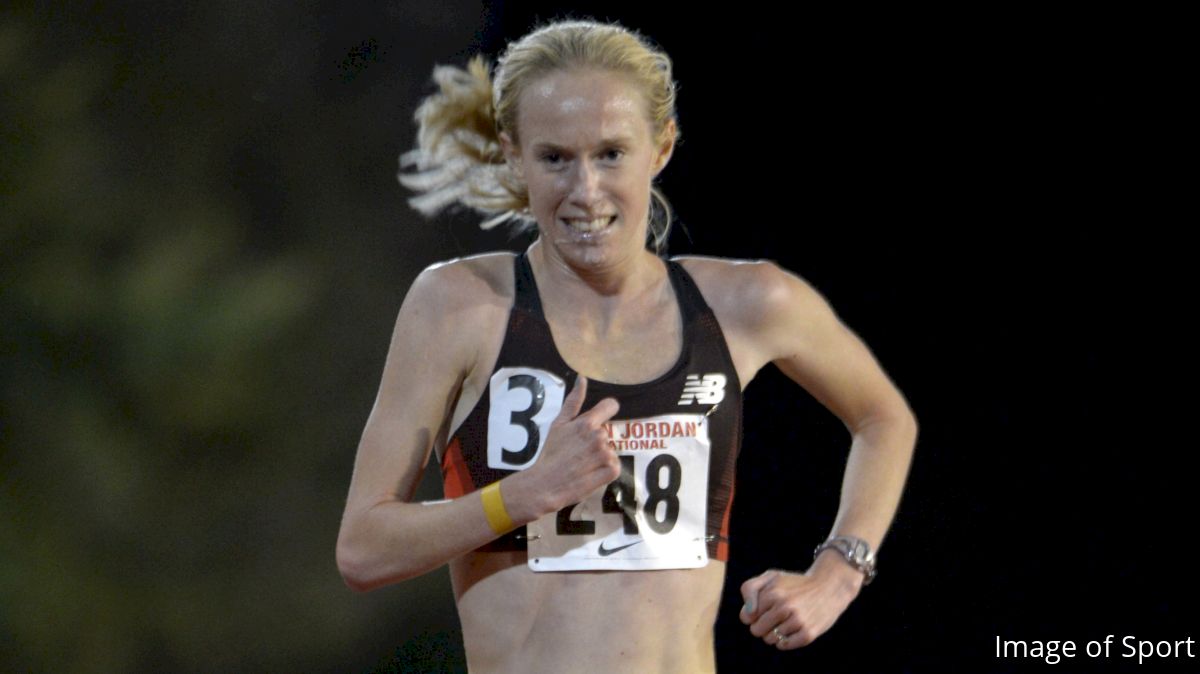 After running her first track race since 2013 at the Stanford Invitational last week, Kim Smith shared her remarkable journey through a series of setbacks that sidelined her from competition. Over the course of two years, the three-time Olympian for New Zealand underwent foot surgery to repair a ruptured tendon, gave birth to her first child, Violet, and later developed a life-threatening pulmonary embolism.
Despite her recent roller-coaster past, Smith somehow managed to return to the track, post a
third-place finish in the Stanford 5K and run a season's-best time of 15:32.77
.
FloTrack caught up with Smith to hear more about her unbelievable comeback.
FloTrack: How do you feel about that performance at the Stanford Invite?
Smith:
I felt a little bit rusty out there, and my coach thought that I was a little bit timid and a little bit scared when racing. But I think that my coach is used to me running a bit more aggressive, so I think he was disappointed in that, but I just wanted to get a race under me. I was OK about it, my legs felt slow out there, but they'll come around.
FloTrack: Coach [Ray] Treacy thought you ran timid?
Smith:
Yeah, he had just never seen me run so scared before, but I think I just needed a race under my belt before I felt like being more aggressive. He was just kind of disappointed in that, but I'd say it was good start. I just felt kind of slow and flat out there, but hopefully that will come around.
FloTrack: I'm laughing that your slow is still 15:30.
Smith:
[Laughs] I haven't got a lot of speed right now so I do need to work on that.
FloTrack: So have you guys been working primarily on building back a base?
Smith
: Yeah, I mean I had so much time off that the base has been so important and just building it up.
FloTrack: We talked about this after your race, but you really went through the ringer in the past couple years with a variety of setbacks. Can you just explain again all of the struggles that you went through?
Smith:
Yeah, I was fit to run the London marathon, but a week before my foot started to really hurt. I got a cortisone injection and I thought I could race on that. It started to hurt really badly once I got out of London, and then at some point, it completely ruptured. So the posterior tibial tendon completely ruptured. I didn't figure it out for a while, but when I finally figured out what was going on, it meant that I had to get surgery. It was a pretty intensive surgery. They have to take a different tendon in your foot and replace the ruptured tendon with it just because the tendon... you can't really repair it. So it's a pretty major surgery. It's pretty difficult to recover from. I would say my foot is still not 100 percent. I have to be careful with it just because it's still feeling a little bit weak. But it's definitely getting better over time.
Two weeks after the surgery I got pregnant. I knew I was going to need a lot of time off anyway and I really wanted to have a baby so the timing of that [was good]. I never felt great running while I was pregnant. It was definitely really hard. I couldn't really do a whole lot, but I did run until about three days before, but I wasn't doing much. And then a month after having Violet, I started to not be able to breathe.
I went to the emergency room, and they found many large blood clots in both my lungs. I had to get a procedure done where they poke medicine into your lungs to a catheter to kind of explode the clots, so that was pretty intense as well. I was in the intensive-care unit in Boston for five days, I think it was. But then two weeks later, I started running again, and it's been pretty good since then.
Smith retelling her experience after finishing third at Stanford last Friday.

FloTrack: You started running two weeks after that?!
Smith:
Yeah, I was going a little crazy [laughs]. I pretty much begged my doctor every day to see if I could run again. He finally let me. I had to take it really easy for a long time until I started feeling good again, but it's just been a long, slow recovery back.
FloTrack: Did they ever figure out how the blood clots formed?

Smith:
They can't really tell me because I have had this happen to me when I was 22 or 23 as well. I was on a birth control pill where one of the very rare side effects was a pulmonary embolism. The same rare side effect comes with pregnancy, so you can take these tests that show if you have a genetic disorder that causes them. I passed the test so the doctors actually don't really know. They think it's probably some kind of rare blood clot disorder that they don't know how to test for. After that, they said that, 'even though you don't have the genes that we know about for blood clotting, you should just go on blood thinners,' for the rest of my life now, just to be safe, because they [blood clots] are so dangerous.
FloTrack: What was the most difficult part of getting through this whole ordeal?
Smith
: It was definitely hard. I had a one-month old at home at the time, and being away from her when I was sick, it was the hardest thing. It was really hard. It was pretty painful to be honest. My lungs just hurt really bad. It was just kind of a miserable experience really, but I just wanted to be better for the baby really because it was definitely a scary experience.
Ran an hour for the 1st time since foot surgery, pregnancy and the real kicker bilateral pulmonary emboli last month pic.twitter.com/LT31oBDwJ4

— Kim smith (@Kimsmithnz) August 2, 2015
FloTrack: I can't even imagine. How was coming back to training? Was it a gradual bit every day?
Smith:
It was just small, very small amount of running to start off with. I definitely took it really easy. My foot at the time was still a little sore, so I had to be careful for that reason as well. There were a lot of reasons I had to be careful anyway. It's been a very gradual, slow process coming back. People have babies and can start right away, but I had to be pretty careful with everything.
FloTrack: Remind me again, when did you have Violet?
Smith:
About 10 months ago.
FloTrack: Did she come to the race on Friday?
Smith:
She stayed home with her dad. That was the first time I've been away from her and I thought it would be a lot more traumatic than it was, but it was OK in the end [laughs].
FloTrack: Aw, that was your first time away from her?
Smith:
Yes. Other than when I was in the hospital, I hadn't been away from her, so I was so worried that she was going to miss me and my husband's like 'yeah, she doesn't miss you at all' [laughs]. It was exciting getting back to her for sure.
FloTrack: Obviously, having surgery and blot clots are traumatic by themselves, but also having a baby in the middle... I mean, how did you manage to press on through it all?
Smith:
I definitely wasn't sure even after the surgery, because it was such a big surgery, I wasn't sure if I would ever be able to run again. Then when the blood clots happened, it was like, 'I'm really not sure now if I'm going to be able to run again.' But I just took it one day at a time. Every day I felt a little bit better. I hadn't ran and raced for so long. I felt a little bit more excitement after having so much time off. I really wanted to get back into it, but it was definitely very, very hard. Running has never felt so hard in my life as it did then.
It took a long time to feel normal again, even going for a run. That was difficult to deal with. Running has always come so easy to me, and all of a sudden it was so, so hard, but once I turned that corner where running felt good again, it made life a lot easier. There were definitely some days where I wasn't sure if I would ever be able to race again, but I feel pretty good about everything now, so hopefully things will improve even more. Hopefully I'll be getting more back to normal.
FloTrack: You're also part of a really strong training group in Providence with Molly Huddle, Mary Cullen and Emily Sisson. What's it like being part of such a strong training group?
Smith:
Mary and Emily and I have been doing some workouts together now, and it's been great. Molly is just kind of alone a little bit because she's really flying right now, but hopefully we'll be catching up to work out with her as well. But yeah, Molly is ridiculous at the moment. She's just so good, and it's so inspiring to see her. I've seen Molly come through, I mean she's been training with us for – she came right after college and started training in Providence. To see her improvement is pretty amazing. She's just an amazing athlete, really.
What a group! 2 Olympians, 7 NCAA Titles, multiple National & NCAA records: pic.twitter.com/DBymT3BkhR

— ProvidenceXC | Track (@FriarsXCTrack) March 16, 2016
And it's great to have Mary back. She's staying with me at the moment, because she lives in Ireland. It's been great having her training again. We trained together every day in college, so just having her here to train with us is just a lot of fun to me. It's like we're in college again. Living together and training together and doing everything together. That's been fun. It's great to have a group like that to meet every day and run with. Yeah, it's been fun.
FloTrack: You guys probably have the most talented women's group in the country, but I feel like you kind of fly under the radar.
Smith:
We're definitely a little bit more low-key. We have that personality where we don't want to put everything out there anyway. There's always been such a strong group in Providence. That's one of the reasons why I came to Providence College -- just to continue that, and watching Emily come through last year was incredible. It was amazing, too. It was so much fun seeing her just working out. I was pregnant at the time. I was watching her work out, watching her race. It's a lot of fun seeing her. Seeing someone young like that and coming through as well, breaking my school records and all that. It's fun for me.
FloTrack: She definitely didn't make it much of a race last year because she would just dominate everybody.
Smith:
She runs so well. She had a little injury over the fall, but she's back training hard now. She's definitely coming along. There's a lot of years between us, but it's fun to train with someone young. She has to give us a few minutes on runs to warm up first, because her young legs can go fast out the gate, but our old legs need time to slowly warm up [laughs]. She's getting used to it.
FloTrack: We're in an Olympic year, and you've been so successful at a range of distances from the 5K to the marathon. Are you going to attempt another 5K or focus on a longer distance to be selected to the New Zealand Olympic team?
Smith:
I'm focusing on the 10K. The 5K is a little too fast. I wouldn't feel comfortable racing a 5K at the Olympics. I'm focusing more on the 10K. I would've liked to try to run the marathon, but our standard was set by the New Zealand Olympic committee at 2:26. To try to come off everything and get ready for a marathon and run sub-2:27 was just a little hard, so I decided to focus on the 10K instead.
FloTrack: Your PR is around 2:26 isn't it?
Smith:
2:25-something, so to have to run under 2:27 is a steep goal. I do think it's ridiculous that our standard is set at 2:26, but I couldn't do anything about it, so I decided to change the focus to the track for this year, and maybe do a marathon in the fall.
FloTrack: Will you attempt to run a 10K at the Payton Jordan Invite?
Smith:
That's the plan, to try to run a 10K at Payton. There's not a whole lot of 10Ks to run. Hopefully, that one goes well.
FloTrack: After everything that you've been through, how does it feel to finally be on the other side of that tunnel?

Smith:
I feel good now. I feel more confident after getting that first race out of the way and seeing that I'm not too far off of qualifying to the Olympics. I do feel a lot more confident now. It was a long time to be out from racing, but it's really nice to be getting those feelings of the nerves before the race, and just the high after everything.
You just kind of miss those feelings.