7 Big Breakthroughs From the Weekend
7 Big Breakthroughs From the Weekend
Catch up on the biggest breakthrough performances that went down on the track this weekend at the Mt. SAC Relays in Norwalk, California, and the Ocean State
Apr 19, 2016
by Taylor Dutch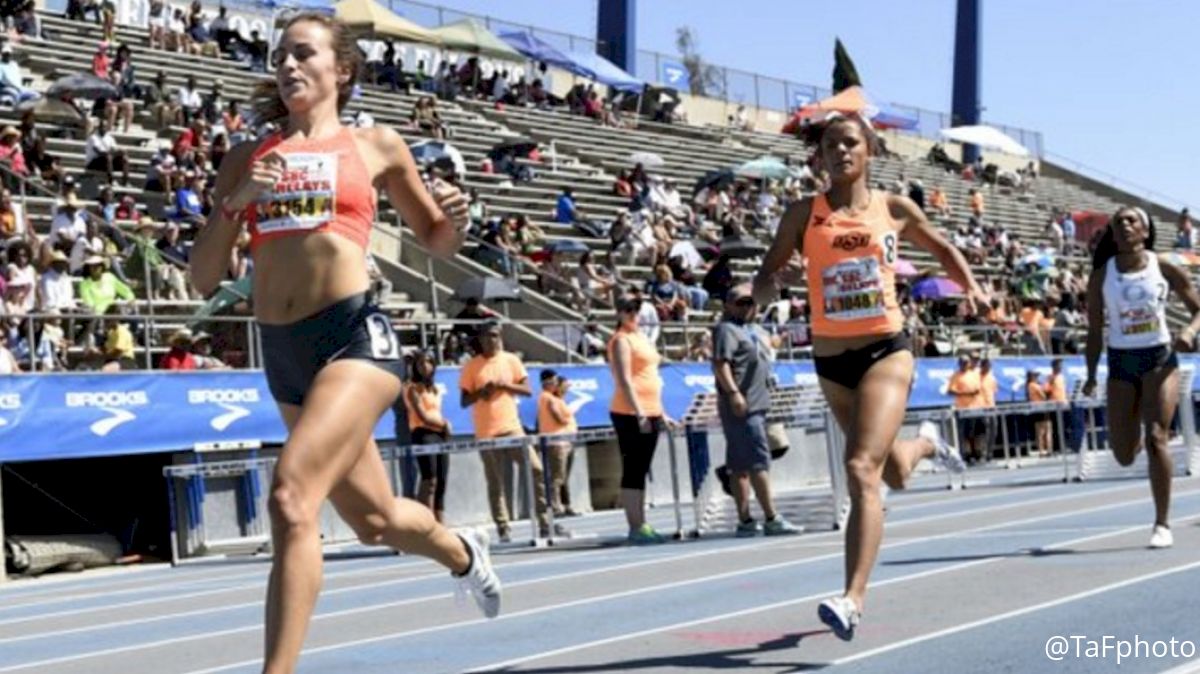 Catch up on the biggest breakthrough performances that went down on the track this weekend at the Mt. SAC Relays in Norwalk, California, and the Ocean State Invitational in Providence, Rhode Island!
Kaela Edwards Runs NCAA 800m Lead in a Double

Oklahoma State's NCAA Champion executed a stellar double as she competed in the 1500m on Friday and the 800m on Saturday at the Mt. SAC Relays. Edwards ran her way to a 4:17 personal best in the 1500m and followed that performance the next day with a NCAA lead and another personal best in the 800m against top-notch competition. In a come-from-behind effort, Edwards rode a wave of kickers led by Laura Roesler into the finish line from 200m out. Roesler closed the victory in 2:01.54, but Edwards was right on her tail in 2:01.97. Not only did Edwards post a great time, but she also beat two-time NCAA champion Raevyn Rogers to the line.
2:01.54 Laura Roesler .97 Kaela Edwards #GoPokes 02.81 Raevyn Rogers #GoDucks #USATF #IAAF #MtSacRelays 16 Apr 16 pic.twitter.com/KqWbdbkCY7

— #SonyAlpha9 (@TaFphoto) April 18, 2016
Sydney Gidabuday Sets NCAA 5K Lead Across All Divisions

The freshman from Adams State made a lasting impression at the Mt. SAC Relays when he out-kicked a handful of talented All-Americans to claim the 5K victory in a PR of 13:36. In a final 100m that brought track fans to their feet, Gidabuday ran past Air Force's Patrick Corona, Michigan's Mason Ferlic, Team USA Minnesota's Abbabiya Simbassa, and Colorado's Pierce Murphy to lock the win. Gidabuday's time is a school record and currently leads the NCAA across all divisions.
LaShawn Merritt Runs PR and World-Leading 200m

In a seemingly effortless victory, Olympic gold medalist LaShawn Merritt threw down a world-leading 200m at the Chris Brown Invitational in Nassau, Bahamas. The 400m specialist blasted a 19.78 winning time, which is a full 0.2 seconds faster than his previous personal best from 2007. Merritt announced his goal to break the 400m world record in
episode 2 of DRIVEN: LaShawn Merritt,
and this performance indicates his steady progress toward that elusive 43.18 mark.
Oregon's 4x100m Relay Becomes Third-Fastest in Collegiate History

The all-star quartet of Jasmine Todd, Deajah Stevens, Hannah Cunliffe, and Ariana Washington put on a show this weekend at the Mt. SAC Relays by beating a slew of pros to claim an NCAA-leading mark of 42.68 in the 4x100m. The team already broke their school record at last weekend's Pepsi Invitational, but ran even faster in Norwalk to become the third-fastest school in collegiate history.
Hannah Cunliffe Arrives With No. 2 100m in the World

As if contributing to Oregon's record-setting relay wasn't enough, Cunliffe also notched a massive personal best, NCAA lead, and world No. 2 mark of 10.99 in the 100m at the Mt. SAC Relays. Cunliffe finished second to former Oregon Duck Jenna Prandini, who closed in 10.95. The All-American's performance is a 0.59-second improvement on her previous personal best from 2013.
3 Personal Records. 100m 10.99 wind legal, a new school record in the relay 42.68, 200m 22:71 #AlltheGlorytoGod pic.twitter.com/aka1DXFQgh

— Hannah Cunliffe (@hannahcunliffe5) April 19, 2016
Austin Tamagno Notches Top Mile Mark at Mt. SAC

Brea Olinda's star senior did not disappoint in the high school Brooks PR mile qualifier Friday night in Norwalk. Paced perfectly for a fast performance, the race came down to Tamagno and Connor Dunne, who established an aggressive pace together from the gun. But with a lap remaining, Tamagno made his move to drop Dunne for good. Heading into the last 100m, Tamagno powered through for a finishing time of 4:03 to inch even closer to a sub-four performance. The victory easily secured his spot in the Brooks PR Invitational this June.
Elinor Purrier Runs NCAA Lead and 9:47 Steeple PR

After finishing third at the NCAA Indoor Championships in the mile, Purrier returned to her signature event with a massive personal best of 9:47 in the steeplechase. The New Hampshire standout claimed the victory at the Ocean State Invitational with a winning time that improved upon her previous personal best of 9:53. Her performance currently leads the NCAA in the event and qualifies her for the U.S. Olympic Trials in July.
Congrats Elinor Purrier '18 of @UNHWildcats Track & Field, qualified for the Olympic Trials! https://t.co/PQ4osMx0Cz pic.twitter.com/3cLLB29rKG

— UNH Alumni (@UNHAlums) April 18, 2016