2016 Payton Jordan Invitational
Top Moments From the 2016 Payton Jordan Invitational
Top Moments From the 2016 Payton Jordan Invitational
In the 2016 Olympic year, the Payton Jordan Invitational did not disappoint. 800m through 10,000m, some of the world's best distance runners assembled in Pa
May 2, 2016
by Meg Bellino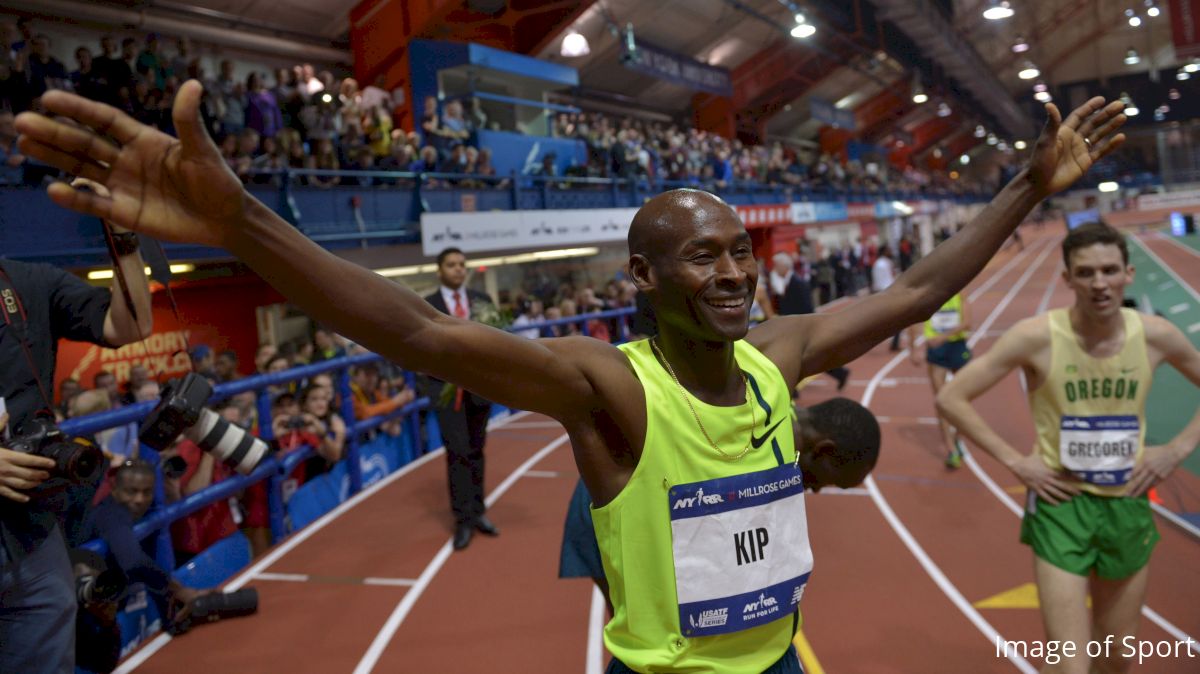 In the 2016 Olympic year, the Payton Jordan Invitational did not disappoint. 800m through 10,000m, some of the world's best distance runners assembled in Palo Alto, California, for an evening of fast track and field.
FULL RESULTS HERE

Bernard Lagat Breaks World Masters Record in 10,000m Debut
"The Ageless Wonder," Bernard Lagat, ran 27:49 for his 10,000m debut on the track and added another world masters record to his resume. The 41-year-old looked calm and relaxed lap after lap and held off Nike Oregon Project athlete Suguru Osako (27:50) and Northern Arizona's Futsum Zienasellassie (27:52) to win in front of a thrilled crowd. Before tonight, Lagat had never contested in a 10,000m race on the track, but did run 27:48 on the roads last spring. Eight men dipped under the Olympic standard of 28:00.
WATCH THE RACE HERE
Marielle Hall Shines in 10,000m Debut, Dominique Scott Runs NCAA No. 7 All-Time

The women's 10,000m saw 23 women finish under the 32:15 Olympic standard, led by Kenyan Irene Cheptai's 31:15. The race quickly separated into two packs as Cheptai, Caroline Chepkoech, Ayuko Suzuki and Buze Diriba formed the lead group. In her 10,000m debut, Team USA's Marielle Hall stayed toward the front of the chase pack and moved up steadily throughout. She closed hard to finish fourth in 31:37.45. Coming off her sixth-place U.S. Olympic Marathon Trials performance, Kellyn Taylor finished eighth in 31:40.70. Liz Costello, Alexi Pappas, Erin Finn, Dominique Scott and Jordan Hasay were also among the big names that hit Olympic-qualifying marks.
Scott's time of 31:56.84 ranks No. 7 all-time in the NCAA. Finn ran 31:51.84 ahead of Scott, but is redshirting the outdoor season and was competing unattached.
Shadrack Kipchirchir Holds Off Deep 5K Field to Nab Second Olympic Qualifier of 2016

Seven men ran under the 13:25 Olympic standard led by Shadrack Kipchirchir's 13:18.52 victory. The former Oklahoma State standout and current U.S. Army WCAP athlete already ran the 10,000m standard in April.
7 men grab the Olympic standard !!!! #PaytonJordan https://t.co/6B5nqpyDvX pic.twitter.com/ThvGfu3LZS

— FloTrack (@FloTrack) May 2, 2016
In his 5000m debut, Stanford freshman Grant Fisher ran 13:39.42 in section two to move up to No. 7 all-time on the U.S. junior list ahead of Steve Prefontaine.


Christina Aragon, Elle Donaghu Run No. 4 & 5 HS All-Time in 1500m

The women's 1500m was won by former Florida State All-American Linden Hall, who dropped a remarkable six seconds from her previous personal best to run 4:04.47 and nab the Olympic standard. Hall recently finished second at the Australian Championships, and with tonight's performance, made a serious case for her selection to Rio.
Even more outstanding, high school seniors Christina Aragon (Billings, MT) and Ella Donaghu (Portland, OR), recorded the No. 4- and 5-fastest marks of all-time. Aragon won section two over a slew of professionals in 4:11.24, while Donaghu finished second in section 3 in 4:15.28. Donaghu closed the bell lap in 64.9 seconds, the fastest in her section.
They will both run at Stanford next fall.
Izaic Yorks Runs 3:37.74 Over Stacked Field

Washington senior Izaic Yorks dipped under the Olympic Trials standard and beat Olympians Evan Jager, Dan Huling and Lopez Lomong. Yorks approached the bell with Jager on his heels, but pulled away almost immediately to continue his dominant senior season for the Huskies.
.@IzaicY blasting a 3:37.74! #6 in the world!! #PaytonJordan @UWTrack pic.twitter.com/cVjog7j2tG

— FloTrack (@FloTrack) May 2, 2016
Stay tuned for all of the races and interviews from the 2016 Payton Jordan Invite!