Q&A: Brandon McBride After Historic 1:44.63 800m
Q&A: Brandon McBride After Historic 1:44.63 800m
Brandon McBride won two NCAA 800m titles in 2014 as a sophomore at Mississippi State. But his junior year was a different story. After representing Canada a
May 5, 2016
by Meg Bellino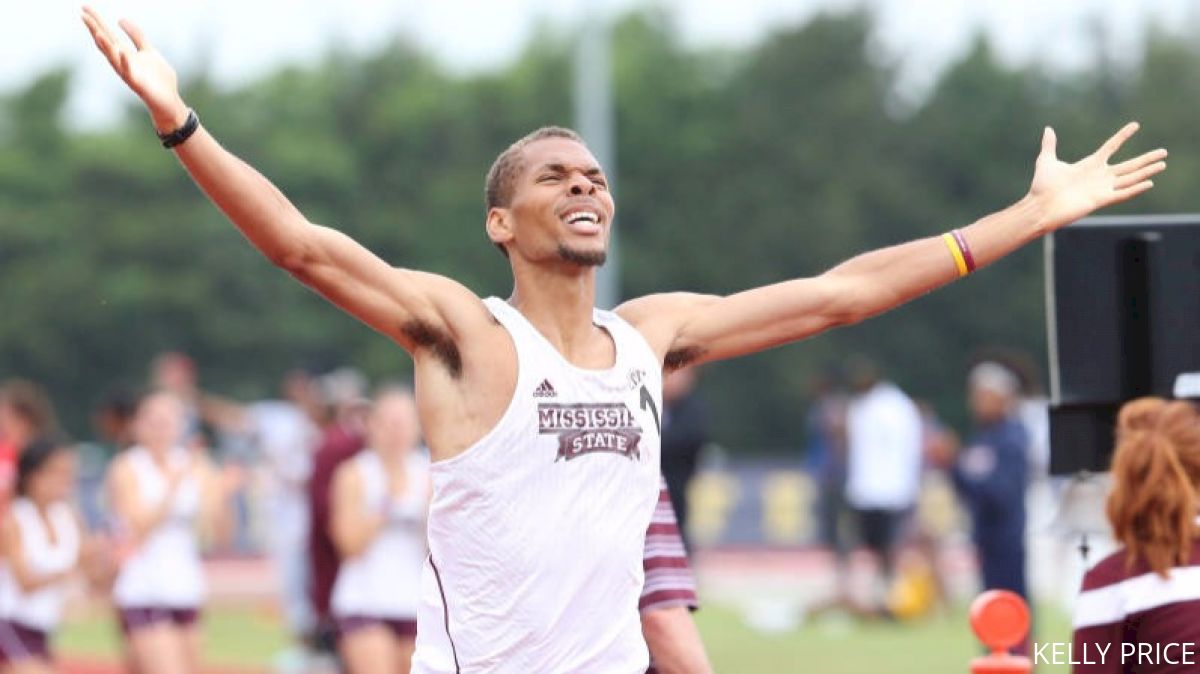 Brandon McBride won two NCAA 800m titles in 2014 as a sophomore at Mississippi State. But his junior year was a different story.
After representing Canada at the 2014 Commonwealth Games, McBride returned to Starkville, Mississippi, to defend his titles in 2015. Instead, he finished fourth and seventh, respectively, at the indoor and outdoor championships. This 2016 indoor season, McBride was nowhere to be found over the half-mile distance as he opted for off-distance races and competing on the Bulldogs' 4x400m relay at the NCAA Indoor Championships.
After this weekend, the spotlight returned to McBride, who ran 1:44.63—the third-fastest mark in NCAA history—at the Jace LaCoste Invitational. We caught up with the Canadian superstar on the phone this week to hear all about the race and what sparked his revitalization over 800m.
Meg: Tell me about your 1:44! You ran it alone; take me through that race.

Brandon: My teammate (400m runner Alfred Larry) got me to 400m. He brought us through around 50 seconds, and I came in around 50.8, 51.0. Then I just had to work the third 200m. We were through in 1:17.2 or so. And I finished pretty solid. We wanted to be about 1:16.5, so we were a bit off-pace. But it was a great race nonetheless.
Did you have a time goal in mind?

I did. I wanted to run sub-1:45. I figured if I was able to come through in 1:16, even if I broke down a little bit, I would still reach my goal. But coming through in 1:17 and being able to close and run 1:44 it just shows where my strength is. We've been doing a lot of strength!
You're the second-fastest Canadian of all time now. What's it like to hear that?

It just feels great. Growing up, all I wanted to do was wear my country across my chest and make the people back home proud. I'm just very thankful I've been put in a situation where I can do that, and if everything continues to go well and I stay healthy, I can do that this summer. That would mean the world to me.
You didn't run any 800s indoors, but you're having such a good outdoor season. Do you think that has anything to do with it?

Absolutely. This year, we sat down and really took our time with things. In order for us to truly go through all the progression and work our way down, I was going to have to kind of take off the indoor season from my main events. I have a late summer usually, and then I take my time off and by the time I'm done building my mileage and getting used to running again, it's already November and I have to be ready to race in a month and a half.
We decided we were going to take off from the 800m, focus on off-distances and take our time with the strength. I ran a couple of 4x400s with the guys, and it was pretty interesting running that just off strength!
Hear what McBride had to say about not racing the 800m this 2016 indoor season:

You took over 10 seconds off your 1500 time. Is that something you were expecting with this type of training?

Indoors, we thought I was in shape to run a 4:04-4:05 mile. We went to New York for a 1K and followed it up with a mile on tired legs the next day. The mile ended up going out super slow, and then I closed really hard. The meet takes your mile time and converts it to 1500, so that's where the 3:55 (on TFRRS) comes from. When I looked at the 3:55, I didn't think it was a good indication of what I was in shape to run. We just didn't have the right race.
When you ran 3:41, did you feel more comfortable? Or is the 1500m out of your comfort zone?

Believe it or not, the 1500m was right in my comfort zone. After I went through months of long training, we just kind of beat it into me, that 59-, 60-second race pace, and I really became comfortable there.
At Florida State Relays, going out in 60 seconds felt comfortable. Then the following weekend at Florida Relays was a different story. Physically, I was ready to run fast, but mentally I was not prepared to hurt as much as I did that third lap. And I kind of got scared because in an 800m when you start to hurt and tie up, that's it—you're tying up! In a 1500m, when you start hurting, it's kind of like that cross country hurt where you just have to grind through it. I let the pack go and with about 350m to go, I thought, 'Oh, I'm still alive. I guess I have some energy left in the legs,' and my coach was shaking his head.
Do you think you could break 3:40 in the 1500m?

In the right race situation, I think so. My coaches definitely think so. I think there were only two or three people on the planet who thought I could run 3:41 in the 1500m, and they were all my coaches!
Having won both NCAA titles in 2014 and finishing fourth and seventh in 2015, what do you think you learned about yourself from last years' seasons?

Especially last year, it was a mental battle. I was still tired from the year before, and it became work instead of fun. That feeling kind of dragged on throughout the season, so when I got into big races, I wasn't as excited for them and I was going through a constant mental struggle.
At SECs, I thought it was windy, so I didn't take it out. Then I got 200m into the race and thought, 'Well, now I gotta take it out,' but I didn't get out fast enough so we were going through at a medium pace where the milers are comfortable, and all of a sudden five or six guys are in the race the last 150m. At NCAAs, my gut instinct told me to go at 300m, but I kind of fell back a little bit. So I thought, 'I'll go at 200m,' but then everybody waited until 200m to go and I had to swing wide into lane four.
Physically, I was in the best shape of my life, but mentally I kept making little errors. And I definitely learned a lot. I learned to listen to my gut.
What do you think it's going to take to win outdoors?

This year definitely seems like one of the strongest years, so there's no telling. There's a lot of guys that look good right now. I think it's going to be in the 1:44-1:45 range, depending on the day. Eugene is pretty windy. If you can get out, there's no telling what might win it.
Rapid-Fire Questions:Most challenging workout?
4x600m, because it's in the middle of hard pace, less rest! It can be pretty rough.
Favorite track meet?
NCAAs.
Biggest influence?
My mom. We're so close. She's taught me so much, and has been there for me at my lowest point and last year at NCAAs in Oregon. It was emotional for me.
Favorite food?
Chicken curry. I love Indian cuisine.
Lemonade or Views?
I have to go with Drake. He's Canadian, and "Views" speaks more to males. "Lemonade" speaks more to females.
Who did this pic.twitter.com/DMNKWUZtR7

— Brandon McBride (@mcbride46) May 3, 2016