Chrishuna Williams is relatively new to the 800m event, but she raced it like a seasoned pro last weekend at the Payton Jordan Invitational. The former Arkansas All-American stole the show with a 2:00.58 victory to acquire the Olympic standard.
Williams, who is currently unsponsored (but probably not for long), not only set a personal best, but also beat tough competition in Justine Fedronic, world finalist Maggie Vessey, and Stanford All-American Olivia Baker. In just her second year as a full-time 800m runner, Williams is asserting herself as a legitimate contender at the U.S. Olympic Trials.
FloTrack caught up with the 23-year-old to learn more about her breakthrough performance.

You're still pretty new to the 800m—what's the transition been like?
Yeah, it's my second year going from the 400m to the 800m. Last year, I PR'ed and ran 2:01 at the Payton Jordan race, which I ended up winning. I was able to do it again this year, but definitely wasn't expecting to win! I wanted another PR, and I came out with 2:00.58, which was awesome. But it didn't happen all at once—it took two years for me to get a handle on that race.
You certainly beat some quality, experienced athletes in that race.
That's definitely true. I wasn't expecting to get the win. Last year, I think I opened my outdoor season with a 2:03 at the Stanford Invite, and I had no idea who Maggie Vessey was because it was my first year focusing on the 800m. But now I know the names, which is why I knew my section was pretty loaded.
Overall, were you happy with the race on Sunday?
For sure. I was very excited to see my time, but I know I have more in me. My goal is to break two minutes, and I'm going for it.
Was it cool to find this 800m talent relatively late in your career?
It's definitely had its ups and downs! During my junior year, my coach told me I was going to try the 800m, and I said, 'No way, Coach Johnson! I've never trained for the 800m!' But he just threw me in it, and I ran 2:09. Two weeks later, he said, 'Oh, you can run faster than that,' and I ran 2:06—all while still training for the 400m. So it was decided that I'd focus on the 800m my senior year. Come indoors, I wasn't expecting to win the SEC. But I ran 2:02.95 and ended up winning.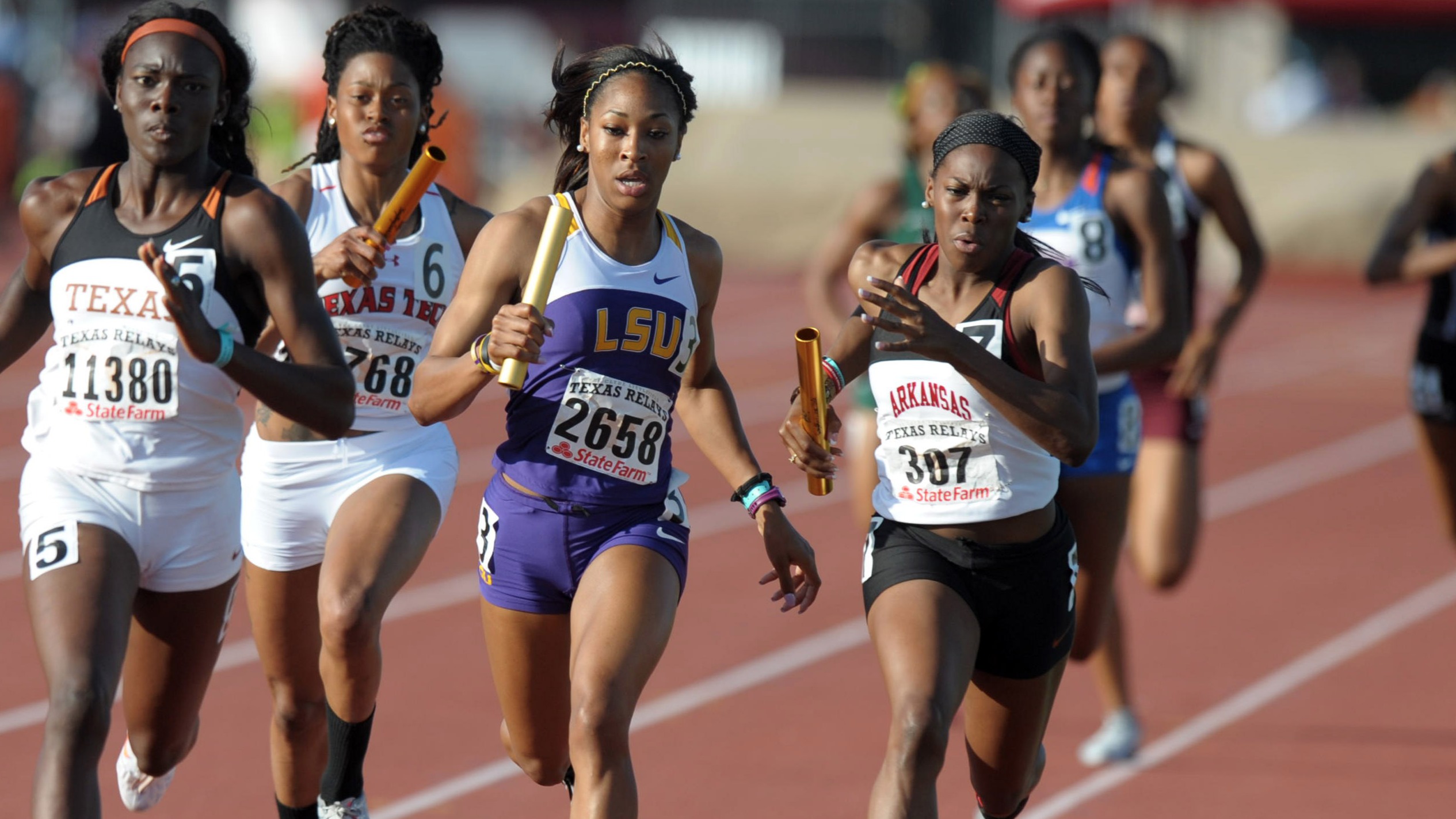 ​How's it been adapting to 800m training?
The quality and quantity is totally different, and I definitely wasn't used to some of the workouts I'm doing now. I struggled to get the rhythm going, but eventually I picked up on it. At first, I trained mostly with the 400m runners because I was on the 4x400m, so I didn't want to lose speed. But some days I worked with Coach [Lance] Harter and the distance girls. I also had to learn to balance mileage, because as a sprinter, I didn't do any of that [laughs]. But now that I have that understanding and work underneath my belt, it's much easier.
Is there a specific workout you remember that was particularly difficult?
The 600s. I definitely wasn't used to those! I think the hardest workout was 600m-600m-400m-400m-200m-200m-200m-200m, and I died! At the beginning, that was so tough for me. Before, my hardest workout was maybe three 300s. Going from quality to more quantity was a big difference.
Why do you think your coach wanted you to try the 800m?
I guess he saw something in me I didn't see. People had told me before that I had the endurance, so they said I should do the 800m, and I was like, 'No way!' But I only found out I really could do it after he threw me in the 800m. I've been doing it ever since!
You graduated and continued to pursue a running career. What made you decide to keep it going?
Because I believe in myself and my coach. I have a good support system. And I know I have more in me. Running a 2:01 despite hardly training for it made me think I could go somewhere with this. I decided to keep pushing even without a sponsor. It can be difficult, but luckily my family helps support me financially and I also got a job to help pay bills. I have an agent [Andy Stubbs] as well who is helping get me in certain meets. I really want to see where it could take me.
What's your job?
I'm a part-time substitute teacher at a private school. There, I help with a wide variety of students—from one-year-olds to 6th-graders.
Do you hope to be a full-time teacher someday?
No, I hope to be a child life specialist. I studied human development and life sciences in school—I love kids! I want to help children who are hospitalized. My cousin was hospitalized, and she definitely wasn't used to the environment. They [kids] tend to get scared in those situations, so my job would be helping to keep them calm and interact with them while they're in the hospital.
What do you hope to accomplish this year on the track?
Break two minutes and compete at the Olympic Trials. That road to Rio, you know. All about that road to Rio!
OK, time for some fun, rapid-fire questions:
1. What's your favorite post-race meal?
Pasta—chicken alfredo! I eat that the night before every race.
2. If you had a day off from everyday responsibilities, how would you spend it?
I would get some sleep or get pampered, get my nails done. Things like that.
3. What's your favorite band or musical artist?
Rihanna and Chris Brown.
4. What's the best running advice you've ever received?
It's from my coach Chris Johnson. He tells me all the time to trust my fitness.