2 Years, 2 Babies, 1 Olympic Standard for Stephanie Bruce
2 Years, 2 Babies, 1 Olympic Standard for Stephanie Bruce
Imagine trying to improve a personal-best mark you set years ago to qualify for the Olympic Trials, or better yet, secure an Olympic standard.Now imagine at
May 19, 2016
by Meg Bellino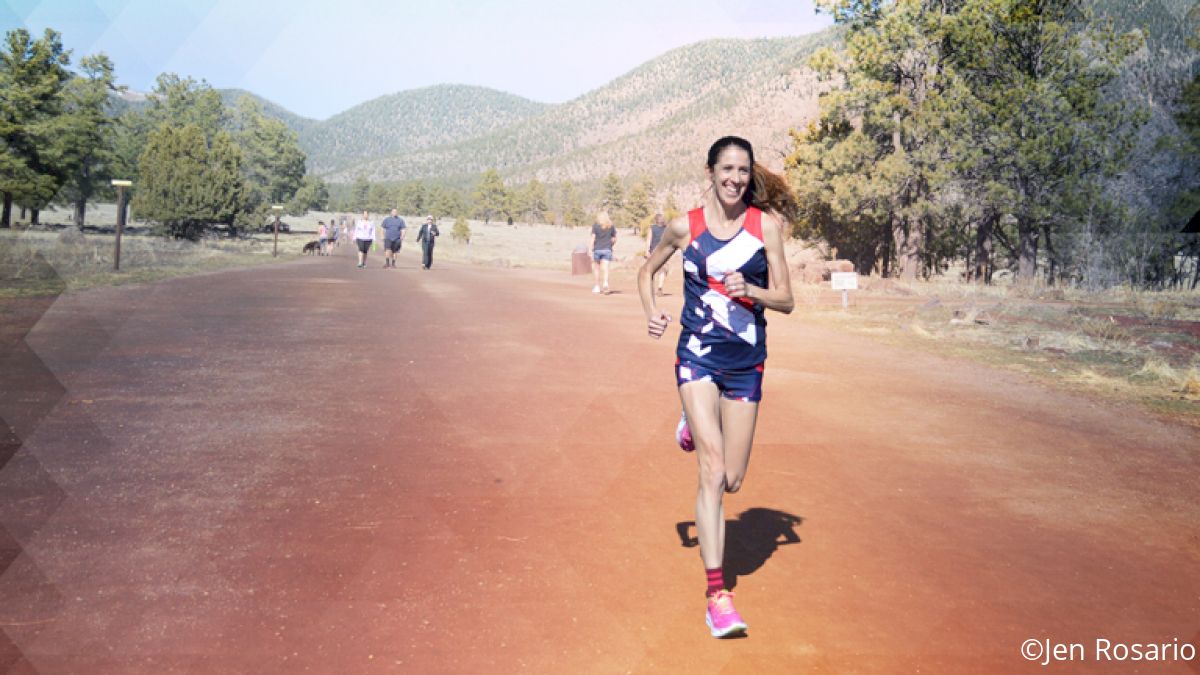 Imagine trying to improve a personal-best mark you set years ago to qualify for the Olympic Trials, or better yet, secure an Olympic standard.
Now imagine attempting that six months after giving birth to your second child.
"It was very scary," Stephanie Bruce said. "Not just because I'd been injured for six months, but I also had two kids. A part of me was like, 'Gosh, am I still good at running?' It's not like 10 seconds (for a PR) is huge, but not only did I have to get back to elite fitness, I also had to achieve at a higher level than ever before."
Bruce, 32, belongs to the Flagstaff-based
HOKA ONE ONE
NAZ Elite team. Before the 2016 Stanford Invitational, she hadn't run a 10,000m race on the track since the 2012 Trials. A lot changed in her life since finishing eighth that day in a then-personal-best mark of 32:24.
But on April 2 at Cobb Track, Bruce defied the odds. She ran 32:14.42 for a 10-second personal best—just under the Olympic standard of 32:15.00.
After hardly racing in 2014 and 2015, Bruce's comeback story is remarkable.
A 2:29 marathoner, she and husband Ben [who also runs professionally for NAZ Elite] welcomed their first son, Riley, on June 14, 2014. She resumed training for the Olympic Marathon Trials this February until she found out she was pregnant with their second son, Hudson.
"It rocked my world," Bruce said.
Born on Sept. 19, 2015, Hudson's arrival shook up her plans. She shifted her focus to the 10,000m race during the Olympic year.
"Coach Ben [Rosario, head coach of NAZ Elite] and I sat down three or four weeks after I had him—that's when I was feeling alive and not totally sleep-deprived. We talked about how we'd be able to progress, and it was so fresh in his mind because we had just gone through this after Riley was born."
Bruce met with Rosario weekly to discuss training and the inherent fatigue of raising two children. Logging her nightly hours of sleep was an important detail.
"It's really difficult [coming back after having a baby] because there are so many excuses and reasons to say, 'Nope,'" Bruce said.
As if sleepless nights weren't enough, Bruce needed to rebuild her postpartum body. She
experienced diastasis recti
, meaning her core muscles separated to accommodate the pregnancy and never quite got back together.
"It wasn't very glamorous behind the scenes," Bruce said, noting the hours she spent on core and subtle pelvic-strengthening exercises to rebuild what broke down during pregnancy. "It's like rebuilding from square one, and so different than an injury. Your entire body is completely blown apart."
Bruce consulted and worked with doctors in San Diego, Phoenix and Flagstaff. With an Instagram following of over 54,000 followers, Bruce began posting photos of her postpartum body and blogging about every unique experience during her comeback. The feedback has been enormous.
"I'm sure there were many pro athletes out there thinking, 'What is this girl doing?' because I was talking trying to make the Olympic team, but all they kept seeing was me having kids," Bruce said. "The reason I share is because if they have nothing to read and share, our sport is going to die. USAs, the Trials, they'll eventually be a big dual meet with all these athletes, and maybe their families and coaches, running around the stadium and no one else will be watching."
Just a few weeks before her race at Stanford, she finished a track workout—her first in spikes. Feeling great about her upcoming race, Bruce looked down at her feet only to see her stomach.
"When I looked down, I saw my stomach first. As a pro athlete, typically you don't see that because you have rock-hard abs. But I saw that, and in that moment I was like, 'What if a bunch of women out there, after they finish a workout, look down at their body and that's the first thing they see and it creates a negative feeling in their head?' For me, it wasn't negative. I was like, I'm in really good shape, I had an awesome workout, I'm getting ready to run the 10K and I'm super confident in my fitness."
The post went viral as Inside Edition, SELF, Today.com and others picked up the photo and Bruce's story. Since then, hundreds of women have reached out to her through social media, blog comments and email, to commend Bruce for sharing her story and photos.
"It made me think, 'Gosh, there's a lack of postpartum care and discussion after six weeks. Unless you're an athlete and have a team of doctors, I don't think women know what to do," Bruce said. "There's no protocol. I think I brought some awareness to that."
Since the race at Stanford, Bruce continues to blog and post photos of her life as a runner, wife and mother. She'll race the 5000m at the HOKA ONE ONE Middle Distance Classic on May 20, the BolderBoulder 10K on May 30, and the Olympic Trials on July 2.
Though she sees her career eventually steering back to the marathon, Bruce will continue to share her journey on social media to inspire other runners and "running mommies" with her #keepinitreal posts.
"I don't think women should have to wait. I've been so lucky with
Oiselle
and HOKA ONE ONE because they supported me and never questioned whether I would return to form. They just let me do it on my own time. I just think you can have both. You can have a family and you can be a professional runner. It's a little more difficult, but so rewarding, so fulfilling."
And one of the best upsides?
"You don't even have time to get nervous before workouts or races!"