2016 NCAA D1 Outdoor Championships
Donavan Brazier Shatters Jim Ryun's Record, Full NCAA Recap
Donavan Brazier Shatters Jim Ryun's Record, Full NCAA Recap
EUGENE, Ore. - There was no shortage of excitement on the final day of men's competition as a collegiate record went down, an SEC team that finished sixth a
Jun 11, 2016
by Meg Bellino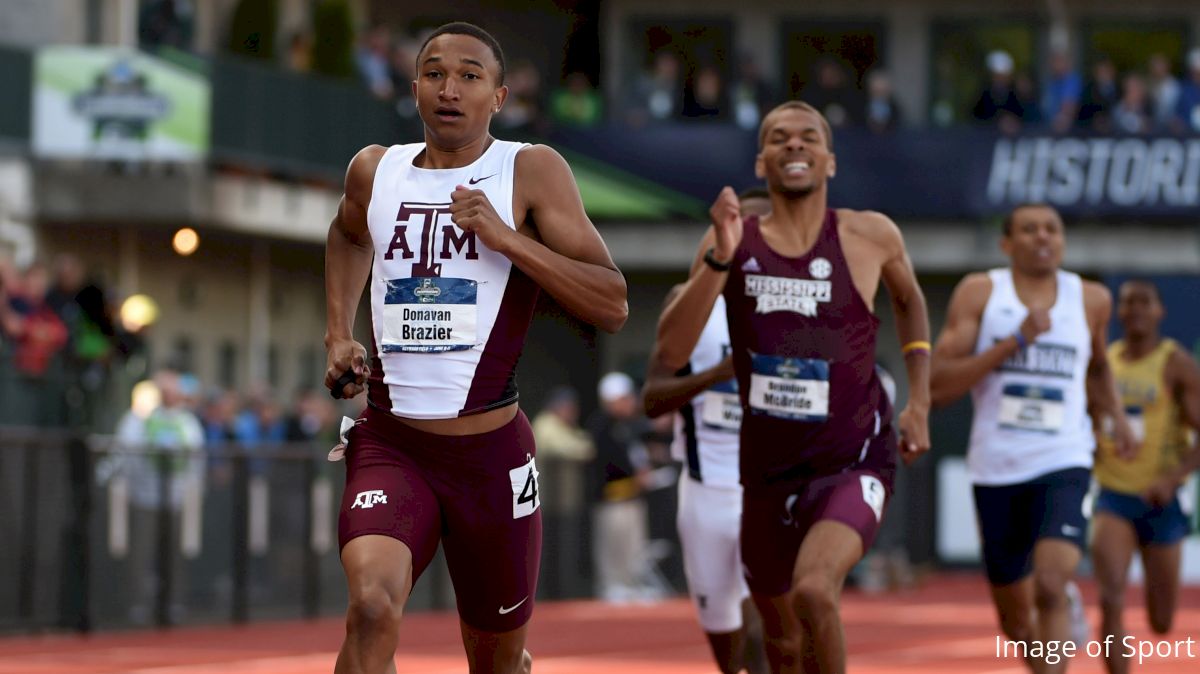 EUGENE, Ore. - There was no shortage of excitement on the final day of men's competition as a collegiate record went down, an SEC team that finished sixth at the conference meet won the team title and Edward Cheserek, well, let's just say he's still the King.
Watch the full video recap of Friday's action:

Donavan Brazier Rocks Hayward Field with 800m Collegiate and U.S. Junior Record

Texas A&M freshman Donavan Brazier rocked Hayward Field in a shocking 800m race that saw Jim Ryun's 1966 NCAA record fall. Mississippi State senior Brandon McBride took the pace out in 50.35 through 400m. Only Brazier and BYU junior Shaquille Walker dared to go with the two-time champion who had dipped under the 1:45 mark twice in the regular season.
But with 150m to go, 19-year-old Brazier passed McBride around the curve and never looked back. The freshman gapped McBride and Walker--who would finish second and third, respectively--to finish in a stunning 1:43.55 and break the NCAA and U.S. junior record. The mark lands him No. 8 on the U.S. all-time list and makes him the No. 7 performer on the world junior list.
McBride (1:44.50, the No. 3 fastest mark in NCAA history), Walker (1:45.17) and Penn State freshman Isaiah Harris (1:45.76) all broke 1:46.
Jarrion Lawson Channels Jesse Owens with Three NCAA Individual Titles

Arkansas long jump champion Jarrion Lawson won the 100m and 200m to become the first man to win those three individual titles since Jesse Owens did so in 1935 and 1936. But that wasn't the end of Lawson's big day--he also ran a blazing second leg on Arkansas' third-place 4x100m.
An hour after the 4x100m, he returned to Hayward Field to nip NCAA indoor 200m champ Christian Coleman to win the 100m in 10.22.
In seriously windy conditions (-2.3 meters per second in the 100m and -0.2 in the 200m), Lawson returned to the track 30 minutes later to clinch the 200m in 20.19. Tennessee's Coleman earned his second runner-up finish of the weekend in 20.26.
Notably, SEC champion and regular season sprint star Nethaneel Mitchell-Blake of LSU suffered an injury in the men's 4x100m (which was won by LSU) and ran 12.05 to finish eighth in the 100m. He did not start in the 200m after running the fastest qualifier (20.17) in the prelim.
*Owens also won the since-discontinued 200m hurdles at the 1935 and 1936 championships
Clayton Murphy Proves He's America's Next Big Thing

We knew Clayton Murphy was good, but did we really think he would win an NCAA title in the men's 1500m? (Sidenote:
Meg and Dennis did
!)
Murphy won Akron's first track title in school history in 3:36.38, the third-fastest in NCAA meet history and the quickest run since 1987. In an event that often begins at a casual pace and ends with a 400m sprint, Virginia's Henry Wynne and Washington's Izaic Yorks played rabbit (56.8 through 400m and 1:56.2 through 800m) for Murphy, who dusted them in the final 80m to comfortably win by nearly two seconds.
Clayton Murphy owes his 2 rabbits some of the future signing bonus he just earned.

— Scott Fauble (@scottfaubs) June 11, 2016
*Side side note: We also picked Yorks a week before that.




Edward Cheserek Wins 15th NCAA Title; The 5000m Wasn't Tactical?!

Unlike the men's pedestrian-like 10,000m on Wednesday, the 5000m featured several familiar faces attempting to dethrone King Cheserek. If you watched this fall's NCAA cross country championship, you remember that Villanova's Patrick Tiernan dragged Cheserek through most of the course in a blistering pace. Or perhaps you watched Pre-Nats or the NCAA indoor 5000m, and you'll remember Virginia Tech's Thomas Curtin--someone who reliably cranks the pace. Tonight at Hayward Field, Curtin led through 600m with a 61-second first lap.
Tiernan took over shortly thereafter and led the middle 3K, grinding out 64s and 65s until McGorty and Cheserek moved to the front on the third-to-last lap. McGorty threw down a 62 on the penultimate lap in an attempt to break the field.
Cheserek, however, proved victorious yet again as he broke away from McGorty around the Bowerman Curve to win his 15th title in 13:25.59. McGorty finished second (13:26.10), Tiernan third (13:27.07) and Curtin fourth (13:27.64). King Ches--title reclaimed, or never lost--closed in 57, and the top six all closed in under 59 seconds.
Notably, Stanford's Grant Fisher finished sixth in 13:30.13 to move up to No. 3 on the U.S. junior all-time list behind German Fernandez and Chris Derrick.
Florida Wins Men's Team Title After Finishing Sixth at SEC Championships

The Florida Gators scored 62 points and crowned two individual NCAA champions to take home the team trophy, their first since sharing with Texas A&M in 2013. The Gators also won the title outright in 2012. Friday marked the team's third championship overall.
Amazingly, the Gators were only sixth at the SEC Championship, making them the
first team in at least 50 years
to win an NCAA championship after placing worse than fourth at the conference meet.
Florida started things off on Friday night by placing fourth in the 4x100m relay. They got 12 points from the 400m with Arman Hall claiming his first individual title in 44.82 and freshman Kunle Fasasi placing sixth in 46.10 (Najee Glass initially finished fifth in 45.61 but was later disqualified).
Their stars of the meet were Eric Futch and TJ Holmes, who swept the top two spots in the 400m hurdles in 48.91 and 49.31, respectively. Futch, who competed for Houston last season, did not qualify for the final in 2015. Friday was his first time he has ever run under 49 seconds. The 18 points set Florida up for the championship heading into the 4x400m relay, where they finished second to LSU in 3:01.12.
Also taking home team trophies in second, third, and fourth were Arkansas (56 points), Texas A&M (50 points), and two-time defending champions Oregon (48 points).
This Stuff Happened Too:
In perhaps the upset of the meet, Nebraska sophomore Nicholas Percy beat defending champion Sam Mattis of Penn to win the discus with a 61.27m (201-0) throw. Mattis has three of the six best throws in collegiate history.
Michigan's Mason Ferlic won his first NCAA steeplechase title with a front-running 8:27.16 PR, closing the loop after falling on the water pit last year.
Devon Allen won his second 110m hurdle championship in 13.50 seconds. Allen won the 2014 title and then missed all of 2015 after tearing his ACL in the 2015 Rose Bowl (Allen is also a wide receiver for the Oregon football team).
Randall Cunningham of USC won the high jump in a mild upset with a clearance of 2.25m (7-4.5). 2016 has been a good year for the Cunninghams: Randall's sister Vashti won the high jump world indoor championship in March.