Donavan Brazier May Be Worth 2 Million Dollars
Donavan Brazier May Be Worth 2 Million Dollars
Since writing that Donavan Brazier should run the Olympic Trials, I have received a lot of calls and had conversations about where Brazier should run--all a
Jun 19, 2016
by Ryan From Flotrack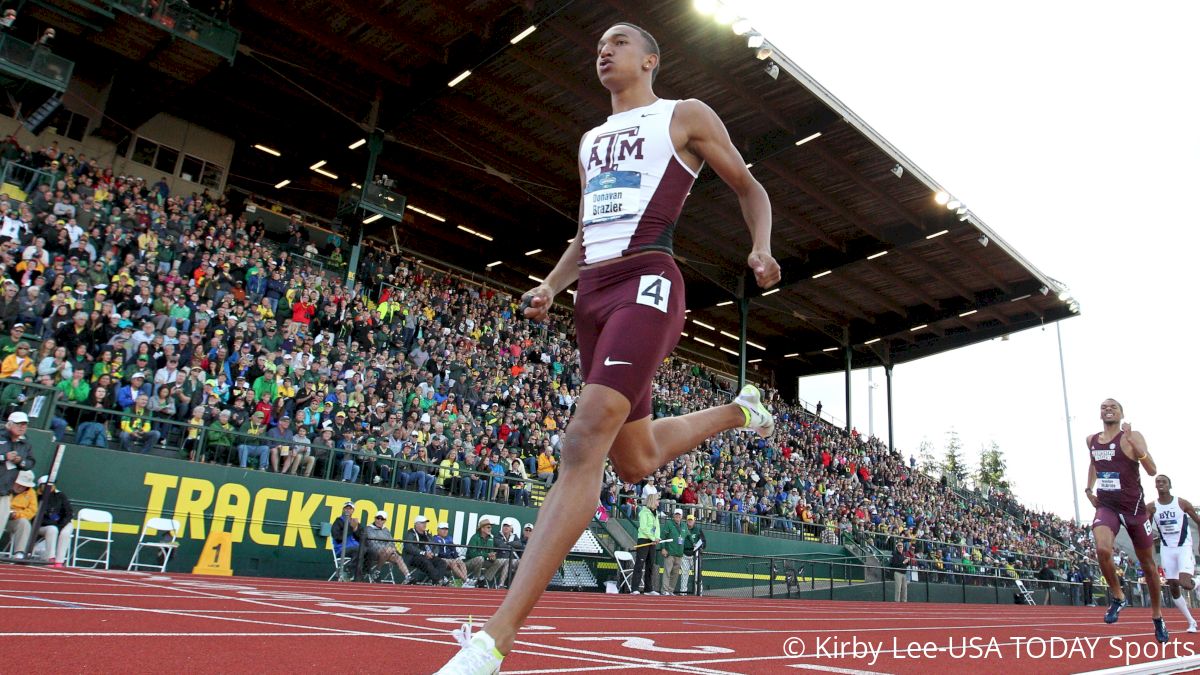 Since writing that
Donavan Brazier should run the Olympic Trials
, I have received a lot of calls and had conversations about where Brazier should run--all agreeing he should run at the Olympics Trials--and about if Brazier should go pro.
It's a delicate situation--the new
collegiate record holder
is just 19! If he were to turn pro, though, here's what could happen.
Doing The Math

Multiple sources in the industry who have a strong understanding of athletes' value believe that Brazier is worth upwards of $500,000/year. Some believe more is possible. The $300,000-$500,000 range has been a common forecast by all parties I've heard from.
Let's split the difference and do the math using a $400,000/year base salary.
Note: These numbers do not factor in earnings from prize money, bonuses for making global championship teams, bonuses for top-10 world and/or USA rankings, bonuses for time standards, or reductions.
We're also going to assume this contract goes through 2021, which would carry through the next Olympics and the World Championships that follow, which will be hosted in Eugene, Oregon.
Here's what it looks like:
2016: $200,000 (6 months pay, July through December)
2017: $400,000
2018: $400,000
2019: $400,000
2020: $400,000
2021: $400,000
TOTAL: $2.2 million
(at $300k/year this total is $1.65 million and $2.75 million at $500k/year)
What this means is that if Brazier chooses to stay in school then he's potentially missing out on somewhere around two million dollars. By the way, he can stay in school and still get the $2 million. Any contract negotiation will inevitably include college tuition if he wants it.
The Timeline & Scenarios
Entries for the Olympic Trials close tomorrow, and U.S. Juniors are next weekend. The deal's value could drastically change in the next 24 hours.
The
deadline to enter
the Olympic Trials is Monday, June 20th at 11:59pm PT. As of right now (Sunday, June 19th at 11:30am CT),
Brazier is not entered in the 800 meters
at the Olympic Trials. If Brazier does not enter the race, this discussion really has no value.
Let's take a look at a couple scenarios and how the value could potentially be affected. In most of these scenarios we are going to assume that
the decision to turn pro is made before
the Olympic Trials, but we'll also look at a couple that show him waiting to go pro after running the Trials.
Scenario #1:
Doesn't run U.S. Juniors, goes pro before the Trials:

Brazier skips U.S. Junior Championships and only runs Olympic Trials
*Effect on Value:

Value remains the same and could potentially go up slightly depending on negotiations.
Scenario #2:
Going pro after U.S. Juniors & before the Trials:
Brazier runs the U.S. Junior Championships and
wins
. He then goes on to run the Olympic Trials.
*Effect on Value
Assuming he looks good winning, his
value should remain
close to the same.
Scenario #3:
Going pro after U.S. Juniors & before the Trials:
Brazier runs the U.S. Junior Championships and
loses
. He then runs the Olympic Trials.
**Effect on Value:
His value will drop. Losing to young guys that he is expected to beat will not look favorable to shoe companies when looking to invest this much into an athlete. The value could drop considerably, as in maybe a million dollars lost.

*Note: In scenarios #1 and #2, if he makes the Olympic team he'll also get bonus money and if he wins the Trials it would be a higher bonus. This money that is not factored in above. This also doesn't factor in potential appearance fees and prize earnings he would be subject to at other professional events throughout the summer. These bonuses and appearance fees would also be higher if he wins the Trials.
**Note: In scenario #3, if he makes the team or wins he is still subject to Trials bonuses and summer appearances fees/prize earnings, but his base salary is greatly reduced.
Scenario #4:
Doesn't go pro before the Trials and only runs the Trials:
Brazier runs the Olympic Trials and makes this team.
***Effect on Value:

If he looks good making the team his value should remain close to the original value. If he looks strong in making the team and runs fast then his value may go up slightly. There is more risk in this option.
Scenario #5:
Doesn't go pro before the Trials and only runs the Trials:
Brazier runs the Olympic Trials and wins.
***Effect on Value:

Winning the Trials before going pro and looking good doing it is the only scenario where negotiation power may be at its highest. Depending on how the races goes, the value could go up at a great deal. Again, it's a risk to do it that way, especially if you are thinking about this through the process.

***Note: In scenarios #4 and #5, by not going pro he will miss out on any potential bonus money that we referenced in options #1, #2 and #3. He would however be subject to the potential appearance fees and prize earnings at other professional events throughout the summer as mentioned previously.
I believe an ideal part of the equation is skipping U.S. Juniors--in order for him to perform optimally at the Trials, he needs to be fully rested and prepped for that race. There is no negative effect on his value and this allows him to train/rest for the Trials.
The 800m Situation
In looking at the 800m field, it's important recognize that the US men are struggling right now. Duane Solomon (1:45.47 season best) ran 1:50 on Friday at Harry Jerome and tweeted that he tweaked his hamstring. Nick Symmonds (1:47.82 season best) pulled out of the Portland Track Festival 1500m with an ankle issue, then pulled out of the Brooks PR 600m a week later and is now saying he
doesn't know his status
for the Trials. And depending World Indoor 800m champion Boris Berian is currently enveloped in a legal battle with Nike. Berian (1:44.20 season best) has only run two races this season, but is ranked #2 in the US behind Brazier.
Tough day. Jet lag mixed with a little hammy tweakage but all in all feeling ok. Happy to have another race on Sunday in Victoria.

— DuaneBangSolomon (@Dbang800) June 18, 2016
The vulnerability in the men's 800m right now only enhances Brazier's shot of making the team.
Considering All The Factors
There are a lot of people that can become involved in this decision: Brazier, his coaches, his family, shoe companies and agents…and obviously media. You hope that his best interest is being looked at from all parties involved, but that doesn't mean all parties agree on what is best for Brazier. And that's where the waters can get muddied.
At the end of the day this is Brazier's decision.
If he values his time running for Texas A&M and that is what will make him happy and perform at his highest level, then that's great. But what needs to happen, at a minimum, is for Brazier to be made aware of all his options before he makes what could be the most important decision of his life.
Can someone at least enter him into the Olympic Trials, please?
[polldaddy poll="9449770"]