Oscar Pistorius Timeline: Fall Of An Athletics Hero
Oscar Pistorius Timeline: Fall Of An Athletics Hero
On Wednesday, double-amputee Olympian Oscar Pistorius was sentenced to six years of imprisonment for the murder of his girlfriend, Reeva Steenkamp. Below is
Jul 6, 2016
by Joe Battaglia
On Wednesday, double-amputee Olympian
Oscar Pistorius
was
sentenced to six years of imprisonment
for the murder of his girlfriend, Reeva Steenkamp.
Below is a timeline of the life and trial of the "fallen hero."
Nov. 22, 1986
Oscar Pistorius is born in Johannesburg.
June 2003
Pistorius, who learned to walk on prosthetics and competed in tennis, water polo and wrestling as a child, suffers a severe knee injury playing rugby.
Jan. 2004
While rehabilitating his knee injury at the University of Pretoria High Performance Centre, Pistorius is introduced to sprinting.
Sept. 20, 2004
Running on carbon fiber prosthetic limbs that earn him the nickname "Blade Runner," Pistorius becomes a Paralympic gold medalist in the T44 200m in Athens, winning in a world-record time of 21.97 seconds. He also won bronze in the T44 100m.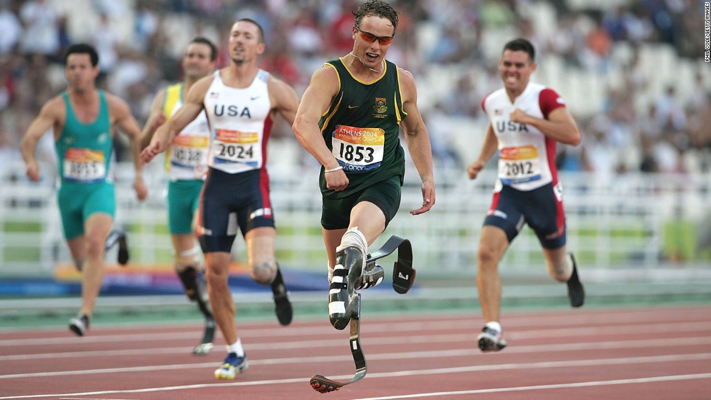 Jan. 14, 2008
The IAAF, track and field's world governing body, rules that Pistorius' prostheses are ineligible for use in their competitions, effectively disqualifying him from participation in the Beijing Olympics.
May 16, 2008
The Court of Arbitration For Sport upholds Pistorius' appeal after a two-day hearing and overturns the IAAF's ruling.
July 16, 2008
Pistorius finishes third in a personal-best 46.25 in the 400m at the Spitzen Leichtathletik Meeting in Lucerne, but falls short of achieving the Beijing Olympic qualifying standard.
Sept. 2008
At the Beijing Paralympics, Pistorius wins three gold medals, in the T44 100m, T44 200m and T44 400m. He set Paralympic records in both the 100m and 200m and a world record of 47.49 in the 400m.
Jan. 25, 2011
Pistorius is beaten for the first time in seven years at 100m when American Jerome Singleton upsets him for gold at the IPC Athletics World Championships.
Aug. 8, 2011
It is announced that Pistorius will be included on South Africa's team for the IAAF World Championships in Daegu. He advanced to the semifinals of the 400m and competed in the first round of the 4x400m.
July 4, 2012
The South African Sports Confederation and Olympic Committee announces that Pistorius will be included on their London Olympic team in the 400m and 4x400m.
Aug. 4, 2012
Pistorius becomes the first double amputee runner to compete in an Olympic Games. He ran 45.44 to advance to the 400m semifinals and split 45.9 on the anchor leg of South Africa's eighth-place 4x400m relay. Pistorius is chosen to carry the South African flag at the Closing Ceremony.
Sept. 2012
Pistorius wins gold in the T44 400m and T42-46 4x100m relay and silver in the T44 200m at the London Paralympic Games. The medal haul pushes his career totals to six gold, one silver and one bronze at the Paralympic Games.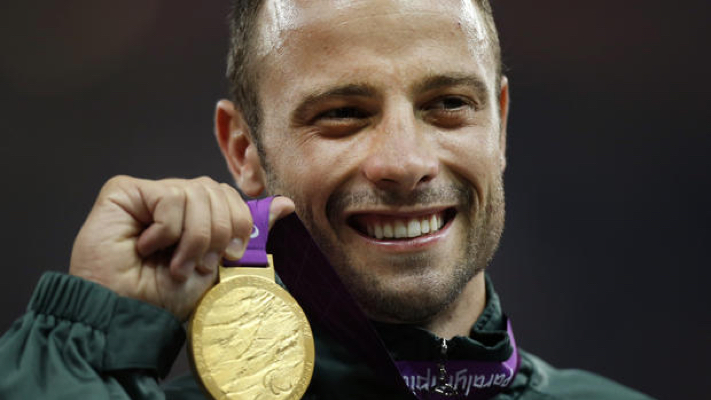 Feb. 14, 2013
Pistorius is arrested and charged with the murder of his girlfriend, Reeva Steenkamp. Pistorius says he mistook Steenkamp for an intruder after firing four shots through a locked bathroom door at his luxury Pretoria home.
Feb. 15, 2013
Pistorius cries openly in court when prosecutors tell the court they will pursue a premeditated murder charge.
Feb. 19, 2013
In a sworn affidavit, Pistorius says, "I tried to help her, but she died in my arms. I am mortified."
Aug. 19, 2013
Pistorius is formally indicted for premeditated murder and his trial is scheduled for March 3-20, 2014.
Feb. 14, 2014
On the one-year anniversary of Steenkamp's death, Pistorius posts a statement
on his website
stating, "The loss of Reeva and the complete trauma of that day, I will carry with me for the rest of my life."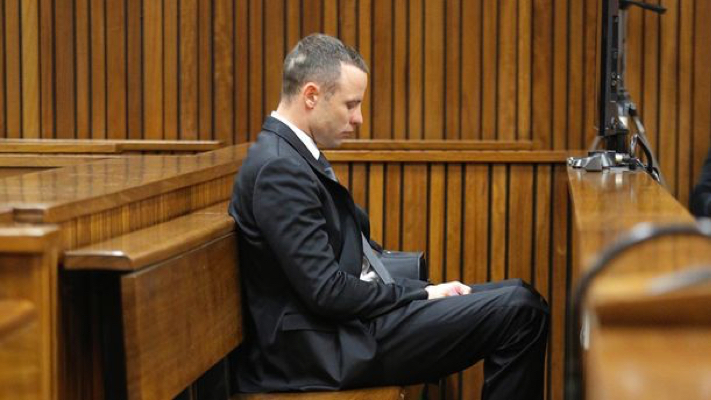 March 3, 2014
As his trial begins and is broadcast on live television in South Africa, Pistorius pleads not guilty to premeditated murder.
April 7, 2014
Pistorius takes the witness stand to begin testimony and is cross-examined for five days.
May 14, 2014
Judge Thokozile Masipa orders Pistorius to undergo psychological testing, at the request of the prosecution, and adjourns the trial until late June.
Aug. 8, 2014
Closing arguments in the sensational, seven-month trial conclude.
Sept. 12, 2014
Masipa convicts Pistorius of culpable homicide. She also convicts him of firing a pistol under the table of a packed restaurant but clears him of illegal possession of ammunition and firing a pistol out of the sun-roof of a car.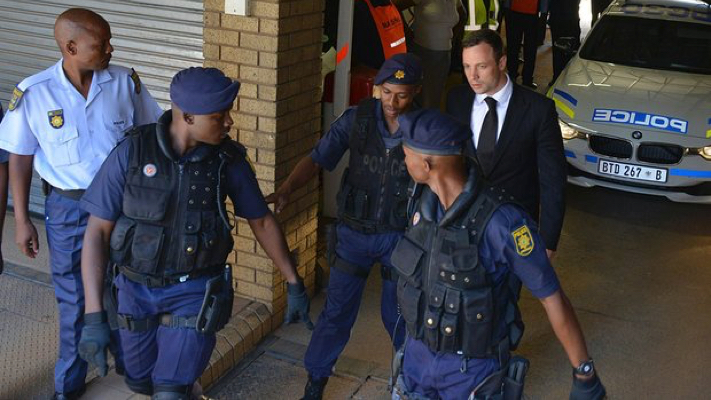 Oct. 21, 2014
Pistorius begins a five-year jail sentence with a possibility to serve eight to 10 months of the sentence in jail and the remainder under house arrest.
Oct. 19, 2015
Pistorius is released to house arrest to serve the rest of his sentence at his uncle Arnold's home in a wealthy suburb of Pretoria.
Nov. 3, 2015
Prosecution appeals Masipa's ruling to South Afirca's Supreme Court and seeks a murder conviction.
Dec. 3, 2015
South African Supreme Court of Appeal overturns Masipa's ruling and finds Pistorius guilty of murder based on the legal principle of 'dolus eventualis', arguing he should have foreseen the possibility of killing someone when he fired the shots.
March 3, 2016
Pistorius' appeal of the second murder conviction is denied.
June 15, 2016
During a sentencing hearing, Pistorius shuffles through court without his prosthetic legs to show the difficulty he faced dealing with the threat of an intruder.
July 6, 2016
Masipa sentences Pistorius back to jail for six years for murdering Steenkamp, less than half the 15 year minimum term sought by prosecutors.