Eight years ago, Brandon Hudgins was diagnosed with a rare autoimmune disease that threatened his life. Two relapses, numerous chemotherapy sessions, and finally one year of healthy training finally led Hudgins to a spot in the 1500m at the U.S. Olympic Team Trials.
Hudgins overcame a form of vasculitis known as granulomatosis with polyganiitis, which attacks the small blood vessels in your body and can often lead to death.
With a 3:38.20 1500m personal best and a sub-four-minute mile under his belt, Hudgins is finally realizing his dream of competing on the national stage—a dream that almost didn't happen.
Watch Hudgins' Furman 1500m performance:

The Boone, North Carolina, native was diagnosed in 2008 during his junior year at Winthrop University. The symptoms started during the fall cross country season with sinus problems and cold-like symptoms that wouldn't go away. Eventually, the infection spread to his ears, and gave him 90 percent hearing loss in one ear and 80 percent in the other. The disease also manifested in his sinuses, which were covered in sores. At one point, he nearly lost kidney function.
"Doing anything athletic feels like the last 50 meters of a race, which is incredibly painful, because your muscles aren't getting any oxygen," Hudgins told FloTrack. "My body was just wrecked."
For six painful months, Hudgins and his team of doctors struggled to find the cause.
Finally, on April 25, 2008, Hudgins' doctor called him while he was watching his younger sister's track meet to share the diagnosis. Filled with relief to have an answer at last, his doctors quickly began treatment, which involved rounds of chemotherapy and corticosteroids.
After receiving treatment, Hudgins was able to complete his two remaining years of eligibility at Appalachian State, where he earned his graduate degree. Before graduating in 2011, he posted a then-personal best of 3:45, which earned him an opportunity to compete in the NCAA preliminary round.
At the time, only two seconds separated him from the USATF Outdoor Championships qualifying standard. Hudgins was more motivated than ever to train for the 2012 Olympic Trials.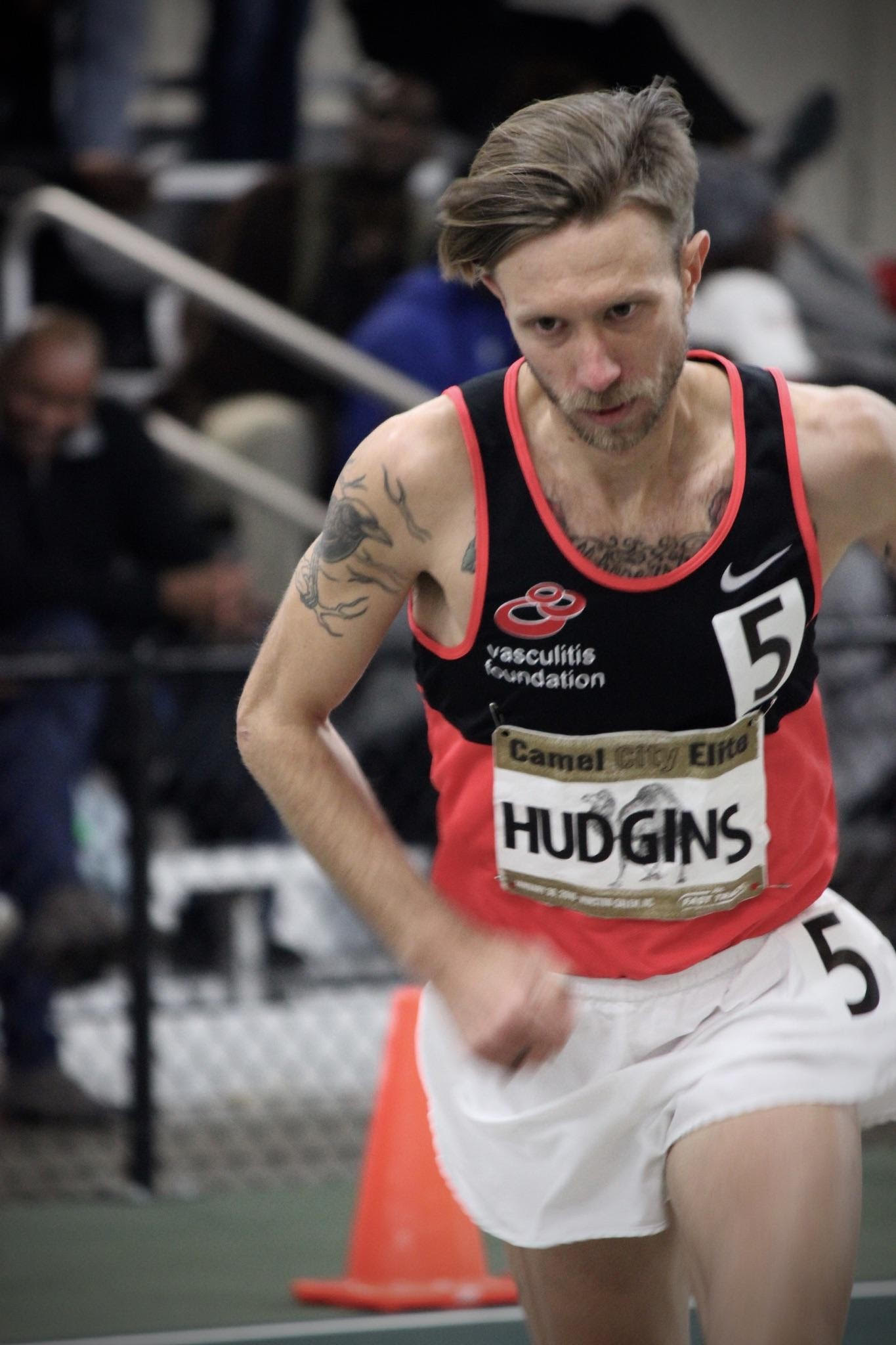 But in April of 2012, Hudgins started to notice the familiar symptoms again. He was having trouble breathing, and his hands and feet went numb at random.
He had relapsed, and would relapse again in April 2013.
"The emotional side of dealing with it was harder than the physical side," Hudgins said.
Emotionally and physically drained, Hudgins quit the sport in his darkest hour.
"I had an emotional breakdown after the first relapse," Hudgins said. "I threw my running shoes in the garbage can. I was done."
From 2013-2014, Hudgins was working as a valet while applying for coaching jobs when his friends encouraged him to get back into running.
"People kept asking me to go for runs," Hudgins said. "It didn't take much—just a little wind—and the fire got going again."
For the past year and a half, Hudgins managed to put together his longest stretch of healthy, consistent training, and the results have shown.
In August 2015, Hudgins became the 448th American to break the four-minute-mile barrier. He also lowered his 1500m PR from 3:42 to 3:38 at the Furman Elite meet.
Hudgins is unsponsored, and until recently, worked full-time at a local resort to make ends meet. Before the Furman race, he quit his job to free up time to travel for meets and pursue the Trials standard.
Hudgins is also an ambassador for the
Vasculitis Foundation
, which created the "Victory Over Vasculitis: VF Team Brandon" initiative in support of his pursuit.
"For me, it's about making an impact and changing the sport, and inspiring people to get out and run and move and chase their dreams even though they're going to be hard as hell sometimes," Hudgins said.
Eight years of life-threatening struggles and faith in the most difficult circumstances will culminate in Hudgins' race when he toes the line of the 1500m Thursday at Hayward Field.