2016 U.S. Olympic Team Trials
Olympic Trials Day 7 Full Recap: High Schoolers Steal the Show
Olympic Trials Day 7 Full Recap: High Schoolers Steal the Show
Catch up on all the action from day seven of the U.S. Olympic Team Trials in Eugene, Oregon. Women's SteeplechaseIn a stunning final lap, Emma Coburn, Court
Jul 8, 2016
by Taylor Dutch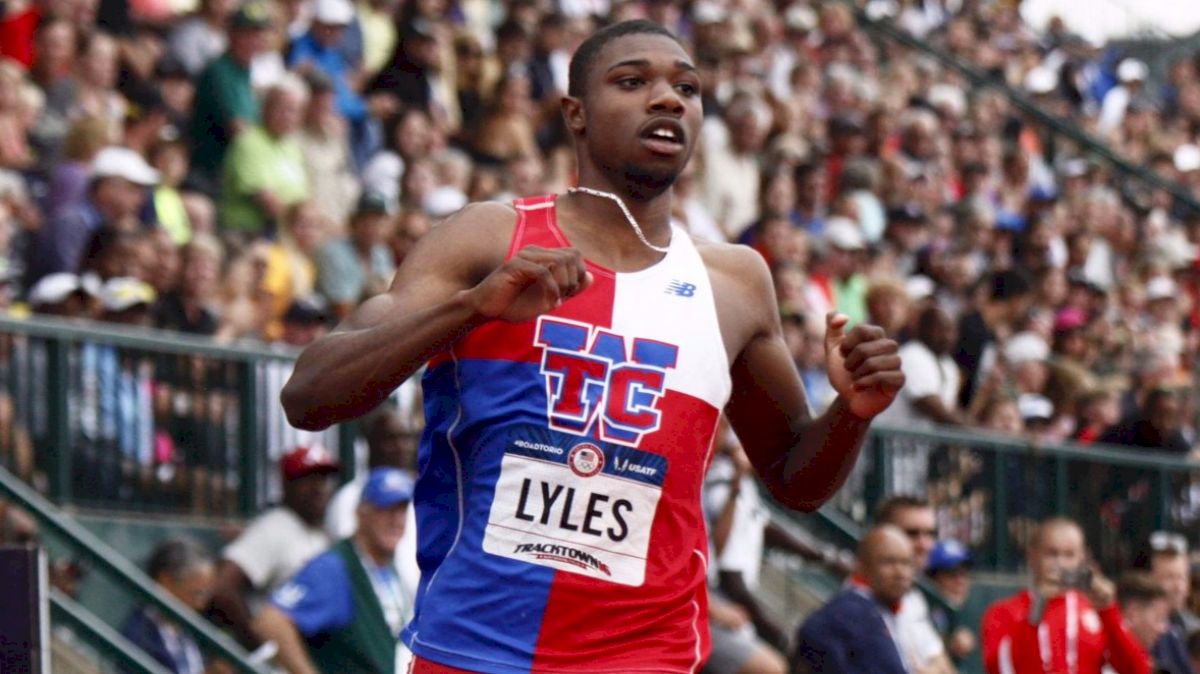 Catch up on all the action from day seven of the U.S. Olympic Team Trials in Eugene, Oregon.
Women's Steeplechase

In a stunning final lap, Emma Coburn, Courtney Frerichs, and Colleen Quigley claimed the top three spots headed to the Olympic Games in Rio. Frerichs surged from fifth to second over 300 meters, and helped pull Bowerman Track Club teammate Quigley along to the podium. Both athletes passed Stephanie Garcia after the final water pit. Although she already was out of contention for Rio, Garcia fell on the last barrier, which led to a fifth-place finish.
Coburn, a 2012 Olympic finalist, finished in 9:17; Frerichs ran a personal best of 9:20; and Quigley clocked 9:21. Shalaya Kipp closed for fourth in 9:28, and was followed by Garcia. Read the
FULL RECAP HERE
.
Women's 1500m

World champion Jenny Simpson threw down a controlled victory in the final heat of the women's 1500m by taking the lead from the gun and riding it to the finish line. Simpson closed for the victory in 4:17, and was followed by Lauren Johnson, Shannon Rowbury, and Stephanie Brown.
In the same heat, Gabe Grunewald managed to overcome a disappointing 5K performance to finish sixth and automatically qualify for the next round.
High school stars Christina Aragon and Kate Murphy both automatically advanced out of heat one of the 1500m by finishing third and fourth, respectively. Amanda Eccleston won the heat with a 4:13.82 followed by Rebecca Tracy.
A tragic fall in the final lap of the first heat left Alexa Efraimson and Rachel Schneider on the ground, but both still managed to run 4:14 and 4:22, respectively, to advance to the semifinals.
Sarah Brown, who stars in the recent ESPN documentary "Run Mama Run," finished ninth in 4:24. In the past year, Brown trained through pregnancy and gave birth in March to her daughter Abigail.
"nobody can have it all. But you can have a lot. And Sarah Brown isn't afraid to go after it." - @anastasionfilmhttps://t.co/MA23BfWfVP

— Darren Brown (@TheDarrenBrown) July 6, 2016
Heat three saw the first step toward redemption from Brenda Martinez, who was one of the victims of an unfortunate collision in the 800m final on Monday. The world bronze medalist finished second in her heat to advance to the semifinal.
Men's 1500m

The final heat proved to be the fastest of the day as Eric Avila led the charge with a winning 3:42.27. He was followed by Olympic silver medalist Leo Manzano, Olympian Andrew Wheating, World indoor champion Matt Centrowitz, Penn All-American Tommy Awad, and Oregon freshman Matthew Maton. Brooks Beast Izaic Yorks finished in seventh overall and advanced on time.
The second heat was a kicker's race as Oregon Track Club's Ben Blankenship split a blazing-fast 52.88-second last lap to win the section. He was followed by Colby Alexander, Kyle Merber, and the master of kicks, Robby Andrews. Alexander and Andrews had even faster splits as they ran through the final 400m in 52.86.
The first heat of the men's 1500m saw a fall just before the finish line by Colorado's Ben Saarel. A collision occurred and Saarel was disqualified. Craig Engels snagged the victory in 3:41 and was followed by Daniel Winn, Graham Crawford, Jordan McNamara, Robby Creese, and Johnny Gregorek.
Women's 5,000m

After failing to make the Olympic team in the 10K, Kim Conley got redemption by winning heat one of the women's 5K. The pace was conservative during the first few laps, but picked up with a fast final two laps which Conley, Kellyn Taylor, Nicole Tully, Emily Infeld, Sara Hall, and Jessica Tebo managed to hold for automatic spots.
After owning the 10K race on Sunday, Molly Huddle commanded another victory in heat two of the 5K in 15:26. Katie Mackey, Shelby Houlihan, Allie Ostrander, Marielle Hall and Abbey D'Agostino followed as automatic qualifiers.
Ostrander, a freshman at Boise State, clocked a time of 15:27, which is just six seconds slower than her personal best of 15:21 from this January. Ostrander suffered an injury that sidelined her for the NCAA outdoor season. Her performance on Thursday was her first track race since dropping out of the NCAA indoor 5K this winter.
5 weeks ago I was run-walking. Today I qualified to the Olympic trials finals.

— Allie Ostrander (@allie_ostrander) July 8, 2016
Heat two proved to be the fastest for the time qualifiers as Tara Welling, Rochelle Kanuho, Jordan Hasay, and Alisha Williams snuck in as the final qualifiers to the 5K final.
Women's 100m Hurdles

Keni Harrison continues to look like she's in a league of her own as the American record-holder stole the show in the 100m hurdles. Harrison clocked 12.57 to claim heat one over Olympic gold and silver medalist Dawn Harper Nelson, who closed in 12.85.
Former American record-holder Brianna Rollins recorded the fastest time of the day, 12.56, in heat five.
High school phenom Chanel Brissett also stole the show in heat one with a fifth-place finish in 12.95, which ties the third-fastest high school mark all-time.
Men's 200m

High school athletes ruled the first round of the 200m with standout performances that took down several pros.
High school senior and Florida Gator commit Noah Lyles blew heat one away in 20.04 (3.3 m/s) to win his section and automatically advance to the semifinal. It's the second-fastest wind-aided time ever run by a high school athlete.
Just a few minutes later in heat four, USC commit Michael Norman followed in 20.06 (2.8 m/s) to beat seasoned veterans Tyson Gay and Wallace Spearmon. Norman's performance ranks No. 4 all-time in all conditions.
This is what you would call 'passing the baton from the old guard to the new.'

What a race from @Mike_Norman22! https://t.co/bWDWvXlhCi

— NBC Olympics (@NBCOlympics) July 8, 2016
Noah Lyles, Michael Norman WIN 200m prelims at Olympic Trials #TrackTown16 ---> https://t.co/8uJTH5CtGw pic.twitter.com/5zLS2B7Z08

— MileSplit US (@milesplit) July 8, 2016
World silver medalist Justin Gatlin returned from winning the 100m earlier in the week to finish second in heat two to Ameer Webb. Webb has two Diamond League victories under his belt in 2016 and is aiming to make the 200m team after scratching the 100m.
400m Olympic gold medalist LaShawn Merritt rolled on the competition in the final heat of the 200m to claim victory in 20.09 (2.8 m/s). Merritt also won the 400m final in 43.97, which stands as a world lead and season's best.
.@lashawnmerritt #TrackTown16 https://t.co/yvGRArQ20H

— NBC Olympics (@NBCOlympics) July 8, 2016
Women's 400m Hurdles

Sydney McLaughlin continued the reign of the teens as the high school junior won heat two of the 400m hurdles in 55.46. McLaughlin beat Kentucky's Kiah Seymour and Nike pro Kori Carter. Her mark stands as the fifth-fastest high school time ever on a list where she now owns six of the top 10 marks in history.
Sydney McLaughlin advances to SF at Olympic Trials #TrackTown16 https://t.co/8uJTH5CtGw pic.twitter.com/GFK9HwdYUB

— MileSplit US (@milesplit) July 8, 2016
New adidas pro and three-time NCAA champion Shamier Little opened up her professional season with a runner-up finish to USC's Jaide Stepter. Both automatically advanced on place.
Heat one of the 400m hurdles saw what could have been a potential disaster when a discus landed in lane three. Lane three would have been Olympian Georganne Moline's lane had she not scratched from the meet due to injury.
Near discus catastrophe at the #OlympicTrials pic.twitter.com/YwYTrTqLz4

— Curtis Beach (@curtis_beach) July 8, 2016
Men's 400m Hurdles

Bershawn "Batman" Jackson and Johnny Dutch battled rain to win their respective heats of the 400m hurdles and advance. Jackson closed for victory in 49.91, while Dutch finished in 49.56.
Eric Futch claimed heat three by beating Jeshua Anderson and Robert Grant in a winning time of 50.07.
Khallifah Rosser closed out the final heat of the men's 400m hurdles by winning in 49.89 over Quincy Downing and Kerron Clement.