2016 U.S. Olympic Team Trials
Emma Coburn + Bowerman Track Club = Steeplechase Olympic Team
Emma Coburn + Bowerman Track Club = Steeplechase Olympic Team
On a rainy night at Hayward Field, Emma Coburn asserted her dominance and new Bowerman Track Club teammates Colleen Quigley and Courtney Frerichs kicked the
Jul 8, 2016
by Dennis Young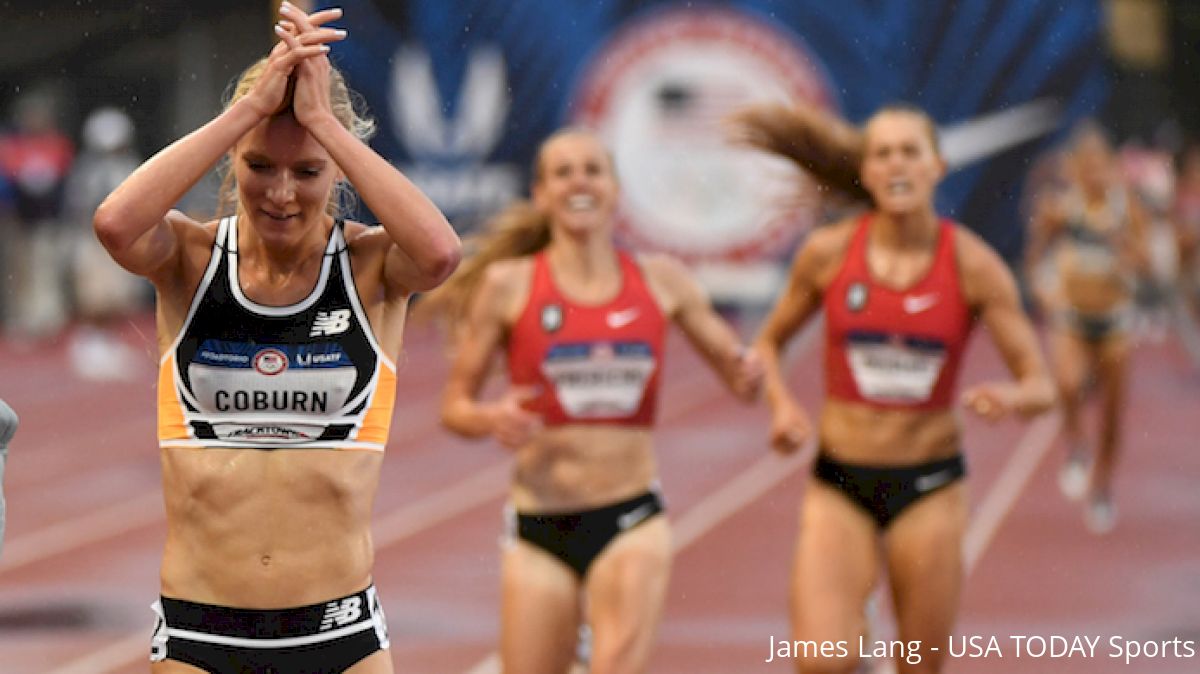 On a rainy night at Hayward Field, Emma Coburn asserted her dominance and new Bowerman Track Club teammates Colleen Quigley and Courtney Frerichs kicked their way to their first Olympic team.
Coburn ran 9:17 to win her second straight Olympic Trials steeplechase. Frerichs—the 2016 NCAA champ and collegiate record-holder—looked to be out of it with 400 meters to go as she trailed Stephanie Garcia by more than two seconds. But Quigley and Frerichs outkicked Garcia to give coach Jerry Schumacher two Olympians in the same event.
In addition to her second straight Trials win, this is Coburn's third U.S. championship in a row and fifth in six years. In her three outdoor global championships, she was ninth at Worlds in 2011, eighth at the Olympics in 2012, and fifth at Worlds in 2015. She's ranked third in the world this year and could be ready for her first major international hardware in Rio.
.@EmmaJCoburn, you're going to Rio! #RoadToRio https://t.co/OR9twrK6T2

— NBC Olympics (@NBCOlympics) July 8, 2016
Footage above courtesy of NBCOlympics (http://liveextra.nbcsports.com) and USOC
WHAT A RACE! That Rio trio is looking #TrackTown16 women's 3,000m steeplechase FINAL top eight: pic.twitter.com/xH6plTQr9h

— TrackTown USA (@GoTrackTownUSA) July 8, 2016
Frerichs outkicked Quigley for second in a new PR of 9:20.
In her best race and first PR since finishing third at the last Olympic Trials, Coburn's training partner Shalaya Kipp ran 9:28.72 for a surprising fourth place.
Quigley is the second Bowerman athlete to qualify for the Olympics fresh off an injury. Emily Infeld took second in the 10K after learning of a stress fracture in March, and Quigley made the team after
suffering hamstring, plantar fascia, and hip issues
all year. The Trials were Infeld's outdoor debut, while the steeplechase prelim was Quigley's second race of 2016.
Frerichs is Bowerman in name only—she's still working with New Mexico assistant coach James Butler through the Trials—but two red and black tops crossing the line in Olympic position must still be intensely validating for Schumacher and BTC steeplechase coach Pascal Dobert. I ended up watching the race next to them, and the famously stoic Schumacher was elated. He turned his back to the track to hug Dobert with 100 meters to go once it was clear his charges wrapped up their spots. Neither realized Garcia had tripped over the last hurdle until they turned back around to see what made the crowd let out a classic "ooooohhh."
Coburn is still the dean of American steeplechasing, though. She was the only woman in the field to show zero cracks. Ashley Higginson led early, Garcia led in the middle, but once Coburn dropped the hammer with 1K to go, the race was over. The American record-holder looked untroubled by anything that happened in front of her, and dispatched the rest of the field by more than three seconds in the last two and a half laps. She was a woman among girls.
Behind her, the barriers were levying way higher taxes. With just over a kilometer to go, the pack was narrowed to six athletes—Coburn, Higginson, Garcia, Frerichs, O'Connor, and Quigley. Once Coburn made her move, they dropped Higginson. Shortly after that, it looked like Frerichs was a goner, and that Garcia, O'Connor, and Quigley would run for the two Olympic spots behind Coburn.
But O'Connor couldn't hold up for the last two laps. She told FloTrack after the race that she partially tore her plantar fascia at the Prefontaine Classic, and it clearly couldn't survive the race tonight. She ran her last lap in 1:44, nearly seven-minute mile pace.
O'Connor has had a nightmarish last three major outdoor championships. At NCAAs last year, she led at the bell before getting outkicked by Quigley and Frerichs. At USAs last year, she was in third at the last water jump, and in position to make a team before falling in the water pit and getting passed by Quigley for third. Quigley's Florida State and Bowerman Track Club kits are both red and black; O'Connor could probably stand to go a few meets without seeing a blonde woman wearing a red and/or black top.
The Bowerman duo masterfully outmaneuvered Garcia for the last two Olympic spots. Garcia, second in the U.S. a year ago, committed to a hard move for second. Take a look at these last three lap splits:
| Garcia | Quigley | Frerichs |
| --- | --- | --- |
| 72.44 | 72.77 | 73.32 |
| 71.45 | 71.78 | 72.87 |
| 80.62 | 71.91 | 69.96 |
Watching the race, it looked like Frerichs got dropped. But she actually meted out her effort more intelligently while winding it down.
Coburn made the team by being a superstar at the peak of her powers. Frerichs made the team with superior race savvy. Quigley made the team off tremendous fitness that outlasted brutal injuries. All three should be have big ambitions for Rio.