2016 U.S. Olympic Team Trials
41-Year-Old Bernard Lagat Wins Trials 5K, Mead and Chelimo Make Team
41-Year-Old Bernard Lagat Wins Trials 5K, Mead and Chelimo Make Team
EUGENE, Ore. - In a wild and entertaining race, 41-year-old Bernard Lagat kicked down Galen Rupp to win his eighth U.S. 5K title and qualify for his fifth O
Jul 10, 2016
by Dennis Young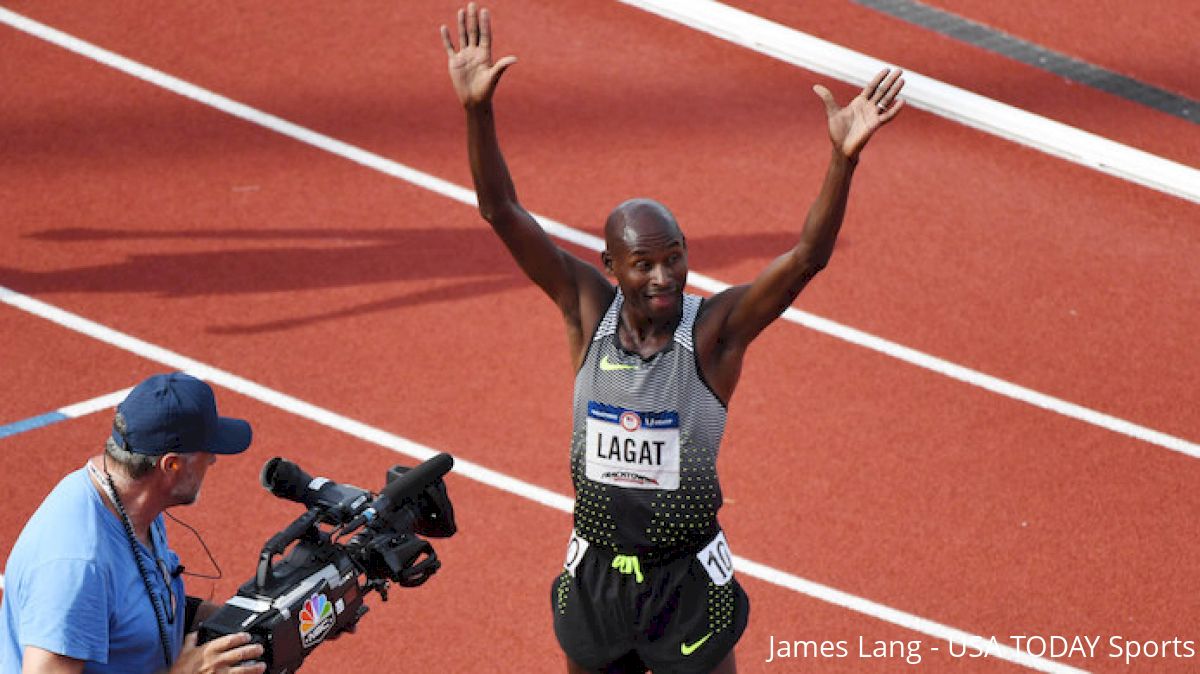 EUGENE, Ore. - In a wild and entertaining race, 41-year-old Bernard Lagat kicked down Galen Rupp to win his eighth U.S. 5K title and qualify for his fifth Olympic Games. Rupp was leading the field by 15 meters at the bell, but Lagat and Paul Chelimo led a huge pack of athletes past Rupp on the backstretch. In the last 100 meters, Chelimo was passed by an impossibly quick Lagat. The 41-year-old closed in 52 seconds for his final lap.
41-YEAR-OLD BERNARD LAGAT WINS THE MENS 5000m!

He's going to his FIFTH Olympics! #RoadToRio https://t.co/0DAhfwEiqg

— NBC Olympics (@NBCOlympics) July 10, 2016
Footage courtesy of NBCOlympics (http://liveextra.nbcsports.com) and USOC
#TeamUSA in the men's 5k@Lagat1500 13:35.50@HassyHass35 13:35.70@Paulchelimo 13:35.92#TrackTown16

— FloTrack (@FloTrack) July 10, 2016
Hassan Mead chased down Chelimo, but Chelimo held off Rupp's Oregon Project teammate by 0.06 seconds for third place, the last spot on Team USA.
Chelimo is the fourth U.S. Army athlete to make the Olympic team at this meet. 10K Olympians Shadrack Kipchirchir and Leonard Korir are in the WCAP program with Chelimo, while steeplechaser Hillary Bor is stationed at an army base in Colorado.
Mead and Lagat dropped out of a similarly watchable 10K last week. Now they're headed to Rio.
The race proved to be thrilling from the gun. Two men entered in the field did not have the Olympic standard and made the decision to chase it in the middle of the 5K final. After a pedestrian initial 600m, Brian Shrader made a dramatic jump to the front and split 60-seconds in the first 400m of taking the lead. Portland All American Woody Kincaid promptly joined him, also in pursuit of the Olympic standard and a top three finish.
Just before the two mile mark, Paul Chelimo caught the duo and the pack followed. 10K champ Galen Rupp made his jump to the front and started to put distance between himself and the rest of the pack with 60-61-second 400m splits.
At two laps remaining, Rupp had a 30 meter lead on the field which included Chelimo, Ryan Hill, Ben True, Hassan Mead, Lopez Lomong, and Eric Jenkins.
At the bell lap, all hell broke loose when Chelimo caught Rupp on the backstretch and brought a flying pack with him. Lagat, Mead, Jenkins, and True all unleashed their kicks, but it was 41-year-old Lagat who claimed the title in 13:35.50 followed by Mead in 13:35.70 and Chelimo in 13:35.92. Jenkins nearly edged him for third, but closed just behind in fourth by 0.06 seconds.