2016 U.S. Olympic Team Trials
Simpson and Rowbury Dominate 1500, Martinez Dives At Line To Make Team
Simpson and Rowbury Dominate 1500, Martinez Dives At Line To Make Team
Jenny Simpson and Shannon Rowbury reminded everyone that they're the class of American middle distance running, and Brenda Martinez made the Olympic team by
Jul 11, 2016
by Dennis Young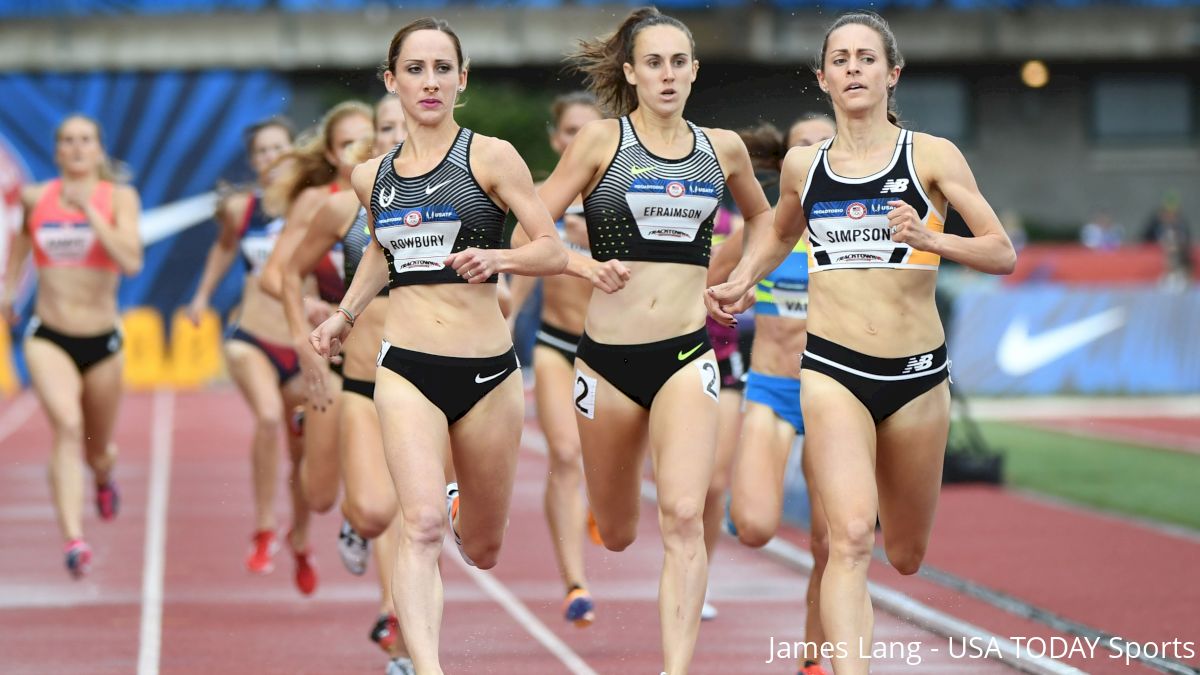 Jenny Simpson and Shannon Rowbury reminded everyone that they're the class of American middle distance running, and Brenda Martinez made the Olympic team by 0.03 seconds in a wild 100 meters. Martinez dove at the line to make her first Olympics after she crashed out of a brutal 800.
Footage courtesy of NBCOlympics (http://liveextra.nbcsports.com) and USOC
INSANE FINISH! @trackjenny 4:04.74@ShannonRowbury 4:05.39@bmartrun 4:06.16@AmandaEcc 4:06.19
!!!!!#TrackTown16

— FloTrack (@FloTrack) July 11, 2016
After a pedestrian first 1100 meters, Simpson began hammering from the front. 2012 Trials champion Morgan Uceny covered some of Simpson's move, and 19-year-old Alexa Efraimson went with Uceny. But Rowbury--the American record holder and also second at the last Trials--savvily let Simpson go and then dropped the rest of the pack in the last 250 meters.
Simpson finished well clear of Rowbury, and Rowbury finished well clear of the field. Behind them, an epic brawl for third was developing. Uceny was fading on the rail, and Martinez passed her with 40 meters to go. Martinez had an unlikely partner chasing her to the line: former Division II runner Amanda Eccleston. (Eccleston went to Hillsdale for four years and did a year of graduate school at Michigan.) Martinez and Eccleston flailed to the line--it was Martinez's sixth race of the weekend and Eccleston's third--and Martinez more belly-flopped than dove at the line to beat Eccleston by 0.03.
It was a well-deserved finish for Martinez, who was in contention with 100 meters to go in the 800 a week ago but got clipped and knocked out. She came to this meet hoping to make it in the 8 and entered the 15 as an insurance plan. Her insurance paid off in full tonight.
"I'm so proud of you"

A heartfelt moment after the 1500m Final. Watch more here: https://t.co/xep8hHZYHh https://t.co/NSDFGytu8T

— NBC Olympics (@NBCOlympics) July 11, 2016
Footage courtesy of NBCOlympics (http://liveextra.nbcsports.com) and USOC