2016 Olympic Games
From Injury to Olympic Team in 10 Weeks: Colleen Quigley's Path to Trials
From Injury to Olympic Team in 10 Weeks: Colleen Quigley's Path to Trials
In May, Colleen Quigley and Emily Infeld were sitting in their doctor's office with similar MRI diagnoses: stress-related injuries in each of their right hi
Jul 14, 2016
by Taylor Dutch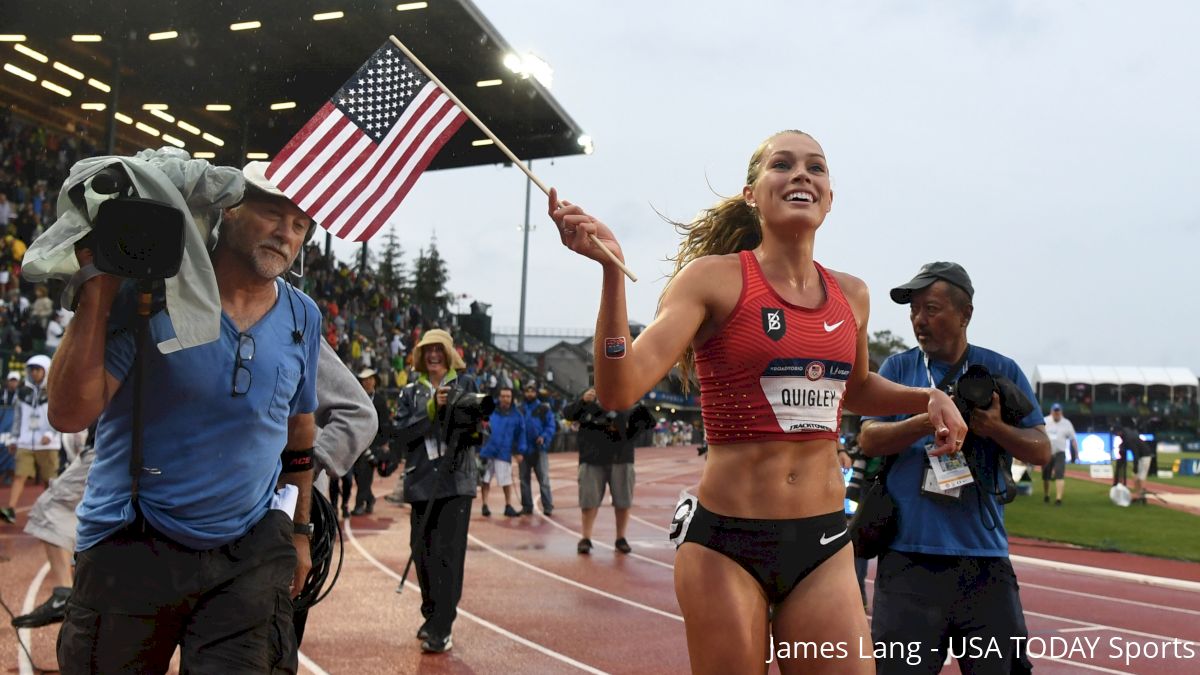 In May, Colleen Quigley and Emily Infeld were sitting in their doctor's office with similar MRI diagnoses: stress-related injuries in each of their right hips.

Ten weeks later, they showed no signs of weakness at the U.S. Olympic Trials at Hayward Field. They defied their recovery timetables not just by showing up, but by also finishing in the top three in their respective events to earn Olympic berths in Rio.

Quigley, 23, finished third the steeplechase final while running alongside new Bowerman Track Club teammate Courtney Frerichs. Both athletes powered through the final 100m together; Frerichs smiled knowing her Olympic dream would become a reality as soon as she crossed the finish line, and Quigley gritted her teeth and pushed with every ounce of energy she had left to claim the final spot.


It was Quigley's third race (including the Trials semifinal) since finishing 12th at the World Outdoor Championships in Beijing last August.

"[At 800m] I just told myself, 'Just keep it up for another 400m. If I just make it to one lap to go,' and then I got to one lap to go, and I just said, 'If I just make it to 200 to go,' and I made it there, and we hit the final water pit, and I still felt like I had the tiniest bit left," Quigley told FloTrack.

"I played that [race plan] out a million times in my head and that's exactly how it played out on the track," she said.

By the final water pit, she was in third behind Stephanie Garcia. Frerichs came from fifth to catch up to Quigley at the barrier. Frerichs' momentum carried her past Garcia, and Quigley quickly followed.

Even after they crossed the line together, Quigley wouldn't let herself believe she made the Olympic team—not until "they gave me that damn flag," she said while laughing.

Quigley came a long way to make it across that finish line. Over the past 10 weeks, she and Infeld cross-trained and encouraged each other through the tough, doubt-ridden moments.

"Everyday, we were trying to tell each other what we were trying to tell ourselves [laughs], like inspirational quotes, all the corny stuff, we were throwing it all at each other," Quigley said.

"It was a rollercoaster, but at least I had someone on the rollercoaster with me."



Infeld competed in the 10K, where she finished second to qualify for her first Olympic team. She returned just a few days later to help fellow Bowerman teammate Shelby Houlihan qualify in the 5K. Infeld earned a fourth-place finish in that final while Houlihan finished second.

The Bowerman Track Club qualified six women to compete in Rio: Quigley, Infeld, Frerichs, Houlihan, Shalane Flanagan and Amy Hastings.

Quigley spent the majority of the 10 weeks leading up to the Trials cross-training and easing back into running at the team's altitude training camp in Park City, Utah.

"Shalane texted me before the race saying, 'All those hours in the pool and all those hours on the elliptical, they were not in vain. It's going to be worth it,' Quigley said. "It totally hit home for me. I did all of that to get here. I didn't do that for nothing."

Quigley managed to log just two steeple workouts prior to the first round of the Olympic Trials, but gained fitness in the tempo workouts at altitude under the training of her new coach, Jerry Schumacher.

"I am a Jerry believer, if I ever had doubts before. You know, it was not the smoothest year, and I was emotionally not stable, but I am a Jerry Schumacher believer after yesterday," she said.

"He's a really good coach and it just solidifies that I am in the perfect position."