​By Johanna Gretschel, MileSplit
BYDGOSZCZ, Poland --
Day 1 Overview
Three finals highlighted day one of competition at Zawisza Stadium.
In the junior women's 10K racewalk, Zhenxia Ma of China set the year's world junior-leading time of 45:18.45. Anali Cisneros was the top American in 25th, with a new American junior record of 49:31.88. Fellow American Meaghan Podlaski placed 28th in a time of 50:21.22.
Konrad Bukoweicki of Poland set the world junior record by winning the junior men's shot put with a mark of 23.34m. Bronson Osborn won the first medal of these championships for Team USA with a third-place finish and 21.27m mark that broke the 37-year-old national high school record.
Rodgers Kwemoi of Kenya set a new championship record by winning the junior men's 10K in 27:25.23. It was a photo finish as Aron Kifle of Eritrea ran 27:26.20 for runner-up honors and a new national junior record while Jacob Kipklimo of Uganda placed third in 27:26.68. Americans Thomas Pollard of Iowa State (16th, 29:53.84) and Colin Burke of UCLA (20th, 30:20.80) both set new all-time-best marks.
Top Three Performances: Bronson Osborn, Anali Cisneros, Ja'Mari Ward

Team USA earned its first medal of these championships thanks to Osborn's herculean effort in the shot put. The junior men's throwing implements are different from the measurements in typical U.S. high school competition--they're throwing 6kg here compared to the slightly lighter 5.44kg prep implement--so the rising senior at Esperanza High School in California said he had no expectations for hitting particular marks. He also wasn't expecting to medal, but did so in record fashion as his final mark of 21.27m/69-9.5 is a new national high school record and ranks No. 2 all-time for an American U-20 athlete. John Maurins of Wake Forest set the American junior record at 21.90m/71-10.25 in 2015. The previous national high school record was set in 1979 by Mike Carter of Dallas, Texas at 67-9.
Anali Cisneros of Elgin, Illinois, broke the American junior record in the 10K racewalk by clocking 49:31.88 and placing 25th overall. She said after the event she was just hoping to break 50 minutes; she and fellow Team USA race-walker Meaghan Podlaski plan to take advantage of being done early by canoeing around Poland this week.
Ja'Mari Ward proved yet again that when healthy, he will always steal the show. The recent graduate of Cahokia High School in Illinois advanced to the long jump finals as the top qualifier after landing a wind-legal mark of 26-01.5/7.96m (+0.4)--a new PB for the oft-injured star that improved his former best of 25-8.75/7.84m from this year's USATF Junior Nationals. After sitting out much of the outdoor track season due to injury, Ward is now the No. 9-ranked long jumper in U.S. prep history and enters the final as a gold medal threat.
Event of the Day: Junior Men's Shot Put

It took a national record to earn a top-three medal in the junior men's shot put today in Poland, and it took a world junior record to win.
All three medalists set new records: Osborn uncorked 21.27m/69-9.5 for third place and a new American national high school record; Andrei Toader threw 22.30m/73-2 for runner-up honors and a new Romanian junior record; and Bukowiecki unleashed a massive 23.34m/73-50--and a roar!--for the gold, a new Polish junior record and for a new world junior record. The former world junior record of 23.0m/75-5.5 was set by Jacko Gill of New Zealand in 2013.
Buckowiecki also set the world junior record in the standard shot put in June with a 21.14m/69-4.25 heave that took down American Terry Albritton's 21.05m/69-0.75 standard from 1974.
'They said it'

"I don't consider this a victory lap. I'm still working. I still got times I want to hit. I got the 200m national record, now I gotta go for the 100m."
- Noah Lyles, who has a big day tomorrow in the 100m dash final. The record is 10.00, and the Gator commit is also deciding whether or not to turn pro this week. Read more here.

Photo of the Day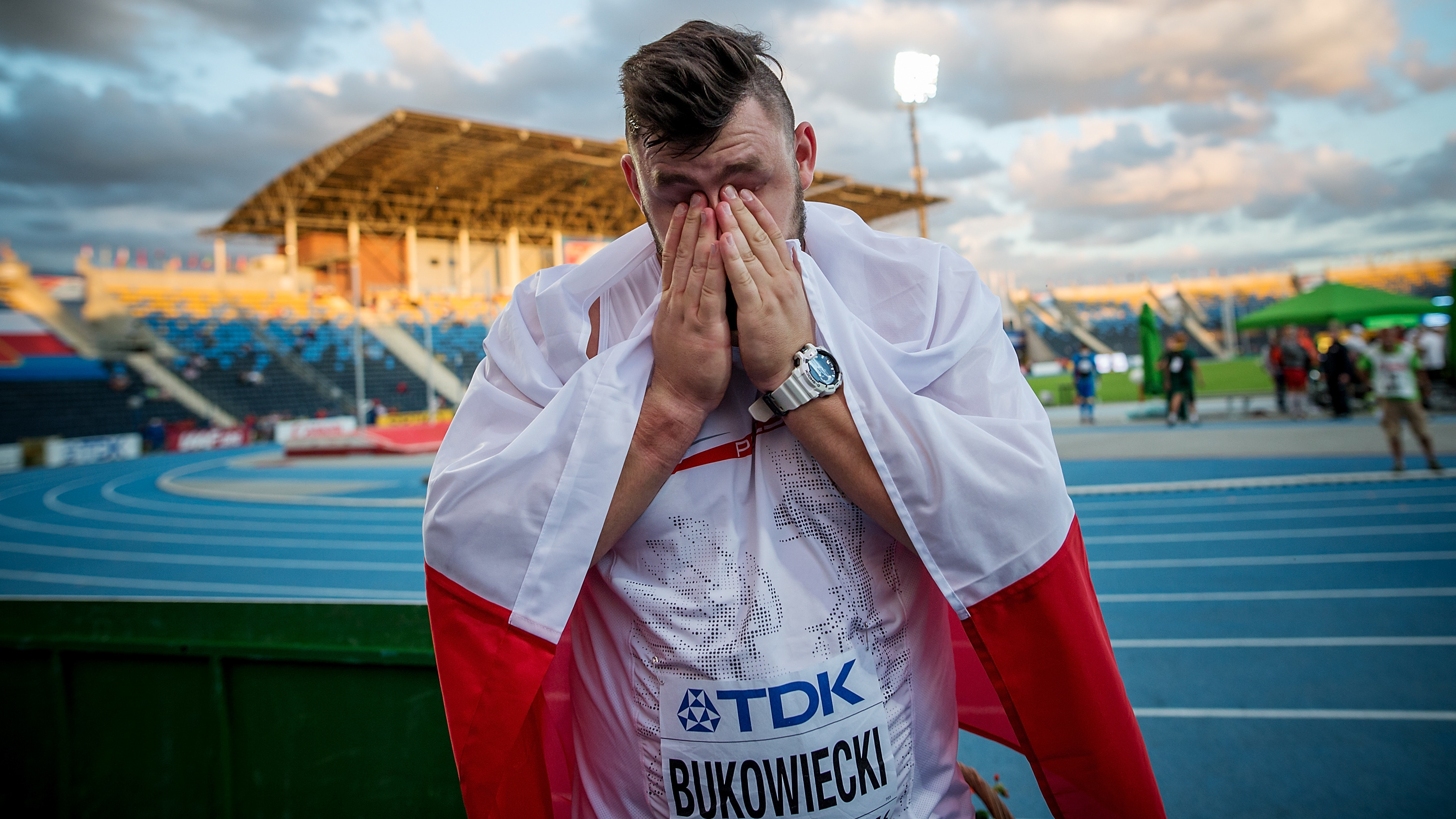 Hometown favorite Konrad Bukowiecki of Poland weeps tears of joy after winning the junior men's shot put title and setting a new world junior record of 23.34m/73-50.
Photo by Joosep Martinson/Getty Images for IAAF
.
What's Next?

Finals tomorrow include:
Junior men's long jump [1:45 PM Eastern/19:45 local time]
Junior women's 3K [2:25 PM Eastern/20:25 local time]
Junior women's javelin throw [2:45 PM Eastern/20:45 local time]
Junior men's decathlon [final event, 1500m, 3:00 PM Eastern/21:00 local time]
Junior men's 100m [3:35 PM Eastern/21:35 local time]