Saucony Flo50 XC Countdown: #30 Illinois Men
Saucony Flo50 XC Countdown: #30 Illinois Men
Check out the Saucony Flo50 XC Countdown, where FloTrack ranks the top 31 cross country teams in the NCAA this season. The No. 30 spot goes to Illinois this
Jul 31, 2016
by Meg Bellino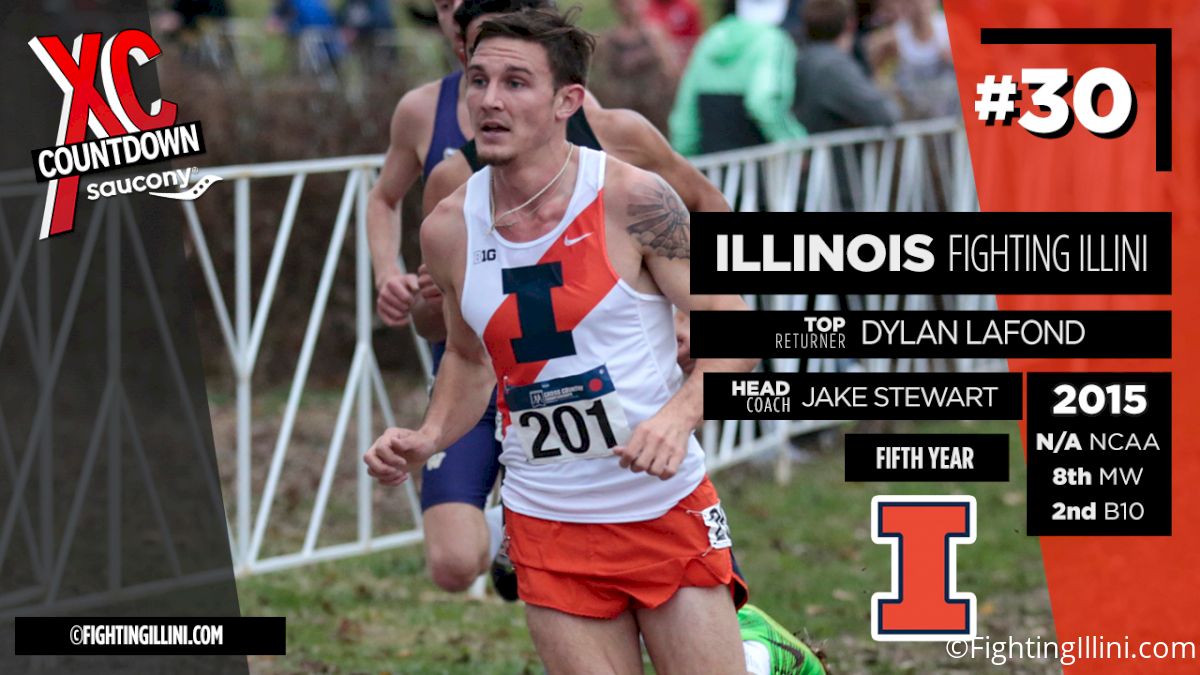 Check out the Saucony Flo50 XC Countdown, where FloTrack ranks the top 31 cross country teams in the NCAA this season. The No. 30 spot goes to Illinois this year, and here's why:
Probable Top Five:
SR Dylan Lafond (8:32 3K SC; 13:46 5K; 3rd at '15 Big Ten XC; 29th at '15 NCAA XC)
SO Jesse Reiser (3:45 1500; 11th at '15 Big Ten XC; 22nd at '15 NCAA Midwest XC)
FR Zach Dale (14:29 5K; 3rd at '15 USATF Jr. 10K)
SO Billy Magnesen (29:34 10K; 50th at '15 NCAA Midwest XC)
SO Dan Lathrop (30:21 10K; 20th at '15 Big Ten XC)
Impact Freshman/Transfers:

Jon Davis via Fithian, IL (4:03 1600; 8:51 3200; 1st at '16 Brooks PR Mile; 13th at '15 FL XC; 22nd at '15 NXN; 3x IL State XC Champ)
Connor Madell via LaGrande, IL (4:11 1600)
Luke Brahm via Princeton University (3:46 1500)
Analysis:

The Illinois men stunned the Big Ten last fall by finishing runner-up behind Michigan. Take a peek at their roster--it is YOUNG. Led by All-American Dylan Lafond, three of their top five in 2015 were true freshman. While Jesse Reiser finished 11th at the conference championship and was named Big Ten Freshman of the Year, the squad's inexperience showed in the NCAA Midwest Regional, where they fell to eighth as a team.
With one solid year under their belt, expect Reiser to hang with Lafond this fall and Billy Magnesen and Dan Lathrop to make big jumps to close the gap. Redshirt freshman Zach Dale should be a scorer after competing unattached in 2015 and finishing third in 10K at U.S. Juniors. The Illini also scored one of the nation's top recruits in Jon Davis. He ran 13:59 for three miles at the Illinois state meet, won the Brooks PR mile and had solid showings in both Footlocker and NXN. If Davis can contribute like Reiser did in 2015 but hang on through November, Illinois could shock Big Ten foes like Indiana, Michigan and Wisconsin on October 30, and the men of Illinois could find themselves on the start line at the NCAA Championships for the first time since 1986.
Previously:
#31 NC State Men