Saucony Flo50 XC Countdown: #29 Iowa State Men
Saucony Flo50 XC Countdown: #29 Iowa State Men
Check out the Saucony Flo50 XC Countdown, where FloTrack ranks the top 31 cross country teams in the NCAA this season. The men's No. 29 spot goes to Iowa St
Aug 1, 2016
by Dennis Young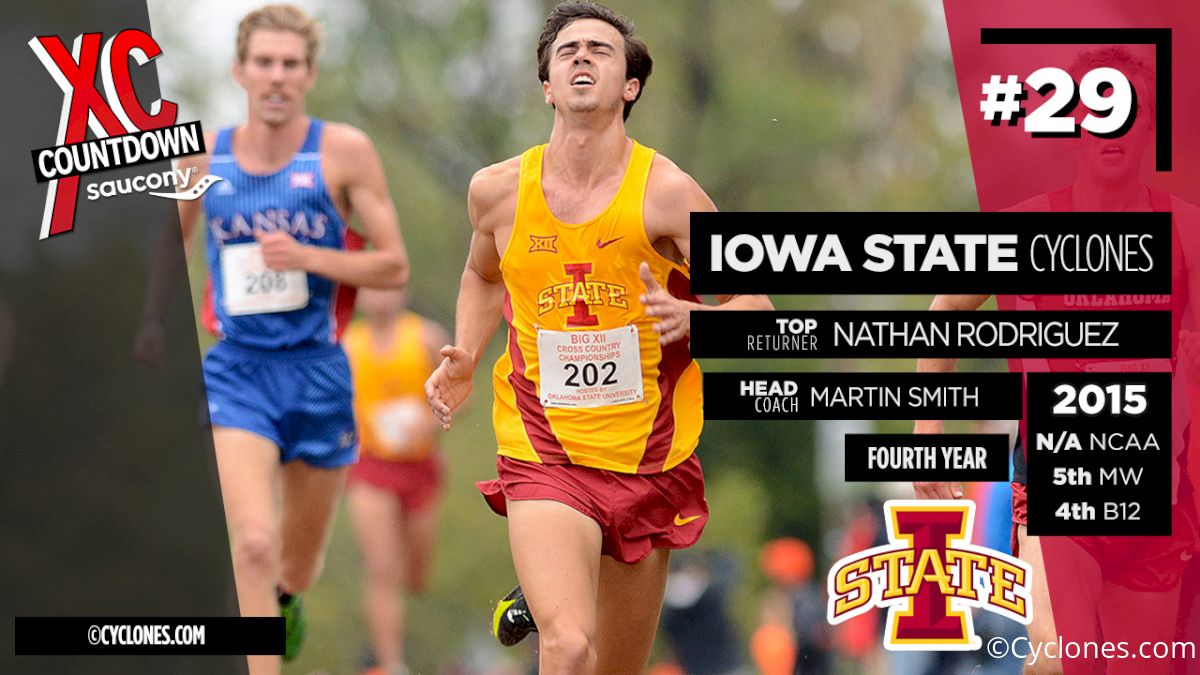 Check out the Saucony Flo50 XC Countdown, where FloTrack ranks the top 31 cross country teams in the NCAA this season. The men's No. 29 spot goes to Iowa State this year, and here's why:
Probable Top Four:
JR Nathan Rodriguez (8:04 3K; 13:55 5K; 13th at '15 Big 12 XC)
SO Dan Curts (3:45 1500; 8:09 3K; 205th at '14 NCAA XC)
JR Toby Hardwick (3:48 1500; 8:08 3K; 7th at '15 Big 12 XC)
FR Thomas Pollard (29:53 10K; Redshirted 2015-16)
Fifth Man Battle:

SR Kevyn Hoyos (8:04 3K; 14:04 5K; 29:38 10K)
FR Andrew Jordan (8:46 3200; 6th at '15 FL XC)
Impact Freshman/Transfers:

Kevyn Hoyos via Syracuse (8:04 3K; 14:04 5K; 29:38 10K)
Andrew Jordan via Pataskala, OH (8:46 3200; 6th at '15 FL XC)
Sam Clausnitzer via Bismarck, SD (9:10 3200; 46th at '15 NXN)
Analysis:

Martin Smith's Cyclones are going to rely on talented, inexperienced men to step up. The only man on the roster who has run at a NCAA cross country championship is Dan Curts, who qualified as an individual his freshman year in 2014 and then missed all of 2015 with apparent injury. Curts ran outdoor track with some success in 2016, and he's not the only reinforcement behind top returner Nathan Rodriguez.
Three key men were added to this fall's roster for three different reasons: Thomas Pollard is debuting after redshirting all of 2015-16; Kevyn Hoyos is transferring in from Syracuse for a fifth year; and Andrew Jordan should contribute as a true freshman. Pollard, the son of Iowa State's athletics director, won U.S. junior cross in February, and qualified for World Juniors in the 10K this summer, where he was the top North American in 29:53. Hoyos ran 14:04 and 29:38 in a Syracuse uniform last year. And Jordan is on a very short list of the best high school distance boys in the 2016 high school class. He finished sixth at Foot Locker, and then ran a faster outdoor 3200m than everyone who beat him in San Diego, except for Drew Hunter.
This team was 20 points behind Tulsa at Regionals last year, and Tulsa finished 20th in the NCAA. But Rodriguez and Toby Hardwick will probably be the only returning scorers from that team as the overhauled roster looks to make it to NCAAs for the first time since 2009.
Previously:

#31 NC State
#30 Illinois