Saucony Flo50 XC Countdown: #26 Villanova Men
Saucony Flo50 XC Countdown: #26 Villanova Men
Check out the Saucony Flo50 XC Countdown, where FloTrack ranks the top 31 cross country teams in the NCAA this season. The No. 26 spot goes to Villanova thi
Aug 2, 2016
by Gordon Mack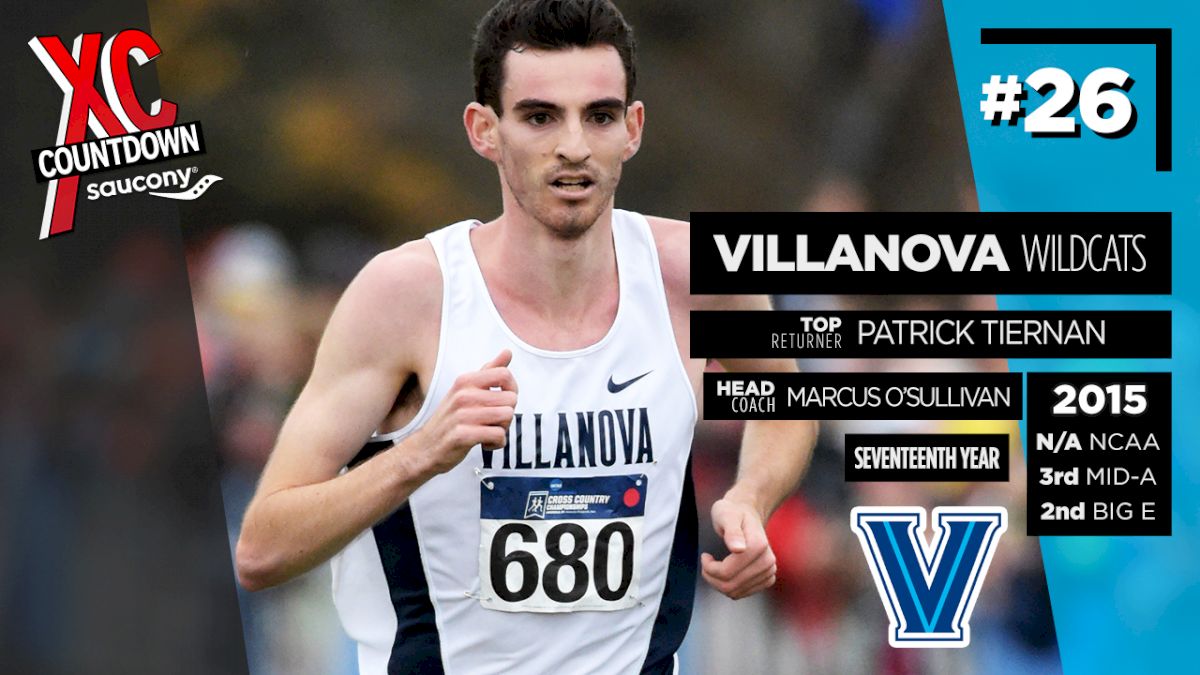 Check out the Saucony Flo50 XC Countdown, where FloTrack ranks the top 31 cross country teams in the NCAA this season. The No. 26 spot goes to Villanova this year, and here's why:
Low Stick:
SR Patrick Tiernan (7:48 3K; 13:20 5K; 2nd at '15 NCAA XC)
Projected Varsity Athletes:
FR Casey Comber (8:18 3K; 14:39 5K; 20th at '14 FL XC; Redshirted 2015-16)
SR Kevin Corbusier (26th at '14 NCAA Mid-Atlantic XC)
FR Andrew Marston (9:01 3200; 15:02 5K; Redshirted 2015-16)
FR Paul Power (4:13 1600; 8:59 3200; Redshirted 2015-16)
JR Drake Johnston (9:27 3K SC; 65th at '15 NCAA Mid-Atlantic XC)
JR Ben Malone (3:39 1500)
Impact Freshmen/Transfers:
Nick Steele via Bromfield, MA (4:14 Mile; 2nd at '16 NBN 2K SC)
Martin Barr via Niles North, IL (4:18 1600; 9:04 3200)
Rob Morro via Cardinal O'Hara, PA (4:21 Mile; 9:25 3200)
Paul Nichols via Shaker, NY (12th at '15 NXN New York)
Analysis:
The 2015 season did not go as planned for the Wildcats after failing to qualify as a team for the NCAA Championships despite sending three individuals (Patrick Tiernan, Jordy Williamsz, and Rob Denault). But there was a bright spot for O'Sullivan's crew as Tiernan finished second at NCAAs to Edward Cheserek. He will go on to represent Australia in the 5K at the 2016 Olympic Games in Rio.
While the 2016 squad practically has a sure bet in Tiernan, the six guys behind him will need to have breakout seasons for the Wildcats to return to Terre Haute, Indiana. With Marcus O'Sullivan at the helm and an Olympian as the leader, Villanova should be able to assemble a team capable of a top-30 finish.
The new Wildcats will be led by redshirt freshmen Casey Comber, Andrew Marston, and Paul Power. Comber was 20th at Foot Locker his senior year, and ran an 8:18 3K while redshirting in 2016. Marston and Power also had strong high school credentials coming in last year. With a year of training under O'Sullivan, these three men could help lead the charge behind Tiernan.
Upperclassmen Kevin Corbusier, Drake Johnston, and Ben Malone will also fill in the cracks to put together a strong top five capable of getting out of the Mid-Atlantic region and into Nationals.
Previously:
#27 Louisville
#28 Tulsa
#29 Iowa State
#30 Illinois
#31 NC State