Saucony Flo50 XC Countdown: #24 Washington State Men
Saucony Flo50 XC Countdown: #24 Washington State Men
Check out the Saucony Flo50 XC Countdown, where FloTrack ranks the top 31 cross country teams in the NCAA this season. The No. 24 spot goes to Washington St
Aug 3, 2016
by Dennis Young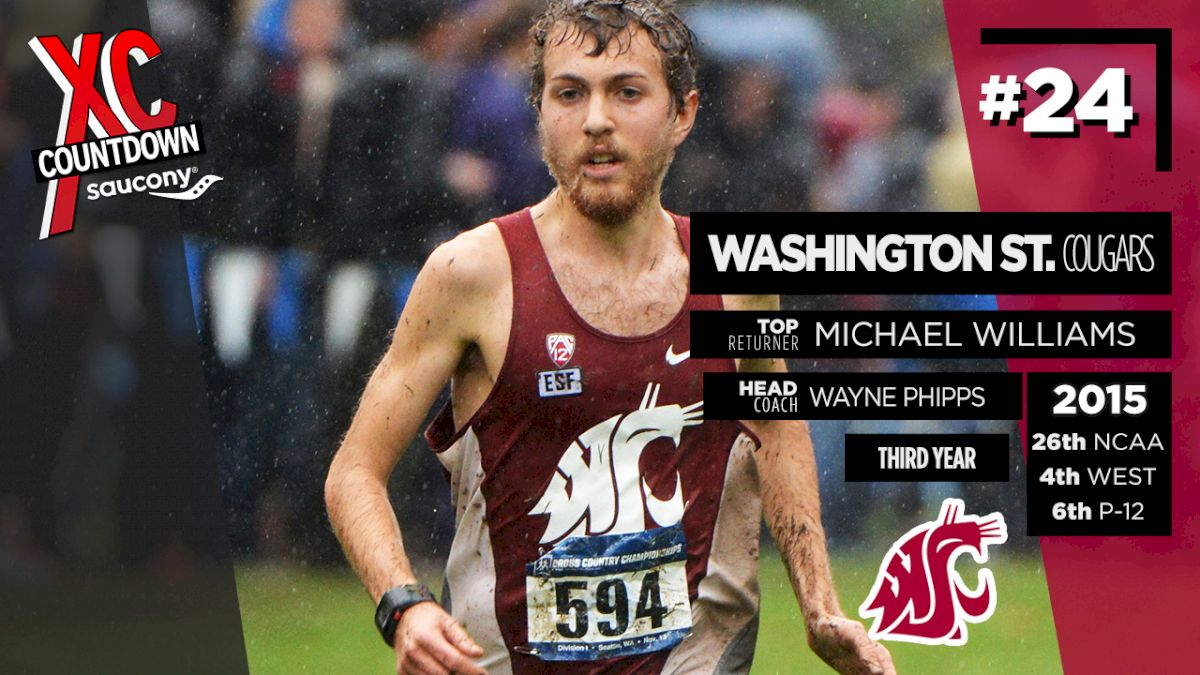 Check out the Saucony Flo50 XC Countdown, where FloTrack ranks the top 31 cross country teams in the NCAA this season. The No. 24 spot goes to Washington State this year, and here's why:
Probable Top Three:
JR Michael Williams (8:13 3K; 14:04 5K; 29:09 10K; 57th at '15 NCAA XC)
SR John Whelan (8:01 3K; 13:59 5K; 29:15 10K; 113th at '15 NCAA XC)
JR Sam Levora (14:14 5K; 151st at '15 NCAA XC)
Fourth-Fifth Man Battle:

SO Nathan Wadhwani (9:20 3K SC; 174th at '15 NCAA XC)
SO Chandler Teigen (3:47 1500; 183rd at '15 NCAA XC)
SO Nathan Tadesse (8:35 3K; 193rd at '15 NCAA XC)
SO Jake Finney (9:34 3K SC; 223rd at '15 NCAA XC)
FR Justin Janke (3:45 1500; 8:55 3200; 25th at '15 FL XC)
Impact Freshmen/Transfers:

Justin Janke via Spokane, WA (3:45 1500; 8:55 3200; 25th at '15 FL XC)
Analysis:

One of the youngest teams in the country in 2015 gets to grow up in 2016. Washington State is, we believe, one of only five men's teams to return all seven of its finishers from last year's NCAA meet. The Cougars' top seven at NCAAs were four freshmen, two sophomores, and one junior. Unsurprisingly, the three upperclassmen all had track seasons indicative of better things to come in cross country. Williams, Whelan, and Levora all ran under 14:20 for 5K while Williams and Levora broke 29:20 in the 10K.
Even more unsurprisingly, though, the four freshmen who ran XC nationals were brought along very slowly in track. Wadhwani, Teigen, Tadesse, and Finney combined to run zero races longer than 3000 meters in 2016, per TFRRS.
There's a ton of potential here. All seven men who ran NCAAs for Wazzu last year also competed indoors and outdoors and are back this fall--that's rare enough. But there's good reason to think they could have done even better than last year's 26th-place finish--they
slept in the Atlanta airport
the Wednesday night before last year's NCAA championship, and No. 1 runner Michael Williams fell early in the race. If you think of this team as more like a 22nd-24th-place quality team from 2015, it's easy to imagine them cracking the top 20 with everyone back and healthy a year later.
Previously:

#25 Michigan State
#26 Villanova
#27 Louisville
#28 Tulsa
#29 Iowa State
#30 Illinois

#31 NC State