Saucony Flo50 XC Countdown: #23 Michigan Men
Saucony Flo50 XC Countdown: #23 Michigan Men
Check out the Saucony Flo50 XC Countdown, where FloTrack ranks the top 31 cross country teams in the NCAA this season. The No. 23 spot goes to Michigan this
Aug 4, 2016
by Meg Bellino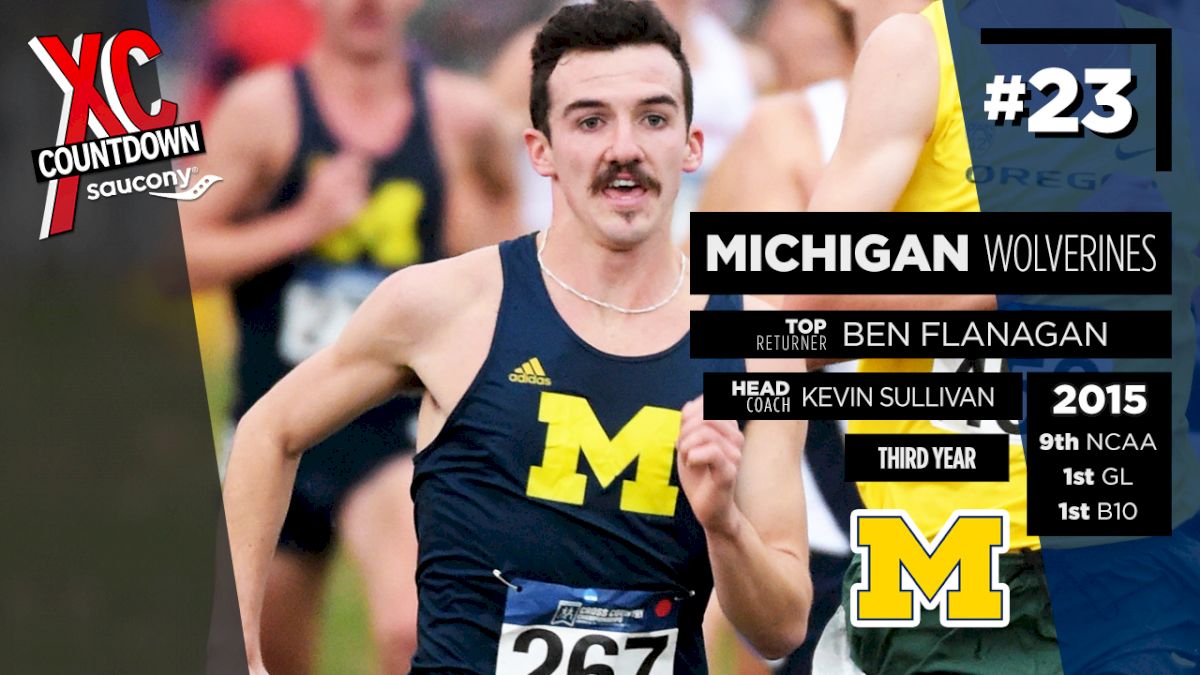 Check out the Saucony Flo50 XC Countdown, where FloTrack ranks the top 31 cross country teams in the NCAA this season. The No. 23 spot goes to Michigan this year, and here's why:
Probable Top Five:
SR Ben Flanagan (29:13 10K; 14th at '16 NCAA 10K; 83rd at '15 NCAA XC)
JR Aaron Baumgarten (8:02 3K; 14:00 5K; 194th at '15 NCAA XC)
SR Nick Renberg (30:04 10K; 15th at '15 NCAA Great Lakes XC; 92nd at '15 NCAA XC)
JR Micah Beller (13:56 5K)
SR Connor Mora (4:02 Mile; 8:45 3K SC; 129th at '15 NCAA XC)
Impact Freshmen/Transfers:

Ned Willig via Brown University (1:47 800; 3:44 1500; 1st at '16 Heps 800)
Connor Herr via Cornell University (8:53 3K SC; 70th at '15 NCAA Northeast XC)
Isaac Harding via Rockford, MI (9:08 3200; 23rd at '15 FL XC)
Anthony Berry via Traverse City, MI (1:51 800; 4:09 1600)
Jacob Lee via Fenton, MI (9:07 3200; Michigan 3200 State Champ)
Jacob Branch via Quartz Hill, CA (9:12 3200)
Joost Plaetinck via Novi, MI (9:13 3200)
Andrew Lorant via Lake Orion, MI (9:16 3200)
Analysis:

In only his second year as head coach, Kevin Sullivan guided the Wolverines to a ninth-place finish at last year's NCAA championships--their best since 2003. Prior to that achievement, fifth-year senior, eventual NCAA steeplechase champion and new Nike pro Mason Ferlic led the squad to their first Big Ten titles since 1997. The second feat is significant when you consider the Wisconsin men have owned the conference for so long.
This year will be much different. Ferlic is gone, as well as key contributors Tony Smorageiwicz, August Pappas and Nick Posada. But discrediting Sullivan's ability to quickly turn this program around would be foolish, especially while considering the Wolverines' promising crop of talent.
Ben Flanagan, who acted as Ferlic's right-hand man last fall, who won his first individual Big Ten crown this spring in the 10K and punched his ticket to Eugene for NCAAs. Juniors Aaron Baumgarten and Micah Beller also greatly improved this track season, and particularly Beller, who broke 14:00 in the 5K for the first time.
They will also benefit from Ned Willig of Brown and Connor Herr of Cornell, who joined the Wolverine squad for their fifth year. Wilig was the Ivy League champion in the 800m in 2016, and Herr has solid cross country experience at Cornell. Though the Wolverines lost guaranteed low-stick Ferlic, their collection of improved upperclassmen and talented newcomers should guide them back to Terre Haute, Indiana, in November.
Previously:
#24 Washington State
#25 Michigan State
#26 Villanova
#27 Louisville
#28 Tulsa
#29 Iowa State
#30 Illinois
#31 North Carolina State
BONUS: Watch the FloFilms trailer for INSIDE: Michigan
Check out the full series HERE.