Saucony Flo50 XC Countdown: #18 Oklahoma Men
Saucony Flo50 XC Countdown: #18 Oklahoma Men
Check out the Saucony Flo50 XC Countdown, where FloTrack ranks the top 31 cross country teams in the NCAA this season. The No. 18 spot goes to Oklahoma this
Aug 6, 2016
by Meg Bellino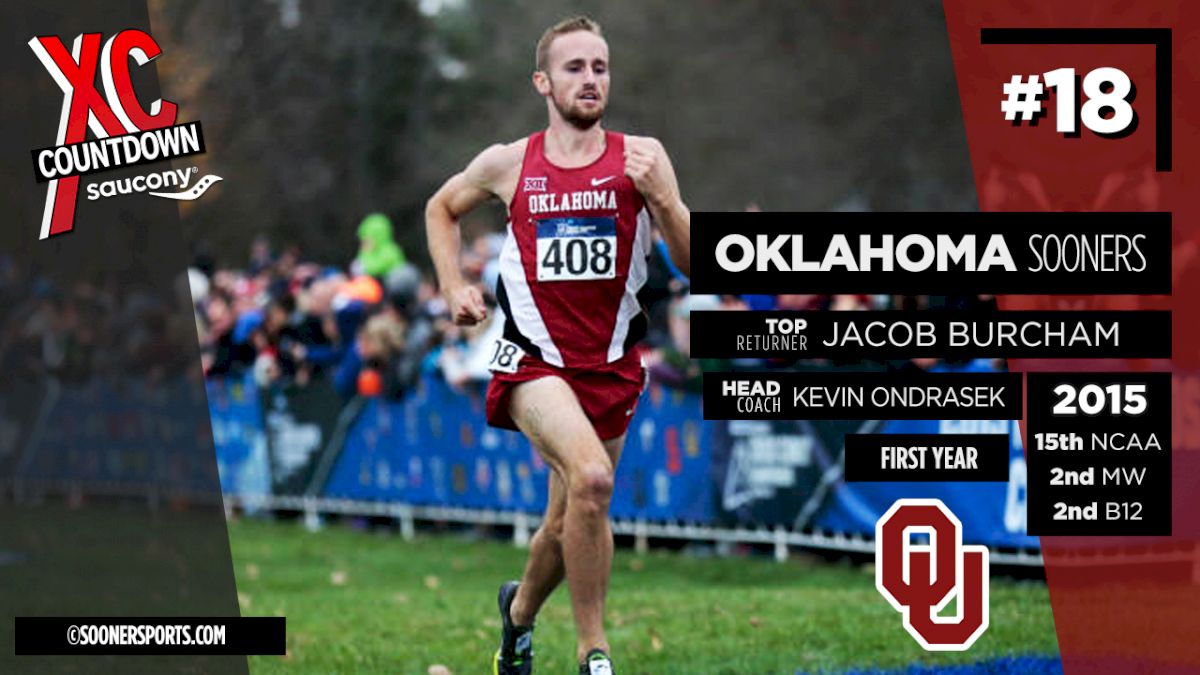 Check out the Saucony Flo50 XC Countdown, where FloTrack ranks the top 31 cross country teams in the NCAA this season. The No. 18 spot goes to Oklahoma this year, and here's why:
Probable Top Five:
SR Jacob Burcham (3:57 Mile; 2nd at '15 Big 12 XC; 16th at '15 NCAA XC)
SR Dylan Blankenbaker (13:58 5K; 8:34 3K SC; 4th at '16 NCAA 3K SC; 147th at '15 NCAA XC)
SO Matt Brafford (117th at '15 NCAA XC)
SR Eric Aldritt (14:38 5K; 30:27 10K; 14th at '15 Big 12 XC; 179th at '15 NCAA XC)
SO Liam Meirow (9:07 3K SC; 215th at '15 NCAA XC)
Impact Freshmen/Transfers:

None at publish time.

Analysis:

Last fall, Jacob Burcham emerged as the best runner from an Oklahoma school, a stark contrast from the usual top-heavy Oklahoma State finishers vying for an NCAA title. Burcham finished 11th at Wisconsin, 2nd at the Big 12 and Midwest regional races, and 16th in the NCAA. After losing to Vegard Oelstad by 1 second at the conference championships, he defeated the in-state rival by 236 places in Louisville.
Not too shabby for an athlete and team that didn't didn't even qualify for the NCAA championships one year prior. This fall, Burcham should be joined by fellow senior Dylan Blankenbaker. Blankenbaker was only 147th in Louisville last November but improved his 5K time (14:35 to 13:58) and steeple (8:52 to 8:34) mark en route to finishing fourth at the NCAA outdoor championships. That 1-2 punch alone could do some damage at the national championship.
Matt Brafford, Eric Aldritt and Liam Meirow all return from the Sooners' 2015 top seven. Brafford was the No. 3 man in Louisville as a true freshman and did not compete in uniform during the indoor and outdoor seasons. Aldritt was the fourth scorer at the Big 12 championships (14th overall) before having an off day in Louisville. If these two continue to improve, the Sooners should grab an automatic bid to Terre Haute from the Midwest region.
Previously:
#19 Boise State
#20 Portland
#21 UTEP
#22 Oklahoma State
#23 Michigan
#24 Washington State
#25 Michigan State
#26 Villanova
#27 Louisville
#28 Tulsa
#29 Iowa State
#30 Illinois
#31 North Carolina State