Saucony Flo50 XC Countdown: #22 Oklahoma State Men
Saucony Flo50 XC Countdown: #22 Oklahoma State Men
Check out the Saucony Flo50 XC Countdown, where FloTrack ranks the top 31 cross country teams in the NCAA this season. The No. 22 spot goes to Oklahoma Stat
Aug 4, 2016
by Gordon Mack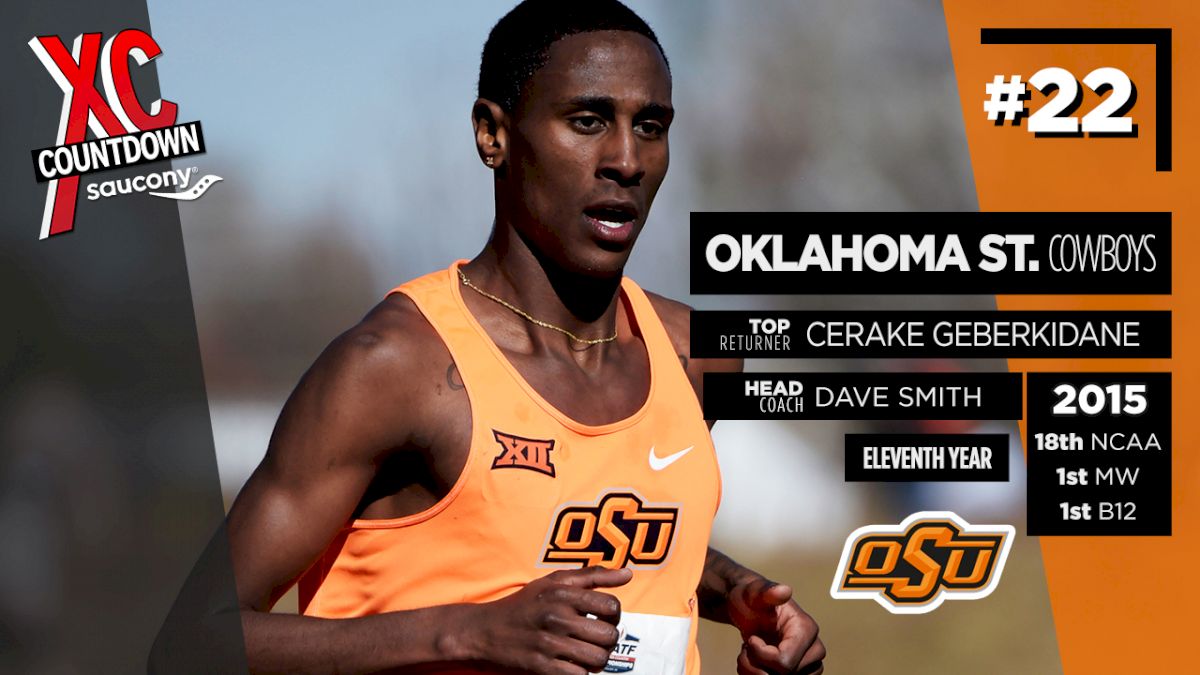 Check out the Saucony Flo50 XC Countdown, where FloTrack ranks the top 31 cross country teams in the NCAA this season. The No. 22 spot goes to Oklahoma State this year, and here's why:
Probable Top Four:
JR Cerake Geberkidane (8:05 3K; 13:51 5K; 30:13 10K; 125th at '15 NCAA XC)
JR Sylvester Barus (14:24 5K; 30:04 10K; 2nd at '15 NJCAA XC)
JR Hassan Abdi (8:21 3K; 14:30 5K; 5th at '15 NJCAA XC)
JR Josh Thompson (3:58 Mile; 101st at '15 NCAA XC)
5th Man Battle:
SO Christian Liddell (22nd at '15 Big 12 XC)
JR Anthoney Armstrong (8:11 3K; 14:46 5K; 8:59 3K SC)
JR Luis Martinez (8:12 3K; 14:27 5K)
JR Brigham Hedges (4:06 Mile; 8:19 3K; 240th at '15 NCAA XC)
JR Noah Gade (8:18 3K; 29:51 10K)
Impact Freshmen/Transfers:
Sylvester Barus via Iowa Western CC (14:24 5K; 30:04 10K; 2nd at '15 NJCAA XC)
Hassan Abdi via South Plains College (8:21 3K; 14:30 5K; 5th at '15 NJCAA XC)
Ben Butler via Highlands Ranch, CO (USATF Jr. Mountain Champ; 5th at '15 USATF Jr. XC)
Alec Haines via Wildwood, MO (4:11 1600)
Ryan Smeeton via Canada (8:26 3K)
Kevin Mulcaire via Ireland (4:04 Mile; 14:02 5K; *Enrolling Jan 2017)
Analysis:
Dave Smith and the Oklahoma State Cowboys are heading into unfamiliar territory during the 2016 season. In 2015, the Cowboys finished 18th--the first time they landed outside the top 10 since 2004. When a program consistently finishes in the top 10, the expectations heading into every season are podium (top four) or bust. But with the graduation of Craig Nowak, Chad Noelle, and a few others, Coach Smith will need to work his magic to get his squad back into top-10 form.
The Cowboys enter this season ranked No. 22 with the potential to be a top-10 team, provided new arrivals have breakout seasons. This year's squad will be led by junior Cerake Geberkidane, who had a strong 2016 track season and lowered his 5K PB to 13:51. While Geberkidane's past two NCAA performances have been subpar--126th in 2014 and 125th in 2015--his 2016 track season proved he is an All-American contender. Breakout sub-four miler Josh Thompson will also return to test his strength as well as five other solid cross performers: Liddell, Armstrong, Martinez, Hedges, and Gade.
The make-or-breaks for the Cowboys this season will be two new faces out of the NJCAA system: Sylvester Barus (Iowa Western CC) and Hassan Abdi (South Plains College). These men are the two best junior college transfers coming out this year, and could be huge players for Oklahoma State.
NJCAA 2015-2016 Season Stats:
01) *Gilbert Kigen - 1st XC; 2nd Mile(i); 1st 3K(i); 1st 5K(i); 1st 5K(o); 1st 10K(o)
02) *Festus Lagat - 3rd XC; 1st 1K(i); 1st Mile(i), 1st 800(o); 1st 1500(o)
03) Hassan Abdi (Ok State) - 5th XC; 2nd 3K(i); 2nd 5K(i); 3rd 1500(o); 2nd 10K(o)
04) Sylvester Barus (Ok State) - 2nd XC; 3rd 3K(i); 3rd 5K(i); 2nd 5K(o); 3rd 10K(o)
05) Kelvin Keter (D2 Washburn College) - 3rd 1K(i); 2nd 1500(o); 3rd 5K(o)
*Still has one more year in NJCAA
NOTE: Andrew Ronoh, who was fourth at NJCAA XC, transferred to Arkansas before the 2016 track season.
Both Abdi and Barus have modest personal bests; however, most NJCAA-to-NCAA transfers' PRs usually drop dramatically with new training and better competition. Conservatively, Abdi and Barus will be top-seven guys, but these two men could also become future NCAA All-Americans.
Previously:

#23 Michigan
#24 Washington State
#25 Michigan State
#26 Villanova
#27 Louisville
#28 Tulsa
#29 Iowa State
#30 Illinois
#31 North Carolina State