2016 Sir Walter Miler
Olympic Team Miss is Just the Beginning For Amanda Eccleston
Olympic Team Miss is Just the Beginning For Amanda Eccleston
The photo finish for third place in the U.S. Olympic Trials 1500m final is a great representation of the tenacity required to make Team USA. After several p
Aug 5, 2016
by Taylor Dutch
The photo finish for third place in the U.S. Olympic Trials 1500m final is a great representation of the tenacity required to make Team USA.
After several painstaking rounds, Brenda Martinez and Amanda Eccleston exerted every last ounce of energy to dive for the line. For Martinez, it was her sixth race in eight days after an unfortunate crash in the 800m final. For Eccleston, it was the closest she'd ever come to a national podium finish.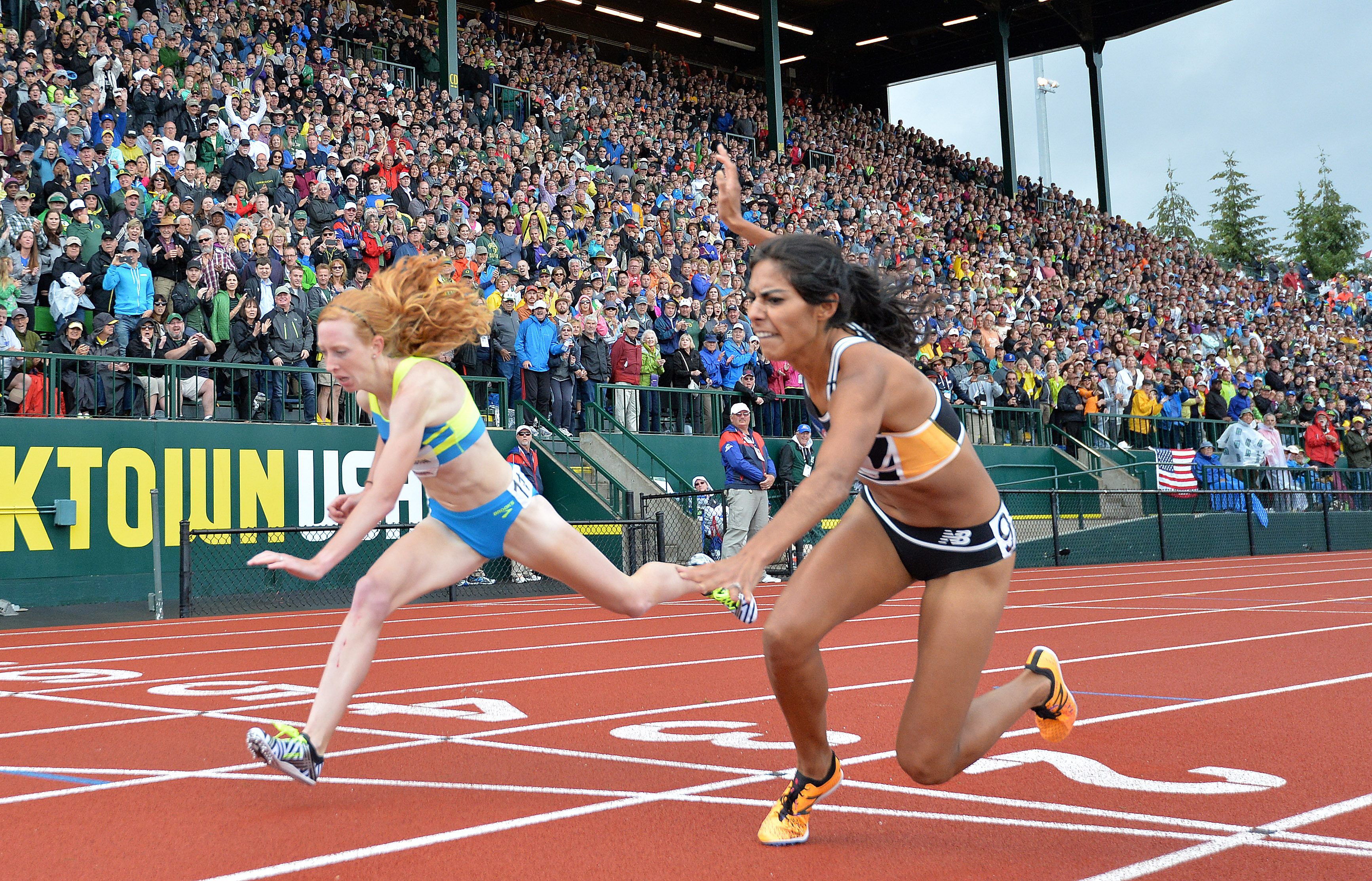 Both women fell to the ground after diving head-first over the line. They eagerly waited for the announcement of the final name headed to Rio.
"Brenda Martinez!" yelled the announcer at Hayward Field, followed by a roar from the crowd who watched Martinez make the team in the toughest way possible.
Martinez finished in 4:06.16 and Eccleston finished in 4:06.19
. Just 0.03 seconds separated Eccleston from the Olympics and a Trials upset.
But it wouldn't have been an upset to Eccleston—she knew she belonged on that team.
"We had written down on paper last September, top three. That's what we wanted. It's what we worked for all year," Eccleston told FloTrack.
"Yes, I'm happy because I had never finished higher than 10th before, but we thought going in that we were going to Rio," she said.
Fourth at the Trials is a devastating result that can often make track athletes question their careers. But for Eccleston, it's just one goal on her list that fell a bit short.
Prior to the 2016 season, Eccleston held a 1500m personal best of 4:08.08 from 2014—a quality mark, but not competitive enough to make an international team. Nearly two years, several injuries, and a healthy block of training later, Eccleston's times started to drop considerably.
On June 4, she ran 4:05.56 at the Furman Elite 1500m. Two weeks before the Trials, she ran an 800m personal best of 2:02.14 at the Speed River Inferno. That's when her coach, Mike McGuire, affirmed she could accomplish her goal.
"He [McGuire] told me two weeks before the Trials, after I had run my 800m PR, that he thought I was going to make the team," Eccleston said. "That was the first time he had told me that all year."
McGuire started to coach Eccleston when she enrolled at Michigan to earn her master's degree in public health. She had one remaining year of eligibility on the track and planned to use it as a Wolverine. Prior to Michigan, Eccleston completed her undergraduate degree at Hillsdale College where she earned two Division II NCAA titles and notched a then-PR of 4:15.
While at Michigan, Eccleston anchored the distance medley relay to an NCAA title by maintaining the lead and extending herself to secure the win at all costs. She split 4:32 on the mile leg when her PR at the time was 4:37. She would have accepted nothing less than victory.
"I approach every race thinking 'I can win this one,' even if I have the slowest PR in the field, and I definitely don't win a lot of them," she said. "But I think you need to have that attitude regardless of who you are -- just think that you can do it, and go out and race that way."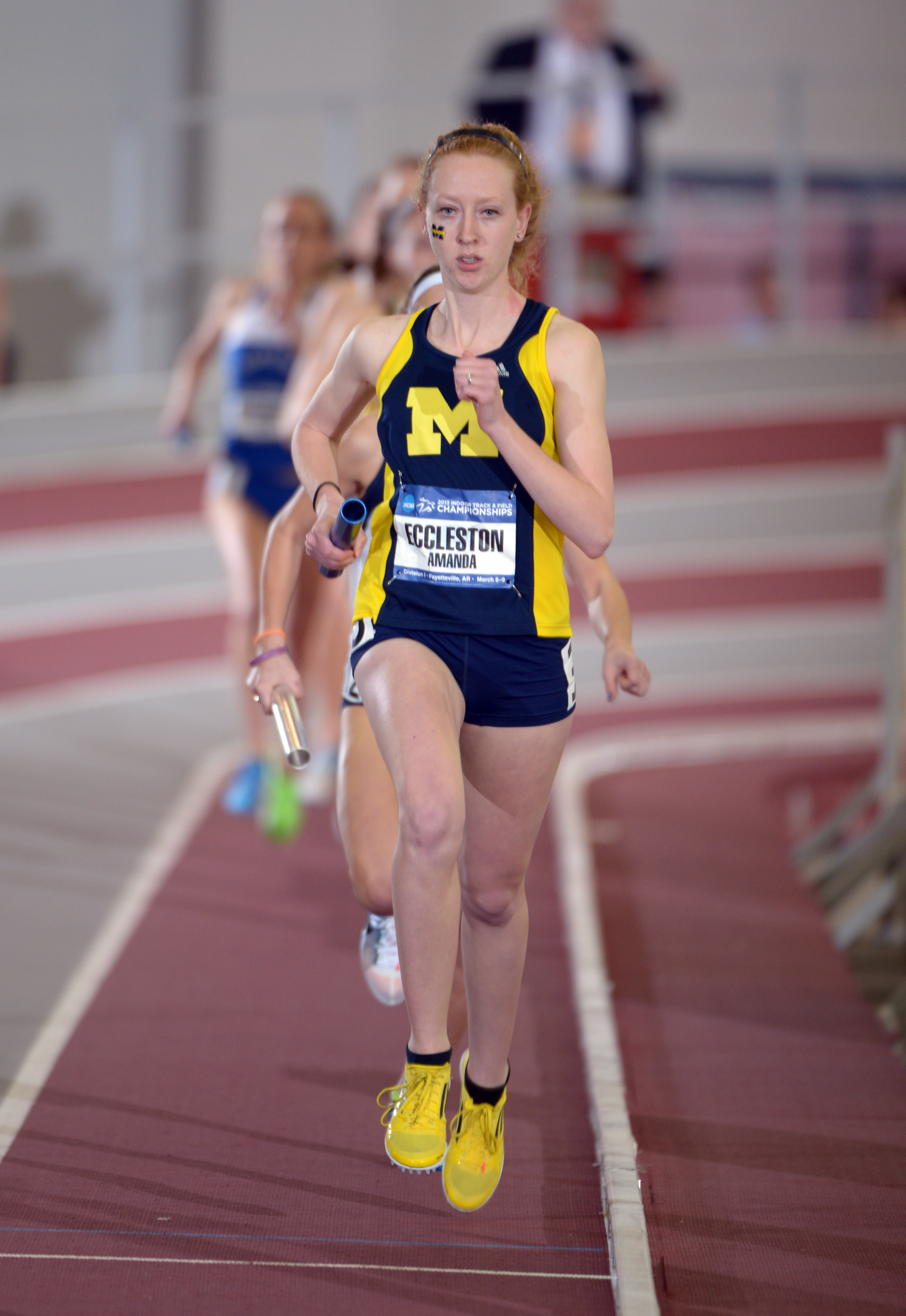 Those NCAA titles were also written down as goals well ahead of the season. In fact, in 2012 she wrote goals for every year that followed, including a goal to run sub-four in the 1500m by 2016. Although she hasn't accomplished that one yet, Eccleston is getting close.
One week after the Trials race, Eccleston flew to Italy where she ran 4:04.88. Eight days later,
she ran 4:03.25 in the London Anniversary Games, her first Diamond League race ever.
Eccleston attributes the jumps to consistent training, being injury free, and taking advantage of every opportunity.
"Some of that is just getting that chance, and getting in the race and being willing to take risks, like Diamond League I got out and I was third, and at first I was thinking, 'What am I doing out here? I'm way over my head,' but at the same time I like to run in the front, I like to get out and at least see what I can do," she said.
"It seems like a breakthrough year, but it's actually a natural progression in my mind."
Eccleston's next race will be at
Sir Walter Miler tonight
where she hopes to win with a personal best. Looking back on the bittersweet taste of the 2016 season, Eccleston is more than confident that her future holds endless opportunity.
It's a confidence that came from just missing out on the Olympic team.
"I had not closed in 60 [seconds] before until the Trials, and that is something that used to terrify me, thinking 'how am I going to close in 60? I can't do that! I don't have the greatest 400m time," she said.
"But I was able to do it and that was the third race in four days. So that gives me the confidence that whatever is thrown at me, I'll be ready to get after it."